North Carolina Vs West Virginia: Which Is the Better State?
Posted by Preston Guyton on Friday, April 28, 2023 at 12:10:04 PM
By Preston Guyton / April 28, 2023
Comment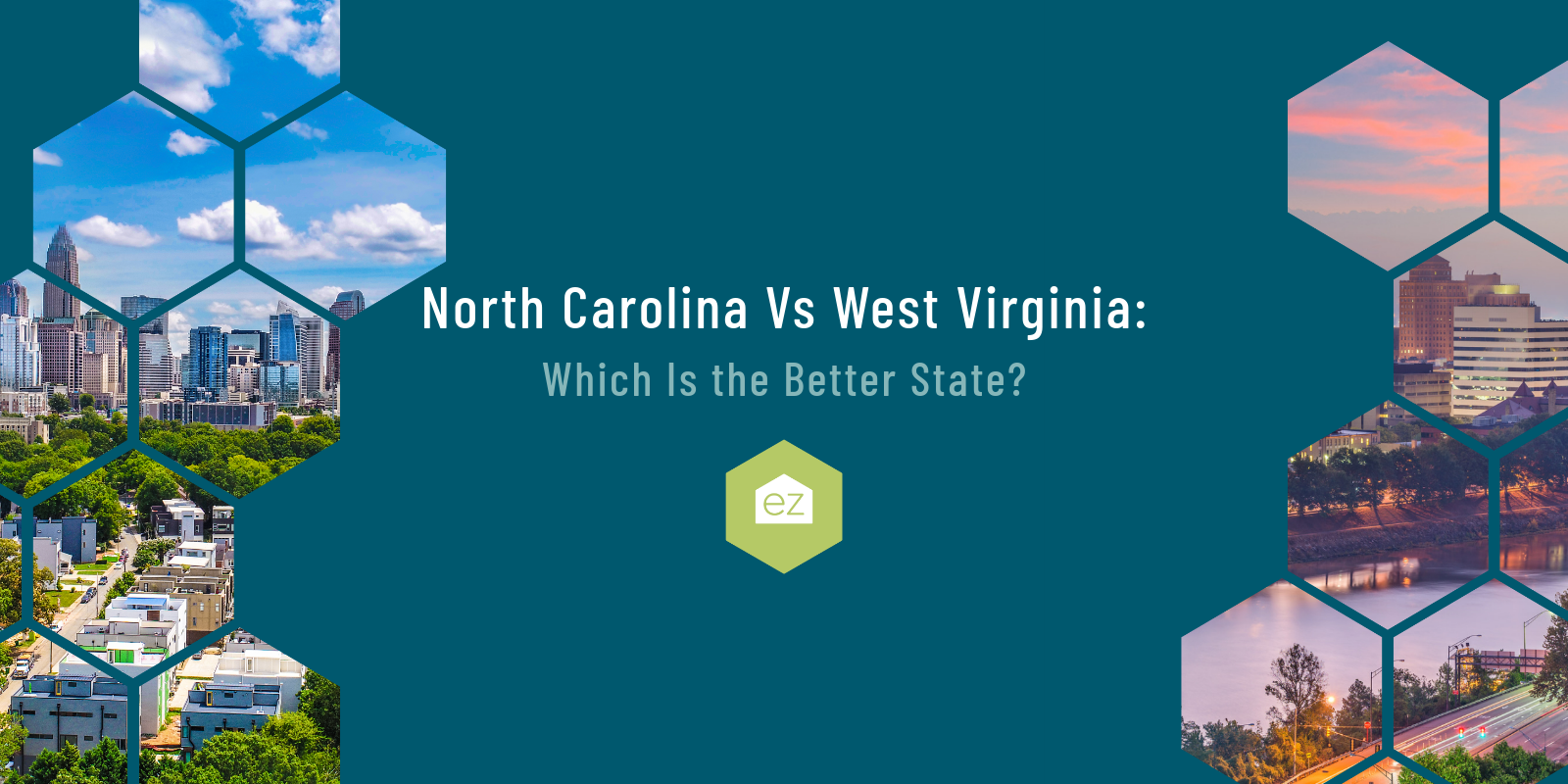 North Carolina Vs West Virginia: Which Is the Better State?
Some of us dream of a mountain retreat, where we wake up to beautiful rolling peaks, rushing clear streams, and cool summers. On the east coast, your options are limited to states within the Appalachian Mountains, with North Carolina and West Virginia perhaps being the most well-known for their mountain landscapes.
No doubt these two states have many advantages when it comes to calling them your home. So how do you decide between moving to West Virginia or North Carolina? It's easy to get overwhelmed in the decision-making process because there are so many factors to weigh.
But we're here for you with our comparison guide. Dive in and explore how these two states match up regarding affordability, quality of life, job market opportunities, and more. This information can assist you in making the best decision possible for which state to call home.
Cost of Living
Looking to compare the cost of living in two places? One option is the Sperling Best Places Index. The national average is 100, so scores below 100 show that expenses are cheaper than average, while scores above 100 indicate a higher cost of living.
Who's cheaper between these two states? If you're thinking West Virginia, you'd be spot-on. The state's affordable housing, one of our major expenses, drops its overall score significantly compared to North Carolina. The side-by-side comparison shows how much more you'll save living in West Virginia than in North Carolina.
| | | |
| --- | --- | --- |
| | West Virginia | North Carolina |
| Population * | 1.79 million | 10.4 million |
| Median Property Value* | $128,800 | $320,291 |
| Median Household Income* | $50,884 | $56,642 |
| Homeownership Rate* | 74% | 66% |
| Overall | 79.4 | 90.6 |
| Grocery | 95.8 | 96.5 |
| Health | 127 | 107.5 |
| Housing | 39.3 | 111.8 |
| Utilities | 85.9 | 99.3 |
| Transportation | 90.1 | 99.4 |
| Misc. | 85.1 | 100.5 |
Do keep a few things in mind about this comparison. Population often impacts the demand for goods, and North Carolina has almost six times more people than West Virginia. And NC has an expansive oceanic waterfront, which increases real estate prices.
In addition, these cost-of-living figures are averaged across the state. Within their borders, some places will be more or less expensive than these figures.
Population Growth
Checking a state's growth rate provides insights into its present and future conditions. Growth hints at a thriving economy, new housing developments, and plenty of conveniences. On the other hand, if you prefer a more rural lifestyle and lower living costs, a less crowded state might appeal to you, as long as you realize its economy and job market may not be as strong.
North Carolina is the growing state here, ranking the seventh fastest-growing state based on the 900,000 new residents gained from 2010 to 2020. Wake, Mecklenburg, Guilford, and Forsyth were the state's most populated counties.
Meanwhile, people are leaving West Virginia, a trend in place for several decades. From 2010 to 2020, around 60,000 people moved away. Projections suggest that the state could lose another one percent by 2030. A significant reason for this decline is the aging population and the loss of working-aged individuals seeking job opportunities elsewhere.
But it's not all bad news. Some areas are actually expected to grow, with Monongalia, Jefferson, and Berkeley Counties projected to add people. All three are located around West Virginia's major cities.
Job Markets
From manufacturing to healthcare, North Carolina has corporate leaders in all sectors. Its job market is thriving in 2023, with a March unemployment rate of 3.5%, the same as the national rate.
With so many opportunities, North Carolina is definitely a strong destination for job seekers. The state's leading biggest employers include Home Depot, Lowe's, Wake Forest Baptist Health, Duke Energy, and Bank of America. And let's not forget about the state's well-known industries like furniture, automobile manufacturing, biotechnology, pharmaceuticals, and energy production.
West Virginia's known for coal and gas, but it's turning to tourism to bolster its job market. The state has been diversifying and attracting new opportunities to strengthen its economy and keep people there. In fact, its unemployment rate was 3.4% in March 2023, slightly better than North Carolina. Healthcare, government, mining, and manufacturing are major players in the job market.
Some of the biggest employers in the state include healthcare providers, Kroger, and Lowe's. Although West Virginia has no Fortune 500 headquarters, companies like Toyota and General Motors have manufacturing facilities here.
State Taxes
North Carolina's tax burden is higher than West Virginia's. For starters, it charges a flat 4.75% individual income tax rate. The state sales tax on goods and services was 4.75%, while local cities can charge up to 2.75%. Sales taxes averaged 6.99% statewide.
West Virginia uses a bracketed individual income tax system ranging from 3-6.5%. Some cities may also charge a local individual income tax. Sales taxes are charged statewide at 6%, and the maximum a local municipality can charge is 1%.
Real Estate Taxes
As a property owner, you'll pay taxes based on what your property is worth. Both states share how they charge millage at $1 per every $100 of property valuation. The local counties set these values, and levies are assessed at the county and municipal levels.
For property taxes, West Virginia wins as it ranks the lowest 10th in the nation. Its residential real estate is valued yearly and is taxed on 60% of its assessed value. State laws cap how much individual counties and municipalities can charge for a millage rate.
Property taxes in North Carolina rank the 20th lowest in the nation, so they're not horrible. They are assessed based on market values set every 4-8 years. Depending on the county's schedule for reappraisal, this can happen more or less frequently. Taxes are charged at the property's fully assessed value.
Taxes for Retirees
In North Carolina, there is no social security or state estate tax. But here's the not-so-good news: retirees have no tax breaks, and all income is subject to a flat tax rate of 5.75%. That includes pension incomes and personal withdrawals from retirement accounts.
If you're over 65 or permanently disabled and earn less than $38,000 a year, you may qualify for a homestead exemption. You could potentially save by not having to pay taxes on the greater of $25,000 or 50% of your property's appraised value. And veterans may be eligible for an exemption of up to $45,000.
For West Virginia retirees, single taxpayers over 65 making under $50,000 or joint filers making under $100,000, Social Security benefits are excluded from your taxable income. Plus, if you're a first responder, military retiree, or in a designated retirement plan, you may qualify for some extra tax breaks.
Those 65 or older can deduct up to $8,000 in other income from taxes and enjoy a $20,000 assessed value exemption on their owner-occupied residence. There may be special tax credits and exemptions based on your county and annual income, so you might be able to lower your property taxes even more.
Climate
North Carolina generally has two distinct climates: medium continental conditions in the mountainous regions of the northwest and warmer, subtropical conditions by the Atlantic in the east.
The Appalachian Mountains have the state's highest snowfall totals in winter, with average temperatures in the 40Fs. Summer temperatures average in the mid-80Fs with lower temps in the higher elevations.
Prepare for hot, humid summers reaching up to 90F on the Atlantic coastal plains and mild winters rarely dropping below 50F. Rainfall is common in the spring and summer. Hurricanes and tropical storms affect the coast, with the Outer Banks being particularly vulnerable.
Over in West Virginia, the elevation makes all the difference! Get ready for cooler temperatures and more rain if you're living in the higher mountain areas. During the summer, you can expect an average high of 80F in the central mountains, with temperatures peaking at 85F in the southwest. When it comes to winter, the lowest temperatures range from 20F in the northeastern and central mountains to 30F in the far south.
Annual rainfall is between 35-50 inches depending on where you live in the state. If you're in the eastern Panhandle, expect the lowest precipitation. But you'll receive more rain and snow if you're in a higher elevation or the northern areas.
Education
When it comes to quality education, North Carolina outshines West Virginia. The state's public K-12 schools ranked 15th in the nation on US News and World Report.
North Carolina is home to some amazing colleges and universities, like Duke, UNC-Chapel Hill, and Wake Forest. All appear on nations' best lists.
Meanwhile, evaluations show West Virginia's K-12 schools may not be the worst, but they have ample room to improve. The state was an overall No. 45 on US News and World's annual list. PreK-12 ranked no. 41, while higher education ranked 47. West Virginia University is rated highest in its state schools, followed by Marshall University and Shepherd University.
City Living
North Carolina simply has more extensive and robust choices when it comes to living in an amenity-rich metro area.
Charleston, WV, certainly is a charming town on the meandering Kanawha River, and its access to the outdoors makes it a gem for those who like recreational pursuits like kayaking, mountain biking, or off-roading. Plus, getting around is a breeze with its less dense population. But in terms of city size and offerings, with just 48,018 residents, it's a fraction of North Carolina's cities.
Take Raleigh-Durham as an example, where over 1.4 million people call the "Research Triangle" home. A renowned hub of education and research, Raleigh is a thriving metro region with prestigious universities and cutting-edge laboratories. In addition, the Triangle is a hotbed for tech giants like Intel, Lenovo, and Nvidia.
Over 2.6 million people reside in the Charlotte metro, the state's largest city. Charlotte is considered the second-largest financial center in the US outside of Wall Street. Several recognizable corporations are headquartered here, some of which appear on the Fortune 500 list! Charlotte's lifestyle is amplified with great museums, art galleries, and sports teams to check out. And it's the home of NASCAR.
Greensboro lies midway between the mountains and coast in the rolling Piedmont Hills. At 250,000 residents, it's still much larger than Charleston. It has attractions like a science center, a water park, minor league sports teams, and two universities.
Looking for a waterfront city? You'll find one in Wilmington! With over 282,500 people residing in the metro area, this charming coastal city has the University of North Carolina in its backyard. Check out the exciting film industry, breathtaking beaches, historic downtown area, and scenic two-mile riverwalk.
And North Carolina has a dozen other cities, all larger than Charleston, like Winston-Salem, High Point, Cary, and Fayetteville, each with their individual perks and charm.
Sports
Did you know that basketball was invented in North Carolina? So it's no surprise that the Tar Heels and Duke have won their fair share of national tournament titles. But it's not just college ball that's big in this state. North Carolina has produced some of the biggest names in basketball history, including Michael Jordan!
Basketball isn't the only sport thriving in North Carolina. The Charlotte Hornets (NBA), Carolina Hurricanes (NHL), and Carolina Panthers (NFL) all call this state home. So whether you're a hoops fan or a follower of other sports, North Carolina has a sporting culture and teams to support.
At best, West Virginia has a minor league hockey team. And while the WVU Mountaineer fanbase has a strong reputation for its loyalty and avid support, it doesn't quite compare to the thrill of professional sporting events.
Outdoor Recreation
Looking for outdoor adventure? Try nature's playground, West Virginia! The Mountain State's beautiful Appalachian Mountains host activities for all seasons.
Hiking enthusiasts can explore the famous Appalachian Trail that runs through parts of West Virginia while fly fishing and whitewater rafting opportunities abound in these majestic mountains. For thrill-seekers, the New River Gorge National Park is a must-visit destination with its Class IV+ waters and rock climbing.
When it comes to winter sports, West Virginia's ski resorts are larger, have more runs, and typically have longer seasons than North Carolina's. Find ample opportunities for downhill skiing, cross-country skiing, and snowshoeing during winter.
Mountain biking enthusiasts will also be in heaven with popular trails available in the Kanawha State Forest and the Monongahela National Forest, while off-roaders can experience the renowned trails of the Hatfield-McCoy mountains.
That's not to say North Carolina doesn't have its own natural wonders. With 100+ miles of trails, 50+ lakes, and 31 beaches, adventure is never far away.
Take on the rocky terrain with some of the country's best mountain biking, climbing, and skiing. Venture to one of the state's 41 state parks and natural areas. The most visited national park in the US, The Great Smoky Mountains National Park, is in western North Carolina. The park has multiple picnicking, hiking, fishing, and camping facilities.
But if water is your thing, North Carolina will be more appealing. Kerr Lake, Lake Norman, Lake Murray, and Lake Mattamuskeet offer up swimming, sailing, bass fishing, and that quintessential lake-living experience. And don't forget about the 300 miles of incredible coastline! Wrightsville Beach and Outer Banks feature saltwater fishing, kiteboarding, and whale watching. Plus, you'll find luxurious amenities and delicious dining options at these popular vacation spots.
Arts and Culture
Both states have friendly and down-to-earth folks calling it home! The many festivals and attractions provide ways to immerse yourself in both beautiful states' unique folk cultures and traditions. So what makes them different?
North Carolina boasts some of the country's top-rated museums and attractions in arts and culture. One of the most well-known is the North Carolina Museum of Art, which features a vast collection of art spanning from ancient times to the contemporary era.
The Museum of Life and Science in Durham is a must-visit if you're interested in science and technology. The fascinating exhibits and interactive displays will keep visitors of all ages engaged and entertained.
For film buffs, the Carolina Theatre in Greensboro is a cultural icon that has been screening movies since 1927. These are just a few examples of the numerous museums and attractions throughout North Carolina that showcase the state's rich history and creative scene.
When it comes to dining, North Carolina is world-famous for its tangy vinegar and mustard-based barbeque flavors and simple seasonings. It's also the home of Cheerwine soda.
Experience the heart of Appalachian folk culture in West Virginia! The settlers blended Celtic and African influences to produce a unique musical and artistic tradition celebrated at local festivals and art galleries.
Art lovers will want to check out the Huntington Museum of Art, which features an impressive collection of American art ranging from colonial times to the contemporary era. The Clay Center for the Arts and Sciences in Charleston is ideal for families, with interactive exhibits, galleries, and even a planetarium.
For history buffs, the West Virginia State Museum in Charleston has a diverse collection of artifacts, including Civil War relics, pioneer tools, and Native American artifacts. And if you're looking for a unique experience, head to the Beckley Exhibition Coal Mine, where you can explore an authentic coal mine and learn about the history of the mining industry.
Don't forget to indulge in the famous pepperoni rolls and Tudor's Biscuit World, the perfect culinary compliments to your cultural exploration.
Choosing Between North Carolina and West Virginia
Both states have their benefits, but what's best for you will come down to what it is you are looking for. While they share similar features, there are still distinctions that could make or break your decision. That is why we strongly suggest researching both states before making a move. Get to know more about North Carolina and West Virginia. And most importantly, talk to a local real estate agent who can provide detailed information about property availability in the area.