Your Greensboro NC Real Estate Questions Answered
Posted by Preston Guyton on Tuesday, January 18, 2022 at 5:27 AM
By Preston Guyton / January 18, 2022
Comment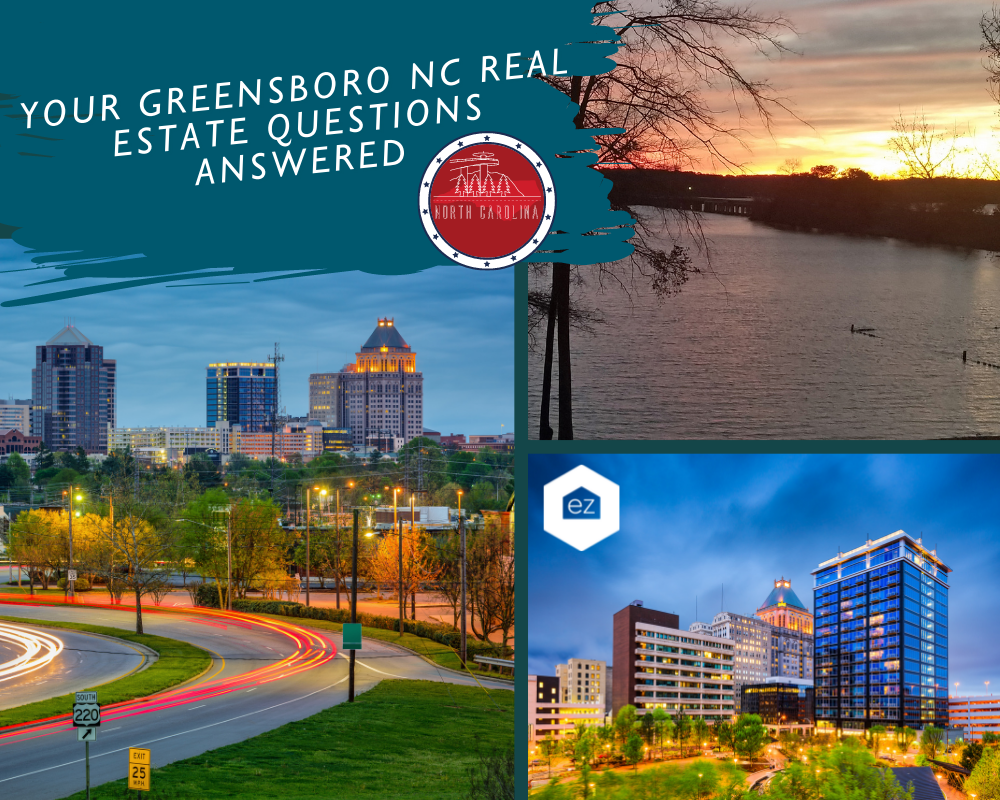 Your Greensboro, NC Real Estate Questions Answered
Greensboro, North Carolina, combines small-town charm with big-city amenities and attractions. As the state's third-largest city by population, the area is a desirable place to live because of its access to outdoor recreation, strategic location in the state, and lifestyle affordability.
When it comes to the housing market, Greensboro ranked no. 30 in the top 100 US housing markets based on sales activity and affordability. Greensboro's residential real estate was more affordable than 70 other ranked metros in the Florida Atlantic University analysis.
Are you interested in moving to Greensboro? These frequently asked questions about the Greensboro real estate market can help your home search.
What is the average price of a home in Greensboro, NC?
Greensboro had 197 homes for sale in early January 2022, ranging from lots listed at $15K to estates at $7.5M. The median list price from November 2021 data was $234,800, with a $130 median price per sqft. That figure was up 8.2% year-over-year. Greensboro homes were on the market an average of 12 days before sale.
The most expensive listing was $7.5M for a 6-bedroom 7.5+-bathroom home on slightly over three acres in a gated downtown country club community. The least costly residential listing was $51,000 for a 2-bedroom, 1-bathroom property needing renovations.
Are there any condos or townhomes available in Greensboro, NC?
As of January 2022, there were 127 available condominium and townhome listings. The most expensive was $585,000 for a 14th-floor luxury condo downtown with floor-to-ceiling panoramic views, 3-bedrooms, and 3-bathrooms. The least expensive was $65,000 for a two-bedroom, 1.5-bathroom unit.
November 2021 market data reported townhomes and condos had less than a month's supply of inventory.
What is the property tax rate for Greensboro, NC?
Greensboro is in Guilford County, which charged a 0.7305 property tax rate per $100 of assessed value in 2021-2022. The City of Greensboro charges 0.6625 mils. Together, that's a 1.3930 property tax rate.
Additional city taxation fees include $122, covering debt service and special districts. The average water and sewer bill in January 2020 was $510.
Learn about North Carolina property taxes.
What county is Greensboro, NC in?
Greensboro is the county seat of Guilford County, located in North Carolina's Piedmont Region. It offers a mix of employment opportunities, school choices, attractions, and cultural diversity.
Guildford County's location has always been its strategic advantage, and it has been a commercial hub dating back to the railroad days. Guildford is approximately 100 miles from Raleigh and Charlotte, ideally situated between two major state metros. It is ranked as North Carolina's no. 2 county for manufacturing and is in the top 10 in the southeast United States.
The county has attracted business and residents with a combination of low taxes, affordable labor, and raw materials. Four universities operate inside county borders, both public and private, adding to the cultural character and development of the county.
Is Greensboro, NC growing?
Greensboro remains the third-largest city in the state based on its population, although Durham may take that spot in the next decade. Greensboro's population grew to 299,035 residents in the April 2020 US Census, adding almost 30,000 new residents in a decade. The population jumped 10.9% from 2010.
The city has grown almost 30% since 2000. It is growing faster than 77% of other similarly sized cities.
What neighborhoods are in Greensboro, NC?
Greensboro residents have 132 different neighborhoods to call home. The Thicket was reported as the most affordable, with the median listing price of $130,000. The most expensive is Grandover, with the median listing price of $629,900.
Greensboro is broadly organized by the cardinal directions: north, south, east, and west. Many neighborhoods have no official borders, and not everyone agrees on where one neighborhood ends and another begins.
The historical neighborhoods often began as platted subdivisions. Others were originally villages that incorporated into the city limits over the years.
A few notable neighborhoods include the Fisher Park Historic District, Aycock Historic District, Irving Park, White Oak New Town, Sedgefield, Southside, and College Hill.
The downtown heart of Greensboro has experienced revitalization over the last two decades. Downtown residents can walk to the numerous restaurants, boutique stores, and parks in the area.
Sunset Hills was a "Nicest Places in America" finalist in 2019. It's adjacent to the University of Greensboro and offers a friendly community with a suburban feel. The neighborhood is known for its holiday lights displays in December.
Fisher Park was the city's first suburb and is north of downtown. The 12-acre park and its nature trails, streams, and iconic stone bridges make Fisher Park an attractive place to live. There are many private historic homes, but apartments, townhomes, and condos are available.
Aycock Historic District is part of the Dunleath neighborhood. It is on the northeast edge of downtown and was developed at the turn of the twentieth century for middle and upper-class residents to live. Homes reflect traditional American architectural styles.
Lindsley Park dates back to the 1910s and remains a community where neighbors get together and wave from their porches. Here you'll find farmer's markets, two sprawling parks, and tree-lined streets.
Latham Park is a suburban neighborhood with proximity to the University of Greensboro. The Latham Park Greenway makes it easy to enjoy the outdoors.
Westerwood is the center for the arts community in Greensboro. Its Westerwood Art & Sole event brings artists together to showcase their work. The charming homes in this neighborhood have a lot of character, ranging from Tudor-style cottages to colonial designs. Residents are close to the 80-acre Lake Daniel Park.
Hamilton Lakes was once a series of Quaker farms. Today it is centered around the Hamilton Lakes Golf Park. The community was built with a local Swim and Tennis Club, golfing, and walking trails with recreation in mind.
Summerfield is a prime example of a village incorporated into the growing Greensboro. Once a small farming town today is home to over 10,000 people. The spacious lots give the area a small-town feeling.
Glenwood is a quiet community just a few minutes from downtown. It used to be served by a trolley line and has a lot of historic homes.
Are there any waterfront properties found in Greensboro, NC?
Greensboro does not have an expansive reservoir or beachfront properties, but you can have a waterfront lifestyle. Numerous creeks and streams cut through Greensboro, and there are five named lakes. Countless smaller lakes, ponds, and retention areas are sprinkled around the city, with residential homes along the shoreline. Greensboro had 15 listings with some form of waterfront in January 2022.
Is there lakefront or riverfront property in Greensboro, NC?
Yes, find lakefront living on Lake Jeanette, Lake Brandt, and Lake Townsend in the northern city limits. Buffalo Lake is a smaller lake near New Irving Park and Brown Town. In the southwest, try the small Adams Lake or the Sedgefield Lakes development for lakefront property.
How is golf in Greensboro, NC?
Find three courses in the city: Starmount Forest Country Club, Greensboro Country Club, and the Gillespie Golf Course. Two more country clubs are right on the city border for five accessible golf courses.
Grandover Resort has two 18-hole championship courses. This course is public, as is the Gillespie Golf Course, which is managed by the city.
Greensboro Country Club has two 18-hole golf courses, but it is a private facility. It also has tennis courts, fitness facilities, two swimming pools, and dining.
The Sedgefield Country Club, established in 1926, is home to the Wyndham Championship. The 18-hole championship course is ranked among the best courses in North Carolina.
Starmount Forest Country Club is another local venue that has been home to PGA Tour events. It has been renovated to become a modern country club with a 9,000 sq ft fitness facility, fitness classes, and personal training areas. Amenities include an aquatics facility with a splash ground for children, a poolside restaurant and bar, tennis courts, a clubhouse, restaurants, and a meeting space.
Are there golf course communities in Greensboro, NC?
Grandover is a highly sought-after community in Greensboro. Community residents have a children's playground, fitness center, and a caterer's kitchen. Grandover is also a world-class golf course community and has the Grandover Swim & Racquet Club. Resident benefits include an activities director, discounts on golfing, and resort-style living.
Irving Park was one of the first communities to include a golf course in its neighborhood plan. The homes in this historic neighborhood surround the Greensboro Country Club and come in various styles. It is minutes from downtown.
Starmount Forest is built around the Starmount Forest Country Club. Its roots go back to the 1920s when it was originally part of the Hamilton Lakes subdivision but was carved out to become a community. The charm comes from mature landscaping, streams, and winding streets.
Outside Greensboro southeast of I-85 is the Forest Oaks Community, with a golf course managed by the Forest Oaks Country Club. Membership includes tennis courts, pickleball, clubhouse, and swimming pool.
What areas are near Greensboro, NC?
Greensboro is at the heart of the North Carolina Triad. It is about 30 minutes to Winston-Salem and its highly ranked Wake Forest University. The suburb of High Point is to Greensboro's southwest. Summerfield lies to the northwest.
Burlington is to the east, and beyond that is Chapel Hill and Durham, home to Duke University. You can be in both cities in around an hour by car by jumping on Interstate 40.
Lake Townsend and Lake Brandt are on the city's northern border for recreation. Spend the day on the lake boating and fishing. Randleman Lake is a slightly further drive to city south, but easily accessible from I-73.
What to know about living in Greensboro, NC
Greensboro is the heart of the Triad that includes Winston-Salem and Summerfield. As one of the state's largest cities and the fastest-growing, residents enjoy a lifestyle rich in amenities. The real estate market is diverse and offers opportunities for all. Live in a golf course community, luxury condo, or historic single-family home. Explore the Greensboro real estate market with a local expert.