Moving to Greensboro - Your EZ Guide to Everything Greensboro, NC
Posted by Preston Guyton on Thursday, April 15, 2021 at 4:58 AM
By Preston Guyton / April 15, 2021
Comment
Moving To Greensboro: Your Guide To Living in Greensboro, NC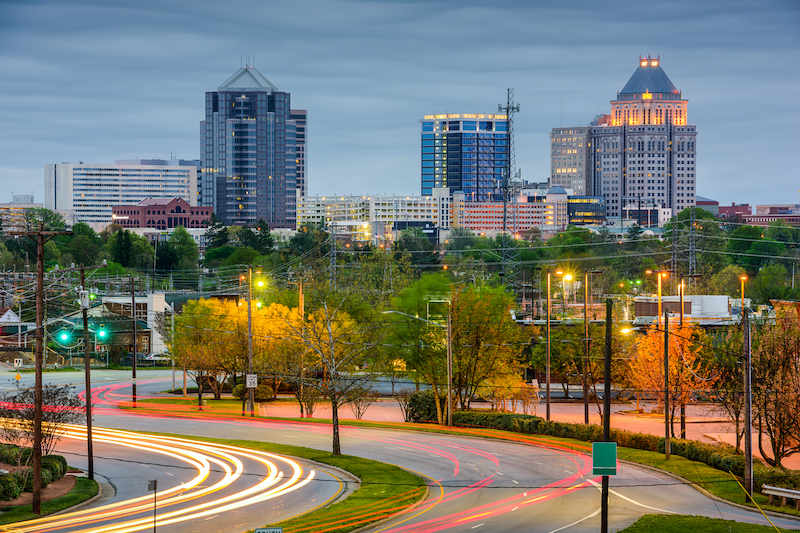 Greensboro is located in Guilford County — rated to be one of the best places to live in North Carolina. Just 120 miles from the mountains, and only 200 miles from the beach, Greensboro, NC sits conveniently for all your outdoor and nature excursions. This city offers plenty of cultural attractions as well as various things to do to keep you entertained inside the town itself. To add to that, this mid-sized city has a college town vibe, making Greensboro a great place to live in for those looking for a more relaxed city away from too much hustle and bustle.
Cost of Living and Population Growth
As of 2018, Greensboro had a population of around 295k residents, which have a median age of 35.6 when combined. Between the years 2017 and 2018, Greensboro had a population growth of 1.56%, from 290,201 to 294,726. There are five main ethnic groups in Greensboro; 41.9% of the population are White Non-Hispanics, 40.4% are Non-Hispanic African Americans, 5.97% are White Hispanics, 5.03% are Asian, and the others are a mix of various races.
The median value of properties in Greensboro, NC was $156,600 in 2018, with the homeownership rate standing at 48.4%. At the same time, most people in the city drove to work, with the average commute time being 19.8 minutes. Affordability is a huge advantage when you move to Greensboro, and the average car ownership here is two cars per household.
If you find yourself wondering just how affordable living in Greensboro is, we've created a table below that compiles the expenses you can expect along with a comparison to North Carolina's average and the national average:
| | | | |
| --- | --- | --- | --- |
| COST OF LIVING | Greensboro | North Carolina | USA |
| Overall | 83.9% | 90.6% | 100% |
| Grocery | 95.8% | 96.5% | 100% |
| Health | 112.3% | 107.5% | 100% |
| Housing | 62.2% | 81% | 100% |
| Median Home Cost | $143,800 | $187,300 | $231,200 |
| Utilities | 95.5% | 99.2% | 100% |
| Transportation | 75.3% | 83.9% | 100% |
| Miscellaneous | 99.5% | 96.2% | 100% |
Greensboro's overall cost of living is 83.9
Job Market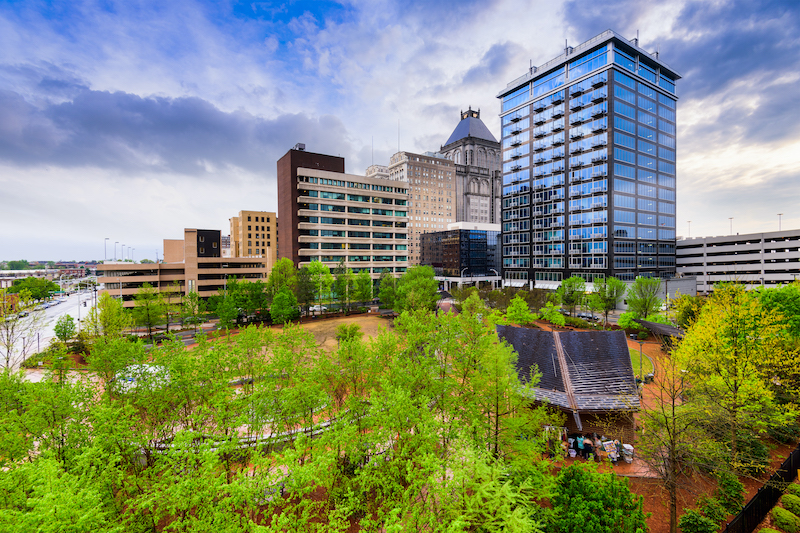 Some of the strongest industries in Greensboro include health care, education, social assistance, and transportation. Furthermore, the top employers in the city are the Moses H. Cone Memorial Hospital and Guilford County Schools. The area's universities and colleges employ plenty of professionals as well.
Other large employers around the area are Guilford County, the City of Greensboro, BB&T, and Ralph Lauren Corporation. Moreover, Mack Trucks Inc. has placed its headquarters in Greensboro. The median household income in Greensboro is $45,787, compared to the country's average of $51,960.
Currently, the city has an unemployment rate of 4.1%, while there are 45,600 people employed in health care and social assistance where a nursing aide makes roughly $24.34k - $33.58k a year. Meanwhile, a janitor can earn anywhere between $21.99k - $33.49k, and a customer service representative can earn around $26.73k - $42.97k.
Things To Do
Greensboro may look like a sleepy college town at first, but don't let it fool you; there are plenty of things to do in and around the surrounding areas of this city. To give you a taste of what Greensboro has to offer, here are just a few things you can look forward to.
Gibb's Hundred Brewing Company
At this brewery, you will meet the husband and wife team of Mark and Sasha Gibbs, where the place gets its name. Balancing their love of great beer and their genuine commitment to Greensboro's local community, Gibb's is where you can sip on North Carolinian beers to your heart's content. They also offer something for everyone — from the casual pilsner drinker to the hops aficionados. During summertime, (and the mornings) try the Whirligig Berliner, which carries the fresh flavor of German white beer.
Benjamin Park
Benjamin park is open all year round, so you can experience the beauty it has to offer any time. With a seven-acre haven of lush greenery, it offers a taste of North Carolina's wilderness just a step outside of the city. Its winding boardwalk can take visitors past bubbling bogs, into the bayou-esque woods and the fern-dressed wetlands, while the park's man-made waterfall echoes through the background.
Natty Greene's Pub & Brewing
You can find the second of Greensboro's two great microbreweries on the lively Elm Street right in the center of the city. This hearty and welcoming spot sports 12 beers on tap; from North Carolinian beers that change every month to a hefty General Stout. You can also expect to get well-fed here, with slow-roasted pulled pork, spicy veggie patties, and deep-fried chicken wings, along with barbecue and Cajun buns that bring together classic Southern flavors.
Crafted
Never has Mexican cuisine been so precisely "crafted" as this enticing taco joint. You'll also find Crafted on Elm Street, right at the heart of the action in Greensboro. With a love for tasty and organic ingredients, every plateful here is packed with all the fresh and zingy deliciousness that Central America has to offer. Start your feast with some queso-topped salads, followed by a medley of tasty tacos with fillings that vary from smoky briskets to unusual onion relish and Korean marinade for a more Oriental taste.
Artistika Nightclub
When the working day is over, head over to Downtown Greensboro where everything comes to life. From energetic dance floors to live local music, Artistika Nightclub is the place to be when you want to dance the night away. This exclusive International and Latin dance club provides a great atmosphere, fun cocktails, and even offers various dance classes on Friday and Saturday nights.
Climate
Greensboro is a great city to live in due to its near-perfect weather that lets its residents experience all four seasons. The city of Greensboro gets an average rainfall of 45 inches every year, more than the US average of 38 inches. In contrast, the city averages at just 5 inches of snow every year, which is much lower than the 28 inches of the country's average snowfall. Furthermore, Greensboro gets 217 days in the sun, while the rest of the country only gets 205 sunny days. Here are a few highlights of Greensboro's weather:
Summers in July can hit a high of approximately 89 degrees Fahrenheit.
Winters in January can get as cold as 30 degrees Fahrenheit.
Rainy days can produce an average of 45 inches of rain per year.
Days of snow can produce an average of 5 inches of snow per year.
Traffic
Traffic isn't a big issue in Greensboro, however, visitors and locals alike can expect trouble coming from US-70 in McLeansville due to congestion. Unfortunately, contractors will be working on widening the road from Mt Hope Church Rd to Sun Lake Dr. This may cause multiple lane closures throughout the day, which started July 6, 2020, and will last until April 30, 2022. As such, drivers are encouraged to drive slowly and carefully to avoid unnecessary accidents. Other roads and places to look out for include:
Forest Oaks: Closed road with a detour on SR-3511 due to maintenance issues. From May 8, 2020, to May 28, 2021.
Forest Oaks: Closed road with a detour on SR-3497 due to issues with the dam. From November 13, 2020, to May 31, 2021.
Public Transportation
Greensboro isn't easily accessible through walking, so various methods of public transport have been organized by the city to allow its residents to freely explore Greensboro in all its glory. Here's a breakdown of Greensboro's various modes of transportation available to the public.
Greensboro Transit Agency
The GTA (Greensboro Transit Agency) was first created in 1991 and now provides quality transportation services to both visitors and residents. Its bus services run from Mondays to Saturdays through 16 different routes and on Sundays for seven select routes. Furthermore, GTA provides a connecting route for the area of S. Elm-Eugene.
HEAT Bus
In partnership with seven local colleges and universities, GTA launched HEAT (Higher Education Area Transit) in 2016. This project added nine new routes to serve local institutions of higher learning and various select locations in Jamestown and Greensboro.
Access GSO
Eligible riders who have a disability that makes it hard for them to ride the fixed-route service can alternatively ride via Access GSO. This para-transit service provides door-to-door and curb-to-curb transportation services inside the city of Greensboro.
Piedmont Triad International Airport
This airport is located west of Greensboro, in unincorporated Guilford County. It serves the Piedmont Triad region of High Point, Winston-Salem, and Greensboro. Piedmont Triad International Airport sits on 3,770 acres and has three runways, which have an average of 280 takeoffs and landings every day. It is the third busiest airport in North Carolina and is owned by the Piedmont Triad Airport Authority.
Golf
Greensboro has plenty of excellent options for the avid golfer, with various tee times to fit your schedule and a wide range of courses to choose from.
Grandover Resort East Course
The Grandover provides golfers with a world-class course with 36 holes right at your doorstep. Designed by world-renowned golf architects Gary Panks and David Graham, this course was built over 1,500 acres of dogwood, pine, and oak-covered hills, providing a splash of color. Playing here will also provide you with stunning panoramas in this golfer's paradise.
The Cardinal by Pete Dye
Opening in 1975, the Cardinal is a well-known test for players of all levels. Hosting the Cardinal Amateur from 1983 to 2017, this course has seen some of the best amateurs flourish into successful golfers through the PGA Tour. Par 71 features what Pete Dye himself labeled as "the hardest par 3 I ever designed," otherwise known as hole #12.
Water Sports
Water sports are also a big part of Greensboro living, so you can expect to see water parks, lakes, rivers, and outdoor specialists who will guide you through wet and wild adventures.
Duckhead Water Sports
This water sports center provides affordable various services, including:
Boat rental
Pontoon Rental
Fishing Rental
Luxury Jet Ski Rentals
Fishing Pontoon Boats
Water Jet Ski
And more!
With various locations throughout North Carolina, you can find one that's closest to you. Choose from the following locations; Oak Ridge, NC; Summerfield, NC; McLeansville, NC; Stokesdale, NC; or Walkertown, NC.
Hanging Rock State Park
Hanging Rock State Park started as a Civilian Conservation Corps project in the 1930s. Today, it offers the best outdoor experiences with a 73-site campground, a stocked lake for swimming, picnic grounds, and canoe rentals. With more than 20 miles of hiking trails, its roads weave through waterfalls and clear streams, offering spectacular views of the nature around you. If you prefer, there are also vacation cabins available for longer stays.
Dog Friendly
Greensboro is a dog-friendly city, where residents and visitors alike will often be seen with their trusted canine companions throughout various areas and places of interest such as restaurants, pubs, parks, and even showrooms.
Southwest Park Dog Park
At the Southwest Park Dog Park, your pup will be free to roam around the 2.5-acre space that's fenced off for their safety. This off-leash dog park provides separate sections for small and large dogs, so you never have to worry about your little or big one. The park also provides treats and fresh water so you can keep your pet hydrated and energized; however, fees apply.
Doggos Dog Park & Pub
Finally, a place that offers both pets and their owners something they can enjoy. This indoor dog park sells beer and wine, but be sure that you're over 21 before taking your dog inside. With everything being supervised for you, your pet can play freely with others inside its pet-friendly, 10,000 sq. ft. facility. There's now a place where you can enjoy both the indoors and outdoors, whether you want to play with your dogs or have a few drinks while they roam around.
Replacements, Ltd. Showroom
At Replacements, Ltd., dogs are welcome to join (provided that they're leashed) while their owners look around and shop. This 12,000 sq.ft. showroom features one of the world's largest supply of silver, crystal, collectibles, as well as vintage and current dinnerware. After starting Replacements in 1981, Bob Page has dedicated the last 40 years to helping people create lasting experiences through his wares. When visiting though, remember that if you (or your dog) break it, you buy it.
Attractions
There's no doubt that there are plenty of attractions in Greensboro that are sure to take your breath away. But here, we'll focus on two of the best places to visit in Greensboro, no matter what time of the year it is.
Greensboro Natural Science Center
With over four distinct sections combined with immersive and interactive exhibits, the Greensboro Science Center takes top prize for being the best and most eye-catching institution that the city has to offer. From the museum itself and the rattlesnake and reptile exhibits, to the zoo complete with rare lemurs and gibbons, this gem of a place is home to a collection so eclectic and vast that you'll keep coming back for more.
Wet 'n Wild Emerald Pointe Water Park
Just outside of Greensboro city is the iconic Wet 'n Wild Emerald Pointe Water Park, complete with plunge pools, waterslides, lazy rivers, and bubbling Jacuzzis. It's a great place to come and escape the excruciating heat of the southeast's summer, and this theme park also boasts some of the most adrenaline-pumping water slides in the country.
Shopping
No city is complete without a great shopping mall or at least a shopping strip somewhere in the city. Thankfully, Greensboro's got you covered — no matter what you're looking for or who you're shopping for, it's all in one convenient location. There are also smaller local shops scattered around town for any specific needs you may have.
Four Seasons Town Centre
The Four Seasons Town Centre is your one-stop shop for all your dining and shopping needs. Whether you're looking for the perfect gift orjust browsing around various retail stores, you can indulge all your wants and needs here. With over 140 stores to choose from, you're sure to have fun just by walking from one shop to the next. Here are just a few stores you will find at the Four Seasons Town Centre:
H&M
Auntie Anne's
Starbucks
Candy Jar
Kids Foot Locker
Victoria's Secret
Foot Locker
Zumiez
Friendly Center
At the Friendly Center, shopping is made easy, with plenty of locally-owned shops, as well as international favorites such as Macy's, Belk, Apple, Sears, REI, Old Navy, The Extra Ingredient, Jade Aveda Salon, and more. You can also treat yourself to a fantastic night out with friends and eat at the finest restaurants this mall has to offer, including Wine Bar, Fleming's Prime Steakhouse, and even Ben & Jerry's!
Art and Culture
If you have an appreciation for art and culture, you'll soon find out that Greensboro shares your interests. With plenty of museums and picturesque gardens to visit and help take the stress away, you'll see why artists thrive in this small, yet impressive city.
Elsewhere Living Art Museum
This museum can be broken down into different parts: part workshop, part quirky art gallery, part educational facility, and part artists' collective. Making a former thrift store on Elm Street its home, the Elsewhere Living Art Museum offers a huge variety of shows and exhibitions all year round. It serves to jog the public's creative juices and think about recycled and reclaimed materials in a new light. As a result, artists often find themselves creating thought-provoking works from mundane and usual objects, helping them to tell a story.
Tanger Family Bicentennial Garden
When you find yourself in need of a quick getaway from the urban jungle scene, head over to the soothing gardens that you can only find at the Tanger Family Bicentennial. Inaugurated in 1976, this park marked the 200th anniversary of the country's foundation by placing countless bronze plaques and statues around the greenery and pathways. It also features manicured flower beds, grassy lawns, babbling streams, and a cozy gazebo for various events.
Sports and Sports Teams
Greensboro's Parks and Recreation Department offers a wide range of sports programs for both adults and youths throughout the year. Their youth athletic programs are designed to teach fundamentals, leadership, sportsmanship, and teamwork in a safe and fun environment. Meanwhile, their adult programs are made up of a diverse selection of sports for competitive play inside a structured environment. The Greensboro Parks and Recreation Department offers plenty of sports activities to choose from, including:
Baseball
Youth Basketball
Adult Basketball
Cheerleading
Football
Kickball
Softball
As for sports teams, you can expect to cheer for the Greensboro Swarm, a basketball team of the NBA G League based in Greensboro. As an affiliate of the Charlotte Hornets of the NBA, the assistant coach for the Hornets, Jay Hernandez, was elected to be the head coach for the Swarm. The team plays at the Greensboro Coliseum Fieldhouse for their home games and is the eleventh G League team owned by a team in the NBA.
Education: Schools and Colleges
With over 47,000 postgraduate and undergraduate students studying in Greensboro, it has become an educational community full of opportunities. Home to five universities and colleges, a law school, a two-year community college, and a collaborative campus operated by the two largest universities, Greensboro is a beacon of knowledge that draws students to its doors yearly. These institutions have a combined faculty and staff count of 6,000 people who work hard to build the city's leaders of tomorrow.
Elon University School of Law
The Elon University School of Law prepares its students to excel in the profession, honing their skills so that they may eventually find success leading their communities and the nation. Greensboro is known for having high-tech facilities such as Elon's North Carolina Business Court, making it one of the few law schools in the whole country to have its own working court.
Greensboro College
Founded in 1838, this college is located in downtown Greensboro and enrolls around 1,200 students from a wide range of states. This independent, coeducational college is affiliated with the United Methodist Church, uniting Judeo-Christian values and the liberal arts inside an atmosphere with mutual respect and diversity. Apart from a rigorous academic and well-respected Honors program, this college also features an athletic program over 18 different sports, along with recreational and service organizations.
Real Estate
As housing prices start to decline, the Greensboro real estate market finds itself in a place where rent is on the rise. Because of this, the city's dynamics are changing, creating plenty of opportunities to invest in one of the most affordable real estate markets in the state. As of Q3 2019, Greensboro was ranked among the seven smaller metro areas that gained a rent growth of 4% or higher, according to HousingWire.
This trend in rising rent is still rampant today, with rental rates in the Greensboro area increasing by another 6% year-over-year. Furthermore, this city is small enough for you to know people on a first-name basis, yet big enough to host a flourishing economy. With numerous corporate businesses and stable employment opportunities, Greensboro is a top candidate for those looking to move their family or business.
Welcome to Greensboro!
Everything you need to know about making the move to Greensboro has already been laid out in detail, so all there is left to do is to take the first step. With so many housing, education, and employment options available to you, Greensboro is practically calling you home. Combined with its affordability, love of art and culture, perfect weather, and various outdoor adventures, there is limitless potential in this city.
By this point, there should be nothing holding you back from moving to such a rich part of the country. It's best to take advantage of the economy and home prices that it has to offer now before it becomes obvious just how much of a steal it is to have your own piece of Greensboro.