Your High Point NC Real Estate Questions Answered
Posted by Preston Guyton on Friday, January 14, 2022 at 7:48 PM
By Preston Guyton / January 14, 2022
Comment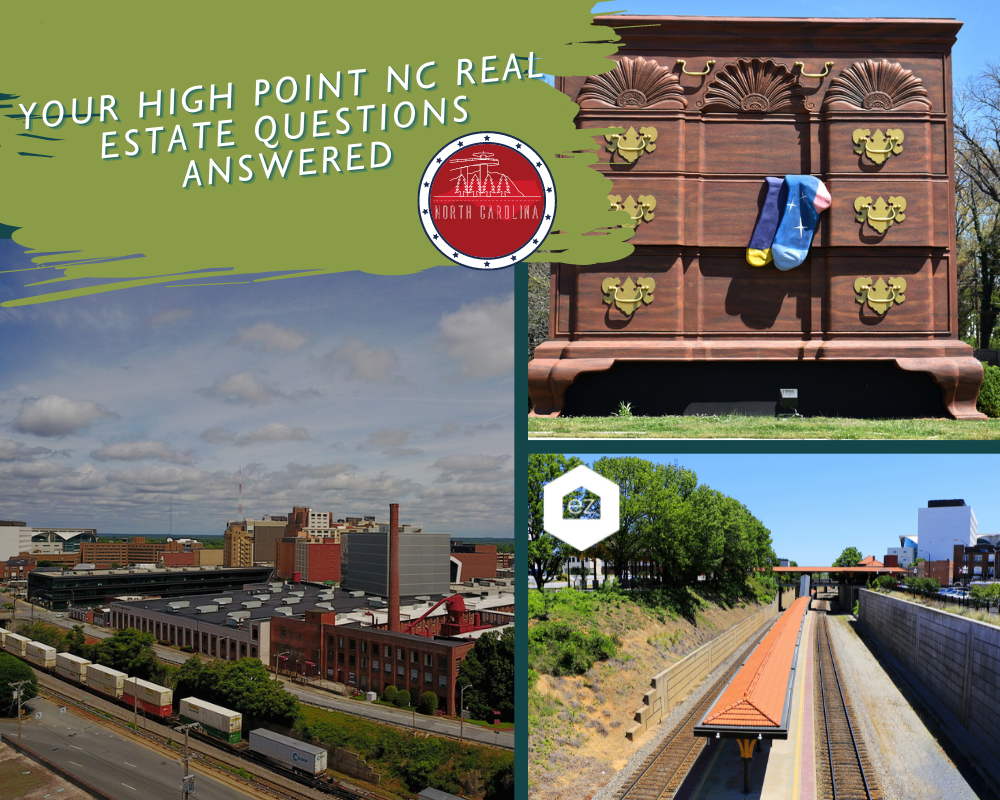 Your High Point, NC Real Estate Questions Answered
Are you thinking of buying a home in High Point, North Carolina? The location makes this central city a great place to live. You are midway between the Great Smoky and the Blue Ridge Mountains and the North Carolina coastline. Greensboro and Winston-Salem are less than 30 minutes drive.
While being close to these locations is excellent, you don't need to leave High Point to enrich your lifestyle. High Point offers many real estate choices, a robust health care system, and plentiful leisure activities. The city is a designated certified retirement community in North Carolina, but it's equally appealing to families with strong public and private schools.
Learn more about the High Point real estate market through the frequently asked questions we receive.
What is the average price of a home in High Point, NC?
As of December 2021, the median list price for a High Point home was $257,400, with a $134 median price per square foot. There were 593 homes for sale.
During January 2022, the lowest-priced High Point listing was a $37,500, two-bedroom, one-bathroom home in need of renovation or replacement on a 0.16-acre lot. The market topped out with a $1.85M listing on over eight acres in Swansgate. This home had 5-bedrooms, 5-full baths, 2-half baths, and 9,500 sq ft.
Are there any condos or townhomes available in High Point, NC?
Yes, there are condominium and townhome residential properties available in High Point. As of January 2022, there were a little over 30 available listings classified as townhomes or condos.
The lowest-priced listing was $124,900 for a 3-bedroom, 1.5-bath duplex property. On the other end of the market, a new construction townhome was available in the Trellises community for $438,559. This property had 3-bedrooms and 2-bathrooms. More new construction condominiums and townhomes were found at The Grove at Cottesmore, Trellises North, and Stonegate.
What is the property tax rate for High Point, NC?
The majority of High Point lies inside Guilford County, which in 2021 charged a $0.7305 per $100 of assessed value property tax rate. The city of High Point had an effective tax rate of $0.6475 in 2021. There were additional taxes for fire districts, which vary based on the residential address.
A few small segments of High Point lie in the surrounding Davidson and Randolph Counties. Davidson assesses its property taxes at 0.54 mils, and Randolph assesses at 0.6327 mils.
What county is High Point, NC in?
The vast majority of High Point lies inside Guilford County, part of the North Carolina Piedmont region. High Point is in the southwest corner, with the city of Greensboro at the county's center. Greensboro is a fast-growing city and the third most populated in the state. As a result, High Point residents have access to many urban and cultural amenities.
Guilford County is well tied into a vast transportation network, with I-74 and I-85 crisscrossing and running through High Point. These link to I-40 and I-73, which run through Greensboro.
Is High Point, NC growing?
The 2020 US Census counted 114,059 residents in High Point, an 8% increase in population from the 2010 Census.
The city's Planning and Development Department was close in their 2020 projections to Census figures. They estimate that by 2035 High Point will have 121,863 residents, a 6.4% growth rate.
What neighborhoods are in High Point, NC?
In High Point, you'll find a lot of tree-lined neighborhoods, parks, and lakes around its beautiful communities. Nextdoor identifies 158 neighborhoods and communities inside High Point. Here are a few subdivisions and districts to give you an idea of the real estate market's diversity.
Downtown High Point Places you close to some of the city's favorite restaurants, entertainment venues, and retail shops. High Point University and High Point Furniture Market on Main Street are walkable from here. Residential apartments and single-family homes have a historic look, with many properties built between 1940 and 1969.
Emerywood has an average resident age of 54. Find historic homes in this neighborhood near the High Point Country Club.
Emerywood West is close to High Point's leading attractions and restaurants. The oak-lined streets make the area aesthetically attractive.
Hampton Park has a suburban feel and a mixture of single-family homes and green areas. Some townhomes available in this area.
Highland Mills is a historic neighborhood established as a community for the Highland Cotton Mill workers. The Mill sold all the houses to the families in 1962 and was closed in the 70s.
Delmar is in Davidson County. It's a newer construction community compared to more central High Point. The single-family homes typically have 3-5 bedrooms, 1,100-3,300 sq ft, on lots from 0.15-0.33 acres in size.
Sandy Ridge is one of the pricier neighborhoods in High Point. It has homes that are more recently constructed. It's noted as a great place to retire and is relatively close to Greensboro.
Deep River is a community with single-family homes, apartment complexes, and high-rise apartments. It has a low crime rating and is only ten minutes from High Point University. It's easy to walk around with numerous sidewalks.
Are there any waterfront properties found in High Point, NC?
Oak Hollow Lake is a significant feature in North High Point. The West Fork of the Deep River and some other creeks feed the lake. Surrounding the lake are the Oak Hollow Golf Course, the Festival Park, and residential real estate. These listings rarely come to market, but when they do, they draw attention.
High Point has a few smaller streams and creeks, but there is not a lot of waterfront property available in general.
How is golf in High Point, NC?
You will find four golf courses inside the High Point city limits. Two of these courses are public, and two are privately operated. The Oak Hollow Golf Course is a public course adjacent to Oak Hollow Lake. It was designed by Pete Dye and has been ranked among America's top public golf courses.
Blair Park Golf Course is an 18-hole facility that has served as the site of several local championships.
The High Point Country Club, founded in 1923, operates the Emerywood and The Willow Creek golf courses. The courses have hosted qualifying events for the US Open and the US Amateur. Membership includes practice facilities, lessons, and Junior's program. Social and recreational facilities are available at its two different campuses.
Are there golf course communities in High Point, NC?
A few homes around the Emerywood Golf Course at High Point Country Club have golf course views. Otherwise, there aren't any golf course communities available in High Point.
What areas are near High Point, NC?
High Point is known as the Home Furnishings Capital of The World, with over 100 furniture outlets in High Point and the surrounding area. The High Point Market is the world's largest wholesale home furnishings location. There is over one million square feet of furniture here.
Winston-Salem lies to the northwest about 30 minutes by car. The city blends historic venues with modern attractions, giving it an interesting vibe. It's a great place for a day trip, whether to visit the craft breweries or wineries, dining, music performances, or other annual events.
What to know about living in High Point, NC
High Point is a beautiful city to live in in the Piedmont Triad. New construction real estate is found around the city, but you can find historic homes and condos with character. Find ample new opportunities to build the lifestyle you desire with an affordable cost of living.
Wherever you choose to live, you're likely to be close to parks, restaurants, and retail options. Outfit your new home with creations made in the heart of the furniture capital of the world.