Moving to Cary - Your EZ Guide to Everything Cary, NC
Posted by Preston Guyton on Tuesday, April 6, 2021 at 7:41 AM
By Preston Guyton / April 6, 2021
Comment
Moving to Cary - Your Guide to Living in Cary, NC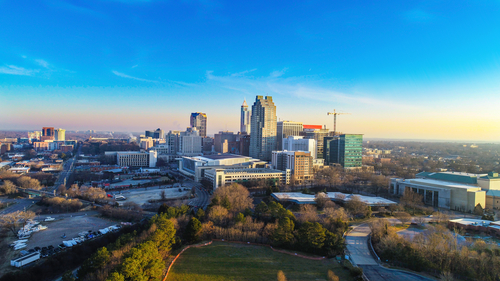 Cary is the seventh-largest municipality in North Carolina, and is predominantly located in Wake County with some areas situated in Chatham County. It's the kind of place where your neighbors make you feel truly welcome, making its warm, friendly residents one of the many reasons to move to the area.
People who move to Cary usually discover a better, richer quality of life and perfect for many different lifestyles. If you're looking to move to Cary, NC, read on for a breakdown of why Cary is a highly recommended area to live in.
Cost of Living and Population Growth
According to the 2010 census, Cary had a population of 135,234, which saw a 43.1% increase since 2000. Because of this, it is the largest town and the seventh-largest municipality in the state. The estimated population stands at 170,282 as of July 2019.
Part of the Raleigh Metro area, Cary has a score of 115 when it comes to cost of living, making it slightly more expensive than the average US city.
Here are monthly averages for certain commodities in Cary, NC, according to the Council for Community and Economic Research:
| | | | |
| --- | --- | --- | --- |
| Cost of living | Cary | North Carolina | USA average |
| Overall | 115 | 90.6 | 100 |
| Grocery | 103.2 | 96.5 | 100 |
| Health | 93.2 | 107.5 | 100 |
| Housing | 160.3 | 81 | 100 |
| Median Home Cost | $370,600 | $187,300 | $231,200 |
| Utilities | 97.5 | 99.2 | 100 |
| Transporation | 86.4 | 83.9 | 100 |
Job Market
Glassdoor recently ranked the Raleigh-Cary area as the #1 best place for work in the United States, easily proven by the sheer number of people relocating for work. MetLife, one of the leading insurance providers, has moved its technology headquarters in Cary, while the RTP, the biggest research park in the country, is just down the street from it.
Cary maintains its focus on healthcare, technology, and education, with companies such as Google, IBM, SAS, Apple, Cisco, and more calling it their home. One reason why these companies are attracted to this area is because of better tax incentives.
With 4,320 employees from SAS Institute, 2,540 staff members from Cary Towne Center, and 1,800 laborers from Verizon, they have a collective of almost 9,000 area resident workers as reported by Cary's 2009 Comprehensive Annual Financial Report.
Some of the other top employers in the area include Kellogg, Town of Cary, WakeMed, Global Knowledge, and Deere & Company. Cary's economy continues to thrive, with a 5% lower unemployment rate compared to the national average.
Things To Do
If you're worried that this town won't offer the city life you're accustomed to, there's no need to worry — you can find everything you need here and more.
One of its most popular hang out places is Brew Coffee Bar, a Raleigh-based cafe chain that serves a good range of locally loved coffee drinks, from brewed coffee to specialty lattes. Besides boasting a well-curated selection of both local and regional roasters, you can also enjoy wine, craft beer, baked goods, and breakfast bites here.
For high-quality drinks, Cary residents flock to Bond Brothers Beer Company at Cedar Street. Designated as the Best Brewery in the country by USA Today, this 9,000 sq.ft. brewery, taproom, and beer garden offers locally-made sodas, wines, and 14 beers on tap. There's a food truck available on-site almost every day, but you can also bring food to enjoy with friends and family.
For foodies, the Academy St. Bistro is a popular option that serves an Italian-American fusion menu in downtown Cary. Sit on its patio for a great view with a drink from Academy St. Bistro's cocktail menu, which features a twist on old classics, such as the Jamaican Mule — a quirky take on the Moscow Mule that replaces traditional vodka with spiced rum.
For outdoor adventures, there is Bond Park, a 310 acre park at the heart of Cary. It is a beautiful park with 4 miles of greenway trails, and is currently working towards having a greenway system with over 170 miles of trails. Bond Park also includes a boathouse, amphitheater, community center, senior center, playground, ball fields, and a challenge ropes course.
Climate
For many people, climate is an extremely important factor when choosing where to live. People from the north tend to pick North Carolina to avoid the harsh winters while those from the south come here to enjoy the changing seasons. Fortunately, in Cary, the warm weather lasts longer and the winters are mostly mild.
Snowstorms don't happen often and fall brings about the best outdoor recreational venues and parks the state has to offer. Cary provides its residents 213 days of sunshine every year. This North Carolina town does, however, take in a lot of rain, with an average of 49 inches a year with 115 days of precipitation.
Traffic
According to residents, traffic in Cary is bearable, depending on where you're traveling. For some, local knowledge has helped them create alternative routes to ease congestion, but there is no fighting the morning rush on the I-40 towards the RTP. Similarly, afternoon traffic on the way home can turn into a bumper to bumper situation. However, some argue that the traffic in Cary isn't bad at all, especially for transplants from more traffic-prone states.
Overall, the traffic in Cary moves at a decent pace but, with its growing population, traffic is expected to grow over the coming years.
Public Transportation
Cary's public transportation agency, C-Tran, moves locals around via fixed bus routes. But, if it's a faster way around the city you're looking for, there are Amtrak's three intercity rails; Carolinian, Piedmont, and the Silver Star.
Cary is also big on promoting travel and exercise, prompting the League of American Bicyclists to call it a "Bicycle Friendly Community." Through this movement, you can help the local government keep the town green. Biking and walking around Cary is easy thanks to the Greenways — paved walking trails that connect the city together.
Cary's location is ideal for frequent jetsetters as it is only a 10 to 15 minute ride to Raleigh-Durham International Airport.
Golf
Golf lovers are sure to appreciate Cary, where people live for golf and is the home to many of the best country clubs in the United States. One such example is the Lochmere Golf Club, a semi-private golf club with tree-lined courses and top-tier service, making it a favorite among locals.
Cary's surrounding areas also have great golf clubs to choose from, with Pinehurst (where the U.S Open is held) only an hour's drive away. Other golf course communities to choose from near the Cary area include Preston and MacGregor.
Water Sports
Cary is situated in an area surrounded by parks that permit boating, jet skis, and other water activities.
It also has a few swimming centers that offer unique programs, such as:
Cary Swim Club: if you're in need of lessons, the Cary Swim Club is a great option. They also offer Swimjitsu — a combination of swimming and Tai Chi.
Triangle Aquatic Center: home to the TAC Titans, one of the best-ranked USA swim teams with 600 swimmers — with most of them living in Cary. It is also the top venue in the state for aquatic events.
Dog Friendly
Cary residents are not only warm and welcoming towards new human faces. The city itself is incredibly dog-friendly, too.
Cary has multiple dog parks that are perfectly equipped for all sorts of activities your canine friends may enjoy, as well as dog stations for easy clean ups.
For a dog-friendly brunch date, La Farm Bakery provides Cary residents with an authentic French experience. From their tasty homemade bread, hearty sandwiches, and incredible pastries, you can savour every bite with your fur baby. This bakery also offers sweet and sticky desserts, and flavorful coffee, making it the perfect breakfast or lunch option.
As for dog-friendly hikes, there is the Hemlock Bluffs Nature Preserve, which offers scenic overlooks, gorgeous flowers, and great hiking trails.
Attractions
From food truck rodeos to various festivals, there's always something fun happening in Cary. Here are just a few of their most popular celebrations:
Lazy Days Craft Festival
Martin Luther King Dream Fest
Diwali Festival
Cary Dog Days
Winter Wonderland
Take a tour of Downtown Cary to see a stunning combination of modern amenities and historic elements. There are also a lot of in-city recreational activities within Cary. The new Downtown Park offers classic shuffleboard games and chess, while Academy Street has plenty of seating around it for a little fresh air and relaxation. There are also various restaurants that you can visit, along with the historic Cary Theatre, and the Cultural Arts Center.
Shopping
Cary has been labelled as the Containment Area for Relocated Yankees (also known as C.A.R.Y.). However, its shopping scene also attracts people from all over.
Besides nationwide grocery chains and retail stores, Cary also hosts many independently-owned shops within major shopping centers such as:
Park West Village, the 2018 winner of the Maggie Award for being the best shopping center. It is a collection of restaurants and boutique shops, the Park West Cinema, and residential lofts for those who want to live nearby. Park West often hosts events and seasonal festivals.
Waverly Place, a recreation and entertainment hub, is more than just a place to shop. While it's center is anchored by Cinebistro and Whole Foods, it also boasts a fountain area and lawn for events and concerts, as well as a splash pad, and a playground for recreational activities.
Art and Culture
Art is highly valued in Cary, where various local art is displayed in the greenways and throughout city parks.
Cary also values the diverse cultures of its residents. The city hosts annual events such as the NC Eid Festival and Festival of Light Cary Diwali Celebration.
For performance arts, The Cary Arts Center has plenty to offer, with a 431-seat theatre for various events and performances, camps and classes, gallery exhibitions, studios for arts, and more. Furthermore, the Page-Walker Arts & History Center is a stunning building that represents Cary's historic architecture. It was fully restored in the 1990's, and now serves as a venue for classes, social gatherings, concerts, fine arts, and historical art exhibitions.
Sports and Sports Teams
The NCFB, or the North Carolina Football Club, calls Cary its home. This professional soccer team plays in the North American Soccer League. Since 2007, the team has played their home games at WakeMed Soccer Park.
The PNC Arena, just two miles away from Cary's eastern border, is home to the Carolina Hurricanes hockey team, along with the NC State Wolfpack basketball team. Besides sports, The PNC Arena also hosts other events such as Disney On Ice, various concerts, and the Harlem Globetrotters.
Residents in Cary have plenty of choices when it comes to playing sports themselves. Here are some of the most popular places to visit for your slice of sports action:
Cary Tennis Park: this is one of the biggest facilities for public tennis in the Southeast and is accentuated by beautiful landscaping and scenic bridges. This park features 7 covered courts and 25 outdoor courts, along with a pro shop, a ball machine, locker rooms with showers, and comfort stations.
For soccer enthusiasts, there are the NC Adult State Soccer Association, Triangle Adult Soccer League, and XLSoccerworld. Cary also offers various adult recreational sports venues for volleyball, softball, and basketball.
Education
Cary is the 16th largest school district in North America and the largest within North Carolina, thanks to the Wake County Public School System.
Near Cary is North Carolina State University, a nationally-renowned school in Raleigh. It is the top post-secondary education school in the state and offers close to 170 programs and majors to choose from. In 2013, the college was included in a list of the Best National Universities by the U.S. News & World Report.
Real Estate
These days, most Cary residents are transplants from different states or countries. Part of this is due to big companies moving their headquarters to the area, as well as the promise of high-quality education. In fact, the city has tripled in size in just 25 years, growing by more than 100,000 residents from it's population of 45,000 in 1990.
The influx of movers has created a diverse community but has also driven real estate costs to increase exponentially. Despite this, its close proximity to Raleigh and other major North Carolina communities have kept homes in Cary in high demand. According to the US Census Bureau, Cary was America's fifth fastest-growing municipality between September 1, 2006 to September 1, 2007.
Although its location, education system, job opportunities, and overall desirability has taken real estate prices to a new high, Cary's increase in value is a testament to this city's great potential. It is one of the best places to live if you're thinking about making the move to North Carolina.