Your Raleigh NC Real Estate Questions Answered
Posted by Preston Guyton on Monday, December 27, 2021 at 9:15 PM
By Preston Guyton / December 27, 2021
Comment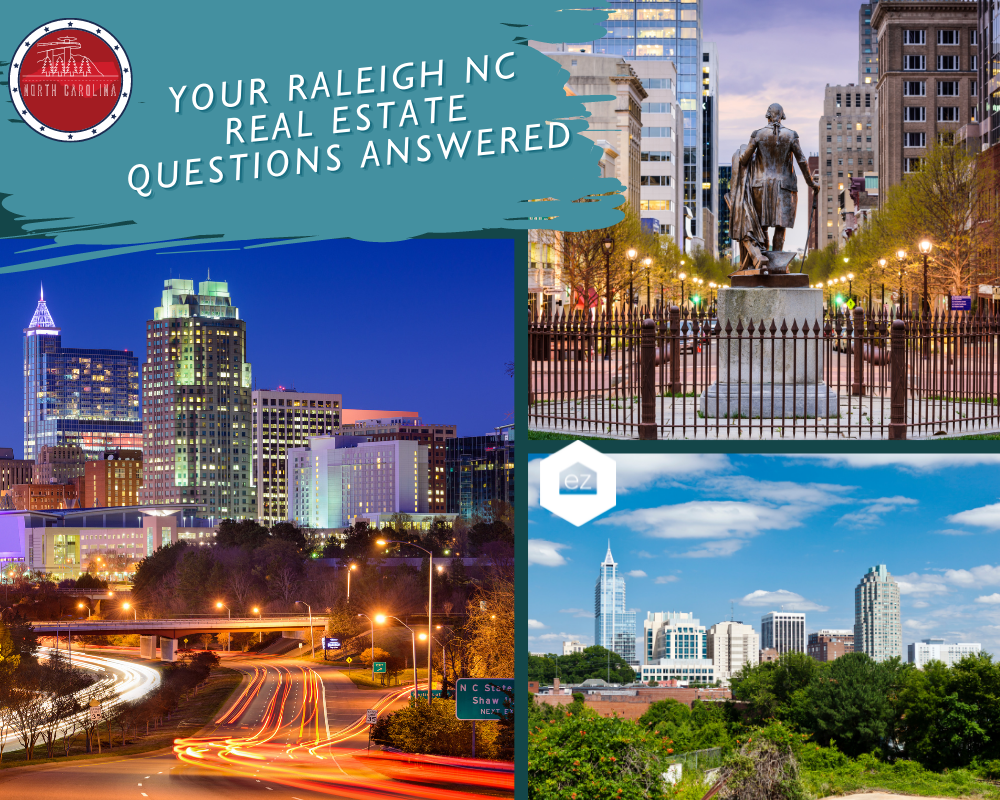 Your Raleigh, NC Real Estate Questions Answered
Raleigh is a great place to live, work, and play. Don't take our word for it, as Raleigh and its different neighborhoods and suburbs regularly pop up on various lists for best cities to live and work in the nation. Here you have a friendly southern city with college town vibes, green spaces, a thriving arts and culture scene, excellent schools, and affordability. With Research Triangle Park, Raleigh has an entrepreneurial spirit and a strong economy.
The nicknamed "City of Oaks" is a major destination, but it still manages to retain its small-town charm. Part of that is thanks to its many parks and tree-lined neighborhoods. If you're interested in moving to Raleigh, here's some helpful information about the local real estate market.
What is the average price of a home in Raleigh, NC?
As of December 2021, the median list price for a Raleigh home was $379,000. There were 808 homes for sale across all of its neighborhoods. The median listing home price per square foot was $196. The median time a home was on the market was 33 days.
The lowest-priced residential listing available was $120,000 for a 3-bedroom 2-bathroom mobile home, while at the top of the market was $5.5M for a 12,178 sq ft home on five acres with 4-bedrooms and 6.5-bathrooms.
Are there any condos or townhomes available in Raleigh, NC?
Yes, Raleigh has an abundant selection of townhome and condo properties. This is partially because of the city's status as a college town and because it serves as the state capital.
The top of the condo market was a $1.6 million new construction luxury townhome with almost 3,500 sq ft, 3-bedrooms, and 3.5-bathrooms in Glenwood South. On the low end, there was a unit for $124,900 with 510 sq ft, one-bedroom, and one bathroom near Brentwood.
You can find townhomes and condo properties throughout Raleigh, NC. Consult with a local real estate expert to help find the right place for you.
What is the property tax rate for Raleigh, NC?
When you live in Raleigh, you pay property taxes to the Wake County government, the City of Raleigh, plus some additionally identified municipalities and special districts. Your tax bill may include recycling fees, a fire district tax, municipal fees, and vehicle fees. All tax rates are calculated as per $100 of valuation.
The Wake County property tax rate for 2021 was 0.60. Residents of Raleigh paid a 0.3730 property tax rate. The county's recycling fee was $20. The Raleigh Municipal District charged a 0.044 tax.
Wake County reappraises property values on a four-year cycle. The most recent cycle was held in 2020, and the county is scheduled for a reappraisal in 2024.
What county is Raleigh, NC in?
Raleigh is located in Wake County, consistently rated one of the best places to live and work in America. Part of the Raleigh-Durham metropolitan statistical area, Wake County is home to the North Carolina State University and Research Triangle Park. It's also the center of the state government, with legislature and government offices located inside of Raleigh.
Residents of Wake County, and by extension Raleigh, benefit from various cultural and local attractions that include professional sports teams, museums, and parks. As an urban area, it can provide plentiful retail, dining, and entertainment amenities. Residents have an international airport nearby and a network of public transportation options.
Is Raleigh, NC growing?
According to one source, the Raleigh-Cary metropolitan area is the fastest growing in North Carolina. Its population grew by 25.6% from 2010 to 2020 to 1.4 million residents. That was over double the amount that North Carolina grew.
Wake County had over 1.1 million residents in the 2020 Census. It has added over 200,000 people since 2010. About 467,665 of those people live in the Raleigh city limits. Raleigh added 63,000 new residents since 2010.
What neighborhoods are in Raleigh, NC?
When you move to live in Raleigh, North Carolina, you have a lot of neighborhoods to choose from. Below is a small sampling of the communities available to residents; a local real estate expert can help you identify the right areas for your lifestyle.
Oakwood is a historic district near downtown with some restored Grand Victorian homes dating to the 1800s. Because of its location, it's popular with working professionals seeking a place near downtown and amenities. Even though it's close to the city's center, the large number of oak trees make it feel like it's a world away.
For those looking to live near North Carolina State University, Cameron Park and Cameron Village is a neighborhood within walking distance. It's all so close to some outdoor shopping centers and has great views of the city skyline. The homes here range in styles, like Tudor Revival and Mission Revival. The Cameron Village section is a little more contemporary.
Boylan Heights has a historic legacy as one of the city's first planned suburbs. It has been known as a prime suburban Raleigh neighborhood. The houses have various architectural styles, like craftsman bungalows and Queen Anne Revivals. Residents are about a 10-minute walk to the popular Warehouse District and the city center.
Six Forks is known as one of the wealthiest neighborhoods in Raleigh and the United States. Many homes were built between 1970 and 1990 and range between 3-5 bedrooms.
Hayes Barton is one of the Five Points neighborhoods and is a popular place to live inside the Beltline. It was developed in the post-World War II era as a grand suburb with greenways and open park areas. It has an eclectic range of styles.
The Mordecai neighborhood is small but historic as Raleigh's oldest neighborhood. The nation's 17th president was born here. It has a lot of amenities and is in a great location near downtown.
South Park is located just to the south of downtown Raleigh. It's been experiencing a fair amount of new construction, but it does have historic homes dating back to the 1930s.
Glenwood South is a mixture of new construction and condominium developments mixed with single-family homes. This Five Points neighborhood is close to the Entertainment District of Raleigh, which makes it a popular area to live for college students, young creatives, and young professionals.
North Hills is located to the north of the Raleigh Beltline. This area has a more suburban feel and is close to the Crabtree Valley Shopping Mall, entertainment, and many parks. The Carolina Country Club is also inside of the neighborhood. You can find ranch and luxury-style homes.
Falls River is a newer neighborhood near the greenways of the Neuse River. It has a lot of good dining choices and is inside the Wakefield School District, a highly ranked public education district.
Stonehenge is near the Research Triangle Park area. Residents can choose between single-family homes and townhouses. Neighborhood amenities include some local clubs, the Seven Oaks Swim & Racquet Club, and neighborhood events.
Are there any waterfront properties found in Raleigh, NC?
Raleigh isn't a city known for being on the water. This is an inland North Carolina town. That said, there are some creeks and some reservoirs inside the Raleigh city limits. You can find some waterfront property along Crabtree Creek, Marsh Creek, Beaman Lake, Perry Creek, Neuse River, Mine Creek, and other assorted locations. Many of these properties won't necessarily be suitable for water recreation.
How is golf in Raleigh, NC?
If you enjoy golfing, Raleigh is a great place to live. There is a diverse range of short and long courses, public and private, and everything a golfer could want. There are a total of 17 courses available for play.
The oldest golf course is the Paschal Golf Club that opened in 1917. The longest course of play is Raleigh Country Club, while the River Ridge Golf Club was highly rated. Arnold Palmer designed the Lonnie Poole Golf Course at North Carolina State University.
Are there golf course communities in Raleigh, NC?
Brier Creek is an Arnold Palmer-designed course that provides luxurious golf community living. Besides the amenities of the golf course neighborhood, residents are near some of Raleigh's best schools and Interstates 40 and 540. The community is in the heart of the triangle between Raleigh and Durham.
Your other choices for golf course communities in Raleigh include:
Country Club Hills, next to the prestigious Carolina Country Club in about ten minutes from downtown. Homes range 2,100-8,000 sq ft on mature lots.
Eagle Ridge, in south Raleigh about 20 minutes to downtown and close to Research Triangle Park. The course is par 71 with a pro shop and driving range. Homes are 1,500-4,000 sqft.
Hedingham, next to the Neuse River and outside the Beltline. Amenities include two pools, lakes, and parks, tennis courts, and an athletic center. Townhomes and single-family range 702-3,280 sq ft.
North Ridge Country Club, minutes from I-540 and close to Ravenscroft School. Townhomes and single-family from 1,300-6,500 sqft.
River Ridge, southeast Raleigh, with homes around 1,200-3,000 sqft. Course by Chuck Smith, amenities include tennis, swimming pool, and a pro shop.
Wakefield Plantation, North of the Beltline and adjacent to Falls Lake. Homes are 1,000-10,000 sq ft often on spacious lots. The amenities include swimming, tennis, a playground, and a clubhouse.
Wildwood Green, inside the Beltline near the Six Forks neighborhood. Homes average 2,800 sq ft.
What areas are near Raleigh, NC?
As Raleigh is the state capital, most people come to be here. The sister cities of Durham and Chapel Hill are northwest of I-40 and just outside the Beltline.
For a relaxing day out, Raleigh residents head to the Falls Lake State Recreation Area, located to the north of the city. Here you'll find thousands of acres of a manmade reservoir perfect for boating and fishing. Hike or bike along the shoreline at one of the local parks. To the west is Jordan Lake and its recreation areas.
Surrounding towns of note are Cary, Wake Forest, and Clayton. The prestigious Duke University is in Durham.
When residents do want to get away, they have Raleigh-Durham International Airport connecting to destinations around the world.
What to know about living in Raleigh, NC
Raleigh is a highly ranked place to live in North Carolina. It offers an excellent quality of life, a diverse population, many entertainment amenities, and a strong economy. While it is a central metropolitan area, you still have a small-town feel with the different established communities spread around the city. You can truly find something for everyone.