Moving to Raleigh - Your EZ Guide to Everything Raleigh, NC
Posted by Preston Guyton on Wednesday, April 14, 2021 at 5:10 AM
By Preston Guyton / April 14, 2021
Comment
Moving To Raleigh: Your Guide To Living in Raleigh, NC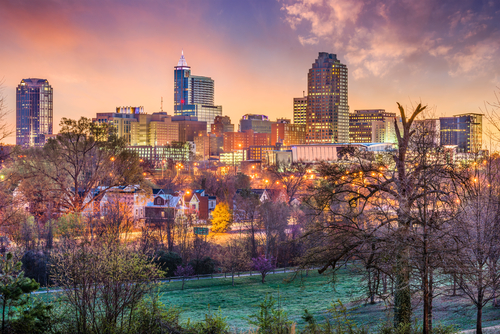 It should come as no surprise that people love living in Raleigh, NC — it has been ranked as the number one best place to live in North Carolina.
Numbeo recently ranked Raleigh as the #1 city in the United States for quality of life and the second-best city overall in the world. With such high standards and commitment to fulfilling its residents' needs, Raleigh could be the new home you're looking for.
Cost of Living and Population Growth
Raleigh's population has seen huge growth since the 2000 Census, from 290,000 people to just shy of 500,000 in 2019. Because of this, Raleigh is one of the country's fastest-growing cities. It's also a great choice if you're looking to live in an affordable city with a flourishing economy and no shortage of new jobs.
To give you a better sense of the living costs in Raleigh, here are some important economic details about the city include:
According to the U.S. Census, the median household income in Raleigh is $61,505
Raleigh's sales tax rate is 7.3%
Raleigh's average housing expenses are 30% lower compared to the national average
The average monthly rent in Raleigh is $756.55
The average monthly energy bill in Raleigh is $161.62 per month
The average monthly phone bill in Raleigh is $172.29
Job Market
When you move to Raleigh, you will be in the top spot for tech professionals and job-seekers in the country. This city is also nationally recognized as one of the leading urban centers and is also one of the best cities for individuals looking to get started in life. Fortunately, the unemployment rates in Raleigh are lower than the national average.
The array of jobs and educational opportunities makes Raleigh a great option for academic professors, researchers, educational staff, and more. Plus, many local schools also foster healthy partnerships with businesses so that graduating students can have access to major industry players when they enter the job market.
Apart from education, some of the most prominent industries include healthcare, information technology, engineering, and research. Here are some of the city's top employers:
SAS Institute
IBM
BASF Corporation
Cisco Systems
GlaxoSmithKline
Lenovo
Biogen Idec
WakeMed Health and Hospital
With around 24,000 job openings, you're sure to find one that is suitable for you. The median base salary in Raleigh is also among the best in the country, so you'll be happy with the job and the salary you make.
Things To Do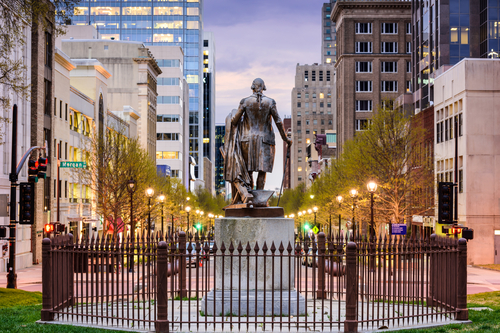 We can't work all the time. Luckily, Raleigh also offers some of the best ways to spend your downtime, including lots of outdoor activities, restaurants, bars, breweries, and fun nightlife. Here are some of the top things to do in Raleigh:
William B. Umstead State Park
William B. Umstead State Park is North Carolina's most-visited state park and has more than 5,000 acres of trails, forests, and lakes. It's also the home to 22 miles of dedicated hiking trails and offers 13 miles of multi-use trails with rolling hills perfect for jogging, biking, or horseback riding.
Falls Lake State Recreation Area
This collection of seven areas is enveloped around the shore of a reservoir. The Falls Lake State Recreation area is also one of the biggest recreation facilities in North Carolina, with a network of 14 miles of biking trails, a lake for canoes, kayaks, and paddleboards.
Beaches
Carolina Beach, Wrightsville Beach, and The Outer Banks are just some of the locals' favorite places to visit when the weather is fine. These beaches make for a great day trip or weekend away for water lovers who want to spend time with friends and family.
Breweries
At the Raleigh Beer Garden, you'll have the opportunity to enjoy delicious beers from 366 various taps, making it the largest beer garden in the whole world. But the city is more than that — it is also home to some of the world's best craft beer. You can enjoy local breweries such as Trophy, Raleigh Brewing Co., Big Boss, Lonerider, Crank Arm, and much more.
Nightlife
Raleigh is a great place to relocate to if you love music. You can expect to have at least a few concerts every week, whether your band is playing at the Walnut Creek Amphitheater or RedHat. Even if there aren't any concerts scheduled, there's always somewhere to go when you want to catch live music in Raleigh. Furthermore, the city has focused on nighttime entertainment, revamping the Fayetteville District, Glenwood South, Moore Square, and other areas around the city.
Climate
Located in the Southeast, Raleigh enjoys a humid and subtropical climate with four seasons throughout the year. The city receives a steady and average amount of rainfall each month, but this may spike during summer when hurricanes or tropical storms are near the coast. Generally, days are cloudy, with the sun out for about two-thirds of the year.
However, there are times when Raleigh may go through a drought, and residents are encouraged to conserve water. On the other hand, winters are short and cool, with temperatures ranging from 40 degrees F to 60 degrees F. While a few inches of snow may fall, it's more likely that you'll experience a freezing mix. Spring and fall are a pleasant change of pace and will provide you with the perfect weather for all the outdoor adventures and events that Raleigh has to offer.
Traffic
Unfortunately, according to INRIX, a mobile technology firm, Raleigh drivers spent 6% of their driving time stuck in traffic in 2020. Their survey also compared levels of traffic in cities throughout the world. Out of 1,064 cities, Raleigh ranked 432nd when it came to congestion worldwide. According to another survey, drivers in Raleigh spent 18 hours behind traffic in 2016. However, this isn't as bad as neighboring city Charlotte, where its residents spent more than 23 hours in congestion.
And while Raleigh isn't the worst in the state, the executive director of the Raleigh-based Regional Transportation Alliance business coalition, Joe Milazzo, believes the numbers could be better. Yet, according to some long-time residents in the Raleigh area, they find that the traffic isn't so bad, as long as you know which routes to take. However, they warn that heading westbound on the I40 during the morning rush and going back home in the afternoons can result in bumper-to-bumper traffic.
Public Transportation
Whether you're going to or coming from Raleigh, there are plenty of ways to get around the city. Here are is a thorough breakdown of all your options for transportation around the Raleigh area:
By Car
While cars offer the quickest way to get around, they're not always the best way to take. Traffic congestion can easily occur during weekday rush hours, so be sure to plan your route carefully.
By Bus
Public transit bus routes around the city are operated by GoRaleigh daily, while GoTriangle provides commuter and regional bus routes that connect the various cities within North Carolina.
By Bike
Raleigh is well-known for being bike-friendly and has two major bike routes throughout the city. Route #1 is the Maine to Florida U.S. Bicycle Route, and Route #2: the N.C. Bicycle Route, commonly known as the "Mountains to Sea" route. Many buses in the city are equipped with racks, while some roads have dedicated bike-only lanes.
By Train
Using the train is also a popular option for commuters, with Amtrak operating one of Raleigh's busiest train stations. Passenger trains provide daily travel between Raleigh and Charlotte and travel to major cities such as New York, Philadelphia, Miami, and Washington D.C.
By Air
The RDU (Raleigh-Durham International Airport) provides its services to millions of passengers every year. Located just northwest of Downtown Raleigh, it is the main airport for both the city and the Research Triangle area. Some of the major airlines to use this hub are American Airlines, Southwest, Allegiant, United, Delta, Air Canada, JetBlue, and Frontier.
Golf
If you love playing golf, then Raleigh is perfect for you. Considering the vast number of golf courses and clubs within the Raleigh area, it's no wonder why Raleigh's residents love golf courses so much. Golf is a huge part of North Carolina's history, and the perfect weather means the courses can stay open almost all year round. As a result, Golf fans from all over the world regularly visit the Raleigh and Pinehurst areas to enjoy all the wonderful courses they have to offer.
Just an hour away from Raleigh, Pinehurst is known as the "Home of Golf in the U.S.," and the North Carolina Golf Panel has ranked the Pinehurst area three of the top five golf courses in their list of 100 courses found in N.C. Because of this, it's hard to drive for 10 minutes around Pinehurst without passing by at least one course — and to get the temptation to play.
Water Sports
Raleigh offers many beautiful lakes that combine relaxing views with fun activities for kids, families, and friends. Whether you're looking for a kayaking adventure, a quiet fishing spot, or a sailing excursion, this city has a bit of everything.
William B. Umstead State Park
With three man-made lakes, this Park is home to various water activities. Its biggest lake (aka "Big Lake") offers rowboat and canoe rentals, with fishing accepted at all lakes and their connecting tributaries.
Fishing
Big Lake lies on Sycamore Creek and makes up one of the three artificial lakes that make this Park a place of stunning "unnatural" beauty. Starting from the Crabtree Creek section's parking lot, a gravel path leads to its 55-acre body of water. Anglers are sure to enjoy casting their line at this Park, with fishing permitted in all of the lakes and streams. You can expect to catch bluegill, bass, and crappie, but beware of the North Carolina Wildlife Resources Commission's enforced regulations.
Boating
You can also rent a boat or canoe from the visitor center to get a tour around Big Lake. But if you prefer to spend a lazy Friday, relaxing on these small boats is also an option.
Dog Friendly
There are plenty of dog-friendly places in Raleigh, each with its own unique way of accommodating our canine friends. Here are some of the most popular destinations that your pups are sure to enjoy:
Carolina Pines Community Dog Park
Your pets will love to play off-leash in this fenced dog park, complete with drinking water and shade. There's even a separate area to provide space for dogs of all abilities, including small, infirm, shy, or elderly dogs. There are parking spaces provided for fur-parents, so you can zip in and out as you please.
However, there are no waste bags here, so be sure to bring your own in case your dog needs to answer nature's call. There is no water area in the smaller area either, so be mindful of that or bring your own in case your pet gets thirsty.
Dog-Eared Books
This book store is pet-friendly and is appropriately named because the owner allows dogs to join their owners while wandering around its aisles of used books. However, be aware that dogs need to be housebroken, people-friendly, and on a non-retractable leash while inside the premises.
Saving Grace Supply Co.
This pet-friendly shop allows you to browse through various quality products and homemade treats with your pups. What makes them so unique is that all their proceeds will go towards the store's shelter to assist with caring for and rescuing dogs in need.
Attractions
There is no shortage of attractions to see in Raleigh, and there's always something new to see. The city has many places of interest, from parks to museums, which will pique the interest of children and adults alike.
North Carolina Executive Mansion
Designed by architects Samuel Sloan and A.G. Bauer, the construction of this mansion began in 1883 and served as the official residence of the Governor of North Carolina and their family. It also served as a historic site, meeting place, and a beautiful event location and was well-known as the "people's house." Currently, Governor Roy Cooper lives in the mansion and is the thirtieth governor to do so. Since the end of the American Revolution, he is the seventieth person to hold this office in North Carolina.
North Carolina Museum of Natural Sciences
As the largest museum of its kind in the Southeast, the North Carolina Museum of Natural Sciences provides field experiences, exhibits, and programs that allow visitors to get close to nature and science. It also features permanent and special exhibits, educational films, and live programs that appeal to all kinds of audiences.
Pullen Park
Comprising 66.33 acres, you can find Pullen Park west of downtown Raleigh, just next to North Carolina State University. It features a concession stand, picnic areas, and various small rides such as the train, kiddie boats, and the Pullen Park Carousel. There are also swing sets, sand areas, and many other playground features for kids of all ages.
Furthermore, the park also has two ball fields, lighted tennis courts, a lake equipped with paddle boats, many picnic areas, gorgeous paths and bridges, and more.
Inside the park, you can find the Pullen Arts Theatre, Pullen Aquatic Center, and Theatre in the Park. The Arts Center and the Aquatic Center offer classes for all ages in swimming, fitness, and art (jewelry making, pottery, classic art, weaving, and others). Meanwhile, the Theatre in the Park regularly hosts live performances and plays of all genres.
Shopping
If you love to shop, then Raleigh might surprise you. This city boasts three huge shopping malls and various boutiques and stores that sell locally made crafts, high-end designer clothing, and everything in between.
While there are far too many stores to name, be sure to check out City Market, Triangle Town Center, and Crabtree Valley Mall, which is Raleigh's premier mall with over 220 stores.
City Market
Since 1914, City Market has been a staple in Raleigh and used to serve as a place to purchase food from local farmers. Today, it is a popular destination for residents and tourists alike and is home to many restaurants and shops that offer gifts, produce, haircuts, and more.
Raleigh Flea Market
This market opens at the North Carolina State Fairgrounds every weekend and features over 600 vendors selling their wares. This flea market has been open since the early 1970s and provides a family-friendly way to explore homemade items, antiques, clothing, jewelry, collectibles, and more. Outdoor stalls change vendors regularly, while two large buildings house permanent vendors, giving everyone a variety of choices.
North Hills
In northern Raleigh, North Hills offers a wide range of boutiques and local shops, along with designer and upscale stores. It's a great area to spend the weekend window shopping or browsing, or you can wine and dine at some of their most popular breweries and restaurants to take a break from all shopping all day.
Art and Culture
Some of the best attractions in the city are their art galleries. Art was even the main attraction in Raleigh for quite some time, and it has even inspired art in various forms such as craft beer, music, fine dining, and various construction homes throughout Raleigh.
North Carolina Museum of Art
For Art lovers living in Raleigh, this museum is the place to be. It has a history that dates back to 1947 when the North Carolina General Assembly became the first state to use 1 million dollars in public funds to purchase art. Here, you can experience special exhibitions and performances while looking at sculptures inside a 164-acre outdoor Museum park.
North Carolina Museum of History
This museum brings the history of North Carolina to life. Get ready to dive into 14,000 years of the state's history through an award-winning exhibition that features decorative art, artifacts, sports heroes, and other fascinating features. If you're new to Raleigh and want to know more about its history, then this is the perfect way to get to know everything about your new home.
Food Culture
According to Southern Living Magazine, Raleigh is one of the South's top 10 tastiest towns, meaning foodies will never fall short when searching for new and exciting places to eat. If you're relocating for the food, be sure to head over to Bida Manda and try their Pork Belly Soup. You can also make your way to The Friction Kitchen for vegetarian options.
They say variety is the spice of life, and with more than 1,200 restaurants in the Raleigh area, you can be sure to find something new and enjoy a different culinary experience every day of the week if you desire.
Sports and Sports Teams
Raleigh offers more than 180 miles of hiking and greenway trails for exploration, along with the best views of the state's natural scenery. It also provides over 10,000 acres of parklands and stunning lakes for all kinds of water activities. Other experiences include fifty-five-foot indoor rock climbing walls, one of which was founded by a five-time X Games gold-medalist. If you're looking for ways to stay active, here are just a few places you can choose from:
Triangle Rock Club
The Triangle Rock Club is one of the best places for visitors looking to conquer their fears. With facilities in North Raleigh and Morrisville, you can be sure to get information on heights and more by speaking with managing partner Joel Graybeal, who started his career working for The Pentagon as a rocket scientist.
Carolina Hurricanes
As the only professional sports team in Raleigh, you can be sure that the Carolina Hurricanes have a huge following. They are one of the most popular teams in the city and compete in the National Hockey League's Central Division. They play their home games in the PNC Arena, whose locally-focused food concessions are also well-loved by the residents.
College Sports
College sports are a big deal in Raleigh, especially basketball. Raleigh residents who follow college sports all know about the rivalry between The University of North Carolina Tar Heels and The Duke Blue Devils. Moreover, there are also top Triple-A baseball teams such as the Holly Springs Salamanders and the Durham Bulls.
Education: Schools and Colleges
With so many universities and colleges and the largest public school system in the whole state, Raleigh is thriving with educational opportunities for students of every age. As a result, it is a highly educated city where over 50% of the population has obtained a bachelor's degree.
Elementary and High School
Raleigh's public schools are part of the Wake County Public School System which employs around 10,500 teachers that educate more than 150,000 students throughout 180 schools.
There's a total of 114 elementary schools, 36 middle schools, and 28 high schools, along with a handful of alternative schools. This school district is known for its high standards and is the nation's leader in board-certified teachers, with more than 2,000 awarded as an excellent teacher and leader.
Higher Education
There are also plenty of choices for higher education in Raleigh, where you can find colleges, universities, community colleges, law schools, and even seminaries. Three of the most well-known universities inside the Triangle area are only within 30 miles of one another.
North Carolina State University
Built more than 125 years ago, this university is an internationally recognized school in technology, science, math, and engineering. Its other top disciplines include textiles, education, agriculture, business, design, and veterinary medicine. Around 10,000 graduate and 25,000 undergraduate students participate in doctoral, master, or bachelor programs.
Real Estate
You will be happy to know that the homes for sale in Raleigh are some of the most affordable in the country. Whether it's in Downtown, North Raleigh, or in a suburb, you'll see fairly priced homes across the board. You'll also see that the cost of living in Raleigh is much lower when compared to other major tech areas such as California, San Francisco, or even Texas.
Raleigh is emerging as a buyer's market, according to Realtor.com, where investors see an opportunity to get affordable rental properties in a market where the population is growing strong and where jobs are becoming plentiful. This metropolis serves as the capital of North Carolina and is the second-largest city in the state. It's also just short of 500,000 people, which means that Raleigh has a population density similar to Austin and Atlanta, helping to keep the housing and job market strong.
Welcome To Raleigh!
Because there are so many things to do in Raleigh, there's something for everyone. And now that you've seen what Raleigh has to offer, you can now make an informed decision based on your lifestyle needs, line of work, and daily activities.
With its great weather, excellent education system, exciting nightlife, and outdoor adventures, Raleigh has something to offer everyone, from couples and families to individuals who are just getting started on the property ladder.
So, if you're thinking of moving to Raleigh, what are you waiting for? Take the opportunity to be a part of a community and area that offers affordable homes, plenty of jobs, and various things to do during your days off. But act fast! While prices for homes are low right now, they won't stay that way forever, and it won't be long before others see Raleigh for the rare gem that it is.