Your Durham NC Real Estate Questions Answered
Posted by Preston Guyton on Saturday, January 8, 2022 at 6:30 AM
By Preston Guyton / January 8, 2022
Comment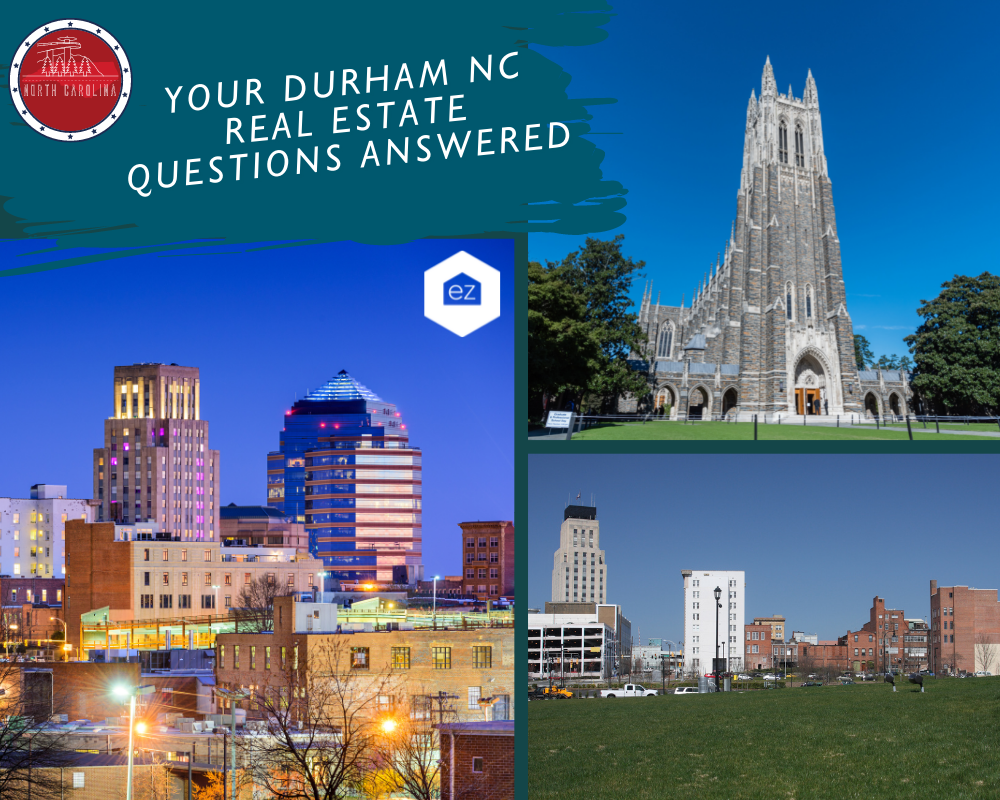 Your Durham, NC Real Estate Questions Answered
As part of the Research Triangle with Raleigh and home to Duke University, Durham offers ample lifestyle amenities that make it a popular place to live. Durham is one of the best cities to live in the United States, as ranked by Livability. The city continuously strives to improve, whether in infrastructure or employment opportunities for its residents.
Are you interested in Durham real estate? As one of the state's largest cities, moving to Durham can be daunting. We are here to assist your Durham real estate search. Here are a few frequently asked questions about Durham real estate.
What is the average price of a home in Durham, NC?
Data from November 2021 shows that the median sales price of residential real estate in Durham was $380,250, a 28% year-over-year increase. The average price for that month was $408,267. The homes here were on the market for an average 13 days until sale.
Durham's monthly supply of inventory stood at 0.7, which was a 36% decline year-over-year. The market had 428 new listings available, 17% more than in November 2020, but overall listings were down. The amount of available inventory was not able to match buyer demand.
The historical data for median sales prices shows that the real estate market has been cyclical for the last decade, with several peaks and valleys. Durham began experiencing record-setting price increases in mid-2020. The conditions at the end of 2021 exceeded any other price increases for the 10-year period.
Are there any condos or townhomes available in Durham, NC?
Yes, Durham has an ample supply of condo and townhome properties available. In January 2022, about 100 units were available on the market. Durham can offer various condo and townhome options thanks to its diverse population. College students, young professionals, and retirees alike enjoy the benefits of condo living.
The lowest-priced listing in the January 2022 market was a 2-bedroom, 2.5-bath, 950 sq ft townhome listed for $125,000 near the Briar Creek area. The market topped out with a $3.5 million new construction condominium in downtown Durham. This 3,755 sq ft property was on the market with 3-bedrooms, 3.5-baths, and two dedicated parking spots.
Condo and townhome properties can be found in the various neighborhoods of Durham. Find a local real estate expert who can help you find the right property and setting for your lifestyle.
Is housing in Durham, NC, affordable?
Durham, North Carolina, is an affordable place to live compared to major cities in the northeast and along the west coast. Factor in the quality of the lifestyle, the urban amenities, and the job opportunities, and Durham has an affordable cost of living. Overall housing prices are in line with the US national average in January 2022.
What is the property tax rate for Durham, NC?
The city of Durham is the county seat for Durham County. The county levied a 0.7222 property tax per $100 of assessed value. The city of Durham charges a 0.557 property tax. Those in the city's Business Improvement District pay a 0.6217 property tax.
Residents may also pay a special tax depending on their fire and rescue service. This tax ranges from 0.1549 to 0.2329 mils. There's also a solid waste fee that was $164 in the 2021 – 2022 fiscal year.
Learn about North Carolina property taxes.
What county is Durham, NC in?
Durham lies inside Durham County, North Carolina. It is the only municipality fully inside the county limits. Durham County was separated from Orange County in 1881. It serves as the core of the Durham-Raleigh-Chapel Hill Metropolitan Statistical Area.
Is Durham, NC growing?
Yes, Durham is growing rapidly. The US 2020 Census counted 324,833 residents, adding 57,246 residents since 2010. The growth rate exceeded the county's projection for 2020 and was more in line with the 2030 population target.
The county as a whole is projected to have 430,296 residents by 2045. North Carolina predicts that Durham County will grow by 14% from 2020 to 2030, adding 44,598 new residents.
What neighborhoods are in Durham, NC?
There are plenty of communities to explore when deciding where to live in Durham, North Carolina. Below are some highlights of the neighborhoods available.
Downtown Durham tends to be home to many young professionals, young families, and older adults that appreciate a work-play-live lifestyle. Find high-rise condos and single-family homes here. Demand and development has caused a lot of real estate appreciation growth.
Cleveland-Holloway is a beautiful neighborhood developed in the late 1800s just to the east of downtown. It has a diversity of architectural styles and historic homes. You'll find single-family and duplexes.
Old North Durham is a historic neighborhood with a range of houses and styling. The Old North Durham Park is where the popular annual Strawberry Festival occurs.
Trinity Park is a 40-block neighborhood where the residents have worked hard to preserve its historic character. The area is on the National Register of Historic Places. Naturally, you will find a lot of historic real estate here.
Duke Park is notable for its large community park of the same name. It has a popular children's playground.
Forest Hills is known for being a quiet neighborhood close to city amenities. Homes here were built between the 1920s in the 1990s, meaning they have different styles and sizes.
Northgate Park has a lot of southern charm with its bungalows, cottages, and mid-century modern homes. It has mature landscaping and is considered a quiet neighborhood.
Brightleaf is a master-planned community being built on the Raleigh-Durham line. It has a convenient location for everything in the Triangle area.
Where can I live near Research Triangle Park in Durham, NC?
Grandale Place is about ten minutes away from Research Triangle Park, Southpoint Mall, and Interstate 40. This neighborhood has 135 single-family homes.
Parkwood is a beautiful community with hundreds of acres of tree-lined properties. The housing options vary from apartment complexes to single-family residences. The Research Triangle Park is a few miles away and is easily accessed from I-40.
Southpoint is a popular residential neighborhood because of its location. It has easy access to the Southpoint Mall and is central to other destinations in the Triangle. The housing includes townhomes and single-family properties.
Hope Valley still has a rural feel to it, as it is near many lakes and creeks. The neighborhood is filled with trees that help add to the peaceful ambiance.
Woodcroft is a planned community with over 2,000 homes. It is located centrally off I-40, making it minutes from Research Triangle Park and Duke University. It plans to have six miles of community trails connecting it to different neighborhood landmarks.
Where can I live near Duke University in Durham, NC?
Remember that Duke University has two campuses. Depending on which campus you want to access will help you determine which local community makes the most sense for you to live.
Trinity Park is an option for living near Duke University. This is one of the oldest neighborhoods in Durham. It has a high walkability factor with numerous sidewalks throughout the neighborhood. Trinity Park is bordered by the Brightleaf District, downtown Durham, and Duke University's East Campus.
Old West Durham is located along 9th Street between the East and West campuses. Not only will you have access to the university, but there are also many restaurants, shopping, and stores in the surrounding area. The houses here tend to be around 1,200 sq ft on small lots.
Watts-Hillandale is a community that is right next to Old West Durham and has slightly larger homes on average.
Duke Forest is an older neighborhood with an accessible bike ride to the Duke University campus. It has tree-lined streets and mature landscaping.
The Chancellor's Ridge neighborhood is a little further away, but you will have a short commute to Duke University. In addition, you are close to Southpoint Mall while living in a country setting.
Walltown is near the East Campus. The community is beside Trinity Heights and its amenities. The small houses here are popular as rentals.
How is golf in Durham, NC?
Durham has ten golf courses, meaning players have various options to suit their skill level.
The Duke University Golf Club was recognized as a Top 10 Public Course by Golf Week and ranked as one of the best in North Carolina by Golf Digest. Hillandale Golf Club has been nationally ranked in the Top 100 courses by the PGA of America. Falls Village is challenging, with 48 bunkers strategically placed along its 7,023-yard course.
In addition to seven public and semi-private courses, there are three private country clubs: Croasdaile Country Club, Hope Valley Country Club, and Treyburn Country Club.
Are there golf course communities in Durham, NC?
The most notable golf course community in Durham is Treyburn. The community has single-family homes and townhomes available. In addition to its Country Club, Treyburn residents enjoy a clubhouse with a swimming pool.
Croasdaile Country Club residents enjoy traditional-style homes set among rolling hills and pasture lands. Residents live near Duke University, Research Triangle Park, and downtown Durham.
Hope Valley was Durham's first country club community. Play on a classic Donald Ross-designed championship golf course. You will find a range of historic homes and recently renovated properties. Community lots are considered generous. Hope Valley is about a 15-minute drive to Research Triangle Park and Southpoint Mall.
In Willowhaven, some lots are situated around the Umstead Pines Golf and Swim Club.
If you're interested in living near the Crossings Golf Club, which has a 6,527-yard par-71 course, look in the community of Oak Grove. The historic township was once a suburb of Durham.
What areas are near Durham, NC?
Durham is part of North Carolina's Research Triangle, including Chapel Hill and Raleigh. Nearby Research Triangle Park is an epicenter of innovation and industry. Durham's strategic location to its west is part of why people move into the city.
For recreation, Durham is close to three different man-made reservoirs. Falls Lake is in the northern region. Residents use it as a destination for boating and water recreation. The Little River Reservoir is also near Falls Lake. If you're willing to drive a little further, Jordan Lake is south of Durham.
Get further away from the Triangle by exploring the cities of Burlington and Greensboro to the west.
What to know about living in Durham, NC
Durham is a great place to live in North Carolina because of its lifestyle amenities, economic opportunity, and affordability. The Research Triangle Park brings global talent into the Durham area. World-class universities, such as Duke University, support Durham's cultural diversity and progressive feel.
With all that's going on in Durham, you can still find reasonable real estate and many choices. The real estate market has everything from apartment-style living to expansive single-family homes on generous lots. A robust and enriching lifestyle complements the housing market.
Find a local real estate expert to find the right place to live in Durham.