Moving to Durham - Your EZ Guide to Everything Durham, NC
Posted by Preston Guyton on Monday, April 12, 2021 at 2:48 PM
By Preston Guyton / April 12, 2021
Comment
Moving to Durham: Your Guide to Living in Durham, NC
If you find yourself needing a change of pace or scenery and are looking into areas around North Carolina, you might find that Durham is at the top of many lists. Recently ranked by Livability as the 23rd best city to live in the country, this score will only continue to improve. Durham is committed to finding ways to get better for its residents, whether through building more infrastructure or providing more jobs.
Thanks to its affordability, living in Durham, NC is a welcome change for individuals and families wanting a fresh start. This relatively inexpensive city will certainly be a big surprise if you're coming from places such as the northeast, California, Florida, Chicago, and others. Whether you're looking for adventure or peace and tranquility, you can find the best of both worlds in Durham.
Cost of Living and Population Growth
Bull City, better known as Durham, is a city and the county seat of Durham County in North Carolina. However, some parts of this city reach into Wake County and Orange County. As of the 2019 U.S. Census, Durham has an estimated population of 278,993, which makes it the 4th most populous city in the state and the 74th most populous city in the country.
If you want to live comfortably without watching your savings burn, then Durham is an excellent option. According to Duke, living in Durham will cost you 23% less compared to the national average. Here's a side-by-side graph of the average cost to rent a 1-bedroom apartment in Durham, in comparison to other cities in the U.S.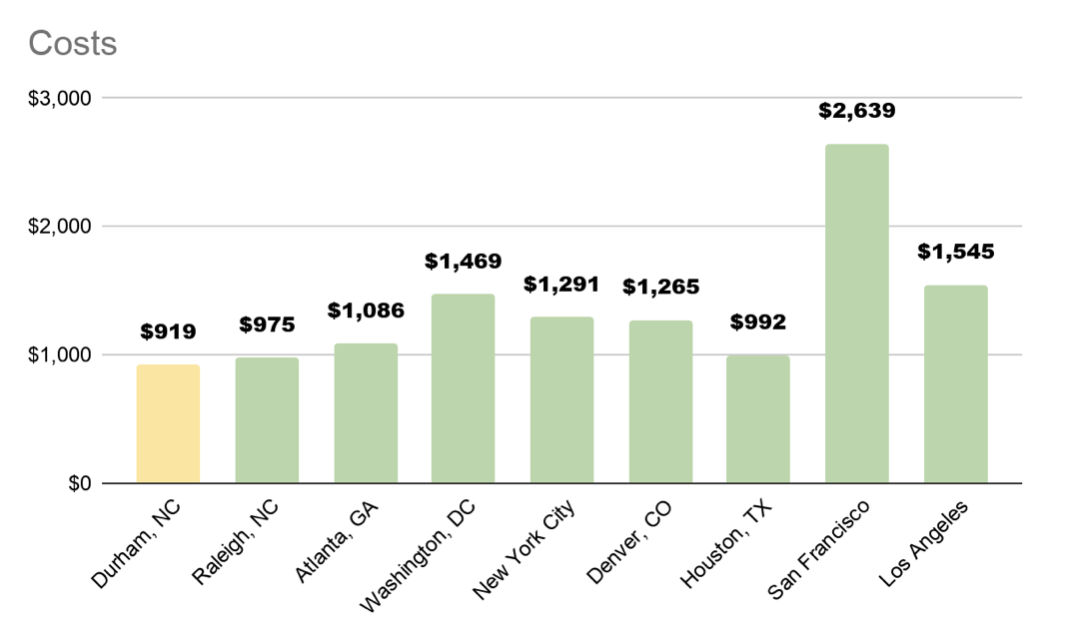 Furthermore, one of the main reasons why people move to Durham is its affordability and economic opportunity. To give you a better sense of the living costs you can expect while staying in Durham, here's a table that includes all estimated expenses along with a comparison to North Carolina's average and the national average:
| | | | |
| --- | --- | --- | --- |
| COST OF LIVING | Durham | North Carolina | USA |
| Overall | 95.2 | 90.6 | 100 |
| Grocery | 99.2 | 96.5 | 100 |
| Health | 92.1 | 107.5 | 100 |
| Housing | 100.1 | 81 | 100 |
| Median Home Cost | $231,400 | $187,300 | $231,200 |
| Utilities | 100.1 | 99.2 | 100 |
| Transportation | 84.1 | 83.9 | 100 |
| Miscellaneous | 95.9 | 96.2 | 100 |
Durham's cost of living is 95.2, compared to the national average of 100.
So if you're wondering if Durham is an expensive place to live, the short answer is no. In fact, housing expenses in this city are 27% lower compared to the rest of the country, while utility costs are lower by 13%. Retirees will also find Durham the place to be since the overall cost of living is 3.7% lower than the national average.
Job Market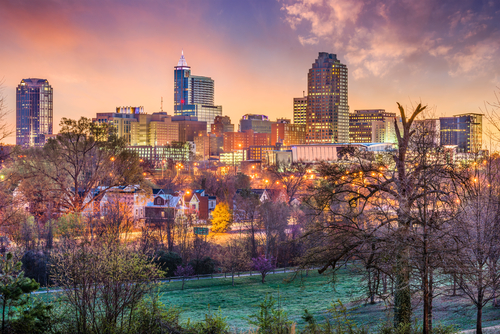 There are plenty of jobs in and around Durham, with the hospitals, the Research Triangle Park, and the schools acting as the backbone of economic opportunity in this city. Durham is a quickly growing hub for medicine and technology, with companies like Google and Amazon recently setting up their offices and warehouses in the Triangle. The city is filled with health care, research, information technology, and education opportunities, with some of its top employers including:
WakeMed Health & Hospitals
IBM Corporation
SAS Institute Inc.
BASF Corporation
Cisco Systems Inc.
GlaxoSmithKline
Biogen Idec Inc.
And more!
With more than 7,000 acres under the RTP (Research Triangle Park), there is full-time employment for almost 40,000 residents, some of which work at the companies mentioned above. Moreover, RTP is closely tied to the region's three universities, namely the University of North Carolina–Chapel Hill, North Carolina State University, and Duke University. Lastly, the RTP also serves as home to the National Institute of Environmental Health Sciences, and is credited with around 1,800 startups since 1970.
Apart from these big companies, the major universities also act as big employers and also provide talent to the city's various industries. As such, Durham has lower unemployment rates compared to the national average, and the region around it enjoys an annual average income that's higher compared to the rest of the country.
Things To Do
Foodies love Durham. The city has a huge range of food options ready to serve various palates. In the last few years, Durham has attracted chefs from all over the globe, bringing with them many James Beard awards and irresistible cuisine into the local food scene. Whether you're looking for seafood by the Saltbox Seafood Joint, the award-winning Andrea Reusing, or the Spanish fusion restaurant Mateo, there's a wide selection to choose from.
If you fancy something more homey, step onto Main Street where you will be surrounded by an endless supply of family-owned restaurants. Perhaps you want to sip on a glass of wine as you browse through paintings in the 21C art museum, or you might just want to enjoy a cocktail at The Durham's rooftop bar. But even if alcohol isn't your thing, you can also get a warm cup of coffee from many of the restaurants available in Durham.
During night time, music lovers can head over to the Triangle area, where live music can be found anywhere. From The Blue Note Grill, Motorco Music Hall, and The Pinhook, you're sure to find a great place to sing along to live performances while enjoying good food, drinks, and company. Furthermore, Durham is becoming more and more hip, with plenty of great new artists performing around the city, along with more coffee shops, breweries, and restaurants.
Climate
Durham's pleasant weather is enough to make anyone want to move. When December comes, you can wear a T-shirt, and many of the residents there do just that. Winters are mild in this city, where the snowfall is usually little to begin with and when it does snow, it's usually gone in one day. During nine months out of twelve, you'll get an average high of 60 degrees F or more, making it easy for people to transition from areas with harsher climates.
Traffic
While the city is served by numerous options for public transportation, it's still best to know your ins and outs to guarantee that you don't get caught in traffic. Durham's main interstate is I-40, linking the city's southeast side to the northwest, and leads to the city's west side. The NC 127 connects the northwest side to Duke University, while the southeast leads to Research Triangle Park.
There's also Hwy 501 that links to the west where Chapel Hill lies. However, you can expect to see traffic jams on roads between Chapel Hill and Durham, as well as Durham and Raleigh. If you prefer walking, you can avoid traffic by going through walkable neighborhoods such as Walltown, Old West Durham, and Duke University campus.
Because Durham has a walking score of 29, transit score of 29, and a bike score of 36, it is a car-dependent city, so you will most likely need your car for most trips.
Public Transportation
Durham's Transportation Department offers a wide array of transportation services and works to further increase the choices for transportation while strengthening both local and regional connectivity. Through the City's Strategic Plan, the Transportation Department enhances the value and improves on the sustainability and quality of neighborhoods to maintain a diverse and strong community. As such, there are various transportation options to travel to and from Durham.
Interstates 40 and 85, along with US Highways 70 and 15-501, link Durham to the rest of the country. This makes it possible for more than half of the US population to live within an hour's flight or a day's drive of Durham. RDU International Airport is an east coast hub and ranks among the country's fastest growing airports. It serves Durham along with the whole Triangle region of North Carolina. It sits on the edge of Wake County, right between Durham and Raleigh, both of which co-own the airport next to the counties of Durham and Wake.
Additionally, Durham is served by several public transportation options that provide efficient navigation through the city. GoTriangle is the convenient regional service, while GoDurham is the downtown public bus transit system. Amtrak also operates within the city, while the Raleigh-Durham Airport connects these two cities. There are even rideshare services such as Lyft and Uber, both of which operate in Durham.
Golf
If you love playing golf, you'll be pleased to know that Durham has nine golf courses, with one being a municipal course. Outside of Durham, there are another 11 golf courses within 20 miles, which include five public, one PL, and five private courses. The Duke University Golf Club is the oldest course within the Durham area and was designed by Rees Jones, ASGCA and Robert Trent Jones, ASGCA, which opened in 1957.
The longest course that Durham has to offer is the Old Chatham Golf Club, which spans 7,200 yards. On the other hand, the Treyburn Country Club is known as the best course near Durham. Both the Old Chatham Golf Club and the Treyburn Country Club have won many awards through the years.
Water Sports
Durham isn't just brick and concrete — somewhere between sand and mountain peaks, Durham offers adventures outside of its city walls. From boating, swimming, canoeing, and more, there are plenty of water activities perfect for friends and family. Explore many of the waterways (lakes, creeks, and rivers) this area has to offer for various ways to enjoy your weekend, or just an afternoon to yourself.
Lake Michie, Falls Lake, and The Eno River are just some of the places where you can hike, fish, boat, and swim. Here are just a few places where you can get started:
Flat River
The Flat River is a great spot to launch a canoe or kayaking trip, where you can make your way down to the "Double R" ranch in Smyrna. If you're not in the mood for adventure, this area is also great for tubing, where you can start in Belding and make your way down the river. As you float without a care in the world, you'll see beautiful scenery and you'll usually have the place to yourself.
Frog Hollow Outdoors
This local business takes you on a tour around the Eno and Flat rivers where you are guided by a professional team, whether you want to just relax for a while or get into something more challenging. Some of their highlights include family paddling and paddling under the stars where you can watch the sky under supervision. If you're just getting started however, Frog Hollow Outdoors also offers an Intro to Kayak class where students are taught kayaking basics, gear, and more.
Dog Friendly
Your canine buddy also deserves a break, and you can find the best dog-friendly places in Durham. This dog-friendly city has some great spots where you can bring your pup along, whether in a dog park, restaurant, brewery, coffee shop, park, or pretty much anywhere you want to go. Here are some of Durham's most dog-friendly places to be:
Breweries and Bottle Shops
Barley Labs
Ponysaurus
Durty Bull
Bull City Ciderworks
Sam's Bottle Shop
Fullsteam Brewery
Ramblers
And more!
Coffee Shops
Cocoa Cinnamon
Bean Traders
Joe Van Gogh
Restaurants
Many bars and restaurants in Durham accept dogs on their outdoor patios, provided that they are well-behaved and leashed. Here are just a few places where you can wine and dine along with your canine companion:
Namu Beer Hall
Bull City Burger and Brewery
Eastcut Sandwich Shop
Gonza Tacos Y Tequila
Beyu Caffe
And more!
Dog Parks
Before spoiling your pet with exercise at these great parks, take note that there is a $17 fee to register your dog annually for Durham county dog parks. Here is a list of parks for your pup to enjoy:
Northgate Park
Duke Park
Piney Wood Dog Park
Downtown Durham Dog Park
Rock Quarry Dog Park
Hiking Trails
Riverwalk
The Eno River State Park
American Tobacco Trail
Duke Forest
West Point on the Eno
Attractions
There are plenty of attractions to visit in Durham, so you can be sure that there's always something new to experience.
Bennett Place Historic Site
If you're a history buff, you need to have the Bennett Place Historic Site on your itinerary. It chronicles the end of the Civil War in 1865, and is the site of its biggest troop surrender. This occurred when Union General William Sherman and Confederate General Joseph Johnston met at Bennett Place in Durham. It was here that the surrender of the Southern armies in the Carolinas, Florida, and Georgia took place.
Duke Lemur Center
Here, you'll find the largest collection of lemurs found outside of their native Madagascar. Inside, you can get an up close and personal look at the research facility and their lemurs. There are tours available, as well as the habitat experience for you to enjoy, giving you an intimate and interactive way to engage and interact with lemurs. You can also find out how the center combines their scientific research with conservation efforts to protect this animal from harm.
Shopping
Downtown Durham is where you want to be when looking for a shopping and dining experience like no other. With two restored tobacco warehouses, galleries, unique shops and restaurants, as well as antique stores, there's something for everyone in Durham. Those are just in the Brightleaf District; there are other places such as the Rockwood District, where you'll find acclaimed restaurants.
In addition, Durham also carries major retail centers such as the Streets at Southpoint. This super-regional mall was named by USA Today as one of the country's "10 great places to spend it all in one place." You'll also find Northgate Mall, a regional mall with a full-size nostalgic carousel and unique shops that have made it a landmark in Durham.
If you're a trendsetter who wants to create and explore various styles, Durham also has many locally owned vintage stores and boutiques that offer fashion to make sure you're ahead of the curve. From Victorian homes full of treasures to consignment clothing and flea markets that have a bit of everything, it's easy to lose track of time when you're browsing through Durham's streets.
Art and Culture
Once you've moved to Durham, you'll quickly see just how much the city takes pride in their creative community and arts. With so many places to visit, you might end up missing the best this city has to offer:
Durham Performing Arts Center
Here, you can see concerts, Broadway shows, and comedians right in the heart of Durham. DPAC is regularly ranked among the 10 best theaters in the country and brings in more than half a million guests every year. Because it hosts over 200 performances every year, it truly has something to offer for everyone.
Moogfest
This annual music festival is hosted throughout downtown Durham. It involves a 4-day celebration of music and technology, where people even travel internationally just to take part in the festivities. Those who purchase tickets enjoy cutting-edge performances from stars in electronic music, as well as conferences that connect the bridges for artistry and engineering.
Third Friday
On the third Friday of every month, Durham hosts a gallery crawl and art walk, where visitors and locals browse and shop for artwork inside a lively crowd. This is a free event, where you can look at artwork displayed in various venues throughout the city. In this way, people not only interact with the art on display, but also with local businesses.
Sports and Sports Teams
Because Durham is a college town, you'll need to take your pick — you can either swear your allegiance to UNC, Duke, or NC State. Furthermore, basketball and football are the two biggest and most popular sports in the city, although there's also serious growth in baseball as well. However, there's only one baseball team to lookout for; the Durham Bulls, which are a minor league baseball team that plays in Downtown Durham.
The Durham Sports Commission also makes sure that residents of the city have plenty and varying types of sports to participate in. Because of their commitment to sporting excellence, the city's sports history is also rich, with hall of fame coaches, and national champions. Here are just a few sports that the city of Durham has to offer:
Basketball
Baseball
Track and field
Curling
Fencing
Futsal
Esports
In Durham, there are various sports to play, games to watch and opportunities to make history each day of the year. And with so many universities within the area, there's always a game playing no matter the season.
Education: Schools and Colleges
Durham and Raleigh were ranked by Forbes as two of the top three highest-educated cities in the country. The Triangle area places high importance on education, which comes from local universities within the vicinity. Because NC State, UNC, and Duke are all within 30 minutes from each other, students have the opportunity to continue their studies at a top local University.
Other highly-ranked four-year universities located in or near Durham are:
University of North Carolina Chapel Hill
North Carolina Central University
Durham Tech Community College (where students can pursue a technical degree)
Durham's Public School System serves 54 schools with a total of 33,000 students. Some of the best schools that rank above average include:
Voyager Academy
J. D. Clement Early College High School
Pearsontown Elementary
Apart from these options, there are also many private and charter schools throughout different neighborhoods.
Real Estate
In terms of real estate, a majority of Durham residents have their own homes, while around 45.9% of the population rent. Zillow estimates that the typical home value in Durham is approximately $269,287, and is projected to increase by 9.7% in the following year. With an ever-increasing population, (a 19.1% increase between 2010 to 2019), along with substantially low mortgage rates, Durham's real estate market is thriving and won't be slowing down anytime soon.
Because of these factors and more, Durham's housing market is "warm," so be sure to get a piece of the action before all the spots are gone or before the area becomes too expensive — which may not be too far off into the future.
Welcome to Durham!
That's all there is to know about Durham. Now is the time to consider your lifestyle and how it might change before you make the big move. The city — while smaller than others — has a lot to offer, not just in terms of affordability when it comes to housing and utilities, but also in it's vibrant culture, exciting nightlife, and love of sports.
Students in particular will have the best time of their life in Durham, since it provides the perfect mix of higher education, business opportunity, and fun things to do. With all these things and more, Durham is certainly a great place to live, love, and laugh.