Your Fayetteville NC Real Estate Questions Answered
Posted by Preston Guyton on Tuesday, January 11, 2022 at 5:34 AM
By Preston Guyton / January 11, 2022
Comment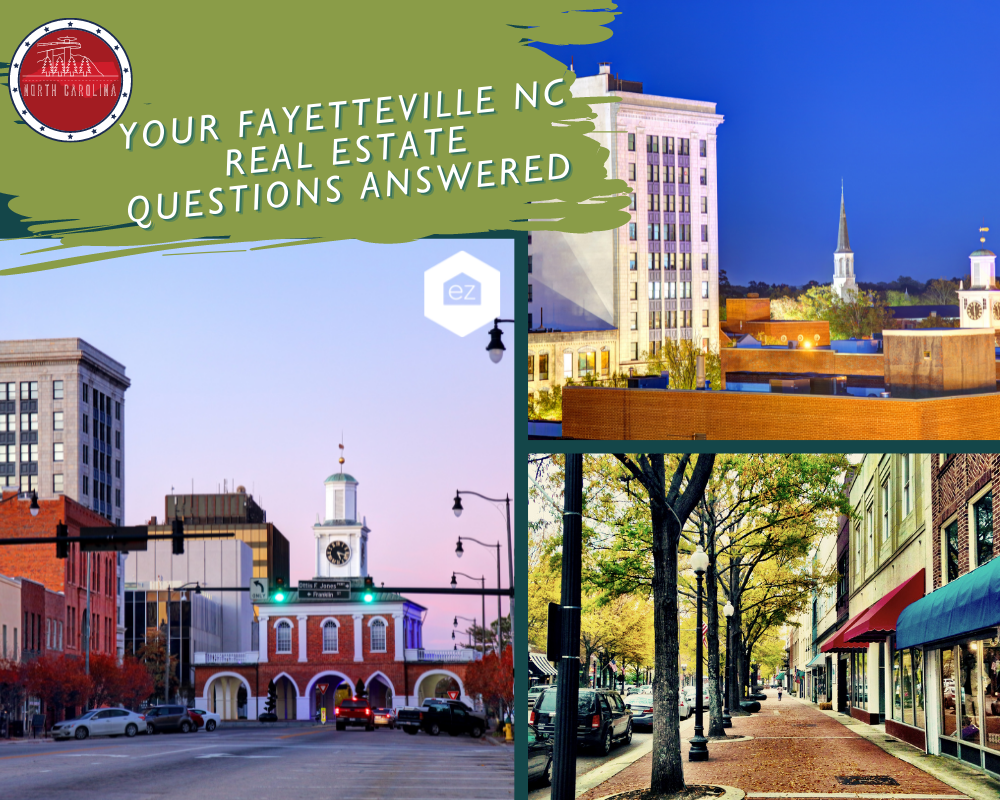 Your Fayetteville, NC Real Estate Questions Answered
The hub of the Sandhills region, the Fayetteville community is rich in history and economic opportunities. Situated beside the Fort Bragg Army base and Pope Army Airfield, the city is critical to our National Defense. It is well-connected to greater North Carolina thanks to Interstate 95. Residents enjoy a small-town lifestyle with modern conveniences, like craft breweries and community parks.
Whether you're being assigned or are moving to the Fayetteville area for the amenities, we are here to help with your real estate questions. Here's what people often ask about Fayetteville real estate.
What is the average price of a home in Fayetteville, NC?
Data from November 2021 shows that the median sales price of residential real estate in Fayetteville was $180,000, a 13% year-over-year increase. The average price for that month was $200,386. The homes were on the market an average of 14 days until sale.
The market had 365 listings available, a 24% increase year-over-year. Inventory was up 23% for the year-to-date, but as the days on the market and median sales price increases indicate, it was not enough to meet buyer demand.
The historical data for median sales prices show Fayetteville's real estate market has been mostly stable for the last decade, with incremental increases in sales prices. The prices did start more notable increases in mid-2020 and accelerated in 2021.
Are there any condos or townhomes available in Durham, NC?
Yes, Fayetteville has condo and townhome properties available. In November 2021, the market had 38 new units available and 49 pending for sale. The median sales price was $118,250, a 30% year-over-year increase. Most of these properties were on the market 19 days until sale.
The historical trend for townhome and condo properties shows median sales prices have been rising since January 2019. The condo prices are nearing the record high for prices demonstrated in January 2010.
Condo and townhome properties locations are spread across Fayetteville neighborhoods. Find a local real estate expert who can help you find the right property and neighborhood for your lifestyle.
What is the property tax rate for Fayetteville, NC?
Fayetteville is part of Cumberland County, which levied a 0.799 property tax per $100 of assessed value. The city of Fayetteville charges a 0.4995 property tax. Combined, residents pay 1.3985. Learn about North Carolina property taxes.
As of the 2021-2022 fiscal year, residents pay $6 per month in a stormwater fee and $225 per year for a solid waste fee.
What county is Fayetteville, NC in?
Fayetteville is the county seat for Cumberland County. It is the fifth most populated county in North Carolina and is part of the Fayetteville Metropolitan Statistical Area. It is near equal distance between North Carolina's mountains and its beaches.
The city is the largest in the Sandhills region of North Carolina, a corner of the Coastal Plains region. Fayetteville acts as a regional hub for the scattered towns. The Fayetteville Dogwood Festival held in the spring is one of the state's leading events.
Is Fayetteville, NC growing?
Yes, Fayetteville is growing. It added around 8,000 residents in the 2020 US Census for a total of 208,501 residents. From 1980 through 2005, Fayetteville's population increased by 190%. Part of this dramatic growth was because Fayetteville was annexing surrounding areas. The demonstrated growth is not necessarily the result of new residents but increasing city limits.
Fayetteville is projected to have continued growth over the next decade.
What neighborhoods are in Fayetteville, NC?
In total, Fayetteville residents have around 100 neighborhoods and subdivisions to explore for their real estate needs. Here are a few highlights.
Hope Mills is a suburb home to many young professionals and families. Niche.com ranked it as the eighth-most diverse suburb in North Carolina. Residents enjoy proximity to shopping and dining amenities. Some of the county's top-rated schools are within its boundaries, including Cross Creek Early College High School.
Terry Sanford sits to the east of the Fayetteville City Center. Numerous historical attractions are in this area. The neighborhoods and close-knit communities have diverse housing types. The community includes several parks, lakes, and streams.
Eastover lies to the east of downtown and is a larger neighborhood with various apartments and single-family housing. When it comes to single-family living, the lots tend to be slightly larger than average, giving owners room to spread out. The schools are well-regarded, and the household income tends to be higher than the Fayetteville average.
What neighborhoods are near Fort Bragg?
Arran Hills is close to shopping centers, grocery stores, and lifestyle amenities. The homes tend to be ranch-style, and apartment complexes are available.
Arran Lakes West is a smaller community near Arran Hills. It has a low crime rate and access to daily amenities.
Westover sits west of Fort Bragg and is an easy commute into the base. It has a suburban feel, with a mix of apartment and single-family housing. Families access some of the area's top-rated schools.
Carver's Creek is against the eastern side of the army base. Residents commute into Fayetteville but are close to the outdoor recreation amenities of Carver's Creek State Park with its 4,000 acres and trails.
Are there any waterfront properties found in Fayetteville, NC?
Yes, you can find waterfront living in Fayetteville, but it won't be on an expansive lake or reservoir. The Cape Fear River is an important part of Fayetteville's geographic features and history. However, much of the riverfront is preserved as parks and public lands. Within the city limits, you won't find a lot of residential housing on the Cape Fear River.
Your best bet is the Westover area around McFayden Lake. Several creeks and streams run into the lake, such as Persimmon Creek. The Westover area also has Lochlomond Lake for waterfront living.
Look around Fayetteville for additional options. Rose Lake has some apartment-style living along its eastern shore. Residential homes are available along Crooked Creek, Clarks Pond, Branson Lake, and Watson Lake. Refer to a local real estate expert who can help you find waterfront property in Fayetteville.
How is golf in Fayetteville, NC?
Fayetteville has five golf courses that are semi-private or privately operated. Another seven golf courses are within 20 miles of Fayetteville, including some public courses.
Inside the city limits is the Highland Country Club. This private golf course was designed by Donald Ross and first opened in 1945. It has a USGA rating of 72 and features four different sets of tees for various skill levels.
King's Grant Golf and Country Club is a semi-private course that opened in 1990. It was designed by Jim Holmes and has a rating of 72.
Are there golf course communities in Fayetteville, NC?
King's Grant has a gated golf course community, The Ridges, a townhome community with pool and lawn maintenance. Find golf course views from these townhomes.
Baywood offers custom-built homes in a residential golf community near the Baywood Golf Club. The community is located on the east side of Fayetteville.
Gates Four is another golf course neighborhood in Fayetteville. The community is built around the Gates Four Golf and Country Club. Housing runs from townhomes to single-family residences.
What areas are near Fayetteville, NC?
Fort Bragg is home to the Army's Special Operations Unit, the 82nd Airborne Division, and the XVIII Airborne Corps. It's also the headquarters for the Army Reserve. Naturally, there's a lot of military traffic and interest in the area.
The Cape Fear River runs through Fayetteville. It winds its way south to Wilmington.
Fayetteville is 52 miles from Raleigh and 112 miles to Charlotte. If you're looking for a day at the beach, Wilmington and its beaches are about 92.5 miles, making it just under a two-hour drive.
Interstate 95 is located just to the east of the city limits and runs north to south. Jump on this corridor and be at destinations along the Atlantic Seaboard rather quickly.
What to know about living in Fayetteville, NC
Fayetteville has experienced a lot of development over the last few decades. This includes a revitalized downtown area with plenty of shops and dining establishments. Residents get to enjoy Minor League Baseball, local museums, breweries, and historic sites. It has a thriving education system with three local colleges and universities. There's a lot to do in Fayetteville, which is why many people choose to stay here.
If you're looking for a place in Fayetteville, find a local real estate expert to guide you to the right neighborhoods for you.