Moving to Fayetteville - Your EZ Guide to Everything Fayetteville, NC
Posted by Preston Guyton on Thursday, April 8, 2021 at 1:36 PM
By Preston Guyton / April 8, 2021
Comment
Moving to Fayetteville: Your Guide to Living in Fayetteville, NC
People thinking about moving to Fayetteville, NC, have a good reason to do so —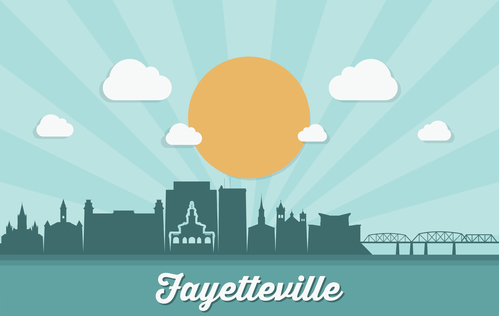 Fayetteville has won the All-America City Award three times from the prestigious National Civic League. This city is located in Cumberland County, within the North Carolina Coastal Plain region. It's also best known as the home of a major U.S. Army installation: Fort Bragg, just northwest of the city.
If Fayetteville is a city you're interested in moving to, then you've come to the right place. Here, we've compiled everything you need to know about moving to Fayetteville, NC. Read on below to know more.
Cost of Living and Population Growth
One of the best things about this city is that the cost of living is below the average cost in the country. If you plan on living in Fayetteville, NC, the costs are actually 20% lower compared to the national average. According to bestplaces.net, the cost of living in this city comes in at 80.9 on the living index — almost 20% lower than the country's average index of 100. Here are just a few things you can enjoy in Fayetteville:
Utility prices are 5% lower compared to the national average.
Grocery prices that are 4% lower.
There's an affordable housing market.
To give you a better sense of just how affordable living in this city is, here's a table that includes all the expenses you can expect to pay for along with a comparison to the national average and North Carolina's average:
| | | | |
| --- | --- | --- | --- |
| Cost of Living | Fayetteville | North Carolina | USA |
| Overall | 80.9 | 90.6 | 100 |
| Grocery | 94 | 96.5 | 100 |
| Health | 118.2 | 107.5 | 100 |
| Housing | 44.8 | 81 | 100 |
| Median Home Cost | $103,500 | $187,300 | $231,200 |
| Utilities | 98.4 | 99.2 | 100 |
| Transportation | 77.1 | 83.9 | 100 |
| Miscellaneous | 105.7 | 96.2 | 100 |
While the cost of living in Fayetteville is low, there is a high income growth per capita and a low earning potential. Estimates show that a family of four living in Fayetteville will need to earn at least $7,114 per month or $85,364 per year to live comfortably. However, the median income recorded in the area is $50,884, which is also significantly lower than the national average of $70,850.
On a lighter note, the people that you meet in Fayetteville will make you feel more than welcome. With more than 200,000 residents in the area, it's the 6th largest municipality in all of North Carolina. Furthermore, the Fayetteville metropolitan area has an estimated population of 374,157, making it the largest in southeastern North Carolina.
Job Market
Fayetteville's main industrial sectors lie in:
Educational services
Military
Social assistance
Health care
Arts/entertainment
Recreation
Retail trade
Public administration
Accommodation/food services
Some of its top employers include Cape Fear Valley Healthcare Systems, Goodyear Tire and Rubber, Walmart, Cumberland County Schools, and the Department of Defense.
The highest-paying jobs in Fayetteville tend to be the ones which are most specialized. Some of the best-paid belong in the scientific, professional, and technological positions, followed by utility workers and public administration. If you plan to job hunt in Fayetteville, ensure that your resume and interviewing skills are up-to-date.
There's a 5.5% unemployment rate in Fayetteville — higher than the 3.9% US average. In 2019, job growth was just 1%, but there is a predicted job growth of 30.2% over the next ten years. This figure is just a bit lower compared to the US average of 33.5%.
Things To Do
There's never a boring moment in Fayetteville, with plenty of things to do for both visitors and locals alike. Because of its southern roots, Fayetteville offers amazing southern cuisine and barbeque. Because of its cultural diversity, the city also has various authentic and traditional flavors to enjoy.
From Korean to Italian, the city offers an array of tastes and options to choose from no matter what you're looking for. Here are a few local restaurants to choose from:
Fayetteville Pie Company: This pie shop's menu is ever-changing, so there's always something new to try. Offering both sweet and savory pies, this is a must-try if you love baked goods.
Circa 1800: Located downtown, this upscale restaurant works with local farmers by using local ingredients. They serve only the best North Carolina beer and allow patrons to create their own bloody mary during lunch, making it the perfect place to wine and dine with friends.
Antonella's Italian Ristorante: This Italian restaurant serves seafood, craft cocktails, and authentic Italian dishes. It also features vegan and vegetarian dishes.
If you're more into nature and the outdoors, Fayetteville has plenty of parks, greenways, and nature preserves to get your slice of adventure. Zipquest is a treetop and waterfall adventure full of rope and zipline courses and is perfect for any thrill-seeker. If you're more into outdoor relaxation, the Cape Fear River Botanical Garden is a perfect location. This 80-acre park is a nonprofit botanical garden that offers picturesque views where you can comfortably sit and read a book.
If you're more into the beer scene, Fayetteville is quickly growing with many breweries being built downtown to support the local economy. Here are some of the best breweries for you to try:
Mash House Brewing Company: Amazing food with excellent craft brews where you can eat burgers and steaks inside a relaxed atmosphere.
Bright Light Brewing Company: Offering a great selection of food trucks and beer every night, this dog-friendly brewery has live music during weekends.
Dirtbag Ales Brewery and Taproom: This local brewery is a favorite and serves over twenty beers on tap. It's spacious area hosts farmers markets on Sundays to support local businesses.
You can expect Fayetteville's nightlife to be full of life and energy, with a huge variety of live music, entertainment, comedy shows, dancing, and trivia nights. As mentioned above, you can also visit plenty of nightclubs and bars to keep the fun going. And if you're into live music, the Crown Complex hosts concerts where you can listen to your favorite bands perform.
Climate
Fortunately, Fayetteville offers its residents with all four seasons, with spring and fall the most livable. During this time, temperatures bounce between 60°F and 70°F, and even the winters here are more bearable compared to the rest of the country. It's coldest month of January sees an average temperature between 31°F and 53°F, which is followed by December's temperatures of 33°F and 56°F. However, snow happens infrequently, so ice or snow events happen only once in a while.
The hottest month in Fayetteville is July, with a daily average of 90°F, which means you can expect thunderstorms and high humidity. It receives an annual rainfall of 45 inches, where 5.35 inches come just in July, and 5.55 inches in August, making them the wettest months. Unfortunately this city is also prone to natural disasters, with a history of wildfires, tornadoes, and hurricanes.
Traffic
The average length of commute in Fayetteville is around 18 minutes, and like many old towns, its roads lead to the city's center. Here, you'll find Downtown, which is pedestrian-friendly. Connecting a wide area of the city's western suburbs to the Downtown area is Raeford Road. However, residents opt to look for alternative routes to avoid heavy traffic.
In the northern part of the city, Murchison Road and Bragg Blvd lead to the military bases and are some of the most congested roads in the city. Thankfully, Highway 295 encircles the northern part of the city and has helped to relieve congestion. To escape from traffic, be sure to remember two things: avoid construction traffic and Interstate 95.
Public Transportation
Because of the limited bike lanes and walkable areas, Fayetteville is dominated by cars and has only scored 21 out of a possible 100 for walkability on Walkscore.com. However, there are various options for public transportation, with the Fayetteville Area System of Transit offering 21 bus lines throughout the city. It also runs on 10 routes through the city and its surrounding communities.
The city of Fayetteville shows its support for disabled commuters through FASTTRAC!, which is a 16-vehicle paratransit system. Furthermore, the Amtrak rail service runs to all major cities on the east coast from New York to Miami. The Fayetteville Regional Airport is home to three airlines, with daily routes to Washington DC, Atlanta, and Charlotte.
Golf
Golf is just one of the many things you can do in Fayetteville, and it's got you covered when it comes to the ebay-rated golf courses. There are various country clubs and historic golf courses in the area perfect for a trip with you golf buddies. Here are just a few golf courses that you can try:
Gates Four Golf and Country Club: Featuring eight holes, 72 par, and 6,895 yards of space, it was constructed in 1967 by Willard Byrd, an acclaimed golf course architect. In 2011 it went through a stunning renovation with newly built bunkers, new bent-grass greens, and fairways lined with tall pine trees. This course also offers bars & grills, family festivals, tournaments, and theme dinners.
Baywood Golf Club: This is one of the best golf courses in Fayetteville, with the longest tees for a pair of 72, with a score of 71.5, a slope rating of 115, and 6,763 yards to offer. Designed by Stewart Gooden, it offers a chipping green, driving range, practice bunkers, bars, memberships, and grills.
King's Grant Golf and Country Club: This has 18 holes, 71 par, and 6,307 yards to offer. This semi-private golf course was spectacularly designed by Jim Holmes and offers a unique combination of elevation and beautiful views. It's newly renovated pavilion is ready to host your next special event.
Water Sports
At Cape Fear River Adventures, you can find plenty of water sports to enjoy, which you can experience with friends or the whole family. You can choose from a variety of fun activities and sports such as:
Kayak, Canoe, or Paddle Board: Pick out the vessel of your choice to explore the beautiful and wild Cape Fear River, where you can spend an hour, a day, and more on waters that range from calm to fast and furious.
Lazy River Tubing: Take your friends, cooler, and sunscreen along with you to enjoy a few lazy hours under the sun while out on the river.
Scenic Rafting: In this laid-back activity, relax and enjoy the unspoiled scenery, various wildlife, and an exciting ride with an expert guide at the helm.
Whitewater Kayaking: This challenging, yet fun sport lets you experience the thrill that whitewater kayaking has to offer in Class II-III rapids.
Dog Friendly
Fayetteville is a dog-friendly city, and you can be sure that there are plenty of things for you and your dogs to enjoy. Here are just a few places where our canine family members are welcome:
Blessed Oasis Dog Park: This fenced and spacious five-acre leash-free park offers waste stations and agility equipment. The park also takes responsibility for all who use it and screens all users to make sure that every pet has shots and can pass a temperament test. In exchange for these services, a $20 membership fee per month is needed.
Riverside Dog Park: This dog park has two fenced areas for dogs, while water and poop bags are made available. It offers plenty of room for dogs to play, and benches are well-placed for owners to relax or read a book. Young children aren't allowed in the park, making it much safer for both dogs and their owners.
The Wine Cafe: Home to a pet-friendly patio, this cafe offers a selection of hand-picked wine in the tasting room, where you can choose your favorites and even take them home to enjoy.
Attractions
Because of its close proximity to Fort Bragg, there are plenty of military museums to visit in Fayetteville. One such museum is the U.S. Army Airborne and Special Operations Museum, which regularly displays United States military history, particularly the U.S. Army Airborne and Special Operations. It is packed with exhibits that teach viewers about military history.
The Edgar Allan Poe House is another interesting place to visit — this historic house was built around 1896 and 1898, and served as the home of the Poe family and the famous author Edgar Allan Poe. Each visit will provide you with a tour about the time period and details about the Poe family.
Located in downtown Fayetteville, the ASOM (Airborne & Special Operations Museum) is part of the United States Army Museum System. It was opened during the 60th anniversary of the original United States Army's Test Platoon's first parachute jump on August 16th, 2000. It's main gallery offers a self-guided tour of the history of the special operations and airborne soldiers from 1940 to today.
Shopping
Throughout Fayetteville's historic downtown, you can look through its charming stores where you can shop in various malls, lifestyle centers, and plazas. From souvenirs and clothes to treasures and trinkets, you can easily find a place for all your needs. While Crosscreek Mall is the only shopping mall in the city, it is home to several fashion retail chains such as Vans, White House/Black Market, H&M, and more.
Furthermore, antique shops and smaller shops adorn downtown Hay Street. There are also many flea markets around Raeford Rd, Bragg Blvd, and Macpherson Church Rd, where you will find eclectic goods during weekends. If you're looking to own antiques and vintage pieces, the Cotton Exchange is where you will find them.
At Fabulous Finds Boutique, you'll see fashion pieces gathered from Las Vegas, New York, and Atlanta, while Cotton River Outfitters offers a wide selection of clothing brands from the South. Head to White Trash & Colorful Accessories if you're on the hunt for colorful decor, vintage coastal, and cottage-chic furnishings.
Art and Culture
Fayetteville is a city rich in history, and one of the best ways to soak it up is through the Heritage Trail Drive. With over 750 miles of themed driving trails that cover topics of all kinds, you can discover the city's immigrant past on the Gaelic Beginnings Trail. You can also catch a theatrical performance on the Patri-Arts & Gardens Trail. No matter what your interests, there's a trail for everyone, including architecture admirers, culinary connoisseurs, and history buffs.
At Heritage Square, you can get a glimpse of 17th and 18th century architecture in the form of the Baker-Haigh-Nimocks House and Sandford House. These properties have served various purposes throughout the years — a bank, home, barracks during the Civil War, and presently as the Women's Club of Fayetteville.
Sports and Sports Teams
While Fayetteville doesn't have many professional teams, there is a minor league baseball team for you to watch — the Fayetteville Woodpeckers play at the new Segra Stadium downtown. This stadium opened in April 2019, where the Woodpeckers' owners, the Houston Astros, signed a 30-year stadium lease, ensuring a long-term commitment. The Woodpeckers played 70 games here during the 2019 season, with more than 250,000 people in attendance during the whole season.
Furthermore, the Cape Fear Heroes indoor football team and the Fayetteville Marksmen hockey team call the Crown Complex their home. This state-of-the-art, five-venue complex comprises a 10,880-seat coliseum, 9,200-square foot ballroom, 4,500-seat arena, 2,440-seat theatre, and an exposition center with 60,000 square feet of space. It hosts many other sporting events, concerts, family shows, and other productions throughout the year.
There are also other minor league teams that you can cheer for in hockey, basketball, and roller derby. Residents also support professional teams like the Carolina Hurricanes in Raleigh, North Carolina and the Carolina Panthers in Charlotte.
Education
Fayetteville is a great place to raise a family, thanks to its education system. There are a total of 52 elementary schools, 20 private schools, 18 middle schools, 17 high schools, and two charter schools in the city. Options for higher education in Fayetteville include the Methodist University, Fayetteville State University, Fayetteville Technical Community College, Grace College of Divinity, Miller-Motte College, and the Carolina College of Biblical Studies.
Like many cities, some of its schools have mixed reviews, and according to greatschools.org, Fayetteville has a total of 25 schools scoring six or higher. Some of the highest-rated schools are Cross Creek Early College, Jack Britt High School, Seventy-First Classical Middle, John R Griffin Middle, Cumberland International Early College High School, and Howard Health & Life Sciences High School, all of which are rated 9/10.
Real Estate
When it comes to real estate, Fayetteville is a relatively affordable area, and it's one of the most buyer-friendly markets in the whole country. Because it's so affordable, it has been ranked as the country's third most affordable housing market. Just last year, the median home value in Fayetteville was just $121,427, while the median price of homes sold was just $129,400.
There are even lower prices near the Fort Bragg army base, which range from $70,000 to $90,000. While the homes here are older and may need renovations, these are a perfect option for people looking for cheaper homes. On the other hand, there are areas in the city that are more upscale, where home prices can be $200,000 or higher.
However, if you prefer renting, the median price for rent is $950, compared to the national price of $962. With these renter-friendly rates and the town being close to Fort Bragg, it's no wonder that 44.2% of people rent their home in Fayetteville.
Furthermore, Fort Bragg is one of the largest military bases in the world, so Fayetteville is home to many military personnel. As such, many people move in and out of the city all the time, and it also makes it a great market for real estate investors. Because of the sheer volume of inbound and outbound populations, the amount of turnovers create much demand for rental properties.
Overall, Fayetteville is a great place to move to if you're considering moving to North Carolina. With various places to go and things to do, there will never be a dull moment for locals and visitors alike. It's the perfect combination of historic and modern, with plenty of museums and various sites related to its historic roots. At the same time, it offers various breweries, bars, attractions, and plenty of other things to do. Whether you're moving on your own or with a family, Fayetteville has something to offer for everyone and is undeniably one of the best places to be in North Carolina.