Beach Day? The Best Beaches in Wilmington, NC
Posted by Preston Guyton on Wednesday, June 23, 2021 at 6:04 AM
By Preston Guyton / June 23, 2021
Comment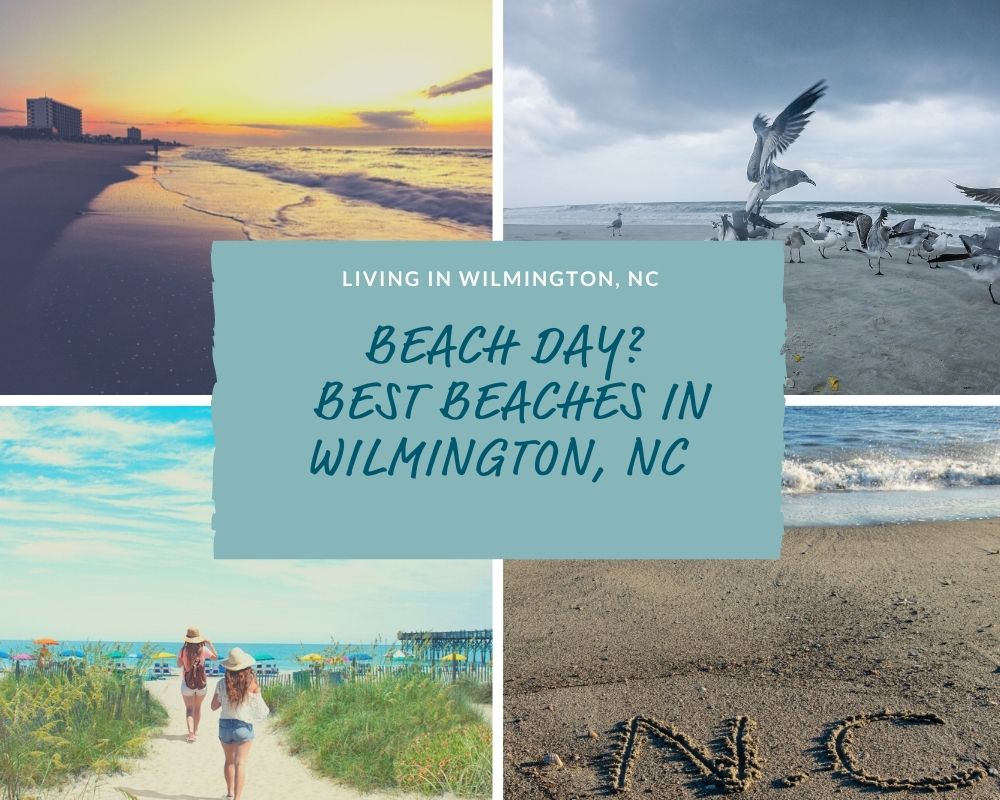 The 5 Best Beaches in Wilmington, NC
Wilmington, North Carolina, is a gorgeous coastal town full of charm and fun for both young professionals and families. As you go through this city, you'll find that there are plenty of great parks, historic homes, and amazing restaurants. Furthermore, this place is also home to the scenic Riverwalk along with a vibrant riverfront to see and explore.
Apart from all these exciting things to do, this laid-back town offers some of the top beaches in the region. In this list, we feature the best beaches in or near Wilmington and what they offer; from family-friendly events to musical festivals and a wide variety of seaside activities. So when you do make your way to the Southeast, be sure to head for one of these Wilmington, North Carolina beaches where you can enjoy a day in paradise.
1. Wrightsville Beach
A mere 11 minutes away from Wilmington, Wrightsville Beach is the go-to place for all those looking for fine sand, clear waters, and great weather for a day in the sun. Because of its proximity and picturesque surroundings, this beach is a favorite among locals and tourists. This quaint beach also features many restaurants and seaside shops, along with a pier where you can take a romantic walk while watching the sunset.
If you're more the adventurous type, there are also plenty of water sports offered here, where you can rent boats and take lessons in various sports such as surfing, paddle boarding, kayaking, and more. As such, Wrightsville Beach is known as one of the best surf towns in the state, and its reputation is also observed outside the country. Furthermore, this beach has done a great job of combining a social and active culture along with limitless types of water sports.
So if you're looking to have a relaxing weekday or just a day to yourself, head towards Wrightsville Beach, which is also one of the most accessible beaches in the state. Being right next to Wilmington, this spacious beach and its blue waters welcome all who wish to bask in the sun. Bring your friends and family for a whole day of fun, and enjoy all that this perfect beach destination has to offer.
2. Carolina Beach
The perfect summer escape is waiting for you in Carolina Beach, which is just a 20-minute drive away from Wilmington. It carries a vintage vibe that feels almost like stepping back in time, which emanates from the boardwalk found here. Don't let this fool you; many top anglers recognize this beach as one of the best places to catch fish, so don't forget your gear; cast your line from the pier.
Carolina Beach offers visitors various food stands and summer activities that will keep your friends and family entertained. According to Food and Wine Magazine, Carolina Beach Boardwalk is one of the Ten Best Boardwalks, hosting dozens of festivals and live music events every year. During summer, you can also take part in art festivals, barbecue competitions and more.
With so much to offer, Carolina Beach lets you trade in a boring old summer vacation for one full of color and excitement. It provides visitors with both vibrant nightlife and endless days of fun, where you can enjoy water sports or some of the best beers in the region. While there are so many options for fun beaches in North Carolina, you won't find a beach quite like Carolina Beach.
3. Kure Beach
This beach is a great option for those traveling with children since it offers an outdoor playset near the beach and is also close to the aquarium — just seven minutes away. Kure Beach will also melt your stresses away; just an 18-mile drive from Wilmington, it will give you the small-town beach vibe that you remember as a kid. It's also home to the first fishing pier in all of the Atlantic Coast, beautiful seaside surroundings, and an oceanfront park.
If you're a history buff, you need to visit this area, where you'll find the Fort Fisher State Historic Site. Here, you can take a peek into the past, where live oak trees sing in the wind as you explore the grounds of the biggest land-sea battle of the Civil War. The Travel Channel also named the North Carolina Aquarium one of the best aquariums in the country, where you can come see live alligator feedings, close encounters with otters and sea turtles.
Moreover, family-friendly events abound in Kure Beach, which include the Pleasure Island Seafood, Blues & Jazz Festival, and the free concert series, Boogie in the Park. Because of these reasons and more, it's easy to see why Kure Beach was named one of the Best Family Beach Destinations in the state by About.com. With such a great setting, be sure to bring the whole family to reconnect in this pure and unspoiled utopia.
4. Masonboro Island
This 8.4-mile island is only accessible by boat, canoe, or kayak and is home to various species of wildlife. The Masonboro Island Reserve is also the biggest undisturbed barrier island ecosystem in the region. This reserve was created to protect the coastal habitats to further education, research, and stewardship.
Inside, you'll see immaculate examples of a tidal creek, salt marsh, and barrier island ecosystems. Furthermore, you will see fish, birds, sea turtles, and invertebrates that use Masonboro Island for foraging and habitat. To get here, you'll find public and private boat ramps around Carolina Beach and Wrightsville Beach. You may also want to check out private fee ferry services for a ride to the reserve.
Because Masonboro Island is sandwiched between the Atlantic Ocean and the Intracoastal Waterway, it is teeming with wildlife and has plenty of sites to offer. While visitors only have access to a few specific trails, the island has miles of pristine beaches to explore. However, Masonboro Island is a site for real adventurers; there are no facilities here, so be sure to bring your own supplies.
5. Topsail Island
Topsail Island doesn't just offer unique beaches but also has a small-town vibe that's both warm and familiar, making you feel right at home. It is the farthest option on this list but is still less than an hour away from the city of Wilmington. This 26-mile long barrier island lies just off the coast of North Carolina and is dedicated to beautifying its towns, preserving the beach, and providing its residents with plenty of things to do.
Because of this, there's always something to do here, making it the perfect destination for those who want a weekend getaway. At Topsail Island, you can enjoy pampering yourself at one of the local spas, browsing through the various shops, relaxing on the beach, or dining in one of the restaurants. You can also have fun participating in water sports such as fishing, boating, surfing, riding on jet skis, and more.
If you're looking to do something different, check out the great golf courses here, such as the North Shore Country Club in Sneads Ferry. You can also see sea turtles in the Karen Beasley Sea Turtle Rescue & Rehabilitation Center on Tortuga Road where you can volunteer to help with the rehabilitation efforts of the turtles for a day. With so much to do on Topsail Island, there are endless ways to enjoy your weekend getaway.
Places to Stay in Wilmington for the Weekend
If you do plan to spend the weekend in Wilmington, you'll need a place to spend your nights, so here are our top choices for a luxurious and comfortable experience.
The Verandas
Built in 1852, this gorgeous antebellum mansion sits in Wilmington's historic district, where streets are lined with trees, offering a quaint and quiet atmosphere. While the mansion has eight corner rooms, there are four verandas on the property, hence its name. Guests may also use the large formal living room, breakfast and dining room, piano room, and garden terrace.
Guests are provided with showers, soaking tubs, hand-ironed linens, and other luxurious amenities in each room. Before heading to the beaches, you may want to start your day by taking a stroll through The Verandas' award-winning gardens. Afterward, you can enjoy a scrumptious breakfast made from local ingredients along with a cup of French-pressed coffee.
Graystone Inn
This elegant, nine-room property located in Wilmington boasts a beautiful sunlit parlor and sitting room. Inside the Graystone Inn you can relax in the music room and enjoy listening to a baby grand piano or browsing through a mahogany-paneled library. You will just love the Graystone Inn's three-story, Renaissance-style staircase as well as wandering through the terraces and gardens within the property. Each stunning room features accommodations such as walk-in-showers, fireplaces, antique furnishings, cozy bathrobes, and clawfoot tubs.
Conclusion
These great beach options are all accessible via driving, with some of them only a few minutes away from the city of Wilmington. On each beach, you'll discover family-friendly programs and attractions — surf lessons at Wrightsville Beach, a visit to the aquarium at Kure Beach, or a vintage seaside boardwalk at Carolina Beach. Because there are so many things to see and do at these destinations, you'll have options for fun and play both off and on the water. There's no need to compare; just visit each one and you'll see that they all have their own unique signature activities that you're sure to remember.