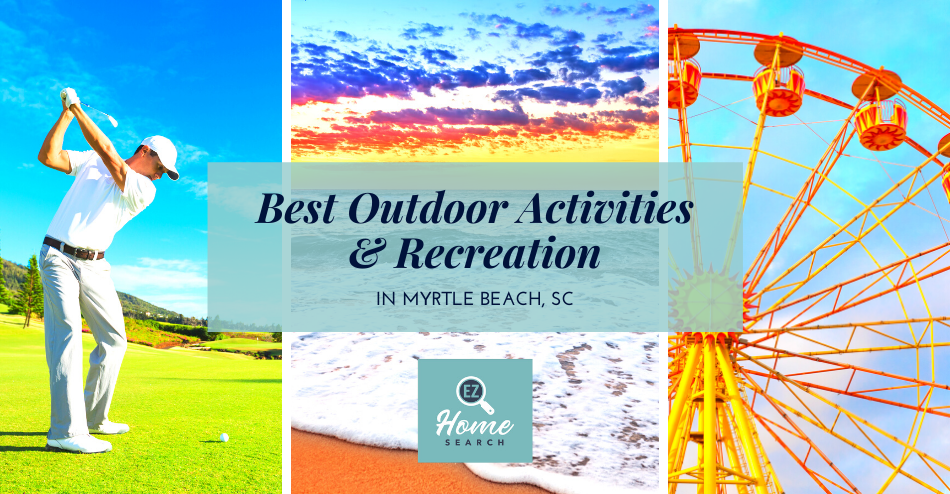 Best Outdoor Activities in Myrtle Beach: Myrtle Beach, SC Outdoor Activities & Recreation Guide
Trying to decide where to go on vacation is always a difficult task. For those who are traveling with family or friends, the difficulties are only compounded because everyone wants to do something different. Fortunately, Myrtle Beach is a city rich in activities to do that will appeal to everyone. Whether you like hiking, swimming, shopping, or sporting, there's a place to do it in Myrtle Beach. Here are some of the best things to do while visiting this beautiful city.
Myrtle Beach Hiking Trails
Myrtle Beach Walking and Hiking Trails
Hiking
Walking
Biking
Pet-friendly trails
Whether you're new to hiking or a seasoned adventurer, what better way to get close to nature than with a hike? The Myrtle Beach area offers plenty of great parks for an afternoon hike.
Horry County Bike and Run Park is a good spot for those who want to get lost in nature for a day. This seven-mile hiking and bike trail is sure to keep you busy, and they have trails great for beginners as well as trails for those who want more of a challenge. Heritage Shores Nature Preserve is an awesome place to check out local wildlife and plants. The facility offers guided tours, or you can explore the grounds on your own during open hours. Finally, McLean Park is a local favorite with some lesser-known trails sure to thrill any hiker.
Myrtle Beach Parks
Myrtle Beach Park Activities
Swimming
Hiking
Surf fishing
Myrtle Beach pier
Camping
When thinking of Myrtle Beach, the first thing that probably comes to mind is the beach itself. There are 60 miles of beaches available. Myrtle Beach State Park is a good place to go if you don't have access to any private areas. This public beach is open year round, though the hours do vary during the summer and winter.
Many people think only about sunning or enjoying the waves, but there is much more to do at Myrtle Beach. There are hiking trails, a fishing pier and guided tours. The beach may not be warm enough to enjoy a swim in winter, but there is still plenty of fun to be had. The off-season means there are fewer people around, making it a great time to go fishing or just enjoy the environment.
There are other beach areas around too, including Huntington Beach State Park. This is just a short drive from the main drag in Myrtle Beach, and it has a completely different feeling than the main beach does.
Myrtle Beach Golf and Mini Golf
Myrtle Beach Golf Locations
Myrtlewood Golf Club
Pine Lakes
Captain Hook's Adventure Golf
The warm summer months and moderate temperatures in winter mean that Myrtle Beach is an excellent place to go for golfing. There are several courses in and around Myrtle Beach including the famed Pine Lakes and Myrtlewood Golf Club. These are both professional-level courses that are available for the public to play. You may need reservations, especially if there are any major events happening, so make sure to connect with the course ahead of time to avoid being disappointed. It is often easier to find a good tee time during the off-season, so for someone wanting to make golf the centerpiece of a trip, going in late autumn or early spring may be the best possible time.
While a round of 18 is what appeals to some experienced golfers, for those traveling with those who are new to the sport or kids, mini golf may be a better choice. Luckily, Myrtle Beach has many putt-putt options. From large parks that have exciting scenes like volcanos and dinosaurs to the local favorite Captain Hook's Adventure Golf, Myrtle Beach is a superior mini golf destination.
Outdoor Shopping in Myrtle Beach
Myrtle Beach Outdoor Shopping Activities
Restaurants
Nightlife
Theaters
Shopping
When going on vacation anywhere, shopping is often a must-do activity. Luckily, Myrtle Beach offers plenty of places to shop. There are lots of surf shops and souvenir stores located near the water—these places are a good choice for picking up a tee shirt or those beachside necessities. However, there are other shopping choices too.
Broadway At the Beach and The Market Commons are the major shopping destinations in Myrtle Beach. There are many popular chain stores that can be found at any mall as well as unique local destinations that aren't found anywhere else. Best of all, this shopping strip is right by the water, so the scenery is something to behold. For those who don't particularly enjoy shopping, there are arcades and plenty of great places to grab a bite to eat. Many people may want to round out a day of shopping by enjoying a drink at one of the nightlife options found in the same strip.
Water Activities in Myrtle Beach
Water Recreation in Myrtle Beach
Dolphin tours
Freshwater fishing
River Tours
Kayaking
Swimming
There is more to do on the water than just visiting the beach. Myrtle Beach has many other places to get in the water, such as rivers, lakes, and water parks. These are just as appealing, if not more so, to many of the people who visit the region each year.
Fishing is, of course, one of the things that people love to experience in Myrtle Beach. There are a number of lakes that allow for freshwater fishing, as well as pier fishing in the ocean. For those who are new to fishing, taking a fishing tour with a local guide may be the best option. Most of these experiences provide all the equipment and instruction that an angler will need. However, keep in mind that it may still be necessary to obtain a fishing license first so look into the details of this before booking. For those who want a relaxing experience, there are several businesses in the area that will take you out on the water to find and watch dolphins, such as Blue Wave Adventures.
Other water activities available in the Myrtle Beach area include kayaking and river tours, like Gator Bait Adventure Tours. This can be an excellent way to learn more about the local ecosystem and see some local flora and fauna up close and personal.
Spend a Day in Myrtle Beach
While these outdoor activities are a great start for a Myrtle Beach vacation (or staycation for those already living in the area), there is much more to see and do in the region. Whether you're a fan of history, music, culture, popular attractions, or just the beach, there is something in Myrtle Beach for you. Myrtle Beach really is an incredible place to spend a few days or even a few years.