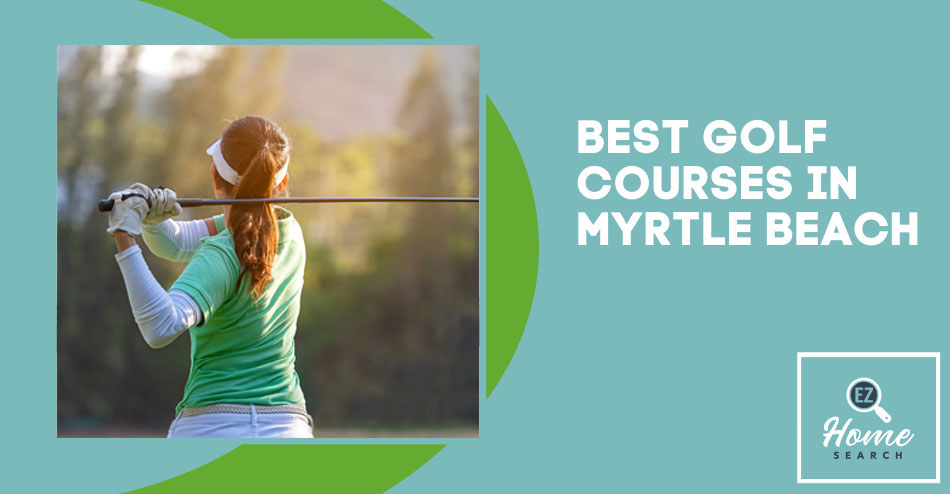 Best Golf Courses in Myrtle Beach, SC: Where to Golf in Myrtle Beach
Myrtle Beach, SC is not only renowned for 60 miles of magnificent white sandy beaches, it's also a golf lover's dream. There are more than 71 golf courses to choose from, making Myrtle Beach the unofficial golf capital in the US. The most challenging decision you'll ever make is which course to play. It doesn't matter if you are a beginner, semi-pro, or professional golfer—there will be at least one course in Myrtle Beach you are bound to fall in love with.
If you're planning on golfing your way across Myrtle Beach, here are some of the courses that need to be at the top of your list.
Tidewater Golf Club
North Myrtle Beach's Tidewater Golf Club is touted as one of the best golf courses on the Grand Strand with greens placed alongside the waterway on both nines. It is no wonder Golf Digest and Golf Magazine lists Tidewater among the greatest public courses in the US. The brilliant design, spectacular natural beauty and challenging play delivers an experience that puts this golf course on the must-play list.
The course sits high on top of a peninsula that overlooks the Atlantic Ocean, coupled with magnificent saltwater marshes and an ocean inlet that adjoins the course. To the north and west, the Intracoastal Waterway serves as a magnificent backdrop. It's nearly impossible to not be in awe of the breathtaking scenery.
Flush with superior TifEagle grass greens, perfectly manicured fairways and well-maintained bunkers along with an exceptional practice facility, makes this one of the finest golfing experiences in the Myrtle Beach area.
This world-class course challenges even the best players but is still enjoyable even for those who aren't quite as skilled. The course won't punish a well-hit shot, meaning players of all levels will enjoy their golfing experience. Tidewater is a course you will want to revisit time and time again.
Heritage Golf Club
The Heritage Golf Club is located in Pawleys Island and boasts a scenic layout with marshy vistas along the Waccamaw River. At the end of Heritage Club's oak-lined drive you come to a plantation-style clubhouse, a remant of the course's history as a rice plantation. With its large undulating greens and rolling fairways, the course will challenge both senior and junior players alike. This par-71 course has been host to the Father and Son Team Classic, a local tournament.
Designed by Dan Maples, he incorporated the gradually rolling terrain of the former rice plantation, allowing him to take advantage of the natural ponds to protect the greens. The stunning fairways feature magnificent 300-year-old oak trees and 600 acres of giant magnolia trees.
The natural beauty of the surroundings is equaled only by the quality of the course itself. The well-maintained greens and fairways make the Heritage Golf Club an ideal place to play and relax. However, you will be challenged by the tee shot on the 13th hole as it threatens your shots with water surrounding the green. As golfers finish on a 470-yard par-5, they return to the southern-style colonial clubhouse to admire the beauty of the surrounding lakes and marshlands.
Pawleys Plantation Golf & Country Club
The Pawleys Plantation Golf & Country Club is meticulously designed. When Jack Nicklaus went about designing this classic Lowcountry course in 1988, he blended the water-bordered fairways, sand bunkers, and unique obstacles closely around the Bermuda grass greens. Set among the splendor of 200-year old oak trees there's nothing about the layout of the course that's average. The 18-hole course measures in at 7,026 yards with a slope rating of 140.
The back nine opens up to the marsh with wonderful views of wildlife where you will also hear the crashing of the waves along the beach. While playing among the marsh is breathtaking, don't be fooled—trust the yardage provided, for the setting can throw off your depth perspective, leading you to choose the wrong club.
Also part of the country club is the Phil Ritson-Mel Sole Golf School where you can learn to perfect your swing. In addition to a charming clubhouse and conference facility, it's common for golfers to play numerous times and never have the same shot twice, because it's one of Myrtle Beaches best-designed golf courses. With a tough layout and sensational views, this is a golf course you will want to visit.
True Blue Golf Club
With its dramatic and fun layout, the True Blue Golf Club is ranked by Golf Magazine as one of the top 100 resorts in the US for buddy golfing trips. It's easy to see why this is a popular golf destination, with its rolling terrain, vast fairways and undulating greens surrounded by the native vegetation of a once-thriving rice and indigo plantation.
Consistently awarded, ranked and rated as one of the best golf courses in Myrtle Beach, the accolades over the years keep on coming from Golf Magazine, Golf Digest, and the Golf Channel on television.
True Blue has excelled by finding ways to make players appreciate their surroundings since it opened in 1998. The fairways are framed by trees, and impressive bunkers lie next to oversized streams and ponds, which makes for a visual masterpiece and a near-perfect round of golf. Mike Stranz outdid himself in designing this course—his imagination and artistry means you won't find any boring holes here. No matter if you are a beginner, pro, or semi pro, you will be tested throughout the course. The creative design and hazards are so good, you will want to keep playing over and over again.
Barefoot Resort & Golf
In the heart of Barefoot Resort, you will find the Fazio Golf Course offering a breathtaking golf experience with multiple lakes, extensive trees and elevation changes.
Unlike most golf courses, the Fazio course is located off the grounds of the Barefoot Resort and requires driving out to it. It's a classic Lowcountry course flush with pines, live oaks, and native grasses all woven into a natural backtop of absolute splendor. The natural elevation has not only been handcrafted for visual effects—it also adds a sense of drama and excitement when playing a round of golf.
The course itself boasts many great and unique holes, but the 18th is touted as one of the best finishing holes in Myrtle Beach. The narrow landing with an uphill drive makes this long par-4 a challenging finish.
Along with plenty of other accolades, the Fazio course consistently gets 4.5-star ratings in Golf Digest's guide of "Places to Play." A par-71 that is approximately 6,834 yards long, the course offers five sets of tees, attracting players of every level. Playing this course is well worth it, as it gives you an opportunity to have the right balance of fun and to play a course of championship caliber.
King's North Golf Course
If you're looking for an appreciation for Arnold Palmer's risk-reward layout full of holes, Kings North Golf Course is the course to visit. You will experience an exciting round of golf with dogleg lefts and the opportunity to engage in an aggressive game of golf.
King's North Golf Course has been open since 1973, but it was fully renovated in 1996 by Palmer's design team. Since then, the course has received national acclaim. King's North mixes up a selection of creative par 3s coupled with dynamic mid-range holes and the iconic par-5 6th hole, which is affectionately known as "The Gambler" and offers a risky shortcut to the green. The entire course sits atop a pristine playing surface where you would be hard pressed to find a bad lie.
Don't be fooled—this course requires accuracy off the tee, but there are plenty of scoring opportunities throughout the 18 holes. The back nine starts with a dramatic par-5 10th hole as a dogleg that wraps right around a strategically placed lake. The par-3 13th hole features a small green leading up to a large waste bunker. For added excitement, the par-4 18th hole stretches over 380 yards and plays as a dogleg left with a challenging steep-faced bunker fronting the green.
While this course presents a strong challenge to your game, it's a compelling option to include in your next round of golf in Myrtle Beach.
Grande Dunes Resort Club
The historic Grande Dunes Resort Club opened in 1949 and put Myrtle Beach on the golf map. It consistently ranks annually in both Golf Magazine and Golf Digest as one of the "Top 100" courses in the US. In 2009, it was named the "National Golf Course of the Year" by the National Golf Course Owners Association of America. The Grand Dunes has been the proud host of six PGA Senior Tour Championships, a US Women's Open, USGA Championships, and multiple PGA Tour Qualifying events.
This exclusive par-71 course offers players a classical inland style with wide and generous fairways. With panoramic views of the waterway and maritime forest, the Grand Dunes is set high on a bluff with exceptional views. The greens average about 10,000 square feet with eight rotating pin placements, ensuring the course changes day to day. With plenty of water to navigate and elevation changes, this course is challenging in all the best ways.
The Dunes Golf Resort Club's signature hole is the 590-yard par-5 13th hole. After teeing off, you will find water to the right off the tee, and players must also carry this water on their second shot. The par-5 17th hole features water running down the left side and a moat fronting the green. For added excitement the par-3 14th hole features a 65-foot drop, and the green juts out spectacularly over the waterway.
Go Golfing in Myrtle Beach Today
When you look at everything Myrtle Beach has to offer, it's no wonder millions of visitors are attracted to the area each year. From world class golf courses to 60 miles of magnificent beaches, outdoor activities, amazing restaurants, and entertainment options, there truly is something for everyone here. As for the 30,000 residents who make Myrtle Beach their permanent home, when it comes to golf, they are absolutely spoiled for choice.
Why not experience some of the finest golf courses the US has to offer and explore the wonders of Myrtle Beach?