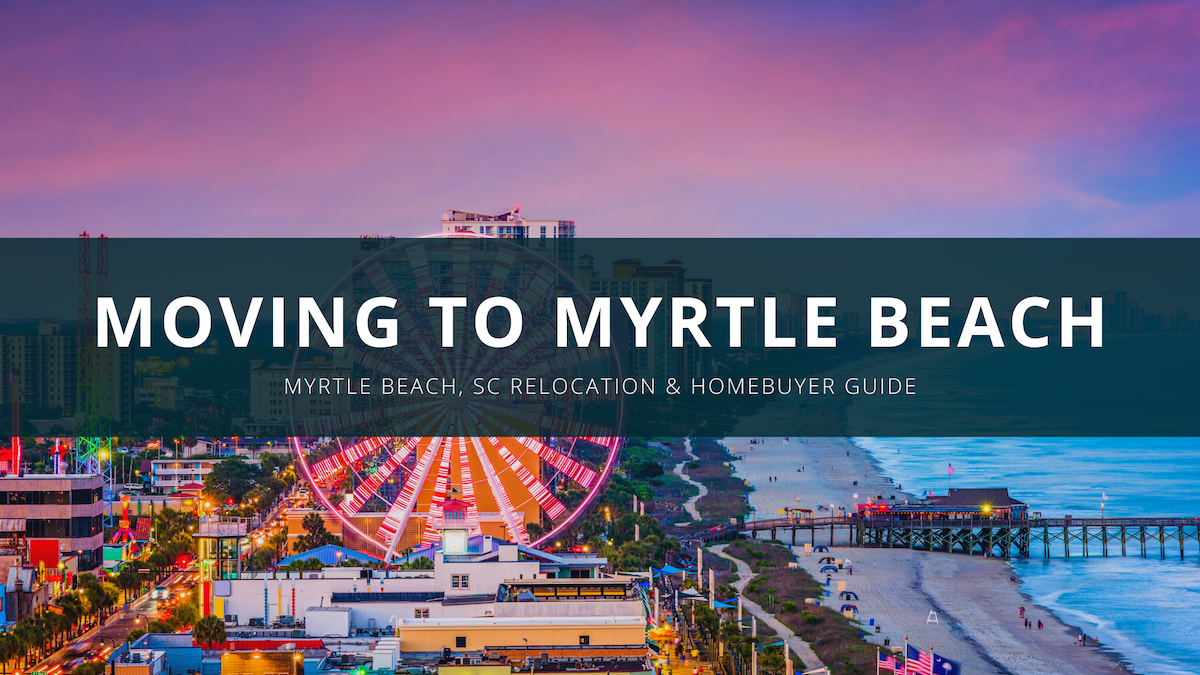 Moving to Myrtle Beach: Myrtle Beach, SC Relocation & Homebuyer Guide
Myrtle Beach, South Carolina, located in Horry County, is home to nearly 35,000 year-round residents. Known for its beautiful beaches that are part of the Grand Strand, its premiere golf courses, and neighborhoods minutes from all the activities a coastal city has to offer, Myrtle Beach offers home buyers a range of distinct residential communities, from single-family homes located near schools and parks to condos on Myrtle Beach's oceanfront.
The cost of living in Myrtle Beach can be slightly below the nation's averages, while the job market varies. One of the largest area employers is the Horry County School District, the district that serves Myrtle Beach students in grades pre-K through high school. Throughout the city, there are things to do for all ages, from swimming and boating to games at the boardwalk, parks to play in, and fishing off the piers.
Myrtle Beach Cost of Living
The national average for the ACCRA Cost of Living Index is set at 100. As a coastal city in South Carolina with its own airport, Myrtle Beach actually ranks below the national average. Myrtle Beach has a cost of living rank of 84.8, according to the ACCRA Cost of Living Index, a publication compiled by the American Chamber of Commerce Researchers Association and the Council for Community and Economic Research. Scores that fall below 100 indicate a lower cost than the national average, while scores that are higher than 100 are above the national average. Myrtle Beach's cost of living index for the most current year recorded (2019) includes the following scores:
Housing: 64.8
Groceries: 97.1
Utilities: 101.6
Healthcare: 98.8
Transportation: 79
Miscellaneous goods and services: 100
The city has nearly 14,000 households, and according to data from the U.S. Census, the median home price in Myrtle Beach is $194,700 for an owner-occupied home. However, $214,570 is the average listing price for a new home with 3 bedrooms, 2 bathrooms, a 2-car garage, and 2,400 square feet of living space. Even the most expensive neighborhoods in Myrtle Beach are affordable compared to other cities.
The median gross rent in Myrtle Beach is $875. However, the average rent for an apartment with 2 bedrooms, 2 bathrooms, and approximately 950 square feet of living space is $669.
Myrtle Beach Job Market
The job market in Myrtle Beach is diverse; according to Data USA, the most common jobs held by residents are Sales & Related Occupations followed by Food Preparation/Serving, and Office and Administrative Support Occupations. The highest paid jobs, however, are in mathematical and computer-related fields.
The largest employers in Myrtle Beach and its surrounding region include:
Horry County Government
Horry County School District
Walmart
The City of Myrtle Beach
The Grand Strand Regional Medical Center
The Grand Strand Regional Medical Center has more than 1,300 employees and is located in North Myrtle Beach. This large healthcare complex and hospital can be found between the Intracoastal Waterway and North Kings Highway. It is near the Grande Dunes Resort and Golf Course, just off Highway 17.
Popular industries in Myrtle Beach and their top employers include:
Tourism and hospitality: Hilton Worldwide
Manufacturing and processing: BauschLinnemann, Argos USA, Precision Southeast, Inc., and Native Sons
Aerospace: Executive HeliJet and Kingman Airline Services/Myrtle Airline Services
Things to Do in Myrtle Beach
Myrtle Beach boasts 60 miles of beautiful beaches, nearly 90 golf courses, and a wide variety of things to do, places to explore, and delicious bites to eat. Must-see attractions in Myrtle Beach include the Carolina Opry, Ripley's, the Alabama Theatre, and the SkyWheel that is located on Ocean Boulevard at the Boardwalk.
The Boardwalk and Promenade have everything from the Family Fun Plaza to thrill rides, a haunted house, mirror maze, zip line adventures, great places to eat, drink, and shop. It's located off Ocean Boulevard with Boardwalk parking at 10th Avenue North.
Outdoor Activities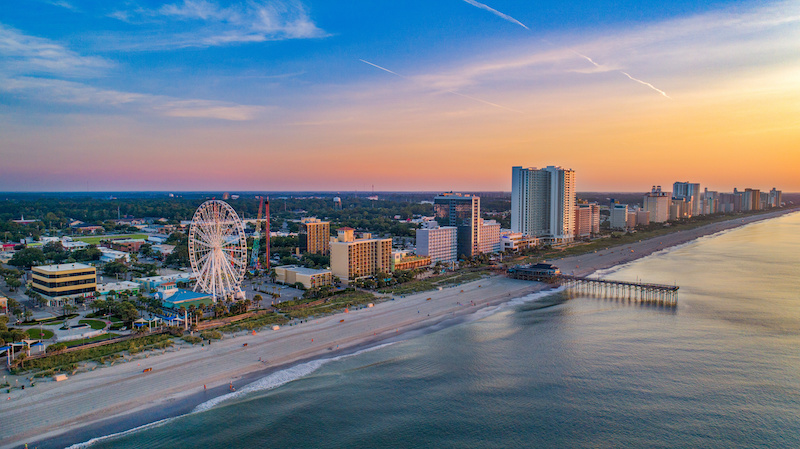 Beach fun is a prime Myrtle Beach outdoor activity, along with swimming, kayaking, and even taking a dolphin-watching cruise. There are many city parks, including two dog parks and multiple fishing piers, including the Apache Pier which is the longest wooden pier on the East Coast. The Myrtle Beach State Park is a great place to go camping, fishing, and hiking.
In addition to premiere golf courses like Grande Dunes and the Myrtlewood Golf Club, there are several miniature golf courses in Myrtle Beach, from Aloha Mini Golf near Arcadian Shores to Captain Hook's Adventure Golf on North Kings Highway.
Restaurants, Breweries, and Bars
Residents and visitors to Myrtle Beach can find delicious meals, treats, and drinks. Throughout the city, there are places to enjoy international cuisines, homemade American favorites, and unique menu items like the duck nachos at the Fire and Smoke Gastropub.
Peaches Corner on 9th Avenue and Ocean Boulevard has been serving Myrtle Beach since 1937. The family-owned eatery serves their signature hot dogs in addition to sandwiches, ice cream, and other sweat treats. Make time for a stop at Mad Myrtles on the Boardwalk for premium ice cream in Myrtle Beach, which is a great way to cool off after a day at the beach.
Looking for a place to grab a drink?
Nightlife
Nightlife in Myrtle Beach has something for everyone. For all ages, there is the Medieval Times Dinner & Entertainment nightly event or the Pirate's Voyage Dinner and Show. The Myrtle Beach Escape Room is off the Boardwalk and near the Ground Zero music venue.
Adults have a choice of numerous venues, including nightclubs like Oz Myrtle Beach, The Bowery, Malibu's Surf Bar, Club Karma, and Celebrations Nitelife. Celebrations Nitelife is at Broadway at the Beach and is actually three separate clubs offering music, dancing, drinks, games, and fun.
Myrtle Beach Climate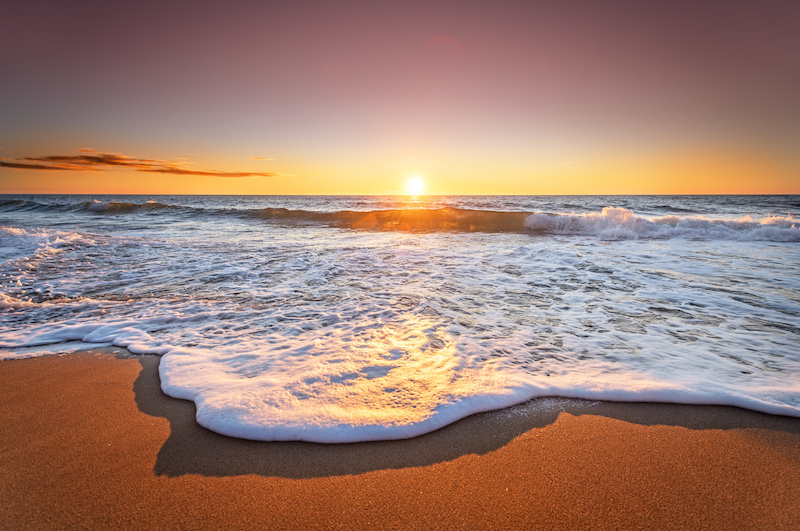 Myrtle Beach's location in the southern state of South Carolina offers a warm and temperate climate comparable with Charleston. Average monthly temperatures are:
January: 36.7 - 56.3
February: 37.9 - 58.6
March: 44.2 - 64.2
April: 51.8 - 72
May: 60.4 - 79
June: 68.9 - 84.7
July: 72.9 - 87.6
August: 71.1 - 86.9
September: 65.8 - 83.7
October: 54.7 - 75.7
November: 45 - 67.8
December: 37.2 - 58.3
Summer can be hot, but winter is typically mild and often allows for year-round outdoor activities. If and when snowfall occurs, it generally arrives in the months of December, January, and February. December is likely to have the heaviest totals of snow. The coldest ocean water temperatures are in March. April through July are the sunniest days in Myrtle Beach, while the UV Index hits its high points June through August. August and September see the most rain, with September ranking as the wettest month in Myrtle Beach. People in waterfront homes have luxury access to these beaches year-round!
Myrtle Beach Traffic
March kicks off the tourist season in Myrtle Beach, and May through September typically sees the most influx of visitors to the coastal city. During these times, traffic on major routes like the Highway 17 Bypass, Kings Highway (Business Highway 17), and the Carolina Bays Parkway (S.C. 31) may be heavy at times. Major routes in Myrtle Beach include:
Highway 17 Bypass
Kings Highway (Business Highway 17)
Carolina Bays Parkway (S.C. 31)
Robert M. Grissom Parkway
Ocean Boulevard
U.S. Highway 501
S.C. 544
Myrtle Beach drivers frequently travel Highway 17 Bypass (usually referred to as just "the Bypass'"). The Bypass, which begins at Murrells Inlet, has fewer lights than Kings Highway (Business 17) and a speed limit ranges from 45 to 55 mph. Kings Highway has several lights, and the speed limit is lower at 35 to 45 mph. Both the Bypass and Kings Highway are four-lane roads.
Alternative Routes
From the Pine Lakes Country Club area to Harrelson Boulevard and the Coastal Grand Mall, it is possible to take the Robert M. Grissom Parkway as an alternative to the Highway 17 Bypass. Myrtle Beach High School is on the Parkway, just one block from 29th Avenue North. The Robert M. Grissom Parkway is a four-lane road.
Ocean Boulevard runs near the shoreline and can be an alternative route to Kings Highway (Business 17). The scenic route of Ocean Boulevard is home to many resort hotels and properties. Look to the Carolina Bays Parkway (S.C. 31) as another scenic route that travels near the Intracoastal Waterway, which is a six-lane highway.
Myrtle Beach Public Transportation
Certain areas of Myrtle Beach are walkable, and a stroll along the city's shoreline is a great way to enjoy the sights. However, there are times when public transportation is the better choice for traveling from point A to point B.
Trains
The closest Amtrak Station for Myrtle Beach is in Florence, South Carolina, about 70 miles inland. There is no public bus service between Myrtle Beach and Florence, so typically a taxi or rental car must be taken. The city of North Charleston, about 100 miles south of Myrtle Beach, is the next closet Amtrak Station. Greyhound Bus has a route between the two cities.
Buses
The Coast RTA serves Myrtle Beach seven days a week, 362 days a year. Fixed-route fares are $1.50 with discounts for students and seniors; express route fares are $2.00; and transfer fares are $0.25. Day passes are also available.
Taxis
Myrtle Beach cab services include:
City Cab (843-251-5959), rates: $3.50 drop rate, $2.80/mile w/$1 per extra person, $0.35/minute wait time
Myrtle Beach Cab (843-222-2525) rates: $3.50 drop rate, $2.80/mile w/$1 per extra person, $0.35/minute wait time, plus an hourly rate of $20-$40 with 2-hour minimum
Cab Guys (843-333-3333) rates: call for quote
Rideshares
Myrtle Beach has Uber and Lyft drivers, and both offer pick-up at the Myrtle Beach International Airport (MYR) along with other areas. Typically, a pick-up fee from MYR of $3.00 is added to the final cost.
Airports
The Myrtle Beach International Airport (MYR) is located at 1100 Jetport Road just south of the Family Kingdom Amusement Park. The Grand Strand Airport (CRE) can be found in North Myrtle Beach near the Beachwood Golf Club.
Myrtle Beach Schools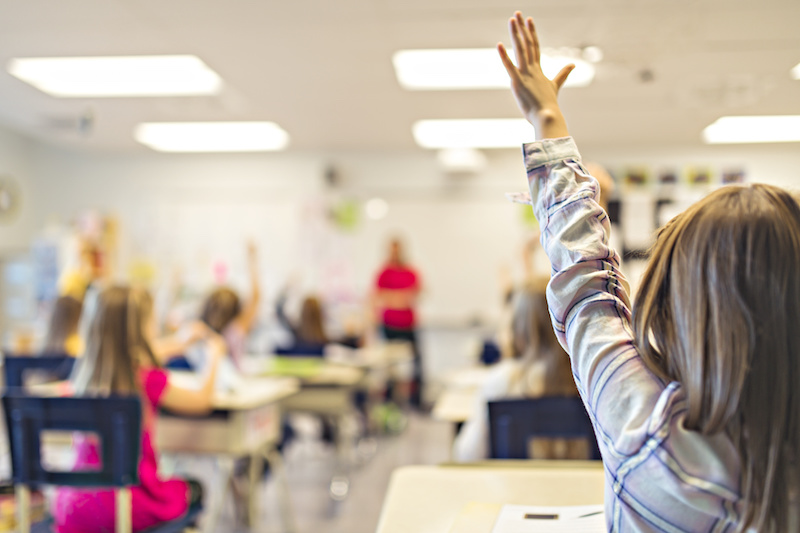 Myrtle Beach schools are part of the Horry County School System. The district has 56 schools, with five located in Myrtle Beach. The Horry County School System is the third-largest school district in the state.
The youngest students in Myrtle Beach can attend the Early Childhood School, which has about 500 students from ages three and four to kindergarten classes. The Myrtle Beach Primary School offers education for children in first and second grades with approximately 700 students.
Myrtle Beach Elementary serves grades three through five and is located at 950 Seahawk Way. In addition to standard academics, this school offers multiple extracurricular activities like Art Club, Robotics Club, Student Council, and Choir.
Myrtle Beach Middle School is one block from North Kings Highway and adjacent to the Pepper Geddings Recreation Center. Serving grades six through eight, approximately 1,100 students attend this school.
Myrtle Beach High School is the home of the Seahawks and serves grades nine through twelve. It offers Advanced Placement classes, an AP Capstone Program, a Technology Academy, and numerous extracurricular activities and athletic programs.
The Horry Georgetown Technical College is located about 10 miles from central Myrtle Beach. It's a two-year community college that offers more than 65 associate degrees and programs.
Final Considerations for Moving to Myrtle Beach
Come home to Myrtle Beach, South Carolina, today. For coastal living, Myrtle Beach has it all plus a diverse selection of single-family residential neighborhoods, resort-style communities with condos and townhomes, and a variety of rental options to fit all budgets. Myrtle Beach has major routes that make it easy to connect to other major cities plus its own international airport. Myrtle Beach, South Carolina, is beach living with the amenities of any urban area plus its own southern flair.