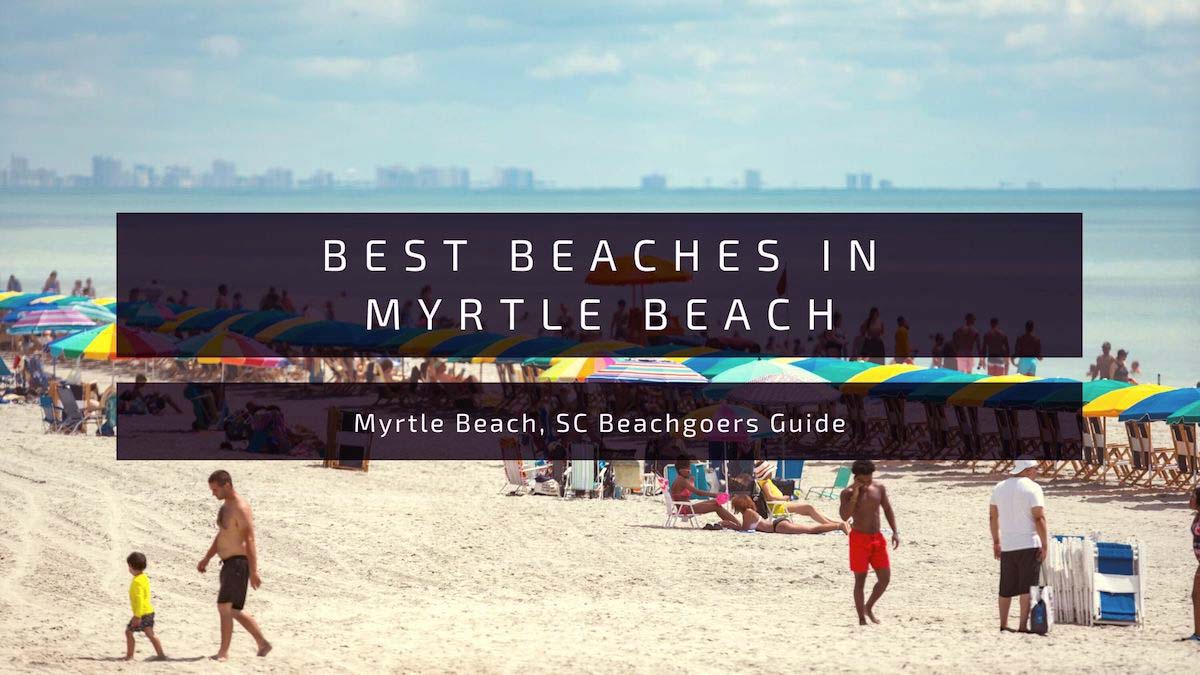 6 Best Beaches in Myrtle Beach, SC
The coastal city of Myrtle Beach sits in the center of the Grand Strand, a 60-mile continuous stretch of beaches in the northeastern region of South Carolina. Myrtle Beach is in Horry County and home to nearly 100 golf courses, dozens of resort communities in high-end neighborhoods, relaxing lakes, and some of the most scenic beaches in the region.
The best beaches in Myrtle Beach and the luxury neighborhoods they stand near boast great locations easily accessible from main routes, walking distance to shops and restaurants, and ideal conditions for swimming and other water activities.
Myrtle Beach
Sharing its name with its city, Myrtle Beach is a major hub for fun in the sun, from swimming to surfing, picnics, sunbathing, and easy access to attractions and places to eat. From the Second Avenue Pier to the 14th Avenue Pier, visitors to the beach can stroll along the Boardwalk that's located just off Ocean Boulevard, which stretches for more than a mile. Along the way, residents and visitors can:
Take a ride on the Myrtle Beach SkyWheel
Stop for a bite at the Landshark Bar & Grill
Visit the Fun Plaza Family Fun Center for games
Enjoy the view of the Atlantic Ocean
This beach is less than five miles from the Myrtle Beach International Airport (MYR).
Myrtle Beach State Park
The Myrtle Beach State Park is on the southern edge of the city of Myrtle Beach and part of Horry County. Residents and visitors can enjoy saltwater fishing, swimming, geocaching, bird watching, biking trails, horseback riding, and hiking. Take a hike along the Sculptured Oak Nature Trail or Yaupon Trail; both are rated easy and the ideal way to start the day before heading to the beachfront to swim and relax.
Myrtle Beach State Park is easily accessible from Business 17/South Kings Highway. There is parking along the State Park Boardwalk along with beach, trail, and fishing pier access.
Litchfield Beach
Litchfield Beach is more than just a stretch of sandy paradise; it's a Myrtle Beach community with luxury resorts, golf courses, boutique shops, and restaurants like Hanser House. Litchfield Beach and its resorts are located in Pawley's Island, just a short distance from the Myrtle Beach Boardwalk and attractions. In addition to the beautiful beach and water activities, visitors can enjoy nearby hiking and biking trails plus a round of golf at the Litchfield Country Club. Litchfield Beach is just south of the Huntington Beach State Park and accessible from Business 17/South Kings Highway.
Huntington Beach State Park
The Huntington Beach State Park has three miles of beautiful beaches ideal for relaxing, ocean viewing, swimming, running, fishing, and more. Plan to spend a day and hit one of the three trails for a scenic hike. The longest is the Sandpiper Pond Nature Trail that winds through the park for two miles and includes views of the beach and ocean.
This state park spans about 2,500 acres in Murrells Inlet and is home to the annual Atalya Festival held for the last 40 years. The arts festival features artists of all types, crafts, food, and local musicians. Camping also is available in the park.
Garden City Beach
Discover Garden City Beach, just eight miles south of the Myrtle Beach State Park and away from the hustle and bustle of the Myrtle Beach Boardwalk area. Garden City Beach offers numerous hotels and beachfront rentals ideal for a getaway. The Pier at Garden City is located off Atlantic Avenue and South Waccamaw Drive. From the beach, there are several local places to shop and eat. Be sure to check out the Causeway Grill & Raw Bar or the Yum Yum Shop, which is a must for ice cream treats after a long day on the beach.
Cherry Grove Beach
Cherry Grove Beach is located in North Myrtle Beach, situated along Highways 9 and 65 and approximately 20 miles north of the Myrtle Beach Boardwalk and SkyWheel. This sprawling beach community is home to the historic Cherry Grove Fishing Pier that was built in the 1950s, and since 1965, it has been owned by the same family. Located off North Ocean Boulevard, this pier has a two-story observation deck, tackle shop and equipment rentals. The pier and sandy beaches are within walking distance to multiple resorts, beachfront rentals, boutique shops, and places to eat. Cherry Grove Beach is also minutes from the Tidewater Plantation Golf Club.
Ready for a great beach experience? Plan a day trip or prepare to move to Myrtle Beach so you can live on the waterfront in the city and surrounding area of Myrtle Beach, South Carolina. From Myrtle Beach and the historic Cherry Grove Beach region to Garden City Beach, Litchfield Beach, Myrtle Beach State Park and the Huntington Beach State Park, these are the gems of this coastal region that have become must-visit destinations for thousands of visitors every year.