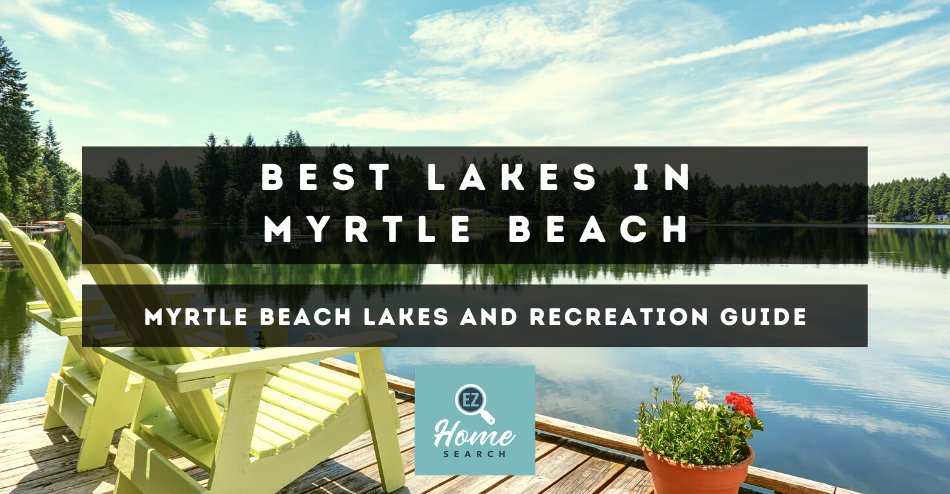 Best Lakes in Myrtle Beach: Myrtle Beach Lakes Recreation Guide
Millions of visitors flock to the Myrtle Beach area each year, primarily to visit the 60 miles of beautiful Grand Strand area beaches, play golf, and enjoy world-class shopping and entertainment. However, what many people overlook is the many small lakes and reservoirs in the area and the high-end homes that border their waterfronts. If you want a change of scenery from the beach, why not try one of Myrtle Beach's lakes? Whether you go swimming, fishing, or just relax on the shore, these lakes are worth seeing.
Dunes Lake
Dunes Lake Amenities
Located near Dunes Golf and Beach Club
45-acre lake
Good for fishing
Dunes Lake is located just off North Kings Highway in Myrtle Beach. The Dunes Golf and Beach Club runs along one side of the 45-acre lake. This famous golf course was designed by legendary golf course designer Robert Trent Jones as one of his signature courses. This is a member-owned golf and beach facility that has over 750 members in its history spanning more than 6 decades. The Dunes Golf and Beach Club is private, but you don't need to be a member to access the lake.
If you want to go fishing, the best time to be out on the lake is typically from 8 AM to 3 PM. You can find bass, mullet, and carp, but be careful—gators have been seen in the lake on occasion.
Dogwood Lake
Dogwood Lake Amenities
Near Ocean Lakes Family Campground
Lake is stocked
Boating on the lake
Public parking
Dogwood lake is located in the north part of Surfside to the south of Myrtle Beach proper near the Ocean Lakes Family Campground where 25,000-35,000 guests may be staying at any given time. The lake sits between the ocean and South Kings Highway to the south of the campground. There is public parking nearby.
Dogwood Lake is actually a reservoir. According to fishing reports, it is loaded with a variety of fish including black bass, bream, and mullet. Prime fishing times reported at Dogwood Lake are early mornings and early evenings. You can bring a boat to the lake, but the connected ponds are restricted to boats powered by paddles, oars, sails, or electric trolling motors. In the main part of the lake, you can have up to a 10 HP motor.
Lewis Lake
Lewis Lake Amenities
Near Surfside Beach
Good for fishing
Walking trails
In the southern portion of Horry County near the city of Surfside, you will find the small body of water referred to as Lewis Lake. It is located 3.6 miles from Surfside Beach. The best fishing times at Lewis Lake are between the 8 AM and 4 PM and later in the day between 8 PM and 11 PM. This small lake is located in Myrtle Beach State Park not far from the Myrtle Beach Boardwalk and State Park Pier. If you're a fan of hiking and fishing, spending a day at Myrtle Beach State Park can be a great weekend idea.
Lake Busbee
Lake Busbee Amenities
Interesting history
Currently a wetland reserve
Hiking trails
Wildlife sightings
Lake Busbee comes with a disclaimer: it isn't actually a lake. People who grew up in the Myrtle Beach area may remember Lake Busbee for its unique history. The man-made lake was built in the 1960s to act as a cooling pond for the Grainger Steam-Electric Generating Plant, and it was operational from 1966-2012. Two giant smokestacks were built beside the lake, but they partially caused the closure of the plant. With changing regulations from the EPA, the plant needed to conform to the new standards. However, it was determined that it would be too expensive to reduce the plant's emissions, leading to the closure of the entire plant.
After the plant closed, there was discussion of what would happen to the 160-acre Lake Busbee. Ultimately, the owner, Santee-Cooper, decided to restore the lake to its former state as a wetland. In February 2019, Santee-Cooper began construction by planting 60,000 saplings throughout the area. Today, Lake Busbee is almost completely filled with native wetland.
While Lake Busbee isn't a lake in the traditional sense, it can still be used for recreation. Revitalization is still ongoing, but the lake has come a long way since it was drained in 2016. Once the project is complete, there are plans to add walking paths so locals can enjoy walking through the natural wetlands.
Relax by the Lake
The variety of water activities in Myrtle Beach is virtually limitless because of its location along the South Carolina coast. Whether you enjoy lying on one of the city's best beaches, visiting a water park, freshwater fishing at a local lake, or having a picnic along the water, there is a place for you to do it in the Myrtle Beach area. You can even buy a home on a Myrtle Beach lake, for year-round access to the water.