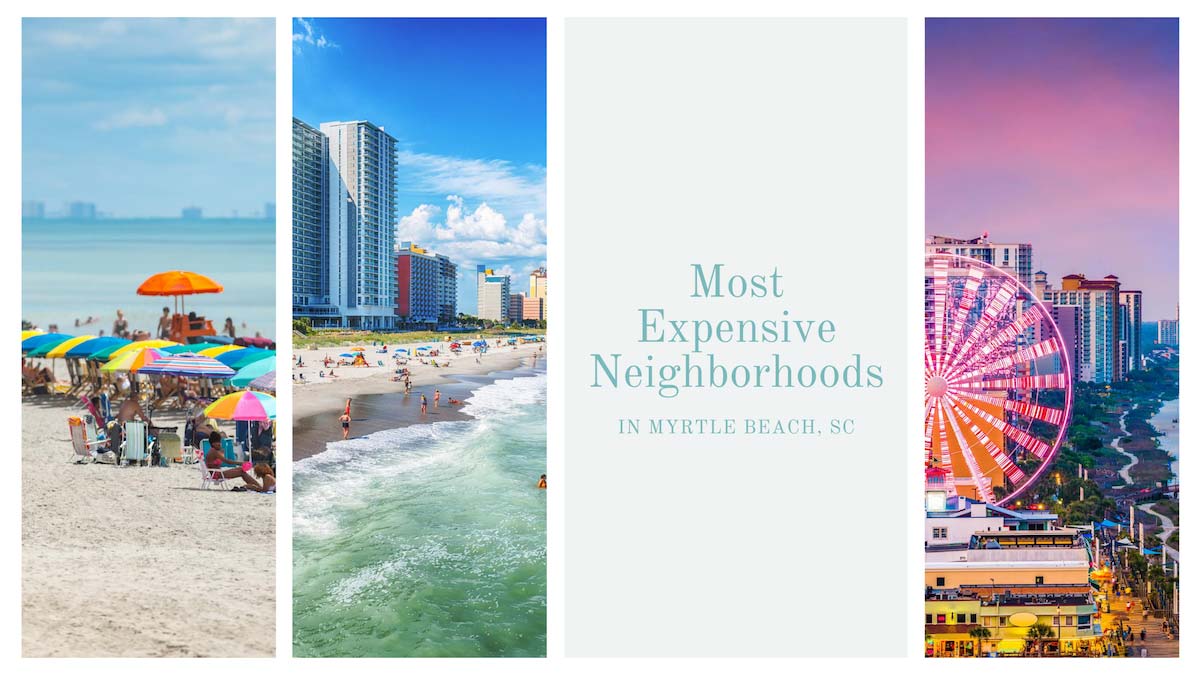 Most Expensive Neighborhoods in Myrtle Beach
Myrtle Beach real estate offers buyers the opportunity to enjoy an oceanside community located less than 100 miles north of Charleston. Myrtle Beach, South Carolina, has nearly 35,000 residents, more than 13,500 households, and a median home cost in the mid $100s, which contributes to its overall affordable cost of living. The city's community also has several luxury neighborhoods with custom homes, spacious lots, spectacular views, and resort-style living for anyone who wants to move to Myrtle Beach.
Oak Park
Oak Park Amenities
National historic district
Coastal living
Many Colonial Revival-style homes
Beautiful beaches
Near Myrtle Beach International Airport
Beachside activities
Oak Park stretches from 40th Avenue North to 46th Avenue North. Its earliest homes were established in the mid 1930s and are along what is called "The Avenues." The median list price for single-family homes located in Oak Park is $1.2 million.
Home styles throughout the neighborhood vary but feature elements of the Colonial and Tudor Revivals, Craftsman, Low-County Beach House styles, and Mediterranean influences. Most homes are two or three stories, have 4+ bedrooms, 3+ bathrooms, and an attached garage. Expect custom finishes inside and luxury outdoor living spaces with private pools, sundecks, and easy access to the beach.
Long Bay Estates
Long Bay Estates Amenities
Secluded neighborhood
Near Myrtle Beach State Park
Easy access to the Grand Strand
Plenty of shopping nearby
Golf courses nearby
Many dining options
Long Bay Estates sits in south Myrtle Beach, adjacent to the Myrtle Beach State Park and a short drive to the Myrtle Beach International Airport (MYR). The neighborhood, with its golf course homes, is steps away from beautiful sandy beaches, nestled between South Kings Highway and the Atlantic Ocean. Long Bay Estates is about six miles south of SkyWheel and the Myrtle Beach Boardwalk.
The median listing price for residential homes in Long Bay Estates is in the upper $600s. These Myrtle Beach luxury homes are spacious, ranging between 1,600 and 7,000 square feet. Properties listing beyond the $1 million mark typically have 4+ bedrooms, 3+ bathrooms, and expansive outdoor living space with a private deck and pool. Long Bay Estates also has rental properties, which on average rent for about $1,000 per night. These homes can accommodate 12 to 18 guests.
Long Bay Estates Hotspots
Dunes Cove
Dunes Cove Amenities
Beautiful lake
Luxury homes
Short golf cart ride to the beach
Dunes Golf & Beach Club
Oceanfront golf
Coastal living
Discover the Dunes Cove neighborhood of Myrtle Beach, tucked between the Intracoastal Waterway and the Atlantic Ocean. Home prices typically list from the upper $500s to about $2 million in Dunes Cove, with beautiful oceanfront homes anyone would love to live in. On average, the homes have 4 to 5 bedrooms, 3+ bathrooms, and architectural designs that range from Colonial Revival to Mediterranean influence. Dunes Cove is easily accessed from Highway 17.
Properties include sprawling, manicured lawns with extensive outdoor living space, mature trees, and ample space for multiple cars and a golf cart. Residents can take a short golf cart ride and go to the beach or enjoy the amenities at the Dunes Golf and Beach Club, which hosts one of the many great golf courses of Myrtle Beach.
Forest at Briarcliff
Forest at Briarcliff Amenities
Across from Briarcliffe Acres
Waterway homes
Amazing views
Boat access
Beautiful neighborhood
Mature, lush landscape
The Intracoastal Waterway winds its way through Myrtle Beach, offering residents idyllic views and convenient access to water activities like fishing, kayaking, and more. The Forest at Briarcliff neighborhood boasts waterway homes located off Highway 17 and situated between Barefoot Resort and Briarcliff Acres.
The Forest at Briarcliff typically has real estate listings that range from the upper $500s to about $1.5 million. These luxury homes have 3 to 5 bedrooms, custom finishes, and expansive living space. New constructions may be available, but no rentals are found in the neighborhood. However, home rentals can be found in the adjacent Briarcliff Acres.
Forest at Briarcliff Hotspots
Myrtle Beach offers resort-style living in a city teeming with rich history and contemporary amenities. Additionally, Myrtle Beach golf course homes enjoy easy proximity to several golf courses as well as the Grand Strand's stunning beaches, boutique shops, and diverse culinary experiences.