Your North Charleston, SC Real Estate Questions Answered
Posted by Preston Guyton on Friday, June 24, 2022 at 6:39 AM
By Preston Guyton / June 24, 2022
Comment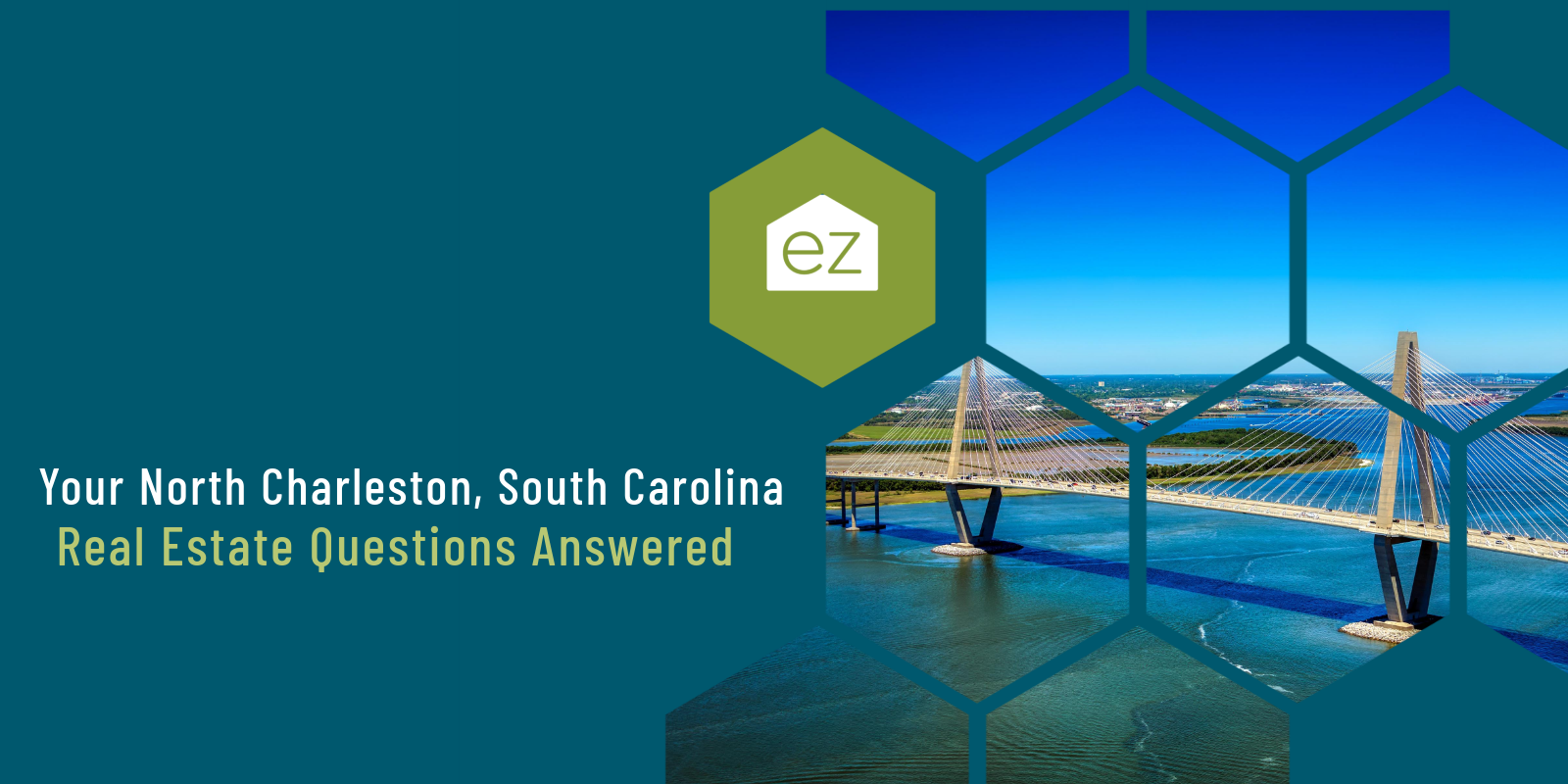 Your North Charleston Real Estate Questions Answered
Welcome to North Charleston, SC, a thriving town minutes from downtown Charleston but with character and charm all its own. North Charleston residents choose to live here for its high quality of life and affordable cost of living. With amenities like its own orchestra, a water park, golfing, and shopping outlets, you can have a fulfilling and busy Lowcountry lifestyle.
If you're considering moving to North Charleston, you probably have many questions. What's the real estate market like? What is there to do in the area? What's nearby?
The real estate market is strong, and buyers have many options. So if you're wondering what about buying a home in North Charleston, wonder no more. We've got answers to all of your North Charleston questions.
What is the average price of a home in North Charleston, SC?
North Charleston has a range of single-family, townhome, condo, and apartment living options to suit any taste.
The median home price in North Charleston was $299,999 in June 2022. Around 400 homes were for sale. However, prices can range from around $25,000 for vacant lots to over $2.2 million for 67 vacant acres with riverfront.
The most affordable existing home was $90,000 for a two-bedroom, one-bathroom home with 805 sq ft. The most expensive existing home was $1,550,000 for a four-bedroom, three-bathroom, and 2,675 sq ft.
Are there any condos or townhomes available in North Charleston, SC?
Yes, home buyers have many condos and townhomes available in North Charleston. The median price of a condo or townhome in North Charleston was $289,000, with 92 homes for sale.
The most affordable condo was $97,000 for a one-bedroom, one-bathroom with 690 sq ft. The most expensive condo was $600,000 for a four-bedroom, 4.5-bathroom, and 2,420 sq ft.
Some places you can look for condos include Northlake Townhomes, Jericho on the Ashley, The Pines at Charleston Park, Wescott Plantation, The Villas at Charleston Park, The Park at Rivers Edge, The Marshes at Cooper River, Boykins Run, and Recess Point.
What is the property tax rate for North Charleston, SC?
South Carolina charges primary residences a 4% tax rate per fair market value. Any other real estate is taxed at 6% market value.
North Charleston City residents pay property taxes to Charleston County or Dorchester County based on their address.
The 2021 property taxes included millage rates of 151.7 for the local school board, 5.8 for parks and recreation, and 2.5 for Trident Tech. North Charleston's municipal tax was 95 mils. The total levy was 302.3.
What county is North Charleston, SC, in?
North Charleston is primarily located in Charleston County, although parts of it cross into Dorchester and Berkeley Counties.
Charleston County is the home of Charleston, the epicenter of Southern hospitality along the Atlantic Coast. It's equally treasured for its beaches, golf courses, resorts, and historical sites. Some famous tourist attractions include the Charleston Waterfront Park, Fort Sumter National Monument, and the Angel Oak Tree.
The Charleston County School District serves the North Charleston area. The district has over 50 schools, including North Charleston Elementary School, North Charleston Middle School, and North Charleston High School.
Is North Charleston, SC growing?
Yes, North Charleston is growing! It's the third-largest city in South Carolina.
The population of North Charleston grew from about 97,000 in 2010 to 115,000 in 2020, an increase of over 18,000 people. The current projections have the city growing at 2% each year.
This growth is expected to continue, as North Charleston is a desirable place to live. The city anticipates it will have 160,000 residents by 2040. Much of the growth is in the northwest region near and into Dorchester County.
What is the cost of living in North Charleston, SC?
The cost of living in North Charleston is very affordable. Compared to the US indexed average, it is 10% cheaper overall. Housing was 27% cheaper than the national index. Only utilizes and miscellaneous costs exceeded national averages.
Compare North Charleston's cost of living to Charleston's cost of living, and you'll see that living here is more affordable than its urban neighbor.
What neighborhoods are in North Charleston, SC?
Regarding North Charleston real estate, there is something for everyone. North Charleston has all types of residential homes, whether you're looking for a starter home or a luxurious estate.
Some of the most popular North Charleston neighborhoods include Ashley Heights, Park Circle, Northwoods, and Oak Terrace Preserve.
Ashley Heights and Midland Park is a great place to call home if you're looking for a suburban lifestyle. The established homes are near schools and shopping amenities.
Park Circle is one of the most desirable North Charleston neighborhoods. It's a historic district with tree-lined streets and beautiful homes that date to the early 1900s. The iconic circular park has disc golf, a butterfly garden, and a community center. To its east awaits many restaurants, bars, and shops.
Northwoods is a destination in North Charleston, thanks to its mall and shopping outlets. The Northwoods Mall has over 100 stores and restaurants. The surrounding communities give residents easy access to the stores and are a great place for families.
Oak Terrace Preserve is a gated community. It's perfect for those who want to live in North Charleston but don't want to be in the hustle and bustle of the city. The master plan has 370 residences built to be a sustainable community. Parks and open areas are scattered around the neighborhood. Porches, sidewalks, and lot sizes allow for waving at neighbors and socializing while still giving space for solitude.
Indigo Fields features large homes on half-acre+ lots. With a community pool, tennis courts, and walking trails, Indigo Fields is perfect for those who want to live in North Charleston but still have all the amenities of suburban life.
Olde North Charleston is a historic neighborhood with great character. The homes in this neighborhood are well-maintained and historic. It is near the Park Circle area. With its cobblestone streets and gas lamps, Olde North Charleston is a step back in time.
Are there any waterfront properties found in North Charleston, SC?
North Charleston is home to many waterfront properties. The Ashley River runs along its western border, while the Cooper River forms part of the southeastern border. Many watershed creeks and marshes drain into these waterways, increasing your opportunities for waterfront living.
If you're looking for a waterfront property away from the ocean, North Charleston is a great place to start your search. A local real estate agent can help you narrow down what kind of waterfront you'd like and what's available based on your budget.
Some general areas you can look at are Wescott Plantation, Summers Bend, Ashley River Historic District, and Wando Woods.
How is golf in North Charleston, SC?
North Charleston is home to many great golf courses. You'll have many options to hone your skills.
The Golf Club at Wescott Plantation is a semi-private 27-hole course that Arnold Palmer designed. Broken into three distinct nines, you can play three different 18-hole layouts.
Coosaw Creek Country Club is a private club with an 18-hole, par-71 course. Arthur Hills designed the layout through pristine wetlands and towering pines. Tournaments are held throughout the year.
Wrenwoods Golf Course is on Joint Base Charleston and is an 18-hole executive course for service members, eligible veterans, and guests. George Cobb designed the course in 1966.
Are there golf course communities in North Charleston, SC?
North Charleston has some golf course communities.
Coosaw Creek Country Club has over 500 stately homes within a 30-minute drive of downtown Charleston. It is a gated community with custom brick homes overlooking fairways or natural surroundings. Amenities at the club include a Junior Olympic swimming pool, basketball, and tennis courts.
Wescott Plantation is a 1,600-acre master-planned community beside the golf course, but it is not a formal golf course community. It is divided into subsections that have different amenities. For example, The Farm has a pool and an active clubhouse.
What areas are near North Charleston, SC?
North Charleston is centrally located between several significant areas.
To its south is Charleston, a popular destination with many great restaurants, shopping, art galleries, and historic sites.
Access the Atlantic beaches at Sullivan's Island, Folly Beach, Kiawah Island, and Isle of Palms. They are about 30 minutes-1 hour away depending on traffic.
Other major destinations are two hours of drive regardless of direction. These include:
Savannah, GA, a city known for its historic architecture and charming squares.
Myrtle Beach, SC, is a popular destination for its beaches, golf courses, and entertainment.
Hilton Head, SC, is an island town and a popular destination for its beaches, golf, tennis, and boating.
What to know about living in North Charleston, SC
There is plenty to do in North Charleston! For outdoor enthusiasts, explore parks and nature trails, both inland and along the rivers.
The North Charleston Coliseum and Performing Arts Center entertain all ages. Downtown North Charleston has a variety of shops and restaurants.
The climate in North Charleston is mild, with average temperatures ranging from the low 50s in the winter to the high 80s in the summer. The area experiences occasional hurricanes and tropical storms.
If you're looking to live in North Charleston, contact a local real estate agent to find the right neighborhood.