Moving to Kiawah Island - Your EZ Guide to Everything Kiawah Island, SC
Posted by Preston Guyton on Tuesday, May 11, 2021 at 9:11 PM
By Preston Guyton / May 11, 2021
Comment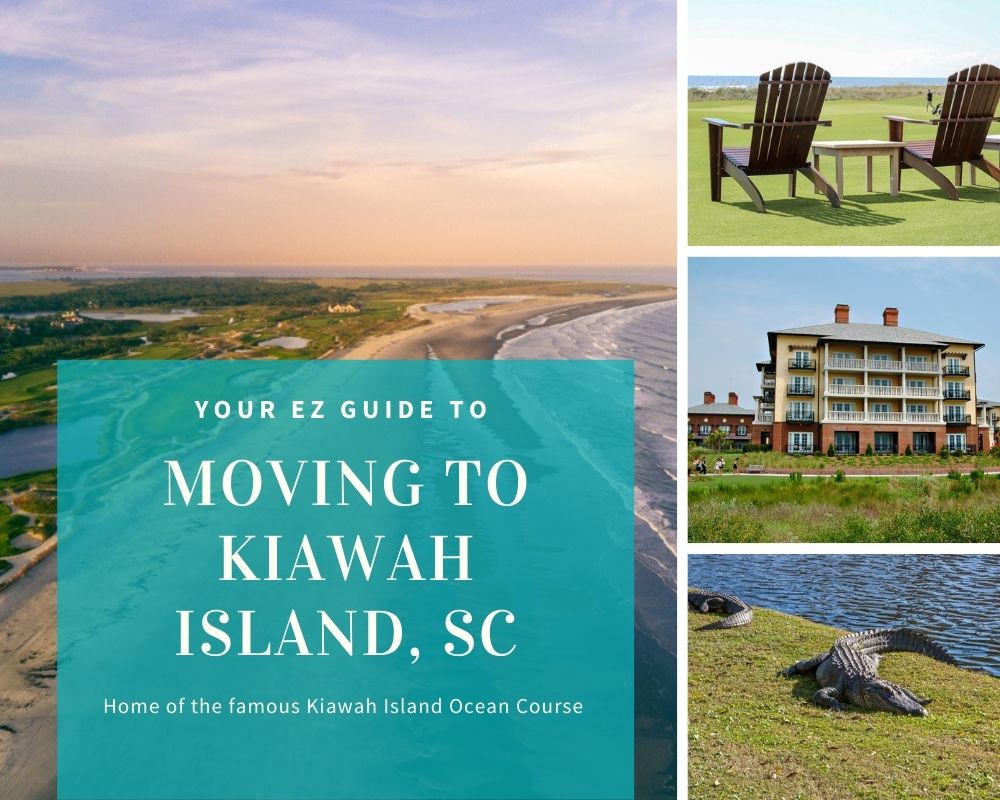 Moving To Kiawah Island: Your Guide To Living in Kiawah Island, SC
If you're thinking about moving homes, it can certainly be a painstaking process, but moving to Kiawah Island doesn't have to be so difficult. This beautiful slice of heaven on earth is one of the finest places to go if you want to experience the best Lowcountry living has to offer. With some of the most beautiful neighborhoods, restaurants, and scenery in the state, Kiawah Island is often referred to as the "Hamptons of the South." Luckily, you won't have to do much research about this area, since we've gathered everything you need to know about Kiawah Island, South Carolina. Read on to know more about this place of pure luxury.
Cost of Living and Population Growth
Known as a barrier island or sea island, Kiawah is located off the Atlantic Coast in the U.S, and 25 miles away from Charleston. It's known as a private beach and golf resort and is home to the Kiawah Island Golf Resort which offers golf courses, beaches, villas, and other attractions. According to the 2010 census, this island's small population increased to 1,626 compared to the 2000 census of 1,163 people.
Even with this tiny number, the island has the highest per capita income in all of South Carolina, which is $168,369. Unfortunately, Kiawah Island isn't the most affordable area to live in and was exclusively created to house the richest and most elite. Below is a table that shows a side-by-side comparison of the cost of living in Kiawah against South Carolina and the national average:
| | | | |
| --- | --- | --- | --- |
| COST OF LIVING | Kiawah | South Carolina | USA |
| Overall | 194.8% | 88.5% | 100% |
| Grocery | 106.2% | 95.8% | 100% |
| Health | 98.1% | 102.3% | 100% |
| Housing | 407.1% | 73.6% | 100% |
| Median Home Cost | $941,300 | $170,100 | $231,200 |
| Utilities | 104.1% | 103.9% | 100% |
| Transportation | 95.8% | 86.8% | 100% |
| Miscellaneous | 103.6% | 95.6% | 100% |
Kiawah Island's cost of living is 194.8% compared to the national average.
Job Market
In Kiawah Island, the median household income is $143,750, with males earning an average income 1.37 times higher compared to those of females. Furthermore, there are a total of 465 people under the economy of Kiawah Island, with the largest industries in the Professional, Scientific, and Technical Services; Manufacturing; and Health Care and Social Assistance. Here are a few key aspects to consider if you want to look for work in this area.
Most Common
Some of the most common occupations taken by the residents here, according to the number of employees are:
Management Occupations
Sales & Related Occupations
Business & Financial Operations Occupations
Most Specialized
There are also an unusually high amount of employees in the following jobs (compared to other areas in South Carolina):
Life, Physical, and Social Science Occupations
Legal Occupations
Arts, Design, Entertainment, Sports, and Media Occupations
Highest Paid
According to median earnings, some of the highest paid jobs in Kiawah Island are:
Management Occupations
Legal Occupations
Management, Business, and Financial Occupations
Things To Do in Kiawah Island
If money isn't a big deal, there are plenty of places to go and things to do in Kiawah Island — in fact, this sanctuary has been designed to be an entertainment and leisure hub for all of its residents, offering the best activities, restaurants, breweries, and nightlife found anywhere in the state.
Night Heron Park
If you're moving to Kiawah Island with Kids, the Night Heron Park is the best place for them to enjoy as much as their heart desires. They may choose from various activities such as:
Basketball
Tennis
Volleyball
Soccer
Fishing
Paddling
Disc golf
Kiddie playgrounds
And more
Children and families may also choose to take part in kayaking and paddling activities which aren't just fun but will also allow you to explore the island's wild side. They also offer a calendar of organized sports events, including laser tag tournaments. You'll also find that there are regular outdoor movies and live concerts here, with the Sundown Festival being the biggest event. It is held once a week for 18 weeks where your family can enjoy live music, jump castles, train rides, inflatables, and a photo booth.
The Players Pub @ Cougar Point
The Players' Pub offers plenty of stand-out facilities, including a 125-seat dining room and a pub with bars spacious enough to seat 31 guests. Its 4,354-square-foot covered deck also allows for outside dining, providing diners with beautiful views of the 18th green and the sparkling lagoon. It is the perfect place to relax and unwind while being caressed by the island's ocean breeze. It also features a restaurant that offers three meals a day, while its amazing menu is designed by Chef de cuisine Cory O'Connor.
Ms. Rose's Fine Food and Cocktails
Ms. Rose and her staff have worked tirelessly to provide their patrons with a safe and comfortable place to enjoy both delicious food and fine cocktails. As a result, they have become a favorite with both locals and tourists alike. During the daytime, you will love the food they offer that ranges from healthy salads, hearty burgers, and scrumptious desserts. At the bar, they offer an extensive menu where you can order a scotch, whisky, tequila, vodka, wine, beers, cocktails, and more. It's a place where families can have a great time while eating during the day as well as a wonderful place to hang out with friends at night.
The Washout
If you're more into local seafood, then head over to The Washout. Here, they offer both a delicious and affordable menu inside a casual atmosphere just a few steps from the beach. Diners are served great food and drinks while they watch the latest sports games and even live music every week. You'll also get to enjoy their wings, burgers, and fried seafood right outside their patio where you are greeted by the sea breeze. No matter what you're looking for, The Washout will give you high-quality food, good times, and a great atmosphere to enjoy with friends and family.
Climate
This small island off the coast of the Atlantic Ocean receives an average of 48 inches per year. This is a lot more compared to the U.S. average of 38 inches every year, balancing out the warm sea air with cool rain. Kiawah Island, however, doesn't get snow at all, making it the perfect area for those who are sick of having to shovel snow every time they want to get out of the house in the middle of winter. Furthermore, there is an average of 207 sunny days in Kiawah Island every year, which is close to the average of 205 days that the rest of the country enjoys. Here are a few highlights for Kiawah Island's climate:
July has the highest recorded temperature, reaching as much as 90 degrees.
January has the lowest recorded temperature, going as low as 39 degrees.
Kiawah Island receives an average of 48 inches of rain every year.
It doesn't snow on Kiawah Island.
If you do plan to visit Kiawah Island first before deciding to settle there, the best places to visit are April, May, and October, while the least comfortable months are July and August.
Traffic
Because few people live in the prestigious Kiawah Island, there's barely any traffic there, and as a result, residents are happy to roam around here, along with the surrounding communities. However, locals have described that when tourists go home from their vacations, they will start leaving to go back home around 5:00 AM or 6:00 AM, where roads can become packed until noon. While there aren't any huge back-ups, visitors can get stalled when coming to the island during Friday evening and Saturday when coming from Savannah Hwy to Main Rd.
Public Transportation
In terms of public transportation, those wanting to live in Kiawah Island will need to have their own vehicles, since there aren't many forms of public transportation. For the most part, residents get around either through driving or by renting and riding a bike. The former option allows you to explore various parts of the island with ease, while the latter option is a healthier alternative to getting around.
Furthermore, if you want to get to Kiawah Island by air, you'll be able to get a flight via most airlines across the country to get to Charleston, South Carolina, where you can reach Kiawah Island. Because the island is relatively small compared to others in the surrounding areas, there are few options for modes of transportation.
Golf
Despite being a small island community, Kiawah Island has plenty of clubs and courses to offer, where players can soak up the beautiful scenery while playing the best game of golf in their lives. Here are just a few of the best courses this island has to offer.
The Ocean Course
After golfing legend Pete Dye created the Ocean Course, it has become host to several major golf tournaments, while it has also ranked among the top courses around the world according to various golf publications. Featuring 18 oceanfront holes, the Ocean Course will present players with variations in direction and strength, which means you will never have the same play twice. Dye actually accounted for this and has essentially designed two courses inside one pretty package. Thanks to this ingenious design, this course is well-loved and popular among players of all skill levels.
The River Course
This member's only course runs along both the Kiawah River and Bass Pond through eight holes, while the remaining holes are found near ponds and marshes. According to Golfweek, the River Course ranks among some of the best residential courses found in America. It spans more than 7,000 yards, which makes it perfect for a long and challenging game. Furthermore, nature lovers are sure to appreciate this site's certification — it is known as an Audubon Cooperative Sanctuary.
Water Sports
Because this island is surrounded by water, there's never a shortage of all the fun to be had on the water. Be sure to visit any of these options when you want to experience the best water sports action that Kiawah Island has to offer.
Saltfisher Charters
Whether you want to go dolphin watching or catch fish, Saltfisher Charters and its captain, Michael Waller, can take you on an adventure into the deep blue. Depending on the activity of your choosing, you can even take a history tour of the harbor or go on a birding tour of the island. Using a Shearwater Z 24, you can travel in style onboard a 24-foot bay boat, complete with a wide, stable, and spacious deck. Their boats can comfortably accommodate six people, while a Bimini top provides shade from the sun's hot rays. Both the captain and Saltfisher are licensed through the US Coast Guard, with complete gear on board for your safety.
SeaCoast Sports and Outfitters
If you're planning to become a resident at Kiawah Island, you'll need all the proper gear for all kinds of activities such as swimming, relaxing by the beach, playing golf on any of the courses, hiking, playing tennis, and more. Thankfully, SeaCoast Sports and Outfitters has everything you need; from a new bikini to sunglasses and sandals, you can be sure that you will find them here. They also stock everything else that you may need such as surfboards and fishing rods, as well as bikes and kayaks to rent.
Dog Friendly
While Kiawah Island is a smaller community, it embraces dogs to the point that they're welcome in various establishments throughout the island. If you're looking for the best places to go where you won't need to worry about your pup, here are a few to consider.
Charleston Kiawah Island/Andell Inn
Smaller dogs of up to 10 lbs are welcome to the Charleston Kiawah Island/Andell Inn for an extra fee of $250 per stay. Furthermore, guests with pets have access to the ground floor, while you can also leave your dog unattended in your room, provided that they're well-behaved. There are also treats for your pup by the front desk and a pet walking area along with waste bags. Unfortunately, cats aren't accepted in this inn.
Kiawah Beachwalker Park
The Kiawah Beachwalker Park is located on the west side of Kiawah Island and offers a view of the river while also having the ocean in front. It's best to keep in mind that dogs must be leashed from March 16 to October 31, while dogs can remain off-leash between November 1 to March 15. Furthermore, fur parents will need to leash their pets if this is requested by another member of the community. This park is operated by a cooperative agreement among the Charleston County Park & Recreation Commission, Charleston County Council, and Kiawah Development Partners.
Attractions
Kiawah Island truly has plenty of things to do, and these attractions are just a few more that you can enjoy either on your own or with family and friends.
Kamp Kiawah
For your children to have a truly magical time on Kiawah Island, Kamp Kiawah is a great option for kids aged between 3 to 15. It is located inside the beautiful Night Heron Park, where children can experience various adventures while dedicated counselors keep an eye out for their safety, so you never have to worry. Apart from Kamp Kiawah, the park also offers Camp Xtreme, where kids aged 8 to 15 can take part in sports, scavenger hunts, and team-building games. Kids who prefer to have an independent adventure can take up kayaking, paddle boarding, cast netting, tennis, motorboat trips, tennis, archery, and more.
The Sanctuary Spa
For many people, a spa is a great reprieve away from a busy and bustling lifestyle, so the Sanctuary Spa located at the Kiawah Island Golf Resort is one of its key benefits. It also plays a major role as to why this resort has such a huge reputation, even outside of the country. Once you're finished golfing, kayaking, swimming, or playing tennis, you can head straight to this spa and treat yourself to the calm, relaxing, and tranquil environment that it offers. Here, you can indulge in a whole day of pampering, and choose from their various services such as Sodashi Luxury Facial, Ocean Fossil Fusion, Athletic Recovery Massage, or a Sanctuary Makeover.
Shopping
If you're in the mood to shop, you can choose to roam around and check on their numerous shops which adorn the streets. On the other hand, you can also go straight to the village where a gorgeous shopping area awaits you, complete all kinds of establishments. Here are a few options if you're just itching to shop 'til you drop.
Freshfields Village
While some consider it a shopping center, Freshfields Village is actually more like a charming village dedicated to all your shopping needs. Its wide mix of services, shops, businesses, and restaurants make it a unique and upscale place to buy everything you need. Inside the Freshfields Village, you can find a place for all your needs such as places to eat, rent a bike, dry-clean your clothes, get your teeth cleaned, and more. There are also seasonal events as well as live music to enjoy regularly. Some of the shops you can find here are:
Beija-Flor Jeans
Ben & Jerry's
Doin' the Charleston
Fuji Sushi Bar & Grill
J.McLaughlin
Kiawah Spirits
Peyton William Jewelry
Sweetgrass Plastic Surgery
And more
Kiawah Fine Jewelry
Kiawah Fine Jewelry is known as one of the best jewelers on the island and is praised for its amazing customer service, wide selection, and competitive prices. Those who have shopped here know that it's the perfect place to get the perfect gift or souvenir from Seabrook or Kiawah. Furthermore, the staff is also service-oriented as well as highly knowledgeable. While their name says "fine jewelry," they also sell affordable jewelry — whether you're after a $20 bracelet or a $20,000 diamond, you will find a piece that will become a memory of your time in this island paradise.
Art and Culture
While this small island may seem lacking in art and culture, you can be sure that their one gallery has more than what you bargained for.
Wells Gallery
Located at The Sanctuary Resort on Kiawah Island, this premier gallery is dedicated to giving viewers contemporary works of art that focus on Southern and Lowcountry experiences. The Wells Gallery is unique and innovative, having been carefully designed to captivate visitors with a huge collection of original watercolors, oil paintings, and artisan jewelry created by some of the country's brightest artists. Wells Gallery strives to provide visitors with an appreciation for the visual arts while providing support for both established and emerging artists alike.
The gallery presents the creations of local and national artists who show their love for the barrier islands and all that they have to offer, especially their natural beauty. Furthermore, the Wells Gallery is also the region's only place where works of art on Kiawah Island gather. This gallery hosts workshops and exhibitions from 20 of the top artists in the area, including Russell Gordon, Curt Butler, Gary Gowans, E.B. Lewis, Karen Larson Turner, and more.
Sports and Sports Teams
Kiawah Island may not have its own sports team but it certainly offers plenty of sports that its residents can take part in. Here are just a few of the activities and events that you can participate in:
Kiawah Island Turtle Point Golf Club: At the Kiawah Island Turtle Point Golf Club, players are greeted by three striking holes that are right by the oceanfront. You will find it right next to the Tommy Cuthbert Golf Learning Center and the Sanctuary.
Kiawah Island Golf Resort: Despite being called a golf resort, it offers more than just one kind of sport. Here, you can also rent their iconic green bikes and ride along the resort's 30+ miles of paved trails. You may also ride on the 10-mile-long picturesque beach where you will truly find heaven on earth.
At Kiawah Island Golf Resort, you can also learn to surf from their qualified surfing instructors where you can get the basics down. Choose from private or group lessons so you can ride the waves in no time. Other water activities also include SUP and kayaking lessons, or you can ride through salt marshes for a bigger adventure.
Lastly, you can also get tennis lessons at the Roy Barth Tennis Center where you can take part in various tennis programs. Whether you're playing as an individual or in a group, you'll see why the 22 courts in this center take the number-one international ranking of all tennis resorts.
Education: Schools and Colleges
Kiawah Island isn't an ideal option for education, since its primary focus is on prime housing and 5-star amenities and facilities for leisure. While there aren't many schools within Kiawah Island itself, there are plenty of options outside this area in Charleston. Here are just a few schools you can consider while staying in Kiawah Island:
Charleston Collegiate School: Sitting right in between Kiawah Island and the historic downtown area in Charleston, this school is known for the diverse learning environment and gorgeous campus it provides for students. Charleston Collegiate School is divided between Lower School, Middle School, and Upper School.
Porter-Gaud: This preparatory school welcomes students between the Grades of 2 to 12. It provides an environment designed to nurture your children's talents, curiosity, and faith, making it an ideal place for learning.
Ashley Hall School: If you're looking for an all-girls school, the Ashley Hall School is a great choice. The school is set throughout a gorgeous backdrop of oak trees, where this academy has encouraged the power of education in women for more than a century.
Real Estate Market
In 2018, Kiawah Island, South Carolina had a median property value of $1.41M, which equates to 6.15 times higher compared to the U.S. average of $229,700. The current value represents an increase of 2.13% from $1.38M during the previous year. Even with such high prices on their houses, the homeownership rate in Kiawah Island is the highest in the whole state, which stands at 96.9% — much higher than the 63.9% shared throughout the country.
Furthermore, locals in Kiawah Island experience an average commute time of 22.1 minutes, which may be due to work outside of the island. Inside the island, the largest share of households has a value of around $2 million or more. Even so, the real estate market of Kiawah Island is currently hot, with homes being bought as soon as they're ready for the taking. Because of this, those who want a share of this summer haven will need to act fast to secure their place.
Welcome to Kiawah Island!
All things considered, Kiawah Island is the perfect paradise for those who can afford to live by its stunning beaches. While it may be too small and too expensive a place for some people, for others, it offers seclusion and prestige like no other. Its exquisitely crafted homes can blend into the natural surroundings that this island provides, where you can see marshlands, palm trees, and sleepy creek beds.
If you've decided to move to Kiawah, you'll be able to pick where you want your gorgeous home and what view you want to see. No matter what kind of social activity you want to experience, you can be sure that there's always something different for you to do every day. In the end, the gorgeous island of Kiawah can give you everything you could ever want.