Your Hope Mills, NC Real Estate Questions Answered
Posted by Preston Guyton on Thursday, June 9, 2022 at 5:03 AM
By Preston Guyton / June 9, 2022
Comment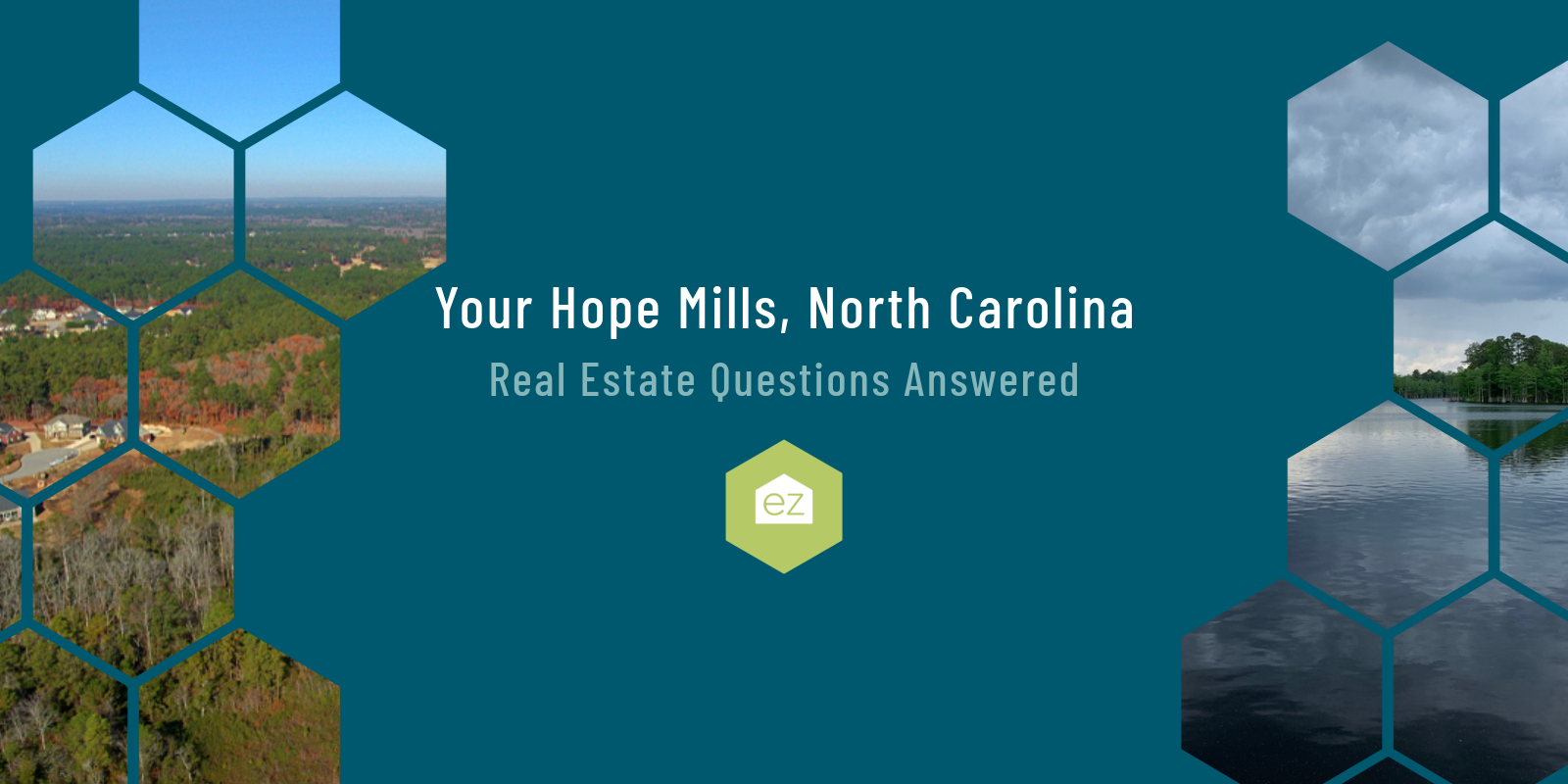 Your Hope Mills, NC Real Estate Questions Answered
Are you considering a move to Hope Mills, NC? This charming small town seven miles outside of Fayetteville offers a slower pace of living than the larger city. Residents enjoy less traffic, friendly neighbors, and Fayetteville's healthcare, recreational, and lifestyle amenities. Hope Mills is also growing as new businesses come into the area, attracted to the cost of living and transportation access.
If you're thinking about moving to Hope Mills, you probably have some questions about the real estate market. We'll answer some of the most frequently asked questions about buying a home in Hope Mills.
What is the average price of a home in Hope Mills, NC?
There is a wide variety of homes available on the Hope Mills real estate market. You can find starter homes, luxury homes, new construction homes, and everything in between. Home buyers have different neighborhoods to choose from, so you're sure to find one that fits your needs and budget.
The median price of a home in Hope Mills was $225,000 in May 2022. The prices were up 9.8% year over year. There were 295 homes for sale, ranging from $15K for a residential half-acre lot to $3M for a 149-acre vacant lot zoned for residential development.
The most affordable listing with an existing home was $39,000 for a mobile home with three bedrooms and two bathrooms. The most expensive existing home listing was $530,000 for four bedrooms, 2.5-bathrooms, and 2,300 sq ft.
Are there any condos or townhomes available in Hope Mills, NC?
Yes, condos and townhomes are available on the Hope Mills real estate market. These properties tend to be more affordable than single-family homes, making them a great option for first-time buyers or those looking to downsize.
As of June 2022, there were two townhomes for sale in Hope Mills, ranging from $110,000 for three bedrooms, two bathrooms, and 1,350 sq ft to $131,000 for two bedrooms, 2.5-bathrooms, and 1,250 sq ft.
You can look for townhomes or condos in South View, Elk Run, and The Vineyards.
What is the property tax rate for Hope Mills, NC?
The property tax rate in Hope Mills for the year 2021-2022 was $0.46 per $100 of property valuation, plus an additional $0.05 per $100 of property valuation for recreation.
The county tax rate was $0.799 in 2020-2021 for a combined $1.3090 per $100 of valuation. The next property appraisal is scheduled for 2025.
Annual sanitation fees were $250.80 or $20.90 a month.
What county is Hope Mills, NC in?
Hope Mills is located in Cumberland County. This county is home to several military bases, including Fort Bragg and Pope Army Airfield. Cumberland County is also home to some colleges and universities, including Fayetteville State University, Methodist University, and Campbell University.
As a result, the county's population is quite transient and skews much younger, with an average age of 31.4.
Fayetteville is the county seat and the epicenter of culture, dining, festivals, and other attractions.
Things to do in Cumberland include:
Visiting the Airborne & Special Forces Museum.
Attending a show at the Crown Theatre.
Exploring one of the many parks and hiking trails in the area.
Is Hope Mills, NC growing?
Yes, Hope Mills is growing. The town's population was estimated to be 16,673 in 2019, which is up from the 2010 census population of 15,176. Based on percentages, Hope Mills grew the most of any Cumberland County town from 2010 to 2020. Its annual growth rate is 0.44%.
Nearby Fayetteville is the fifth largest city in North Carolina. People are moving to Hope Mills in order to find a slower pace of life from Fayetteville and beyond.
The town of Hope Mills is also attracting retirees. In recent years, several retirement communities have been built in the area. This has helped boost the local economy and make Hope Mills an even more desirable place to live.
What neighborhoods are in Hope Mills, NC?
Some of the most popular neighborhoods in Hope Mills include Gray's Creek, Southview, and Heritage Pointe. These communities offer a variety of amenities, such as swimming pools, playgrounds, and walking trails. They are also conveniently located near shopping, dining, and entertainment options.
Another notable Hope Mills neighborhoods include Woodland Hills on the southwest side of town. Homes come in two-story and ranch styles. It has a country-like feeling.
The Southview area has shopping, dining, and quality middle and high schools. A variety of housing options span from apartments to single-family homes. This region northeast in Hope Mills provides easy access to Fayetteville.
Braxton Village is a newer construction community near Gray's Creek High School. It includes a pocket park, playground, and community pool.
Are there any waterfront properties found in Hope Mills, NC?
Yes, there are waterfront properties available in Hope Mills! The man-made Hope Mills Lake offers waterfront living opportunities. Rockfish Creek runs west-east in Hope Mills and is another chance for waterfront living.
Waterfront properties tend to be more expensive than other homes on the market, but they offer stunning views and a unique lifestyle.
How is golf in Hope Mills, NC?
If you're a golf fan, you'll be happy to know that several golf courses are around Hope Mills.
Cypress Lake Golf Course is a great option, and it's one of the most scenic courses in the area. This course is located on a beautiful lake, so you can enjoy stunning views as you play. It has 7,240 yards of play with a par 72.
Hope Mills has another nine golf courses in the greater Fayetteville metro. The closest two courses are Gates Four Golf & Country Club and Highland Country Club. In addition, Hope Mills is 39 miles from Pinehurst and its world-class golfing options.
Whether you're a seasoned pro or a beginner, you're sure to find a course that suits your needs around Hope Mills.
Are there golf course communities in Hope Mills, NC?
Cypress Lakes Village surrounds the Cypress Lake Golf Course. The Village has additional amenities like a pool with a splash pad and wading area, playgrounds, and a golf course. Residents are within walking distance of nearby schools. Home sizes range from 2,300 to 2,600 sq ft.
Golf course homes are designed to sit back from the course to maintain a rural feeling.
What areas are near Hope Mills, NC?
Fayetteville is the closest city to Hope Mills and the largest metro in the region. The historic town is where residents can go for more shopping, dining, and entertainment options. It's also home to some military bases, so you can expect to see a lot of transient traffic.
Rockfish and Vander are two other towns located near Hope Mills. These communities offer a more laid-back lifestyle, and they're great for those who want to escape the hustle and bustle of city living.
Pinehurst, Southern Pines, and Aberdeen are all located within a short drive of Hope Mills. These cities offer a variety of activities, such as golfing, hiking, and shopping. They're also home to several festivals and events throughout the year.
Raleigh is just over an hour from Hope Mills. This city offers a more cosmopolitan feel. Besides serving as the state capitol, it's home to many museums, art galleries, and historical sites.
Wilmington is located on the coast, and it's a popular spot for beachgoers. This city is about two hours from Hope Mills, making for a great day trip or weekend getaway.
What is the cost of living in Hope Mills, NC?
The cost of living in Hope Mills is relatively affordable when compared to other cities in North Carolina. The town has a cost of living index of 85.9, which is lower than the state score of 90 and the national index of 100. Only health care and miscellaneous expenses exceeded national indexed scores. In particular, housing was 43% cheaper than the national rate.
What to know about living in Hope Mills, NC
Hope Mills is a friendly and welcoming town, and it's a great place to raise a family or retire. While it's a suburb of Fayetteville, it's still small and spread out enough to give everyone space and maintain the small-town feel. The town has many parks and recreation facilities, so there's always something to do. Scenic Hope Mills Lake is a draw for activity during the summer months.
The town is located near a larger city, so you always have access to more retail, restaurants, and events. The cost of living is relatively affordable, so you can stretch your dollar further.
We hope this has answered some of your questions about living in Hope Mills, NC. This town is a great place to call home, with various affordable housing options and plenty of things to do. If you're ready to start looking for your new home in Hope Mills, we can help. Contact us today to get started.