Moving to Southern Pines - Your EZ Guide to Everything Southern Pines, NC
Posted by Preston Guyton on Thursday, April 22, 2021 at 5:21 AM
By Preston Guyton / April 22, 2021
Comment
Moving To Southern Pines: Your Guide To Living in Southern Pines, NC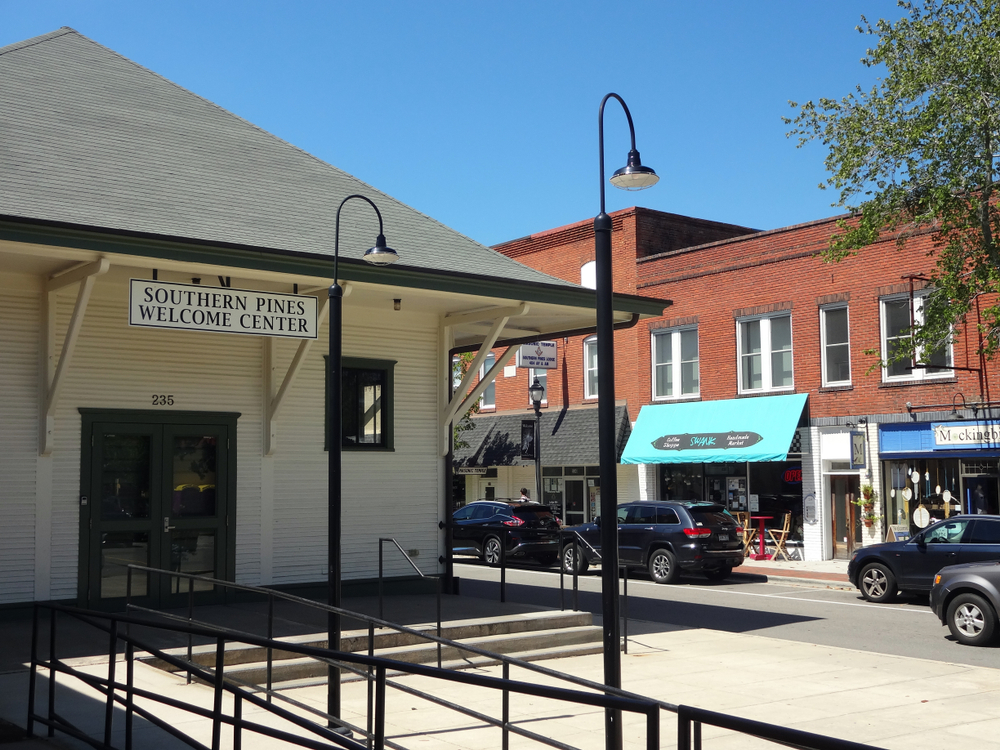 Southern Pines has more than 125 years of rich tradition and history, and today it is a diverse and thriving community of around 12,736 residents. Encompassing 16.65 square miles, Southern Pines is located in Moore County, NC, where it sits at the center of the Sandhills. It's also within driving distance of Fayetteville, Charlotte, and the Raleigh-Durham-Chapel Hill triangle.
Visitors from around the state and beyond come to Southern Pines for its unique dining options, boutique shopping experiences, gorgeous historical sites, and exciting outdoor activities which include biking, world-class golfing, and equestrian sports.
Cost of Living and Population Growth
The population of Southern Pines showed a 2% increase between 2017 and 2018, from 13,426 to 13,694. The latest census data shows its population to be around 14,657, with a median age of 44.5. This continuous population growth only signifies how this small city has continued to expand in the last few years.
When it comes to the cost of living, Southern Pines does its best to be competitive. However, it is one of the more expensive places to live in North Carolina. While it may not cost as much to live in Southern Pines as it does in places like Florida, this city has a higher cost of living compared to the national average, which can be seen in the table below:
| | | | |
| --- | --- | --- | --- |
| COST OF LIVING | Southern Pines | North Carolina | USA |
| Overall | 101.7% | 90.6% | 100% |
| Grocery | 99.8% | 96.5% | 100% |
| Health | 114.6% | 107.5% | 100% |
| Housing | 118.7% | 81% | 100% |
| Median Home Cost | $274,500 | $187,300 | $231,200 |
| Utilities | 99.1% | 99.2% | 100% |
| Transportation | 70.4% | 83.9% | 100% |
| Miscellaneous | 101.9% | 96.2% | 100% |
Southern Pines's overall cost of living is 101.7% compared to the national average.
Job Market
The median income in Southern Pines, NC, is $58,453, while the city's economy employs around 5.68K people. Here are a few key statistics that make up the job market in Southern Pines:
Most Common Jobs
As determined by the number of employees, the most common jobs for the residents of Southern Pines are split into three categories.
Management Occupations with 811 people
Sales & Related Occupations with 611 people
Food Preparation and Serving Related Occupations with 545 people
Most Specialized
In comparison to other areas, Southern Pines also has an unusually high number of residents working in the following professions:
Life, Physical, and Social Science Occupations which is 3.79 times higher compared to other areas
Health Diagnosing and Treating Practitioners Along With Other Technical Occupations which is 2.22 times higher compared to other areas
Arts, Design, Entertainment, Sports, and Media Occupations which is 1.74 times higher compared to other areas
Highest Paid
According to median earnings, the highest paid jobs in Southern Pines are as follows:
Legal Occupations, which is typically paid $115,977 per year
Computer and Mathematical Occupations which is typically paid $87,500 per year
Health Diagnosing and Treating Practitioners along with Other Technical Occupations which is typically paid $77,895 per year
Things To Do
Don't let its small population fool you — Southern Pines has plenty of places to see and things to do. Here are just a few places that you can enjoy while staying in this beautiful city.
Full Moon Oyster Bar
This eatery is a favorite among locals and specializes in fresh sources of seafood and fish. Its beachy interior sets the theme for a delectable lunch or dinner, with plenty of choices for everyone, so they offer more than just oysters. The Full Moon Oyster Bar offers food such as delicious crab cakes, freshly-shucked oysters served in various styles, and other seared or steamed dishes that carry a taste that's fresh-from-the-ocean.
Reservoir Park
After eating out, you're probably looking for a nice place to just hang out and enjoy nature while taking in sights. If this is your thing, then head over to Reservoir Park where you can get stunning views around the area from the walking trails. Here, you can also get the opportunity for boating and fishing. You can even take the family for a nice quiet picnic under the loblolly and longleaf pine trees around.
Southern Pines Brewing Company
If you're a beer lover, you'll love the Southern Pines Brewing Company. With great staff and a friendly atmosphere, you're sure to get more than just a few drinks. Its quality beers are made and sold inside this brewery and are highly recommended. They also offer visits to the taproom, so you can do more than just drink beer here.
The Wine Cellar & Tasting Room
There's no better way to relax in the evenings than with quality wine. Thankfully, the Wine Cellar & Tasting Room is full of knowledgeable professionals that are dedicated to serving the best wines in the city. They have been the leading wine shop in the area for over 20 years and offer wine tasting every day. They offer a large selection of ciders and craft beers, along with live music that you can enjoy every Saturday.
Climate
Thankfully, the weather in Southern Pines, NC, is relatively stable and fair compared to the rest of the country. Every year, Southern Pines gets an average of 47 inches of rain per year, while the rest of the country gets an average of 38 inches of rain. Furthermore, Southern Pines gets an average of three inches of snow, while the U.S. average is 28 inches every year. While this city becomes quite wet during the rainy season, Southern Pines gets a total of 213 sunny days per year, which is higher than the U.S. average of 205 sunny days. Here are a few weather highlights for Southern Pines:
Summers in July can reach the highest temperatures around 90 degrees F.
Winters in January can reach its lowest temperatures of around 30 degrees F.
Traffic
The Traffic Team at Southern Pines does their best to provide statistical analysis and provide oversight over all traffic initiatives, which include coordinating traffic details and managing grants both in and out of the agency. They also put in great effort to ensure that the roadways and the community of Southern Pines are safe by educating motorists about every aspect of traffic safety, while all officers participate in activities for traffic enforcement.
Apart from performing general traffic enforcement, the Department of Traffic in Southern Pines participates in official state-wide enforcement campaigns from the North Carolina Governor's Highway Safety Program.
Public Transportation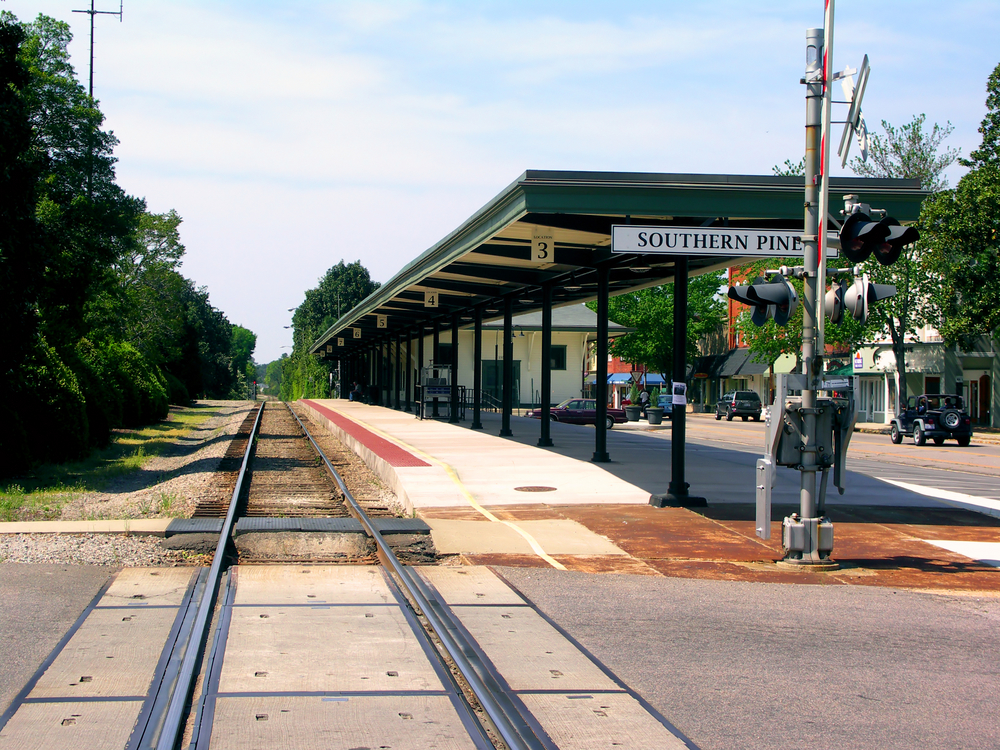 Unfortunately, there aren't many ways to get around Southern Pines, so you will need to get a vehicle of your own. However, you may head over to Southern Pines train station which is served by Amtrak's Silver Star train. Located in the heart of the downtown Pines area, this station was originally built by the predecessor of the Seaboard Air Line Railway in 1898. While there's no Amtrak ticket office in this station, there is a "Quik-Trak" machine for your ticketing needs.
In terms of air travel, residents in Southern Pines can take the Pinehurst Regional Airport, which is located three miles north of Southern Pines. This airport covers 500 acres of land and has one runway which is used primarily for general aviation. In a partnership with the Pinehurst Golf Resort, the West Coast airline JSX started a special summer seasonal service during the summer of 2020.
Golf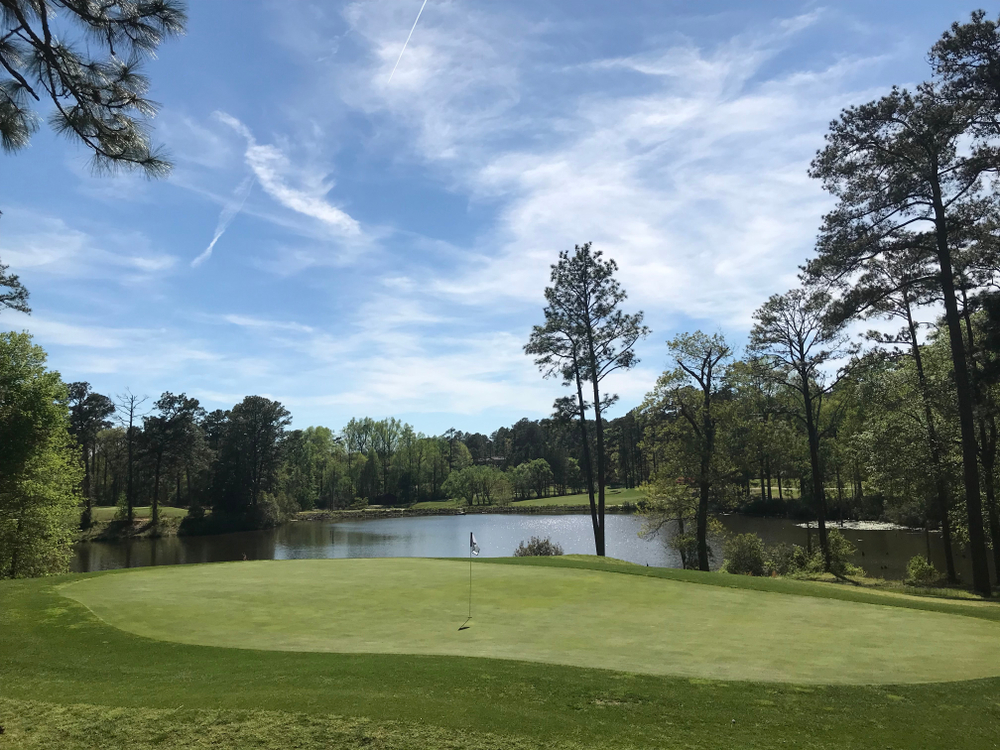 Golf is a huge sport in Southern Pines, and the city has plenty of courses for players of every level.
Southern Pines Golf Club
Since its opening in 1906, the Southern Pines Golf Course is one of the earliest original designs by Donald Ross. This beautifully designed course weaves around a series of ridges and knolls, giving it one of the most dramatic terrains in the Sandhills. Its arrangement makes it hard to tell where Ross's design ends, and where nature begins.
Coming in at 6,500 yards, this stunning course provides a challenge for every level of play, and is open to the general public, members, and guests. The peak season here is from mid-March to mid-May as well as mid-September until the end of October. It's also open seven days a week apart from maintenance days and select holidays.
Longleaf Golf & Family Club
This premier semi-private golf club serves the Southern Pines and Pinehurst communities, along with visitors from all over the world. Designed by Dan Maples and remodeled by Bill Bergin, the Longleaf Golf & Family Club offers the best conditions you can find anywhere in the state. Furthermore, members and visitors alike can sign up for lessons in the U.S. Kids Golf Academy or play a quick round at the Bottlebrush Short Course. If you feel like going for practice, you can also make use of its 10,000 sq. ft. putting green.
Pine Needles Golf Club
The Pine Needles Golf Club is a high-ranking golf course that can test golfers of every level. It features five holes and wide fairways in a beautiful backdrop full of nature. Many golfers have enjoyed playing on this course for almost a century, but if you're not just interested in golf, you may also use their spa facilities or eat like a king at their restaurant.
Water Sports
If you're into water sports, Southern Pines also has a few places where you can go to get wet and wild. At the Reservoir Park Lake, residents are allowed access to water sports and fishing, and the park is open throughout the year while also free to the public. You're also allowed to use kayaks, boats, and paddleboards on this 95-acre lake. However, note that only electric motors and paddles are allowed, so gasoline engines aren't welcome here. Furthermore, swimming and wading aren't allowed, while fishing can be done from the shore or a boat.
Cape Fear River Adventures
From canoeing, kayaking, river tubing, SUP-ing, whitewater kayaking, and more, you can enjoy scenic rafting trips on the Cape Fear River. While it isn't located in Southern Pines, it is a quick drive away and is also accessible from Durham, Raleigh, Chapel Hill, and the surrounding areas. It also has a sister company on the Deep River in Sanford that specializes in kayaking and tubing if you feel like going on a drive for a longer adventure.
Dog Friendly
If you have a pet dog and are worried about taking him/her with you around town, you can rest easy knowing that Southern Pines is a pet-friendly city. Here are just a few places where you can take your canine friend to dine, play, and explore.
Bell Tree Tavern
Enjoy a hearty feast with your fur baby at Bell Tree Tavern where you can munch on teriyaki salmon, bison burgers, fried chicken, and then pecan pie for dessert. They also provide an outdoor seating area to welcome your dogs.
Residence Inn
The Residence Inn will allow you to check-in with two dogs of any size for an extra fee of $50 per night. However, be sure to place dogs inside crates if they need to be unattended. There are also grassy areas for your dogs along with waste stations inside the property. Note that cats aren't permitted in the inn.
Martin Park
This unfenced, off-leash park is perfect for exercising energetic dogs. Martin Park provides more than 50 acres of land for you and your dog to explore. It contains many trails and a creek, so you can enjoy the scenic views it has to offer. It's also conveniently located on Commerce Avenue behind Walmart.
Attractions
The quiet and sleepy town of Southern Pines has hidden gems scattered throughout its streets, with many attractions that you won't find anywhere else in North Carolina.
Sandhills Horticultural Gardens
It doesn't matter what time you visit; there's always a flower blooming at the Sandhills Horticultural Gardens. With over 32 acres of stunningly designed sculptures and gardens, every visit here will make for a great day out, where you can relax in the beautiful environment. If you're feeling more adventurous, you can take a walk from the gardens and make your way to Reservoir Park, or you can simply observe the peaceful surroundings around you.
Weymouth Woods
The Weymouth Woods Sandhills Nature Preserve is a place to explore that won't disappoint. It has a collection of longleaf pines, with some that are more than 100 years old. Furthermore, this natural habitat provides a home to the pine barrens tree frog, the red-cockaded woodpecker, fox squirrel, bog spicebush, and a myriad of wildflowers. There are also plenty of trails to take, which will take you over wooden bridges, wetlands, and through a collection of fauna and flora.
Art and Culture
The city of Southern Pines also has plenty to offer for people who love art and culture.
Weymouth Center for the Arts & Humanities
Author James Boyd bought and named his estate Weymouth in 1941 and soon offered it to the public for use as a natural park for everyone to enjoy. Today, this cultural center is dedicated to preserving its 26-acre estate, including the longleaf pine forest and its gardens. The Weymouth Center for the Arts & Humanities is also open every day for recitals, concerts, and is used as a writer's residency.
Creation Museum
The Creation Museum in Southern Pines delivers an experience with a difference, where you can wander around an array of stuffed animals and carpentry tools and learn about the rich history of the area. There is also a Taxidermy Hall of Fame, Antique Tool Museum, and a Christian bookstore. And while it may not be everyone's cup of tea, the fudge and gift shop on the second floor can be a treat for both young and not-so-young visitors.
Sports and Sports Teams
Apart from water sports, Southern Pines also offers many other activities and sports where students and residents can actively participate in.
Morganton Road Sports Complex
This sports complex consists of the Optimist baseball field, the Armory softball/baseball field, along with four soccer fields. It also offers amenities such as concession stands, restrooms, and generous seating and parking for spectators. Furthermore, the Soccer Complex also offers playground equipment and picnic tables. Because of these features and more, the Morganton Road Sports Complex is an ideal location for events, company-sponsored games, multi-team tournaments, and fun for the family!
Southern Pines Recreation Center Gyms
Another great place for sports and gym buffs is the Southern Pines Recreation Center Gym located in Memorial Park. Since it opened in February 2003, it has been used for adult and youth athletics and programs, along with senior programs. Here, there's a full-sized gym as well as a youth gym with bathrooms. However, this recreation center is only open for reservations and programs.
Education: Schools and Colleges
In 2019, Sandhills Community College in Southern Pines awarded its students with 834 degrees. This achievement highlights the dedication and enthusiasm of both students and staff in this community college. Students are also encouraged to pursue their educational, career, and personal goals, which in turn, nurture their talents and abilities in their studies. The college offers both bachelor's and master's degrees, as well as Continuing Education classes.
In general, some of the most popular majors that students take up in Southern Pines are:
Liberal Arts & Sciences coming in at 36.3%
Registered Nursing coming in at 8.27%
General Studies, & Humanities coming in at 5.04%
Real Estate
As of 2018, the median property value in Southern Pines was $295,900, which is 1.29 times higher compared to the country's average of $229,700. This also symbolizes a 4.37% increase from 2017's value of $283,500. The homeownership rate in Southern Pines, however, is only 54.7% — much lower than the 63.9% observed nationally.
Furthermore, the 2018 median household income of $58,453 also reflects the market's growth from the 2017 median household income of $48,511. These figures are taken from a total of 6.18k households in Southern Pines, which means that the real estate market is steadily increasing, so don't miss out on your chance to own a piece of this prime location.
Welcome to Southern Pines!
Southern Pines may be a sleepy town of just 12,736 residents, but don't expect it to stay like this for much longer. With a competitive cost of living, relatively affordable housing, and income that increases every year, many expect it to become a huge, thriving, metropolis in the years to come. Don't wait any longer, now is the time to invest in Southern Pines and all it has to offer. If you're fond of art, craft beer, and beautiful scenery, then look no further than Southern Pines.