The Pros and Cons of Retiring in North Carolina
Posted by Preston Guyton on Friday, September 30, 2022 at 10:07 AM
By Preston Guyton / September 30, 2022
Comment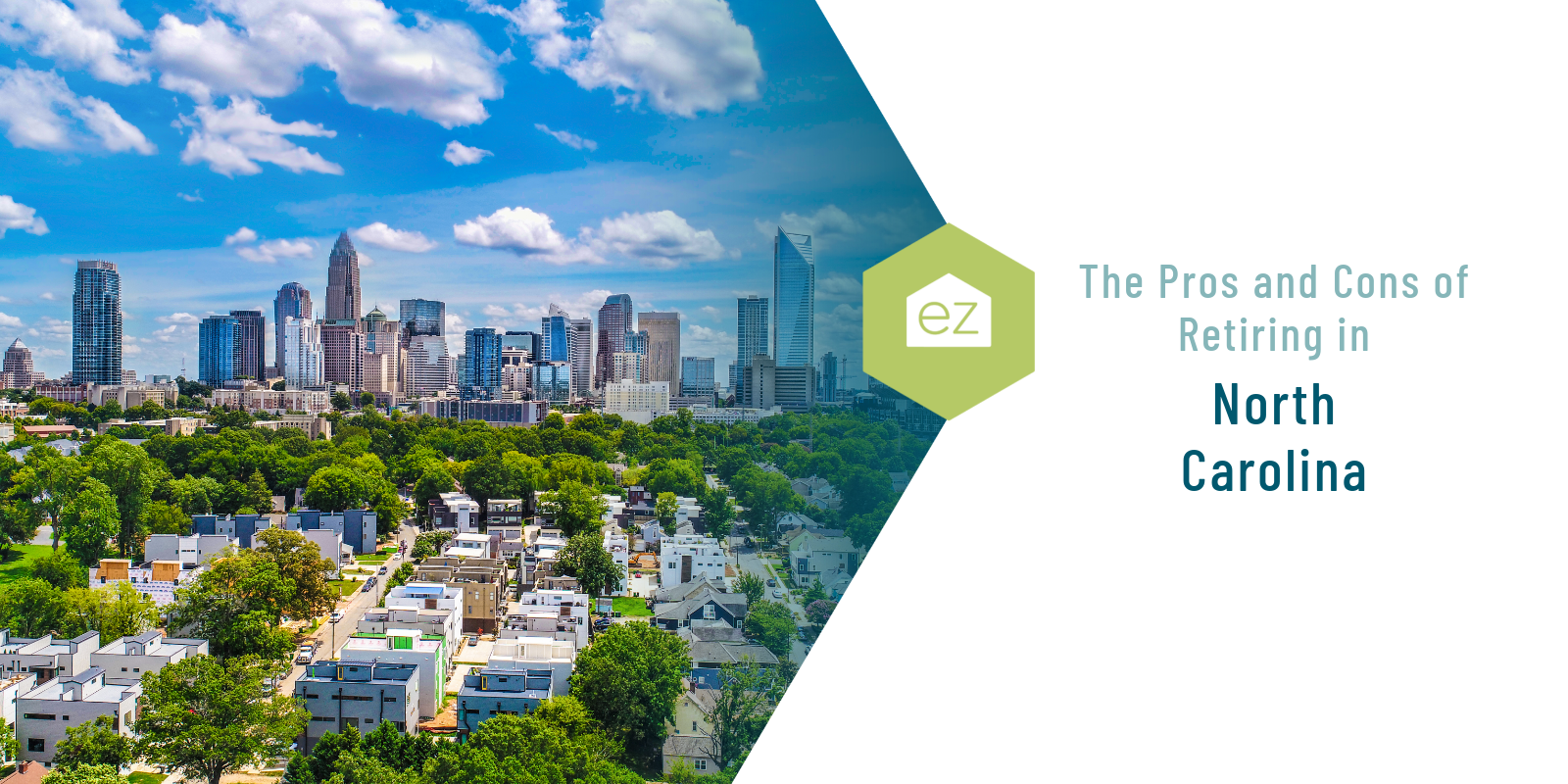 Pros and Cons of Retiring in North Carolina
When you think "retirement destination," North Carolina may not be top of mind. As you think about it, the state does have a lot to love for retirement.
The state's picturesque landscape, with both its rugged inland mountains and windswept beaches, is sure to take your breath away. Besides the beautiful scenery, North Carolina offers a mild climate and plenty of amenities that make it attractive to retirees. Find fishing, boating, hiking, golfing, and much more.
However, the state has some potential downsides to retiring that you should be aware of before moving to North Carolina. Let's look at some pros and cons of retiring in North Carolina to see if it could be the right state for you.
Pro: Tax breaks for seniors
One of the benefits of retiring in North Carolina is that the state offers tax breaks for seniors. If you're over 65, you can exempt up to $35,000 of your retirement income from state taxes.
In addition, Social Security income is not taxed, and income taxes have been lowered to a flat rate, to 4.9% in 2022. That rate continues to drop from what was 5.75% in tax years 2015-2016. A State Estate Tax does not exist, and the corporate income tax is low.
Con: Hurricanes
Unfortunately, North Carolina is located in an area susceptible to hurricanes. The Outer Banks' positioning on the east coast makes them more susceptible to direct hits or brushes from tropical storms that ride up the East Coast. The state has been hit by several major storms, including Hurricane Florence in 2018.
If you're considering retiring to the coastal region of North Carolina, it's important to have a plan in place in case of a hurricane. This could include having an evacuation route and plan and supplies to ride out the storm.
Pro: Cost of Living
The cost of living in North Carolina is relatively low compared to other US states. This can be attributed to several factors, including a lower-than-average cost of housing.
Based on Sperling's Best Places Index, North Carolina is 9% cheaper than the overall national median. Expenses like groceries, housing, and transportation were under national expenditures.
In 2021, MERIC data ranked North Carolina as having the 24th lowest cost of living in the US. The average cost of living was $38,295.
That data found the median monthly mortgage cost was $1,314, and the median two-bedroom rent was $878. Of course, your location influences your total costs. Charlotte, Raleigh, Durham, Morehead City, and Asheville had higher housing costs than New Bern, Fayetteville, Greensboro, and Jacksonville.
Con: Higher Taxes
While the cost of living in North Carolina is relatively low, the state does have higher taxes than some other US states. It came in as the 20th most-taxed state.
The state's income tax rate is 4.99% in 2022, but the state updated its income tax schedule for the next seven years. By 2026, the individual income tax will drop to 3.99%. The sales tax is around 6.98%, with municipalities having special leverage. North Carolina does have a low corporate tax rate, making it more business-friendly.
The state does tax public and private pension incomes, 401(k)s, IRA, and other retirement accounts at the current income tax rate. Social Security Income is exempt.
Property taxes vary from county and municipality. The state averages homeowners pay 0.85% of property value.
Pro: Stunning scenery
One of the reasons people retire to North Carolina is the stunning scenery. The state has coastlines, mountains, and distinct regions that offer a variety of activities for retirees.
The Appalachian Mountains run through western North Carolina, providing ample hiking, camping, and fishing opportunities. Central North Carolina's Piedmont region is home to the state's capital, Raleigh. The rolling landscape is dotted with lakes and reservoirs.
The coastal region is where you'll find the Outer Banks plus the miles of the Atlantic coastline. This area is famous for its beaches, lighthouses, and wildlife.
Pro: Excellent health care
Another pro of retiring in North Carolina is excellent health care. The state is home to some of the best hospitals in the country, including Duke University Hospital and Wake Forest Baptist Medical Center.
Many retiree-friendly communities have been developed with top-notch health care facilities. These include Chapel Hill, Raleigh, and Asheville.
Con: Not equal health care access
Although North Carolina has several world-renowned hospitals, not all citizens have the same level of access to health care. According to the NC Rural Health Research Program, people who live in rural areas often have to travel long distances for care.
This can be attributed to a number of factors, including a lack of providers, transportation issues, and a lack of insurance. Insurance is often more expensive in rural areas, and there are fewer providers to choose from.
If you're considering retiring to North Carolina, it's important to research the health care options in the area you plan to live. This includes looking into hospitals, clinics, and doctors in the area.
Pro: Outdoor recreation
North Carolina is a retiree's paradise when it comes to outdoor recreation. In addition to the stunning scenery, the state has many parks and trails for retirees to enjoy.
The Appalachian Mountains stretch across most of North Carolina and provide many hiking trails. While most of these are meant for hikers, there are options for mountain biking or horseback riding. These same mountains include fishing, boating, whitewater rafting, and rock climbing. The famous Blue Ridge Parkway runs for 469 miles through the Appalachian Mountains.
Residents have over 200 state parks to explore, including Mount Rogers National Recreation Area and Great Smoky Mountains National Park.
With over 300 miles of barrier coastline and beaches, there are plenty of swimming, fishing, and boating opportunities.
Con: Crime rates
Although North Carolina's crime rate is lower than the national average, some areas of the state still have higher crime rates. This is something to keep in mind if you're considering retiring to North Carolina.
The most frequent explanation for North Carolina's increased crime rate is the state's higher-than-average poverty levels. Around 14% percent of residents live in poverty, typically leading to increased criminal activity. Again, it's about researching the specific community you're interested in living in as many areas have low crime rates.
Pro: Weather
North Carolina has a diverse range of weather and climate, depending on which region you retire to. In fact, there's a large contingent of residents called "half-backs," who spend winters in Florida and summers in the Carolina mountains.
The state experiences all four seasons, with hot summers and cold winters in the mountains. In cities like Charlotte and Raleigh, the winter lows rarely dip under 35F. The coastal areas are milder, with average temperatures in the 60s and 70s.
This climate diversity means that there's something for everyone regarding retiree weather. No matter your preference, you're sure to find it in North Carolina.
Pro: Arts and culture
North Carolina is home to a thriving arts and culture scene. Find many museums, including the North Carolina Museum of Art and the Asheville Art Museum. The Biltmore Estate near Asheville stuns visitors with its beautifully designed 250 rooms and sprawling grounds.
The Appalachian Mountains have a strong folk art and music tradition. Local venues often have bluegrass and country music bands creating a folk atmosphere. Explore the local galleries for hand-crafted pottery and other creations.
Festivals and events take place throughout the year. A few of the most popular include the Riverfest Music Festival, the NC State Fair, and the Charlotte Folk Festival.
North Carolina's rich history influences much of the cultural scene. As one of the original 13 colonies, you'll find important historical sites in American history, from Revolutionary-era buildings to Civil War battle sites.
Con: Public transportation
One of the most significant disadvantages of retiring in North Carolina is a lack of public transportation. There aren't enough regular buses, trains, and other means of transportation to allow you to travel and explore different areas of the state.
The state is 560 miles wide from east to west! You'll need to buy an automobile to get the most out of living in North Carolina. Otherwise, it will be impossible to see the lovely beaches and mountainsides.
Even though Charlotte and Raleigh have public transportation systems, they lack the flexibility that other cities, such as Chicago or New York, provide. In North Carolina, the public transportation network is limited in scope and under-served. Therefore it becomes challenging to get from one place to another without a vehicle.
Retiring to North Carolina
When it comes to retirement, there's a lot to consider. But North Carolina has a lot to offer, from stunning scenery to tax breaks for seniors. Weigh the pros and cons to see if retiring in North Carolina is right for you. If it sounds appealing, start looking at these 16 top cities in NC.