Moving to Asheville - Your EZ Guide to Everything Asheville, NC
Posted by Preston Guyton on Monday, April 5, 2021 at 2:11 PM
By Preston Guyton / April 5, 2021
Comment
Moving to Asheville - Your Guide to Living in Asheville, NC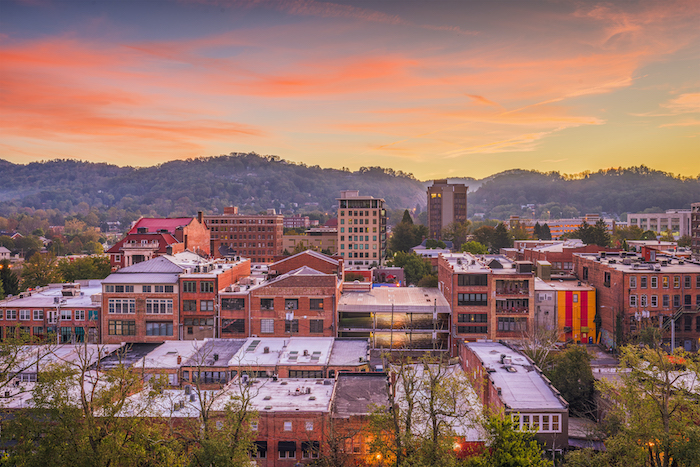 Established in 1797, Asheville, North Carolina, is known for its natural beauty, heritage attractions, thriving arts and culture scene, and rich history. Its popularity as a tourist destination began growing as far back as 1880 when the railroad connection arrived and ushered in a wave of visitors. Located at the edge of the Appalachian Mountains, Asheville is a city that's best explored on foot, so you can fully partake in this vibrant "Paris of the South."
If you're planning to visit Asheville, or are looking to move there, let's look at some of the most important factors to consider.
Cost of Living and Population Growth
As a place blessed with wonderful scenery and a flourishing culture, it's hardly a surprise that Asheville is named as one of the 100 best places to live in the U.S. However, this beauty comes with a price: Asheville is considered one of the most expensive places to live. Its cost of living is higher than the overall averages for North Carolina and the rest of the United States. In terms of median home cost, Asheville's is $55,700 more than the median home cost for the entire United States and $99,600 more than the state of North Carolina's median home cost.
When it comes to rent, the average monthly cost in Asheville runs up to about $1,148, which can be a little steep if you're only earning $50,000 annually with 30% allotted to housing costs each month. Simply put, you're $102 away from hitting the ceiling for your rent budget, which would ideally be $1,250 considering the figures provided. In fact, to maintain your current standard of living in Asheville, you would need to earn an annual income of $78,363, making it 57% higher than the cost of living in Seattle.
In comparison with Chapel Hill, another city in North Carolina, the housing cost in Asheville is, surprisingly, 33% lower. Utilities and miscellaneous costs are also lower, but the most significant difference between the two cities lies in healthcare costs. Asheville costs 14.8% more than Chapel Hill in terms of healthcare services.
The upside to this is that numerous businesses continue to enter the city. With over 80,000 residents, it's a big enough place, and its focus on local businesses spells good news for the residents.
If you're looking for a more affordable place to live, Asheville is probably not going to come up on your list. However, if you're more about the experience and would love to live in a bustling, cultural hub, Asheville is the city for you.
Job Market
As a popular tourist destination, there are many job opportunities in Asheville, particularly those in the hospitality sector. In 2019, Asheville only had an unemployment rate of 3.1%, and the average annual salary is pegged at $43,070.
Aside from the hospitality sector, Asheville's economy is also bolstered by education, technology and manufacturing, and healthcare. Compared to areas of a similar size, Asheville has a healthier job market with an index score of 6.3/10.
For those wanting to gain employment, city policy requires employers to conduct background checks on all potential hires regardless of their position.
Things To Do
You can never run out of things to do in Asheville. In fact, it has over 30 art galleries, 26 craft breweries, 250 restaurants — and that's just the tip of the iceberg. For those keen to explore the local scene, consider the following activities:
Take a Trip To the Breweries
Aside from being the "Paris of the South," Asheville is also dubbed as "Beer City USA." With over 26 breweries and 100 variations of local beers, aficionados won't just have their fill of the best malts, ales, hops, and stouts in town — they can also see the journey of local beers, from the brewery to the bottle. Some of the most popular breweries in town are Lexington Avenue Brewery, Green Man, Wicked Weed, and Catawba.
Enjoy an Authentic Dining Experience
Farm-to-table dining has been practiced in Asheville even before it became a trend. Many restaurants in the area source their meats and produce from local farmers, ensuring fresh ingredients and an authentic dining experience. There are also numerous outdoor dining options available. In light of the COVID-19 pandemic, Asheville has come up with the Stay Safe Pledge, which outlines the necessary precautions being implemented while encouraging both businesses and travelers to commit to following these safeguards.
Listing down over 250 restaurants would be a feat, but consider these local favorites instead:
12 Bones Smokehouse (it's most famous diner is former U.S. President Barack Obama back when he visited Asheville for a vacation)
French Broad Chocolate Lounge
Pack's Tavern
Tupelo Honey Café
Table
Zambra
Cucina 24
Go on a Ghost Hunt
If you're up for something a little more supernatural, Asheville has a ghost tour that can guide you through its historic downtown area. The tour features paranormal hotspots and historical buildings whose walls are haunted by tragic legends and mysteries. Locations you can visit include:
The Battery Park Hotel
Jackson Building
Basilica St. Lawrence
Grove Park Inn
Helen's Bridge
The site where Zelda Fitzgerald, wife of famous author F. Scott Fitzgerald, died
Climate
Asheville experiences wet and partly cloudy weather all year round. The most comfortable months are in September, June, and May, while the least comfortable months fall in January and December. When summer arrives, it is mostly warm and humid, while winters are very cold — with an average of 10 inches of snow per year — but mercifully short.
There are around 212 sunny days per year in the city, and precipitation happens for around 118 days annually. Temperature can vary from 28°F to 83°F.
Traffic
Despite its slow and relaxed vibe, Asheville has ranked poorly in terms of road safety, particularly when it comes to pedestrians and cyclists.
According to data from the 2016 Traffic Crash Facts report, Asheville has ranked first for crashes from 2013–2015. From 2014–2016, there were 16,701 crashes and 37 fatalities in Asheville, 3% of which were alcohol-related crashes. By 2016, the city reported 5,380 crashes, 1,488 injuries, and 11 fatalities. In the same year, 149 (2.77%) crashes were alcohol-related, causing 3 deaths and 86 injuries. Thirty (0.6%) of these crashes involved pedestrians, while 16 (0.3%) involved bicyclists.
Public Transportation
There are many ways to get around Asheville, thanks to its different public transportation options. The city government's website offers transit maps, real-time schedules, and route information.
Aside from having taxi services and bus routes, the city also uses vintage trolleys and bike taxis to transport residents and visitors alike. Trolley tours, which run seven days a week, can show you major points of interest in the city, such as The Omni Grove Park Inn, the historic Biltmore Village, the River Arts District, as well as the shopping and restaurant centers downtown. Biltmore also offers its own shuttle service via the Biltmore Guest Services for those who want to get a more personalized ride to the village.
Rideshare services such as Uber and Lyft are also popular transportation options and cater to those coming to and from the Asheville Regional Airport, which is 15 minutes from downtown.
Golf
For those looking for a different form of recreation and enjoyment, golf can be a good way to pass the time and partake in sightseeing. With over 40 golf courses within the city, you can have your pick of where to swing.
Here are some golf courses you can visit:
Asheville Municipal Golf Course
Also known as the Buncombe County Golf Course, this course has over 3,200 yards of greenery and is considered one of Western North Carolina's oldest courses.
The Omni Grove Park Inn Golf
Designed by the legendary Donald Ross, Golf Digest dubbed this course one of the 10 best courses in the U.S. that's over a hundred years old, and Golfweek included it in its list of America's best golf courses. It is also rated as the 8th best golf course in North Carolina. Along with its 6,720 yards and 18 holes, this course provides magnificent views of the Blue Ridge Mountains.
Lake Junaluska Golf
Within a 30-minute drive west of Asheville is Lake Junaluska Golf, an 18-hole course with 5,034 yards and a par 68 layout. You can play by the beautiful lake while catching a view of the Great Smoky Mountains.
Graystone Inn Gold, Lake Toxaway
If you're looking for a more luxurious golf experience, the private Lake Toxaway Country Club has an 18-hole championship golf course designed by architect Kris Spence. It has 6,418 yards of plush fairways and perfectly trimmed Bentgrass greens.
Water Sports
According to geologists, the French Broad River flowing from south to north through Asheville is the third oldest river in the world. Not only has it served as a source of water, food, and transportation for many North Carolinians, but it has also drawn the attention of a sundry of tourists wanting to get wet and wild in the river.
You can enjoy Asheville by floating through the quiet 7-mile stretch of Hominy Creek to the Bywater. Located in what was once the industrial section of the city, this stretch now runs through the River Arts District, which houses more than 150 studios for artists.
If you're the type who enjoys water sports, there are many options available:
Whitewater kayaking
Stand-up paddleboarding
Inner-tube floating
"Bellyaking" (which actually originated in Asheville)
Fly fishing
Dog-friendly Places
Asheville isn't just a place for human tourists — dogs are very much welcome, too. In fact, there are over 80 dog-friendly activities and 215 dog-friendly hotels for your furry companion.
While there are two off-leash dog parks in Asheville — the French Broad River Park in 580 Riverview Dr. and the Azalea Dog Park in 395 Azalea Rd. — the city generally requires dogs to be on a leash once they leave your property. In the interest of safety, dogs are also not allowed in most downtown festivals.
However, if you're raring to go on an adventure with your furry friend, there are many places you could visit with them, though you should call ahead to learn about any rules or restrictions.
Dog-Friendly Places To Visit
Biltmore
North Carolina Arboretum
Chimney Rock State Park
Rocky Broad River
Dog-Friendly Dining Areas
Asheville Pizza & Brewing Company
Battery Park Book Exchange & Champagne Bar
Carmel's Restaurant and Bar
Laughing Seed Café
Mayfel's
Posana
Rhubarb
Sunny Point Cafe
Southern Kitchen & Bar
The Jerusalem Garden Café
Twisted Laurel
West End Bakery
Dog-Friendly Breweries
Burial Beer
Fleetwood's
French Broad River Brewery
Green Man Brewery
Hillman Beer
Tasty Beverage Co.
UpCountry Brewing
Urban Orchard
Westville Pub
Wicked Weed Brewing
Attractions
Asheville's streets are peppered with numerous magnificent attractions, giving the city its eclectic personality. It has seen a lot in its 200-year history, and various structures that have marked a certain era or event remain standing to this day. To get the full Asheville experience, be sure to venture into these local landmarks that have helped put Asheville on the map:
The Biltmore Estate
This massive hundred-year-old property is far from being a forgotten edifice. Constructed late in 1895, the Biltmore Estate has stood the test of time and remains a popular tourist attraction year-round. Sitting on 8,000 acres of land, this 178,926-square-foot marvel of architecture is considered America's largest home, with over 250 rooms inside.
The Biltmore Estate was built as a dream home by George Vanderbilt, heir to the Vanderbilt family's railroad fortune. Aside from its gargantuan structure, what makes this mansion so fascinating are the 22,000 books amassed by George himself. He read around 3,000 of the books in his collection.
At the estate entrance lies Biltmore Village, a community of historic homes dating as far back as the 1900s.
Asheville Museums
Helping preserve Asheville's heritage and culture for generations to come is its collection of museums which are just as historical or even eccentric as the other structures known in the city. Check out these museums, and be sure to allot a day for them in your itinerary:
Asheville Art Museum: As the third-oldest art museum in North Carolina, the Asheville Art Museum was originally a three-room structure in 1948 on Charlotte Street. It has seen many homes over the past 70 years. It showcases its collection of art from the 20th and 21st centuries and continues to conduct exhibitions, tours, concerts and performances, film screenings, lectures, and even volunteer programs. The Asheville Art Museum is located at 2 S. Pack Square.
Asheville Museum of Science: The museum itself may only be five years old, but its origins date as far back as the 1920s and can be traced to Burnham S. Colburn, who helped found the Southern Appalachian Mineral Society. It was his extensive collection of minerals that sparked the beginnings of the Asheville Museum of Science.
Exhibits, displays, special events, and educational programs can be enjoyed in the museum, along with other hands-on activities in its very own STEM lab. The Asheville Museum of Science is located at 43 Patton Avenue.
Asheville Pinball Museum: If you'd like to go back in time and play some retro games, the Asheville Pinball Museum is the place to be. With over 50 pinball and classic video games, you can keep yourself entertained for an unlimited time. The oldest machines are from the 1940s, and while you can't play those, machines made in the 1960s and beyond still function wonderfully. The Asheville Pinball Museum is located at 1 Battle Square.
Moogseum: This place celebrates the life and work of Dr. Bob Moog, a music pioneer and long-time resident of Asheville. He is best known for inventing the Moog Synthesizer in the 1960s. The Moogseum conducts eight interactive exhibits designed to explore sound, science, and technology. The Moogseum is located at 56 Broadway Street, Front.
North Carolina Arboretum
For those who are into nature, the North Carolina Arboretum has some of the most beautiful and botanically-diverse plants this side of the Appalachian Mountains. It also has biking and hiking trails, educational programs, and exhibits and events. Established as an affiliate of the University of North Carolina System in 1986, this 434-acre public garden is surrounded by meandering creeks and forested coves, making it one of the most beautiful natural settings in the country.
Shopping
Asheville's retail scene is just as diverse as its arts and culture scene, with its many independent boutiques and open-air markets. There's something for everyone when you go shopping in Asheville. It has establishments of almost every kind, from independent bookstores to craft galleries, vintage clothing, and other specialty shops that are truly unique to the city.
It's impossible to list all the shops in Asheville, but here are some that may be of particular interest:
Points of Light Crystal and Mineral Gallery
Ten Thousand Villages
Asheville Emporium
Adoratherapy
Appalachian Craft Center
American Folk Art and Framing
Arts and Culture
The River Arts District is the heart of Asheville's arts and culture scene, with 150 artist studios offering demonstrations and workshops ranging from visual art to the delicate practice of glass blowing. Once an industrial zone sitting east of the railroad tracks, the River Arts District transformed into a place that catered to creativity, entertainment, and commerce.
Every year during the fall, an entire weekend is dedicated to a Studio Stroll that allows visitors to check out as many studios as they want via free trolley rides that pass through 22 buildings within 2 square miles.
The music scene is also very much alive in Asheville. Many breweries feature live music from local jazz, rock, and bluegrass musicians. Aside from the various clubs, small lounges, and music halls that regularly host music events, there's also the public drum Circle over at Pritchard Park that attracts drummers and dancers alike on Fridays at 5 PM. Outdoor concerts in the summer and street buskers downtown are also a regular fare.
Of course, the arts and culture scene won't be complete without discussing Asheville's literary history. Thomas Wolfe, author of Look Homeward, Angel and You Can't Go Home Again, was a resident of Asheville whose books, ironically, kept him from returning to the city until 1937. Many residents didn't take kindly to his work, which portrayed the city and its residents as unfriendly and ignorant. His birthday, October 3rd, marks the annual Thomas Wolfe Festival, a four-day event dedicated to celebrating his life and times. The boarding house his mother ran has also been preserved as a memorial and state historic site.
Revered author of The Great Gatsby, F. Scott Fitzgerald, also stayed in Asheville's historic Grove Park Inn and was said to have enjoyed drinks while overlooking the city's view from the inn's large porches. A local tale claims that a photo of Fitzgerald and his wife Zelda once hung in the inn, but it was found that the woman in the photograph was one of the author's lovers and not his wife.
Sports
The spirit of teamwork, camaraderie, and friendly competition is alive and well in many of Asheville's sports teams. If you're into the thrill of spectator sports, take a look at some of the most popular offerings:
Minor League Baseball
Minor League Baseball in Asheville dates as far back as 1897 with the Asheville Tourists, the farm team for the Colorado Rockies Major League Baseball Club since 1994. Under its long and colorful history, The Tourists have won 3 minor league championships, the most recent of which in 2014, and had gained fame that reached even Hollywood as the team was featured in the Kevin Costner film Bull Durham.
McCormick Field, with its 4,000-seat capacity, is the regular sight of home games. In keeping with The Tourists' moniker, the scoreboard is divided between "Visitors" and "Tourists," with the games promoting a family-friendly atmosphere and exciting player engagement.
College Basketball
While it has yet to reach the big leagues with the NBA, college basketball in Asheville remains a favorite among sports fans, thanks to the UNC Asheville Bulldogs. This team of record-holders is a Big South league that gave Winthrop a run for its money, having won at least 15 games for 11 consecutive seasons (Winthrop maintained its wins for only 10 seasons).
In 2016, the UNC Asheville Bulldogs won the Big South Conference Tournament, earning them an invitation to play in the NCAA Tournament. In 2017, the men's team won its 6th Big South regular-season conference championship. The women's team, on the other hand, won in both the 2016 and 2017 Big South Tournament championships, also earning them the invitation to play in the NCAA tournament in those years.
Soccer
Founded in 2016, the Asheville City Soccer Club is a National Premier Soccer League team that plays its home games at the Memorial Stadium downtown. Their logo and color scheme speak volumes about how proud they are of their Asheville roots: the blue is symbolic of The Blue Ridge Mountains, while the white, which represents all colors, depicts the team's diversity.
Roller Derby
Roller derby as a sport may have gained Hollywood fame with the 2019 film Whip It, but it's hardly a new sport. In fact, it grew out of skating marathons back in the 1930s. Today, as a fast-paced spectator sport, it has a solid following in Asheville among locals and visitors alike. The Blue Ridge Rollergirls, Asheville's first all-female roller derby league founded in June 2006, strap on their skates and take to the track from March through August. Through their bouts and appearances, the Blue Ridge Rollergirls also help raise funds for other non-profit organizations. They are also a member of the Women's Flat Track Derby Association.
Education
Asheville and its surrounding areas are home to various educational institutions of all levels, whether private or public. The historic Black Mountain College, which ran from 1933–1957, marked the period of academic prosperity for Asheville with its curriculum that integrated artistic innovation with liberal arts. SAT scores for both Asheville City and Buncombe County are above mean North Carolina scores and exceed U.S. mean scores.
For district schools, there are six elementary schools and four secondary schools. Meanwhile, for Buncombe County, there are 23 elementary schools, four intermediate schools, and 18 secondary schools.
Additionally, here is a list of higher education and private schools in Asheville and surrounding areas:
Higher Education Schools
Asheville-Buncombe Technical Community College
Brevard College
Mars Hill University
Montreat College
The University of North Carolina at Asheville
Warren Wilson College
Western Carolina University
Private Schools
Asheville School
Asheville Christian Academy
Carolina Day School
Christ School
Hanger Hall School for Girls
New City Christian School
Odyssey Community School
Rainbow Mountain Children's School
The New Classical Academy
Real Estate
Asheville's real estate is just as diverse as its culture. With over 40 neighborhoods in the Asheville proper, houses, high-rises, and even a quaint cabin in the woods are all available options.
Market forecasts for Asheville are positive, though there is a possibility that home values will be higher in the third quarter of 2021 than in 2018. Trends in real estate indicate no increases for median home sales and median rent costs per month.
On average, houses in Asheville sell in around 63 days, with an average sale price of $324,000 in 2019, up by 3% compared to 2018. The average price per square foot is $212, indicating a 5% increase compared to 2018.
If you're moving to Asheville, you can find many types of homes listed on different websites, so be sure to shop and compare which one would work best for your budget.
Moving In
Asheville is a city with a multifaceted personality, offering a diverse range of activities and attractions that are sure to be unforgettable. Moving into Asheville might not be the most affordable in terms of budget, but it's a city where you can enjoy a priceless experience. Moving to Asheville - Your Guide to Living in Asheville, NC