Moving to Outer Banks - Your EZ Guide to Everything Outer Banks, NC
Posted by Preston Guyton on Monday, April 19, 2021 at 3:37 PM
By Preston Guyton / April 19, 2021
Comment
Moving To Outer Banks: Your Guide To Living in Outer Banks, NC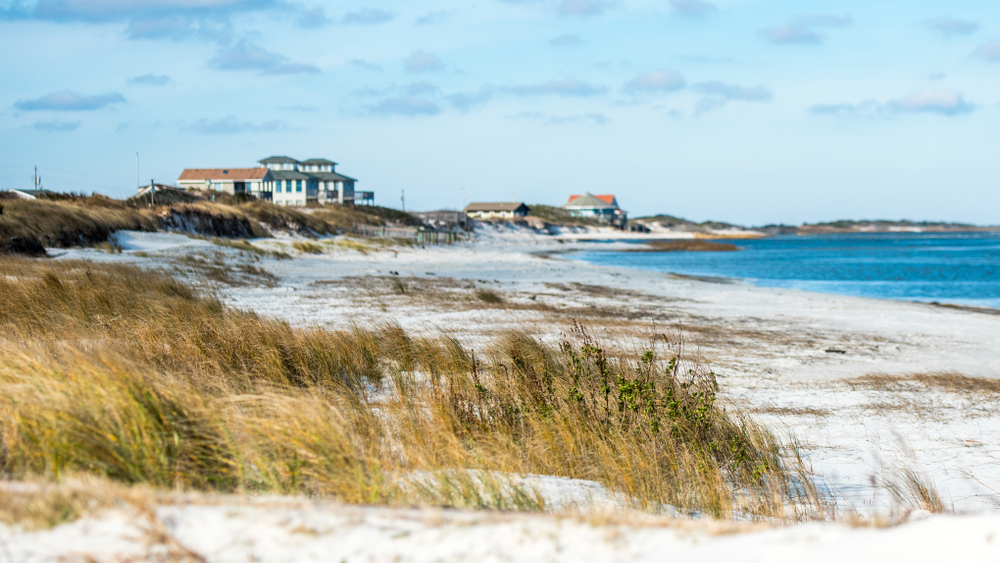 It shouldn't come as a surprise that people from all over the world move to the Outer Banks, whether from within the country, Canada, or as far as Germany. The number of people relocating to the Outer Banks and North Carolina, in general, is astounding. Because of this, Outer Banks has a diverse collection of people that live in a close-knit community. The main towns found in the Outer Banks include Dare County, Nags Head, Corolla, Kitty Hawk, Kill Devil Hills, and more.
But just because these areas are relatively small, that doesn't mean it's boring — there's always something happening in the Outer Banks. From parades to festivals, you can look forward to celebrations with local art, music, food, and craft beer, which is made available the whole year. All this sounds great, and you're probably on the way to pack your bags. Luckily, we've done all the research for you, and have compiled everything you need to know before moving to Outer Banks, NC.
Cost of Living and Population Growth
The Outer Banks (often abbreviated to OBX) are a string of barrier islands that stretches for 200-miles, splitting off the coast of North Carolina and southeastern Virginia. This major tourist attraction is known for the Cape Hatteras National Seashore and its wide expanse of open beachfront. The seashore and its surrounding ecosystem make up the Outer Banks and hold essential biodiversity zones, including shrubland and beach grasses that help to maintain the land.
According to the latest U.S. Census, the population in the OBX is 57,755. While there are plenty of places where you can relocate to in this vast expanse of islands, it's best to consider the homes for sale in Nags Head, Corolla, and Kill Devil Hills if you want to be where all the action is. These are just some of the most popular destinations in the Outer Banks, all of which are full of attractions and activities.
However, a major drawback to living in places of interest around the Outer Banks is the high price that comes with the houses. Still, the draw to this area is the fact that it's a great vacation spot, with plenty of adventure in store for its residents. If you're wondering just how affordable living in the Outer Banks is, we've created a table below that compiles the expenses you can expect (using Dare County averages) along with a comparison to North Carolina's average and the national average:
| | | | |
| --- | --- | --- | --- |
| COST OF LIVING | Outer Banks | North Carolina | USA |
| Overall | 109.3% | 90.6% | 100% |
| Grocery | 100.6% | 96.5% | 100% |
| Health | 115.5% | 107.5% | 100% |
| Housing | 141.8% | 81% | 100% |
| Median Home Cost | $327,800 | $187,300 | $231,200 |
| Utilities | 98.1% | 99.2% | 100% |
| Transportation | 68.8% | 83.9% | 100% |
| Miscellaneous | 105.7% | 96.2% | 100% |
Dare County's overall cost of living is 109.3% compared to the national average.
Job Market
Because of its popularity as a destination for tourists, the Outer Banks receives plenty of seasonal work. Because of this, people who are looking for year-round work will find general employment in industries like real estate, banking, vacation home management, and construction. Those who work in specialized fields in the Outer Banks will find that there is a growing need for skilled professionals.
Another potential compromise when living in the Outer Banks is that there are no factories and very few middle management jobs to apply for. Most of the industries here revolve around restaurants, retail, and construction, all of which also rely on people who come and go during the vacation season. Furthermore, many of the restaurants and shops close during the off-season, and as a result, people will go unemployed during the winter.
We'll use Nags Head as an example of the kinds of jobs available in the Outer Banks. The average salary in Nags Head is around $17.18 an hour, with the most popular occupations being Certified Nurse Assistant (CNA), Registered Nurse (RN), and Licensed Practical Nurse (LPN), which pay anywhere between $10.81 and $30.77 an hour. The biggest employers in Nags Head are The Fresh Market, Inc. ($0 to $12), Vidant Health ($0 to $20), and The Outer Banks Hospital ($15 to $24).
Things To Do
Once you get settled with your employment in the Outer Banks, you'll see how it glows after dark with its beach-themed bars, wide-open piers, late-night shows, along with a canopy of thousands of stars. Among the beaches along the East Coast, the Outer Banks have always been a family-friendly destination, without the reputation of being a party town. However, stay awake after hours to find various things to do, both on and off the beach.
Alan Ross Karaoke
This is the place to belt out your highest note and party with friends and family. Their motto is "the more you drink, the better you think you sound" — there's nothing to stop you, not even your vocal ability (or lack of it.) But if you prefer to hear professional singers, there are plenty of places where you can unwind and relax to local musicians. The renowned beach band, The Embers, has made frequent visits to the Outer Banks at the Kinnakeet Shores Beach Club.
Jockey's Ridge State Park
Located in Nags Head, this popular attraction is home to the biggest dune on the Atlantic coast. Entry is free, so you're welcome to climb to the top of the dune and get back down using a sandboard as much as you want. The Wright Brothers' 1902 glider replica can also be found here and has plenty of room to fly your own kite or take hang gliding lessons.
Elizabethan Gardens
This 10.5-acre garden contains more than 500 various species of plants to look at and admire. Its surroundings also provide a place of peace where you can relax as you walk around. There is a live oak on the property that's believed to be ancient, having lived since 1585, when the first colonists arrived.
Climate
The best time to experience the best that the Outer Banks has to offer is during March and May or between September and November. However, locals and visitors prefer the summer months because of the warm weather. There is an average high in the upper 70s and an average of lows in the 50s, but in the winter months, temperatures can be as low as 30 degrees.
Unfortunately, living on barrier islands also creates unpredictable weather. You'll experience it all on the Outer Banks — from strong storm winds to bright and sunny days, the weather constantly changes. This means that while OBX may enjoy up to 200 days of sun every year, it can shift at any second, which is especially true during hurricane season.
Traffic
Heavy traffic in the Outer Banks usually happens between 11:00 AM and 3:00 PM with people coming in, but this can vary by an hour. However, leaving early to get where you need to go will usually save you from the pain of having to sit in traffic. Most of the traffic during turnover days occurs on the Wright Memorial Bridge, which is the route coming in.
While your GPS may say that looking for an alternative route could take more time, doing this will save you from a long wait; especially if you're coming from Kitty Hawk south. While choosing to go on Highway 64 instead of 158 can add miles to your journey, you can be sure it will keep you moving at a steady pace, and you'll be at your destination in no time.
Public Transportation
Unfortunately, because the area has various towns and places of interest spread across islands, there are only three ways to get around; car, ferry, or bike. While the North Carolina Department of Transportation provides a ferry service, you should have your own vehicle. The closest major airports to the Outer Banks are Norfolk International Airport (ORF), located around 120 miles north, and Raleigh-Durham International Airport (RDU) located 230 miles west.
Car
Cars are a necessity in OBX, and as a result, the traffic can be harsh during peak season. If you don't have one just yet, there are rental agencies at the Norfolk International Airport and in Kill Devil Hills.
Ferry
There are a handful of ferry services in the OBX area which are the best way to hop around various islands. However, they can become overcrowded during summer, so it's best to make a reservation in advance online.
Bike
If you want a more leisurely and scenic way to get around OBX, consider getting a bike. The Outer Banks is home to many bike paths and is relatively flat. You don't need to purchase one yourself, since there are several bike rental shops, such as Ocean Atlantic Rentals and Kitty Hawk Kites.
Golf
The Outer Banks is home to some of North Carolina's finest year-round public courses. With the gentle ocean breeze and beautiful sunny days, you can enjoy playing your game on an island sandbar, away from the usual greens.
Nags Head Golf Links
Located in Nags Head, this 18-hole Scottish-style championship course came from the bright mind of Bob Moore. Bermuda fairways and bentgrass greens complement the landscape and can stay in good condition throughout the year. Its clubhouse features a bar and restaurant, along with a golf shop.
Sea Scape Golf Links
This 18-hole championship course was designed by former Masters Champion and PGA tour player Art Wall. It offers a beautiful view of the sea and sits at the edge of the Kitty Hawk Maritime Forest. Inside the premises, you'll also find a restaurant and pro shop.
Duck Woods Country Club
Designed by Ellis Maples, this 18-hole championship course is located in Southern Shores at Milepost 1 behind Kitty Hawk Elementary School. Bermuda fairways and bentgrass greens zigzag through natural wetlands, canals, and beautiful woodlands. Its full-service clubhouse features a lounge and golf shop, as well as banquet and dining facilities.
Water Sports
Because water is such a huge part of living in the Outer Banks, water sports are a favorite among locals. With over 100 miles of golden sand and pure Atlantic saltwater, there is a different water sport to enjoy every day. As such, the area has become a playground for people to explore the nature around them.
Surfing
The largest waves on the East Coast can be found on the Outer Banks of North Carolina, and have made a huge reputation that surfers around the world are well aware of.
Diving
With close to 3,000 shipwrecks along with its islands, (some of which go back to the first English settlements in America) the Outer Banks is known as the Graveyard of the Atlantic.
Stand Up Paddleboarding
Paddling to the sight of a perfect sunset on the horizon is a great way to spend the afternoon, but for something a bit more challenging, take your SUP to catch some waves.
Kayaking and Canoeing
There are guided tours and plenty of water access around the barrier islands where you can take your canoes and kayaks to roam around open shallows and salt marshes.
Sailing
Sailors of any range have the option to rent, learn, or ride around the Intracoastal Waterway. Whether a newcomer or an expert, you'll be able to enjoy several local docks and marinas.
Kiteboarding & Windsurfing
Dubbed as the "Kiteboarding and Windsurfing Capital of the East Coast," the Outer Banks offer consistent and steady winds, shallow sound waters, and temperate weather, perfect for various activities.
Dog Friendly
You'll also be happy to know that Outer Banks is a pet-friendly place where you can take your four-legged friend to spend the day by the water. So take the chance to go out for an adventure around the area, and check out these spots that your dog is sure to love.
Jockey's Ridge
At Jockey's Ridge, you can take a hike with your pup and enjoy a sandy walk by the dunes. However, make sure that you're up to date with the pet safety rules before going on your way.
Snowbird Ice Cream
Treat yourself and your pooch to Snowbird Ice Cream in Nags Head. From milkshakes, burgers, and ice creams, you can snack on a selection of goodies while your pup enjoys a cup.
Nags Head Woods
Keep your dog active by going for a stroll in the Nags Head Woods. It has seven different trails to offer, so you can spend a whole day walking, jogging, or biking with your fur baby.
Attractions
While spending your day by the quiet and tranquility of the beaches is the number one thing to do, it's not the only thing you can do. There are many attractions to experience in the Outer Banks, which both visitors and residents take advantage of. Here are just a few of the notable attractions that OBX has to offer: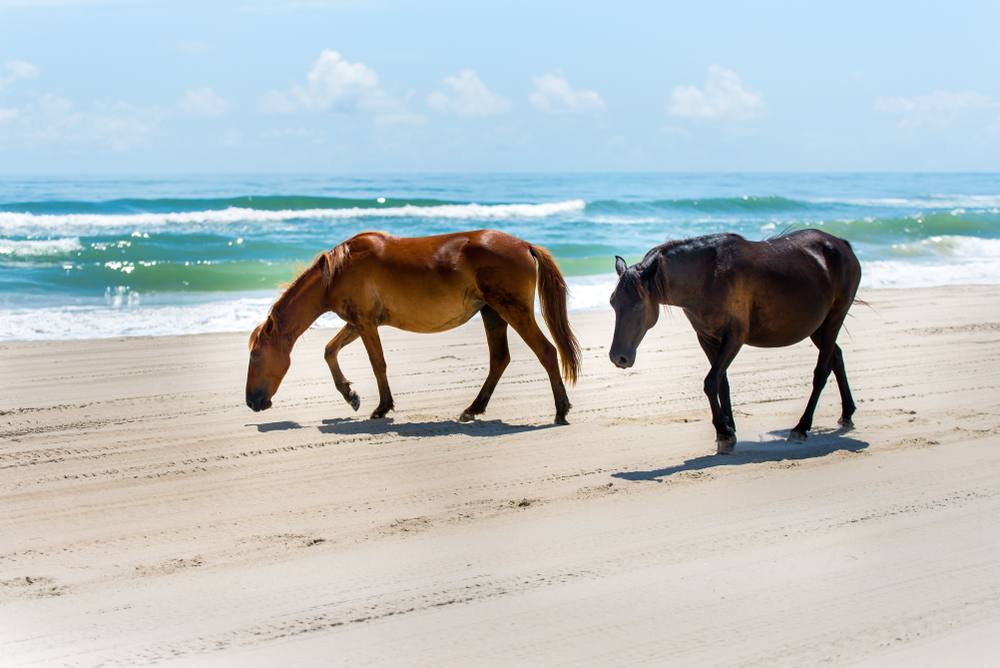 Corolla Wild Horses
Here is where you'll discover the beauty and grace of wild horses by the beach. These descendants of the Spanish mustang are highly sought out by painters, photographers, and writers who visit this area for inspiration. It will take a bit of planning to see these stallions since they roam around various areas. You can, however, explore further by renting a jeep or taking a guided tour with companies that operate within the area.
North Carolina Aquarium
Thankfully, not everything there is to see in the Outer Banks is outside. Indoor adventures are also available, one being the North Carolina Aquarium, where you can see rescued sea turtles being rehabilitated inside the STAR center. There are also various exhibits and educational research facilities to see and learn from, and you can experience the free animal programs and feedings daily. For a heart-pumping visit, you can schedule a dive with the aquarium's sharks — if you're brave enough.
Shopping
A trip to the beach just wouldn't be complete without spoiling yourself with a bit of retail therapy! For the best shopping experience that the Outer Banks has to offer, be sure to head to these great shopping venues:
Kitty Hawk Surf Co.
For all your beach gear needs, head over to Kitty Hawk Surf Co., which sells brands like Roxy, Billabong, and Quicksilver. It's also the number one destination for new and used water recreation gear. There's no need to travel far to get there — they have shops in Corolla, Nags Head, Duck, and Rodanthe.
Scarborough Lane Shoppes
Since 1995, the Scarborough Lane Shoppes has served shoppers at Duck, NC with stores such as The Nags Head Shop, Outer Barks, Ocean Treasures, The Mystic Jewel, and Confetti Clothing. The area is also home to a few restaurants such as Fishbones Restaurant and Duck Pizza Company if you get hungry while you shop.
Outlets Nags Head
If you're looking for sunglasses, shirts, shoes, and more from your most-loved brands, then look no further than Outlets Nags Head. With a range of shops like GAP, Banana Republic, Talbots, Michael Kors, J. Crew, and more, you'll get a great selection of quality brands all in one place!
Art and Culture
While it doesn't have much to offer in the art department, the Outer Banks is known for its mouth-watering, locally caught seafood combined with classic North Carolina flavors. Its many islands feature various locally-owned bars, restaurants, taverns, and bars. With so many options to choose from, you might just drown in all the food it has to offer.
Fish Heads Bar and Grill: This waterfront pub and tiki bar are located in Nags Head, where its fishing pier offers locally caught favorites and live music.
Sundogs: Featuring karaoke and live music, this raw grill and bar in Corolla serve up classics such as nachos with crab dip.
Black Pelican: Serving lunch and dinner daily, this restaurant offers beautiful ocean views along with seafood, steaks, pizza, and vegetarian-friendly dishes.
Sports and Sports Teams
The Outer Banks Sporting Events organizes various competitions and sporting events, with the mission to promote healthy lifestyles, as well as provide financial resources for education and relief needs. Because of the area's beauty, running events have become quite popular, and water sports are also a big deal to the locals. Various sporting events in the Outer Banks area include:
The Annual Running of the Leprechauns: The 10K route includes portions of gravel trail, and is a loop, while the 5K route is all on road and uses an out-and-back course. If you finish, you might get lucky! Finishers get a medal while shirts are given to everyone.
Outer Banks Triathlon: This grueling swim-bike-run marathon starts with a swim through the Croatan Sound on Roanoke Island. It consists of two days of multi-sport racing which includes three distances, along with aquabike options.
8K, 5K, & Fun Run: These races take place on Saturdays and involve an out-and-back course, starting at the First Flight High School track in Kill Devil Hills. Kids and adults can also enjoy participating in the one-mile Fun Run.
Education: Schools and Colleges
In terms of education, Outer Banks has a great school system, with Dare County typically ranked in the top 10 counties in North Carolina. You can rest easy knowing that schools constantly raise money to contribute towards getting better facilities and equipment inside their schools while the PTA's within the schools are also highly active. Furthermore, because of the cultural diversity in the area due to travelers, and people moving in, there is a great atmosphere of acceptance and tolerance that fosters an excellent learning environment for children and youth.
Some notable schools in the Outer Banks area include:
College of the Albemarle: This is a great community college that boasts some of the best teaching professionals with outstanding credentials.
Elizabeth City State University: This school provides several four-year learning experiences for students.
Real Estate
Outer Banks is one of the fastest-growing real estates in the country, which means that houses tend to sell quickly. While the prices are quite high, it is still cheaper to live here compared to places like the Florida Keys, so if you want a piece of your own paradise, get in the game quickly. Here are just a few market trends that you should know:
Increasing Sales
The real estate market in the Outer Banks has been steadily increasing over the past few years and hasn't shown any signs of slowing down since 2018. Based on the annual report from Outer Banks Realty Group, a total of 1,700 houses were sold with an average price of $346,000 in 2018. Between the beautiful lighthouses and the fine sand of the beaches, the alluring features of the Outer Banks will only continue to bring in more people every year.
Rising Prices
In 2017, the median price for homes in this area was $313,021, making it the highest price since 2014. If you're thinking about moving or making an investment, then now is the time. Year after year, the prices of homes in the Outer Banks area have only grown, with a 4% jump in price from 2017 to 2018; estimates show it will only continue to go up into 2021.
Homes Are Selling Even Faster
The number of days that a house in the Outer Banks stays on the market is getting even lower while the demand for homes steadily increases. With more than seven million visitors coming to the Outer Banks yearly, the demand for houses can only go up.
Welcome to Outer Banks!
While year-round living on the Outer Banks may not be for everyone, there are plenty of reasons why you need to invest in property now. Whether you use it as a beach house for your summer getaways, rent it out as an Airbnb for the millions of tourists that visit every year, or you want to purchase your own beachfront home, now is the time to make a great investment. Not only will you have plenty of outdoor adventures to enjoy if you choose to live in the Outer Banks, but you can also create a business out of the purchase you make.
If the ocean calls out to you, and you find beach-living such an appealing change of pace from the city life you've been wanting to get away from, then here's your chance. With so much to look forward to, making the move to the Outer Banks isn't such a hard decision to make, and with the great weather, food, culture, and plenty of things to do, no two days are ever the same. So pack your bags and get your sunglasses and swimming gear ready; the Outer Banks is calling you home.