Moving to North Carolina - 16 Cities you Must Visit Before Making the Move!
Posted by Preston Guyton on Tuesday, March 23, 2021 at 5:11 AM
By Preston Guyton / March 23, 2021
Comment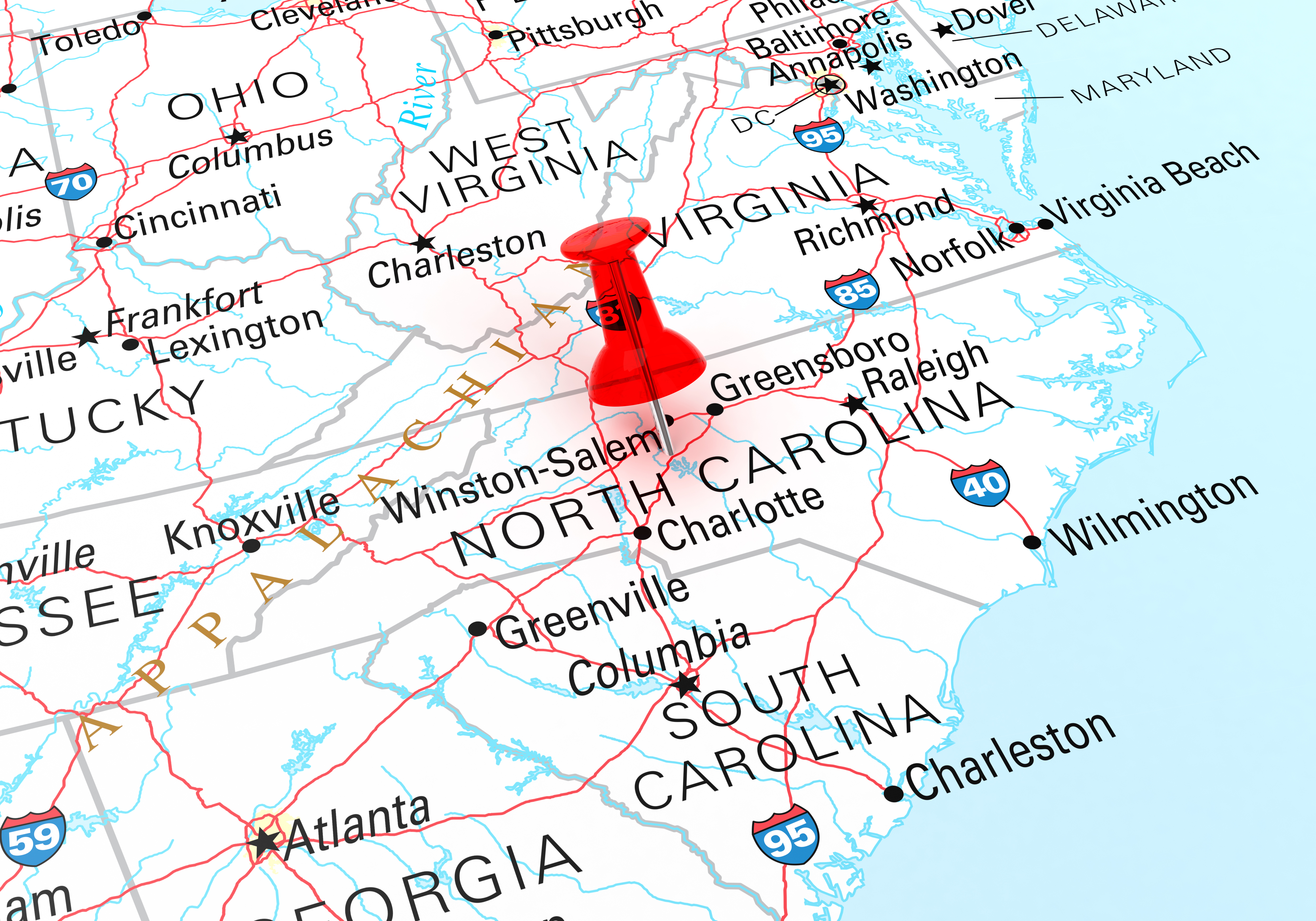 From being the first colony to tell its delegates to vote for independence from the British Crown in 1776, North Carolina has grown exponentially through the years. North Carolina now has 10.5 million residents, and more are expected to move to the state because its economy is booming, educational institutions are top-notch, and the cost of living is extremely low.
The weather in North Carolina is relatively mild compared to other areas in the country, with a lesser likelihood of sweltering heat waves or frigid blizzards. North Carolina also has excellent healthcare options, innovative and classic cuisine, and plenty of cultural attractions.
North Carolina has many things to offer, making it one of the best places to live. If you're convinced that moving here is a great choice, make sure to visit these areas first:
Asheville
Asheville is located in the Blue Ridge Mountains and is considered the perfect place for young artists, foodies, musicians, and professionals. Asheville has a big city appeal but with a small-town charm, ideal for individuals who have lived their lives in small towns or areas.
Asheville is also known for its nature and outdoor adventures because there are countless state parks and national forests surrounding the area. Regardless of your preferred outdoor activity — whether it's having a picnic with family to cruising broad rivers to mountain biking during the weekend — Asheville doesn't disappoint.
Aside from these, Asheville also takes pride as the health and wellness hub in Western North Carolina. This city houses Mission Health, the state's six largest healthcare facilities that offer more than 800 beds. Asheville also has several wellness centers and yoga studios.
If you consider yourself as a "foodie," you'll surely have fun in Asheville. This city will satisfy your cravings, regardless of your preferred cuisine. Asheville is a great place to try out dishes from traditional southern cooking, even if you have several dietary restrictions. This city is also fond of recreating classic dishes and serving them in many different cafes and farm-to-table eateries.
Population: 83,393
Average home price: $268,100
Boone
Boone is a small town located in the western region of North Carolina and is famous because of its association with Daniel Boone. Previously known as the Council's Store, this community was eventually called Boone in honor of Daniel Boone, who spent countless overnight hunting trips in and around town. Daniel Boone was a famous explorer and pioneer who moved with his family to North Carolina around 1752 and often camped out within the city limits.
Aside from the name, Daniel Boone's contribution to this town can be found in many different locations. For one, a monument made of concrete and stone was built on the same spot where Daniel's log cabin stood decades ago. There is also another Daniel Boone statue located at the AppState Duck Pond in downtown Boone.
Boone has a rich and interesting history, but it's not the only reason why people flock to this town; Boone also offers countless attractions, namely the Grandfather Mountain, where you can enjoy a world-class eagle aviary and nature museum. If you're a little adventurous, you can also trail the mountain with your friends or with other tourists.
Some other attractions you can enjoy around Boone are the Linville Caverns, Mystery Hill, state parks, and ski resorts. If you want to spend your day with some laid back or relaxing activities, you can also witness the Horn in the West, an outdoor drama that showcases the adventures of Daniel Boone and his contribution to the American Revolution.
There are also many public schools in Boone, making it one of the most ideal places to raise a family and continue your education.
Population: 19,667
Average home price: $428,000
Cary
If you want to get out of your comfort zone and meet different people every single day, Cary is the best place for you. Cary is located next to Raleigh and offers residents a small-town ambiance equipped with plenty of amenities. Cary is tagged as "exceptionally liveable" because of its high-rated educational institutions, booming job market, low crime rates, and great weather.
Cary is also one of the best places to raise a family because, besides the level of education and lesser number of crimes, it also offers several attractions, events, and recreational activities suitable for the entire family. Cary currently has 30 city parks, such as the Marla Dorrel Park, Downtown Park, Jack Smith Park, and the city regularly hosts huge events, like the Food Truck Rodeo, Cary Dog Days, and Jewish Cultural Festival. Cary is also the home to the North Carolina Football Club and has countless facilities that allow locals to swim and play tennis.
Aside from these, Cary is also a bike-friendly area, which means that you can ride your bike every single day and not worry about causing or being involved in accidents on the road. Cary has striped bike lanes, multi-use trails, and official bicycle routes that will give you peace of mind as you're pedaling your bike even on busy streets. Also, because Cary has four large farmers' markets, you won't have to worry about eating and living healthy when you live here. You can even witness cooking demonstrations upfront, so you'll know how to prepare your meals from scratch at home.
Population: 135,234
Average home price: $450,000
Chapel Hill
Although Chapel Hill is a small town, it still offers different things to different people. For one, living in Chapel Hill isn't too expensive because the cost of living is affordable compared to other cities in the region. For example, renting a four-bedroom house in Chapel Hill will only cost you $1497 every month, while you'll have to pay $1601 for the same accommodation in other US cities.
The food in Chapel Hill is also incredible as there are many restaurants that serve superb meals during different times of the day. For starters, you can enjoy the best mouth-watering chicken biscuits for breakfasts at Sunrise Biscuit Kitchen, to-die-for sandwiches for lunch at Merritt's Store, and Southern culinary goodness for dinner at Mama Dips.
There are also a lot of employment opportunities for various industries around Chapel Hill. Since most developments of research and technology came from this region, you can expect to find employers thriving in this industry, namely GlaxoSmithKline and IMB.
Although the cost of living, food scene, and employment opportunities are usually enough to convince anyone to move to Chapel Hill, there's still more. Church Hill also hosts special events for all ages, such as firework displays, art festivals, and major sporting events. This town also has one of the best healthcare systems in the state.
Population: 57,233
Average home price: $404,000
Charlotte
One of the reasons why more and more people are moving to Charlotte is because it's the second-largest banking center in the US. According to statistics, the financial industry in Charlotte has grown significantly since 2000, with over 82,000 people working in finance and insurance. The growth of this industry continues to attract bankers and financiers on a global scale.
Living in Charlotte also allows you to experience a great quality of life because everything you can possibly need to live comfortably is right at your fingertips. In Charlotte, you can enjoy many outdoor activities, such as rock climbing, zip-lining, rafting, kayaking, and more. Since the Reedy Creek Nature Preserve and the Great Smoky Mountains National Park is nearby, you can opt to spend some quiet time in these areas during weekends.
You can also enjoy different cuisines from several restaurants in Charlotte. This city is home to some of the most world-famous restaurants, such as The Asbury, Sea Level NC, 5Church, and McNinch House.
Moreover, the local real estate in Charlotte is booming, making it easier for you to find a neighborhood that suits your needs. Regardless of if you're looking forward to living in a high-rise apartment or a residential property with a huge yard, Charlotte will always have something to offer.
Average home price: $295,000
Durham
Durham has gained popularity worldwide because it houses some of the best educational and healthcare institutions. In the southern area of this city, you'll be able to access Duke University and Duke University Hospital, a combination that provides an ideal learning environment for individuals who want to learn in the research and healthcare industries.
Moreover, the top four schools in the area are also public schools, making it easier for anyone to earn a degree from the best educational institutions. The education you'll gain from this city will make it easy for you to land a job in the future — and you won't have to worry because Durham offers a lot of employment opportunities, especially in the field of research and development.
Once you spend time in Durham, you'll realize that this city highly values the arts and their creative community. In fact, you can experience local culture by visiting the Durham Performing Arts Center (a local theatre that brings concerns and stand-up comedians), Moogfest (an annual music festival held in downtown Durham), and Third Friday (an event where the city hosts an art walk).
North Carolina is known to be a haven for outdoor adventurers, and Durham isn't an exception. In fact, this city has over 600 acres of gardens, parks, and walking trails. Because the weather in this city is hot during summer yet moderate during winter, you'll have more time to engage in outdoor activities!
Population: 228,330
Average home price: $275,000
Fayetteville
There are a lot of reasons why Fayetteville is one of the best cities to live in if you're planning to settle in North Carolina. For one, the cost of living in this city is cheap as grocery prices are about 4% lower and utility prices are 5% lower than the national average. The affordability of the city makes it easier for students and families to adjust.
Fayetteville isn't just cheap; it's a city that offers a lot of things. You'll have plenty of reasons to try your hand at golf when you live in Fayetteville, as this city has top-rated golf courses, namely the Highland Country Club, Ryder Golf Course, Baywood Golf Club, and Bayonet at Puppy Creek.
Living in Fayetteville will also give you the best of both worlds — this city is conveniently located near beaches and mountains. If you want to spend your weekend frolicking in the sand, you can visit Oak Island, Holden Beach, and Wrightsville Beach. If you enjoy mountains, Sugar Mountain and Beech Mountain are two of the best options in North Carolina.
Aside from the activities the city has to offer, are you aware that Fayetteville is also a wonderland to people who have a sweet tooth? Fayetteville is known to serve the best gelatos in the state. If you want to vouch for such a claim, make sure to head out to The Coffee Scene, Smallcakes, and Mad Hatters Ice Cream Shop the next time you visit Fayetteville.
Population: 200,564
Average home price: $140,000
Greenville
Since it's the eleventh most populated city in North Carolina, you can expect a lot of things when you visit and spend time in Greenville. Although the people living in this city are from different walks of life, they are known to be generous, especially to tourists like you. Most of the locals in Greenville love to welcome tourists from different parts of the world, so be prepared whenever someone approaches you and introduces you to the attractions around the city.
Aside from its locals, the food scene in Greenville is also thriving and continues to attract people from near and far. When you're in Greenville, make sure to eat from food trucks to make your trip memorable. Villa Verde, Smash Waffles, and The Rock Food Truck are some of the locals' favorites, so don't forget to try them out when you visit North Carolina.
Additionally, Greenville houses restaurants that offer different types of cuisines, namely Indian, Italian, Mexican, Thai, and Caribbean. For you to get the full Greenville experience, allocate time to visit some of the best bars in the city, such as Applebee's Neighborhood Grill and Bar, Club 519, Chili's Grill and Bar, and Dickinson Avenue Public House.
Population: 94,822
Average home price: $195,000
Greensboro
Just like other areas in North Carolina, Greensboro also offers affordable living in a well-run city, a growing job market, and several outdoor activities. Just when you thought you'd seen it all, Greensboro has something more to offer, like its eco-friendliness.
Greensboro is one of the top green cities in the world and has taken many steps to reduce the city's carbon footprints. For one, Greensboro has implemented earth-friendly transportation initiatives, namely the Specialized Community Area Transportation (SCAT) and Higher Education Area Transit (HEAT).
Greensboro is also home to America's greenest hotel, the Proximity Hotel. This hotel is the first to receive the LEED Platinum Certification from the US Green Building Council, which means that the building operates effectively while attaining water efficiency, energy savings, indoor environmental quality, and reduction of CO2 emissions.
Aside from being an eco-friendly city, you can also experience different cultures when you're in Greensboro. This city usually offers performances from ballet dancers, operas, symphony orchestras, and even theatre communities.
If you have the opportunity to schedule your trip to Greensboro any time of the year, make sure that you do it during the first week of September because this is when the NC Folk Festival takes place. This is one of the fastest-growing free festivals happening in the region.
Population: 269,666
Average home price: $189,000
High Point
Founded in 1859 by the German immigrants and Quakers, High Point, North Carolina has become a cultural center and manufacturer in the country. Thousands of people flock to High Point every single year to purchase the best pieces of furniture. Besides, High Point isn't known as the furniture capital of the world for nothing, right?
Through the years, High Point has become the go-to destination for people who are looking for unique and customized pieces of furniture. The furniture industry in High Point started in 1889 and boomed after functional furniture was produced by the artisans from the city. The growth of the furniture industry in High Point is also the reason why furniture shops, both big and small, set up their brick-and-mortar store in High Point.
Aside from being the manufacturer of different types of furniture, High Point also has a tight-knit community that allows individuals to celebrate their diverse backgrounds. When you spend some time in High Point, you'll see how close the locals are to each other and how their community enticed a lot of people worldwide to move to the city.
For you to get to know these locals better and feel that you're a part of their community, participate in community events held around the city. You can join the Latino Heritage Festival during October, where everyone is expected to dance, sing, and eat a wide variety of Latin American food. Other events celebrated in the city are the annual Easter egg hunt and one-stop food truck rally.
Population: 111,714
Average home price: $195,000
Jacksonville
Because Jacksonville is located near the Atlantic Ocean, you'll experience different weather when you start to live in this city. Jacksonville is coldest during January with an average low temperature around the freezing point and hottest during the months of July and August with a temperature around 70 degrees. The temperature during this time of the year can even increase up to 90 degrees.
Another interesting fact about Jacksonville is that the city was home to some of the best military camps in North Carolina. The first military camp in Jacksonville was Camp Lejeune, established in 1941, which occupies about 153,439 acres of land with 14 miles of beach on the Atlantic Ocean.
Jacksonville had made its mark in the history and culture of North Carolina decades ago and still continues to wow locals and tourists with its attractions. Today, Jacksonville is known to be a city that offers a lot of things to anyone who wants to visit — from unusual entertainment options to on-post events around Camp Lejeune.
The local real estate industry around Jacksonville is buyer-friendly, which means that you don't have to break the bank just to live in a decent home. Aside from the high turnover rate of military residents, the proximity of Jacksonville to beaches and oceans is also one of the reasons why the cost of living in this city is cheaper than the state average.
Population: 73,025
Average home price: $179,900
Outer Banks
Frequently abbreviated as OBX, the Outer Banks is a 200-mile string located off the coast of North Carolina and southeastern Virginia. The Outer Banks separates the Albemarle Sound, Currituck Sound, and Pamlico Sound from the Atlantic Ocean. The Outer Banks is a major tourist destination because of its wide beachfront and the Cape Hatteras National Seashore and because it's one of the best places to enjoy the sun and sea, especially during the summer months.
Even though the Outer Banks is smaller than the other areas around North Carolina, it still has a lot to offer. For starters, Outer Banks has an abundance of community organizations that can become your platform to meet people from various backgrounds. These organizations will also encourage you to take part in many social activities, such as community choirs, surfing competitions, volunteer works, and even marathons.
Contrary to popular belief, water activities aren't the only things you can take part in when you're in the Outer Banks. There are actually a lot of fun things to do in this area, and most of these don't involve the beach. You can make the most out of your trip in the Outer Banks by visiting the Wright Brothers National Memorial, Jockey's Ridge State Park, and Elizabethan Gardens.
If you want to take your experience in Outer Banks up a notch, consider riding horses that run free on the island or climb a lighthouse. The food served in the Outer Banks is also something to look forward to, especially when you dine at the Black Pelican, Sundogs, and Fish Heads Bar and Grill. These establishments guarantee to provide you with the best dining experience when you're in the Outer Banks.
Don't forget to visit coffee shops during your trip to the Outer Banks — the island offers plenty. Some of the best places to grab your latte when in the Outer Banks are the Outer Bean Juice and Java, Duck's Cottage, and Wave Riders.
Population: 57,755
Average home price: $440,000
Raleigh
If you're someone who easily gets tired when things get too boring or predictable, consider moving to Raleigh in North Carolina. This is one of the most interesting places to live in North Carolina because it offers activities and amenities for business and pleasure.
Living in Raleigh can become your ticket to start a career in many different industries — from technology to the medical industry to biotech. This city also houses companies that have become household brands and also those that are still new in the industry. You can also find great opportunities for career advancement in this city as companies pay their employees almost $4,000 higher than the national average.
When it comes to pleasure, Raleigh won't disappoint because you'll enjoy countless activities in the city. Raleigh is located close to both the beach and the mountains, has a running calendar of sights and sounds, and offers world-class food and drink options. You can also access a handful of local farmers' markets, bars, and restaurants when you live in Raleigh.
Population: 430,892
Average home price: $369,000
Rocky Mount
Rocky Mount is a small city located in Nash and Edgecombe counties. This city is considered a hidden gem of Eastern North Carolina because it offers a lot of attractions and amenities to locals and tourists.
The location of Rocky Mount provides access to different areas in and around North Carolina. When you're in Rocky Mount, you can easily visit the picturesque peaks and crystal coastal waters of the Blue Ridge Mountains. Because the Rocky Mountains are located halfway between New York and Florida, you won't have any problems visiting up and down the East Coast.
Rocky Mount also has acres of green space that can become a great hub for biking, hiking, paddling, and other outdoor activities. The scenic land of Rocky Mount is also surrounded by the Tar River, where you can swim and have fun with your kayak. Depending on your preferences, you can enjoy all of these activities with the locals or bring your friends and family the moment you visit the city!
Rocky Mount is also known for its booming food industry, with several restaurants and cafes offering dishes from different cuisines. These food establishments are also hosts to some of the best local events that aim to bring the whole community together.
Population: 54,548
Average home price: $115,490
Southern Pines
Playing golf is a great exercise because it allows you to relax, build character, and make new friends. Knowing how to play this sport can also become your asset to improve business relationships. Because golf requires a lot of space, not everyone has the opportunity to practice their swing as often as possible. If you're a fan of golf and have had this dilemma in the past, visiting the Southern Pines in North Carolina should be on top of your to-do list.
Although Southern Pines is a small town, it continues to gain popularity among locals and tourists because of the number of golf places you'll find here. There are over 41 golf courses around Southern Pines, namely the Pine Needles Golf Course, Longleaf Golf and Country Club, Mid Pines Inn, and Golf Club, and many others.
Southern Pines doesn't have an exciting nightlife, but it boasts of many family-friendly activities all year long. You and your family can visit the Sandhurst Park, Sunrise Theater, or Weymouth Center for the Arts and Humanities.
Southern Pines has a tight-knit community composed of many young families, military families, and retirees. If you don't mind making friends with people with different lifestyles and demographics, then make sure that you visit and spend time in South Pines.
Population: 13,000
Average home price: $303,483
Wilmington
While some people love to spend time trekking and camping in the mountains, others would prefer to get wet on beaches. If you're one of the latter, moving to Wilmington in North Carolina is a great option. This city is located along the Cape Fear River and over 14 Carolina beaches, namely the Kure Beach, Masonboro Island, Bald Head Island, Topsail Island, Wrightsville Beach, and many others.
Aside from swimming on these beaches, you can always take things slow and dine while basking in the views of the Atlantic Ocean, intercoastal waterways, and rivers when you're in Wilmington. Most of the restaurants in this city are created to provide the best outdoor patios for dining. From rivers to sea, Wilmington offers the best dining experience as it combines excellent cuisine with superb ambiance.
The climate in Wilmington is also ideal to learn and master how to play golf. It rarely rains in the city, which means that you can play golf every month of the year. Some of the best spots to play golf in Wilmington are the North Shore, Castle Bay Golf and Country Club, and Beau Rivage Golf & Resort.
The local real estate in Wilmington also offers variety — you can easily find several starter homes located in a busy neighborhood, condos fronting the beach, and an antique home secluded in one of the city's historic districts. Your options in Wilmington are endless, so make sure to check out this city as soon as possible!
Population: 106,476
Average home price: $284,000
Hire Professionals
For you to start living your life in North Carolina, look for a reputable moving company that can make your move as convenient as possible. By hiring moving contractors to help you out, you'll have peace of mind knowing that your valuables will be transported safely, and all necessary documents for the move will be prepared ahead of time.