Second Home Mortgage Rates are Going Up in 2022
Posted by Preston Guyton on Saturday, January 22, 2022 at 6:02 AM
By Preston Guyton / January 22, 2022
Comment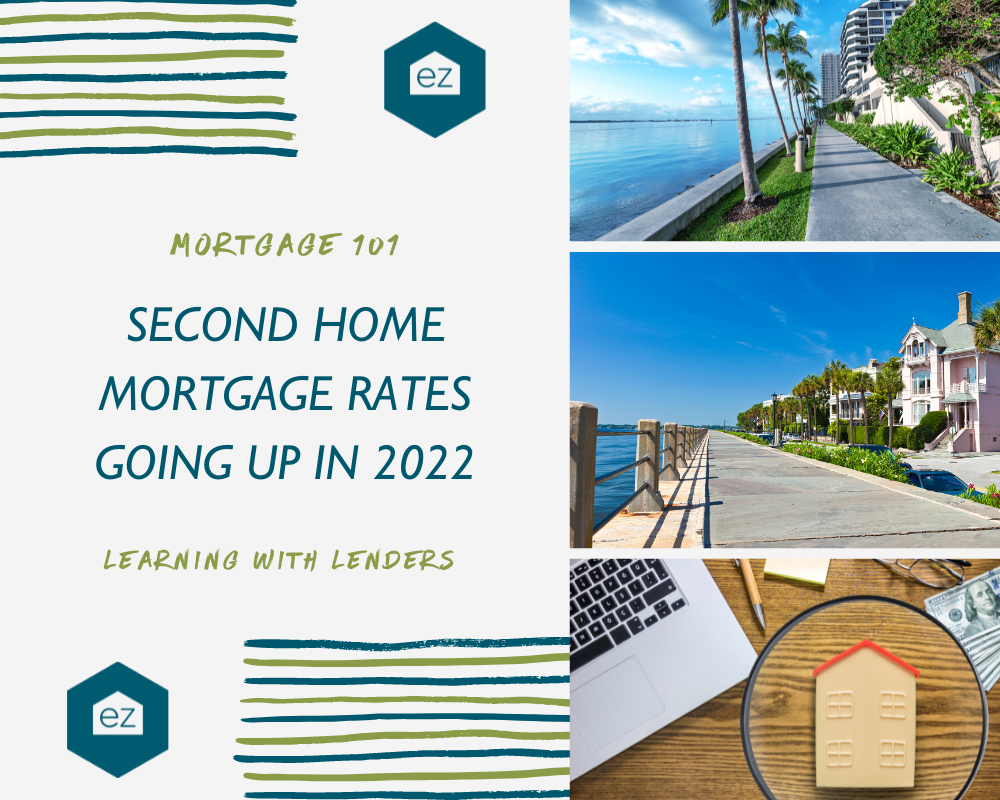 Second Home Mortgage Rates Going Up in 2022
Get ready to pay more for your second home. The Federal Housing Finance Agency (FHFA) announced targeted increases to Fannie Mae and Freddie Mac's upfront fees for second home loans in January. What exactly do these changes mean for the purchase of your Carolina second residence, investment property, or vacation home?
What the FHFA changed
The FHFA will begin to charge new fees for deliveries and acquisition starting April 1, 2022, on high-balance loans and second home mortgages. Specifically, the upfront fees will increase between 1.125% and 3.875% for second home loans. The precise amount the rate increases is tiered based on the loan-to-value ratio.
Guidance from Fannie Mae says a second home mortgage with a loan-to-value ratio equal to or less than 60% will pay an additional 1.125% fee. If the loan-to-value ratio is 80% loan-to-value or greater, the fee is an extra 4.125%.
The mortgage rates for second homes will depend on your credit score and down payment. When combined with the going mortgage rates and anticipated rate rises during 2022, market watchers expect the new fees to increase interest rates to over 5% for second home purchases.
How increased mortgage rates impact purchases
Let's say you are trying to finance a $300,000 second home purchase. The base mortgage rate you qualify for based on credit scores and other underwriting factors is 3.9%. With a 40% down payment, about $120,000, your total second mortgage rate will be 5.025%. You'll pay $160,851 in interest over 30 years.
With a 20% down payment, or $60,000, using the same base mortgage rate, your new rate for the second mortgage is 8.025%. You'll pay $296,609 in interest over 30 years, a difference of $135,758.
Add the potential of conforming loan limit increases during 2022, and you're likely to pay more for your mortgage in the years ahead.
Why did lenders make this change?
By targeting the pricing changes, Fannie Mae and Freddie Mac will be better aligned to fulfill their mission. These government institutions exist to assist low and middle-income earners with achieving homeownership. Their goal is to ensure access to credit for first-time homebuyers and low and moderate-income borrowers.
Since affluent individuals most often make second home purchases, these types of loans don't align with their mission. Second-home purchases are not a priority.
The FHFA announced this change on January 5, 2022. The official change date is April 1, 2022, which gives mortgage lenders time to adjust the rate sheets. The Mortgage Bankers Association (MBA) president Bob Broeksmit thinks that the announcement isn't the last on loan pricing adjustments we'll see during 2022 from the housing administration.
How second-home rates are impacted
Mortgage rates are already going up for the year. In the second week of January 2022, the 30-year fixed rate was 3.63%. Rates are anticipated to increase throughout the year. Second home buyers can expect to pay more for their home purchase as the year progresses.
If you are considering purchasing a second home, it's a good idea to secure financing before April 1, 2022. After that, your interest rates could substantially increase.
Many second-home markets are already stressed by low inventory. As vacation home buyers and real estate investors start scouring for additional properties, there could be more competition for desirable real estate in the second home market during spring 2022. Savvy buyers will try to beat the April 1 deadline.
After April 1, some real estate market experts think they will see a slow down in second-home purchasing activity because the new interest rates mean the properties will not be priced in line with an investment property.
The increased fees will help discourage bubble-buying behavior, where people buy a home simply because they believe the value will go up over time. They see it as an investment opportunity in markets with steep appreciation values. It will take exemplary credit and over 30% down to qualify for the best second home mortgage rates.
Other market experts think the demand for second homes is likely to remain high because second home buyers are typically more financially secure and can pay in cash. These buyers can also borrow in the private market, where interest rates may be different.
Buying a Second Home
If the new mortgage interest rates aren't to your liking, you always have the alternative lending market to explore. For example, you can find private lenders, explore jumbo loans, and borrow against yourself.
How you will finance a second home purchase is only part of the puzzle. Your goals for the second home purchase influence what kind of property and where you'll buy. Consult with a local real estate expert to discuss second home purchases in your chosen real estate market or to answer your mortgage questions.