Is Florida a Good State to Buy a House?
Posted by Preston Guyton on Friday, January 27, 2023 at 12:42:15 PM
By Preston Guyton / January 27, 2023
Comment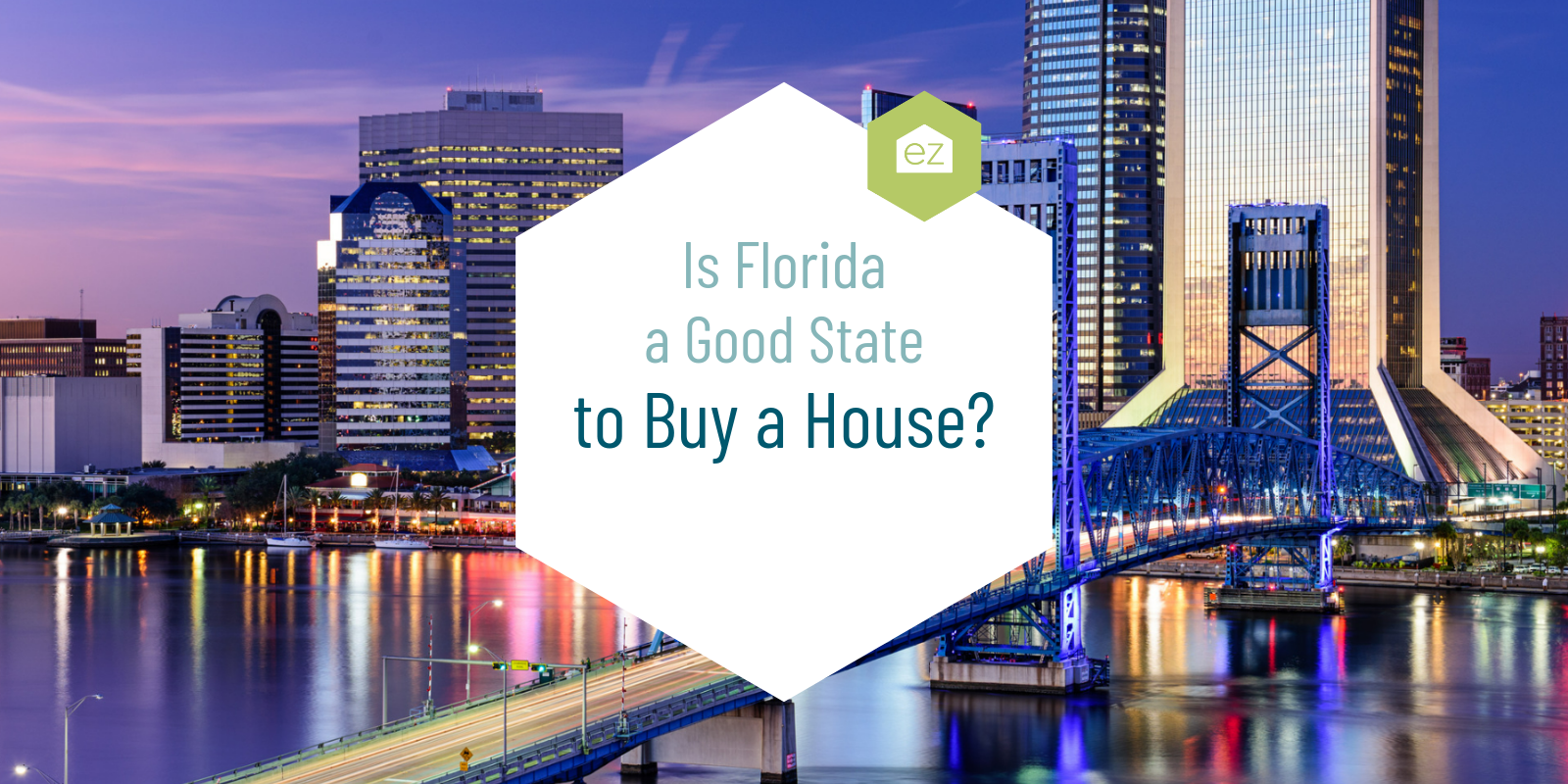 Is Florida a Good State to Buy a House?
Have you been considering purchasing a house in Florida? With its miles of beaches, tropical landscapes, and year-round warmth, it's no surprise people are drawn to the idea of living here. But is it really the right place to buy a home for you?
Where to buy a home can be a personal decision based on your finances and lifestyle. From affordability to taxes and climate, we'll break down some essential factors so that you can make an informed decision as to whether or not Florida is the best state for your next home purchase.
What are the positives of living in Florida?
Florida is known for its year-round tropical climate, with average temperatures ranging from the mid-60 Fs to the mid-80 Fs during the year. Its peninsula, framed by the Atlantic Ocean and the Gulf of Mexico, moderates the climate. Winters are the mildest, which is why it's a favorite part-time living and retirement destination. There's no shoveling snowfall here!
With abundant year-round sunshine, Florida has no shortage of outdoor activities, with popular pursuits such as boating, fishing, and golfing. Its numerous attractions include the world-famous theme parks at Disney World and Universal Studios. And how can we forget Florida's beautiful beaches that add up to hundreds of miles of white sands and jewel-toned waves?
The cost of living in Florida is relatively low compared to other states along the East Coast. According to MERIC data, Florida places no. 32 for the lowest cost of living, with residents spending an average of $43,615 on essentials like housing, utilities, and health care.
In addition, Florida has no state income tax, which can save you money if you're moving from another state with higher taxes.
Florida has a diverse and thriving economy. With major industries like tourism, aerospace engineering, healthcare IT, and trade services driving Florida's economic growth in recent years, job opportunities are abundant throughout the state.
Families will be pleased to know the state's education system now ranks among the nations' best. US News and World report placed the state an overall third, with its higher education being the nation's best in 2022-2023. K-12 education came in at 16.
What are the drawbacks to living in Florida?
The tropical weather is great, but it has its downsides. For starters, the yearly hurricane season can wreak havoc on property. The peak typically occurs in September, but storms can form anytime from June through November. Florida homeowners need to be prepared for the worst when it comes to storms and flooding. And while winters may be mild, the humidity can suffocate in the summer and send the heat indexes soaring. The heat and humidity combined lead to severe pop-up thunderstorms that can form in minutes, last an hour, and vanish.
When you live in Florida, you get to live where people come to vacation. That means you must learn to deal with tourists, especially at specific times of the year and around major attractions. Living on or near a beach? Be prepared for increased beach traffic on and off the sands.
While the cost of living is lower than in northeastern states, it's still an overall 3% above the national average. Transportation costs were 12% above average, while housing was only 1%. Florida is a big state, so you'll see huge fluctuations in the cost of living across its many cities.
How's the Florida real estate market?
Florida's real estate market is booming. It is an ideal place for buyers who are looking for a good long-term investment. Home prices have increased steadily since 2012 and are expected to continue rising as inventory remains low due to high demand.
Your real estate options are wide-open in Florida. Live on the beach in a single-family home or a condo. Go inland for affordable retirement communities or rural homesteads. Buy a townhome in a major city near a downtown urban core, or head to a master-planned suburb around a championship golf course. The possibilities are many and endless.
At the end of 2022, Florida had a statewide median sales price of $402,500 for single-family homes, up 15.7% from 2021. Condos had a median price of $306,500, up 21.6%. Single-family home sales were down 18% and condos were down 22%. However, active listings were up, standing at 2.7 months.
However, the state presents a huge and diverse market. A local real estate agent is your best resource for how the housing market looks in a specific region. But, to give you a more focused idea on pricing, here are the median list prices from a few major metro areas in January 2023:
The average cost of utilities in Florida during 2021 was $413 a month, but remember, these can vary quite a bit.
In terms of new housing, Florida's construction industry has seen steady growth, ranking second in the station during 2022 for construction starts. New home construction and renovation projects are popping up all around the state. Developers are seeking to meet home buyers' demand and are building single-family homes, townhomes, and luxury condos. The Orlando, Tampa, Jacksonville, and Southwest areas had the most new housing starts in Q4 2022.
How are Florida Property Taxes?
Florida's property taxes are among the lowest in America. With an effective property tax rate of 0.89%, Florida ranks no. 24 among the states in 2021, according to WalletHub, making it one of the most competitive markets for real estate taxes nationwide.
On average, homeowners pay a fractional amount compared to their home's value each year, with Florida owners paying less than $2,000 yearly in property taxes. This is significantly lower than many other states like New York, California, and New Jersey, making Florida an affordable place to live.
Florida allows homeowners to take advantage of certain homestead exemptions, such as the Save Our Homes exemption, which caps annual increases in assessed value, and the Florida Homestead Exemption, which helps reduce property taxes on primary residences.
Florida property tax structures can be complicated with how homestead exemptions are applied between county, city, and school district taxes. Get informed with our property tax guide.
Is Florida tax-friendly?
Tired of paying individual state income tax? Florida is one of seven states with no state income tax, which can add up to major cost savings depending on where you live.
The sales tax in Florida runs 6%, with municipalities and counties allowed to charge an additional sales tax. Most counties do, with the highest being an extra 1.5%. Some exemptions are applied to prescription drugs and groceries.
For retirees, Florida has no estate or inheritance tax.
Other taxes charged include fuel taxes, tourism impact, and use taxes. These vary across the state, counties, and cities.
What is the safest place to live in Florida?
Florida is the third-most populous state in the US. Florida has a lower-than-average crime rate, but as with most states, there can be pockets of high crime within its borders. However, in good news, its overall crime rate has been trending down for some years. NeighborhoodScout reports an overall crime rate of 3.92 per 1,000 residents, just under the national average of 4.
The safest cities to live in Florida, according to Safewise, are Niceville, Weston, and Parkland. Other top cities with low crime rates were Cooper City and Sebastian.
Lake City, Florida City, and Riviera Beach were among the most dangerous.
How much money do you need to live comfortably in Florida?
It depends on the area, but Florida is generally considered to be a relatively affordable state to live in, even if its overall costs are 3% above the national average based on Sperling's Best Places List.
On average, a family of four with one working adult would need around $61,884 per year after taxes to cover all living expenses. For two adults with no children and one working, that changes to $44,264. This includes housing costs, as well as food, transportation, and healthcare.
What are the best places to live in Florida?
Again, that's a tough question to answer because of the diversity in geography and housing stock. What you consider a great place to live, someone else may not.
Florida has diverse regions, from the Gulf Coast, Florida Keys, and Palm Beach areas, where you can enjoy tropical island living, to the Florida Panhandle and Florida's interior with lush forests and rolling hills.
Families may prefer to live in the cities of Orlando or Tampa, where many family-friendly activities and amenities exist. Florida's Emerald Coast may appeal to anyone looking for a more laid-back lifestyle. Or perhaps the scene at Miami Beach, with its nightclubs, boardwalk, and celebrities, is more your style.
That said, some cities that pop up frequently on best places to live indexes, both nationally and for the state, include:
Sarasota
Melbourne
Jacksonville
Tampa
Pensacola
Cape Coral
All these are coastal cities in some way, with five on the Gulf Coast and two on the Atlantic Coast.
Should you buy a home in Florida?
All in all, Florida is a great place to buy a house due to its favorable climate, low cost of living, and Florida's affordable real estate market. Florida property taxes are also among the lowest in America. Residents have no shortage of things to do, from theme parks to world-famous beaches. Florida may be the perfect choice for you if you're looking for a place to call home that offers plenty of sunshine and fun activities year-round.