9 Best Beach Towns on the Florida Atlantic Coast
Posted by Preston Guyton on Thursday, December 8, 2022 at 8:39:55 PM
By Preston Guyton / December 8, 2022
Comment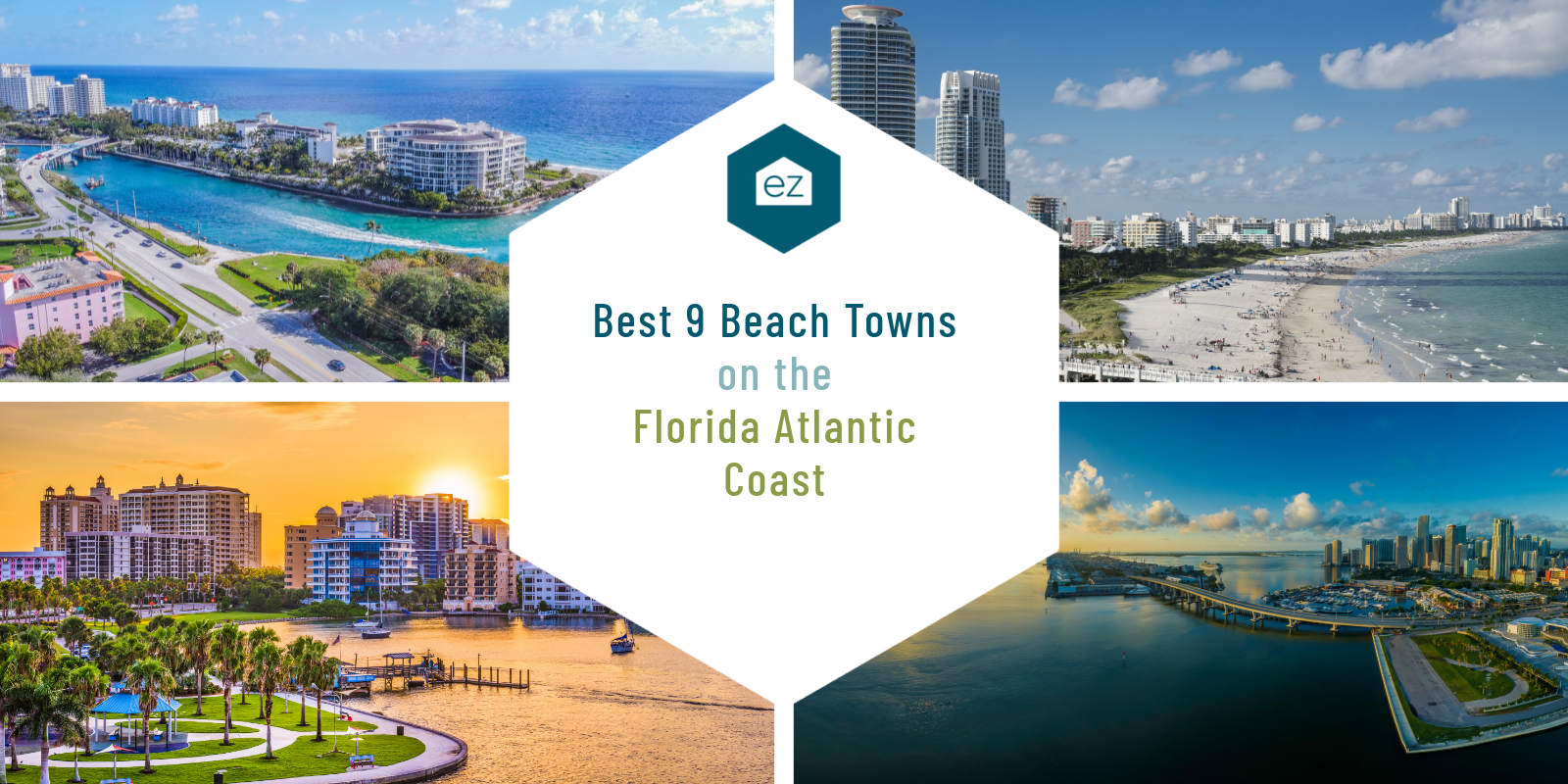 Best Beach Towns on the Florida Atlantic Coast
The Florida Atlantic Coast is home to some of the most beautiful beach towns in the United States. People have come for decades to relax in the sand and surf, with some deciding to move permanently. The beach towns along Highway A1A developed with different attractions and amenities, with some becoming world-famous destinations while others are relaxing retreats.
This article gives an overview of Florida's best Atlantic Coast beach towns. Our list doesn't include the Florida Keys. So, if you're looking for an idyllic coastal vacation home or a new place to call home, read on! We'll start south and move geographically up the coast to the Georgia border.
Miami Beach
Miami Beach is a paradise for those seeking an active, urban beach town. Set on a barrier island across from Miami proper, Miami Beach is Florida's world-famous beach town. People know it for its distinct architecture, fashion, and art scene. Residents come from all over the world, adding to the eclectic nature of Miami Beach.
While the seashore is famous, and there are a lot of tourists along Ocean Drive, around 81,000 people call Miami Beach home. It's oceanfront living or Bayfront with an incredible view. The City of Miami Beach is a self-contained small town incredibly friendly to pedestrians and bicycles. Walking distance within the city are grocery stores, pharmacies, fitness centers, retailers, and dining. For families, there are excellent schools on the islands, plus parks and green spaces.
Art deco buildings from the 1920s and 1930s abound if you have a passion for architecture. The Miami Design Preservation League ensures these historical structures stick around for future generations. You'll also find many other styles, like Mediterranean, Florida Keys, and modern.
Miami Beach does have a vibrant nightlife scene and world-class resorts. Many bars and music clubs are concentrated along Ocean Avenue near the resort strip. For residents, the nightlife is there when they want it, but many communities have a quiet, suburban feel.
Miami Beach is a distinct and urban Florida beach town with its vibrant nightlife, world-class shopping, and dining opportunities! The average cost of living in Miami Beach is about 13% higher than the Florida state average, but those who want that blend of city living and beachfront say it's worth it.
Miami Beach has many condominium options, but you can also find single-family homes in various neighborhoods. Miami Beach includes communities like South Beach, MidBeach, North Beach, SoFi, and Surfside. The median list price was $565,000 in December 2022, with 1,896 homes on the market.
Bal Harbour
Bal Harbor is the place to be if you're looking for a mix of luxury and serenity. Just north of Miami Beach, Bal Harbour is an exclusive beach community of 3,000 residents that blends upscale comfort with natural beauty. Even though Bal Harbour is only a mile long, it still has some of the best restaurants, shops, and hotels in Florida.
It boasts one of Florida's finest beaches, chic hotels, gated communities, and designer shopping venues. The whole area is very walkable, thanks to its abundance of green spaces and well-kept residential areas.
Bal Harbour blends the private and luxurious with quick access to Downtown Miami and South Beach. Access the mainland through Kane Concourse or continue to the beaches along A1A.
Homes here are exclusive, with prices to match. In a statement to its exclusivity, the cost of living here is 97% more expensive than the Florida average, with housing being 298% above the national median. You'll find single-family homes in gated communities and luxury high-rise condos with stunning views available at various price points, but with a December 2022 median of $2.3 million.
Sunny Isles Beach
Sunny Isles Beach is on a barrier island in the northeast corner of Miami-Dade County. Across the Intracoastal are Aventura and North Miami. Its glittering oceanfront skyline, full of luxury high-rise condominiums and hotels, plus residential pockets of well-appointed single-family homes, have earned it the nickname "The City of Sun and Sea."
This Florida beach town has a more casual vibe than the beach towns south on the A1A, but it's not short on modern amenities. Whether it's fishing, boating, or just enjoying the views from a waterfront restaurant, Sunny Isles Beach has something special that lured 22,000 people to call it home.
Locals have plenty of public spaces with over 10 parks. Pier Park has a restaurant and the Newport Fishing Pier, a popular beach access and fishing location. Samson Oceanfront Park is incredibly popular with its playground and picnic areas.
Find foods from all corners of the globe on Collins Avenue, as well as countless local cafes, bars, and restaurants. Sunny Isles connects to Miami Beach and Hollywood Beach through the Federal Highway.
It offers a cost of living 27% above the Florida state average. Sunny Isles Beach had over 900 homes for sale with a median list price of $1.1M in December 2022.
Palm Beach
Palm Beach is a luxurious getaway for those looking for a more laid-back beach experience. Located on Florida's Gold Coast on a barrier island, Palm Beach offers breathtaking views of the Atlantic Ocean from its sandy shores and A1A. Sometimes Palm Beach is lumped in with West Palm Beach, the city on the mainland.
Since its creation, Palm Beach has been a wealthy tourist playground. You may have heard of Mar-a-Lago Club, home of former President Donald Trump, just one of the area's affluent residents. The Breakers in Palm Beach is another world-class resort for industry magnets.
This suburb community is a palm tree-lined paradise, home to over 9,000 Floridians who enjoy access to white sandy beaches, tropical weather, designer shops, and well-manicured country clubs. Popular attractions include Worth Avenue – Palm Beach's shopping mecca – and the Flagler Museum, a Florida landmark.
Social clubs are par for the course here. Take your pick: the Bath and Tennis Club, the Everglades Club, the Sailfish Club, the Palm Beach Country Club, and the Beach Club. Naturally, these clubs offer recreation options like tennis, golf, and sailing.
Living in Palm Beach can be pricey, but it's worth the splurge for those that desire a country club lifestyle. Expect to see well-manicured lawns and custom homes. The December median list price was $2.5 million, with 265 homes for sale; the top listing was $218 million.
Hutchinson Island
Escape Florida's hustle and bustle on the Treasure Coast's Hutchinson Island! Stretching 23 miles, locals and visitors access some of Florida's most pristine beaches. Hutchinson Island is technically two barrier islands (North and South) across from Fort Pierce and St. Lucie.
The island has several nature preserves and state parks where dolphins, manatees, and pelicans can be spotted. The state park is a nesting site for endangered sea turtles, and development on the island is more sparse.
The 5,000 residents on Hutchinson Island picked it because it's a quiet area. Relax in peace, with no noisy resorts or nightclubs – just peaceful beaches and stunning waterfront views. There are no big-box stores, only charming local venues, waterfront restaurants, and marinas. A few museums pay homage to the area's history and wildlife.
You'll find plenty of single-family homes and condominium options for purchase or rent. Prices range from moderate to more expensive depending on location and amenities. The good news is the cost of living is just 8% more expensive than the Florida average. The median list price in December 2022 was $574,900, with 230 homes for sale.
Vero Beach
Head north from Hutchinson Island, and you'll find Vero Beach. This Florida beach town is known for its laid back vibe and Florida charm. With 17,000 residents, some people call it Florida's version of The Hamptons. This is where people come who don't want to be spotted in Palm Beach or Miami Beach but still want upscale amenities.
Vero Beach's city limits include the mainland and barrier island. The Indian River divides the city into two sections. The mainland connects to the barrier island with two fixed bridges.
Numerous public access points are available along white sand beaches and the island marinas. Several parks and trails add to what's available for outdoor recreation. The historic Jungle Trail is popular among joggers, cyclists, and birdwatchers and allows public access to the northern portion of Vero's barrier island. The refuge has an 18-foot observation tower that visitors can climb for a better view.
Residents play golf seaside at Riomar Country Club. Visit the Vero Beach Art Museum or Riverside Theater. Island residents also have an elementary school, health care center, art galleries, boutique shops, and local markets.
To the north is the Pelican Island National Wildlife Refuge, an essential and historic rookery for 130 species of birds. The white pelicans and endangered wood storks that call it home are two examples of the different kinds of birds inhabiting the refuge. Loggerhead and green sea turtles also nest there.
Vero Beach is perfect for you if you're desiring a more laid-back vibe where people of all ages are generally enjoying life at a slower pace. The zoning restrictions prevent buildings more than four stories tall, so it will never feel overdeveloped. The overall cost of living was 8% less than the Florida average, but that includes the mainland. A median list price of $384,400 in December 2022 makes it one of the more affordable beach towns.
Cocoa Beach
If you're looking for an adventure-filled Florida beach escape, head to Cocoa Beach! This barrier island 60 miles east of Orlando is known for its surfing culture. The stunning beaches stretch over 13 miles.
One of the great things about Cocoa Beach is that you're never far from the water. The shoreline here is smoother than at other beaches. There are over 50 different public access points all over the city, so no matter where you choose to live, you'll be able to quickly get to the beach.
Surfing is king here. Cocoa Beach offers beginner and experienced surfers alike waves that are easy to ride and warm temperatures year-round.
People hang out at Cocoa Beach Pier for great food and fun events year-round. The pier is a popular spot for fishing, with plenty of opportunities to catch snook, bluefish, flounder, pompano, redfish, and more.
Many parks are nearby, such as Lori Wilson Park, which features trails for walking and biking amongst native Florida vegetation. Cocoa Beach Country Club faces the Banana River and the Aquatic Preserve for a stunning vista during play.
Another big perk is Cocoa Beach's proximity to the Kennedy Space Center. The town is on the same island as Cape Canaveral. Watch rocket launches from anywhere in the city with one of the best seats in the house.
Cocoa Beach has many developed communities and neighborhoods. Prices vary depending on proximity to the waterfront and amenities – but you'll find something that fits your budget, as the 161 homes had a median list price of $530,000 in December 2022. The cost of living is also decent, at just 5% above the Florida state average.
Daytona Beach
Home to the famous NASCAR races at its world-famous Daytona International Speedway, this city arguably has more activities than anywhere else in Florida. From sailing, surfing, kayaking, and parasailing to art shows, Bike Week, street festivals, and outdoor concerts – Daytona will keep you busy!
The City of Daytona Beach includes mainland and barrier island living. Four bridges connect to the historic beachside neighborhoods.
The 23 miles of coastline give visitors plenty of opportunities to enjoy the sun, sand, and surf - from beachfront parties to quiet walks along the shoreline. On the Daytona Beach Main Street Pier, climb the 203-foot observation tower to see the Atlantic Ocean. Or, get up close and personal with the beach. The hard-packed sand makes this beach one of the few you can drive on!
The island has countless attractions, from the Daytona Beach Bandshell, where free outdoor concerts are hosted, to the Daytona Lagoon adventure park. Along the A1A are beach resorts, dining, and boutique shopping.
Daytona Beach's island housing options contain condos with ocean views and historic single-family homes. Neighborhoods include South Peninsula, Surfside, Seabreeze, Bayshore Bath and Tennis Club, Ortona, and Triangle Park.
Amelia Island
When it comes to Florida Atlantic beach towns, Amelia Island stands out for its history. It's on the northeast coast near the Georgia border and changed hands countless times during the colonial era.
The island features 13 miles of breathtaking beaches, plus vast stretches of mangrove and marshlands on the Amelia River side. Fernandina Beach is the most well-known town on the island, but residents live in American Beach and Franklintown.
Historical sites like Fort Clinch State Park preserve the island's colorful history. Amelia Island State Park is the only state park in Florida where you can ride horses on the beach.
As a resort destination, it also features nine different golf courses, like the Ritz-Carlton Amelia Island and the Amelia Island Club at Long Point. These courses over Atlantic, river, or dunes views in a stunning setting.
One unique thing about this island is that there are no high-rise buildings or condos – just low-rise single-family homes in a beautiful natural setting. This makes Amelia Island the perfect place for those who want an escape from overcrowded Florida beach towns while still being close enough to enjoy all the benefits they offer.
Fernandina Beach is the central city on the island. The Victorian seaport village was a bustling town in the 1880s, and the historic district has been lovingly preserved for a postcard-perfect vibe. The historic buildings have an eclectic assortment of boutique shopping and restaurants. Rows of shops sell antiques and collectibles.
The median list price on Amelia Island in December 2022 was $629,000. Homes were available at different price points, so you can easily find something that fits your budget.
Find Your Florida Atlantic Beach Town
From Miami Beach to Amelia Island, Florida's Atlantic beaches remain a lifestyle destination. The towns featured here hit on a range of beachfront living options. With activities ranging from fishing and surfing to golfing and shopping, you can find a beach town with the amenities you want.
So, whether you're looking for a laid-back beachfront escape or an upscale waterfront retreat – Florida has it waiting for you! Come explore Florida's beautiful Atlantic coast and its best beachfront towns.