Best 7 Miami Metro Neighborhoods
Posted by Preston Guyton on Thursday, October 6, 2022 at 11:43 AM
By Preston Guyton / October 6, 2022
Comment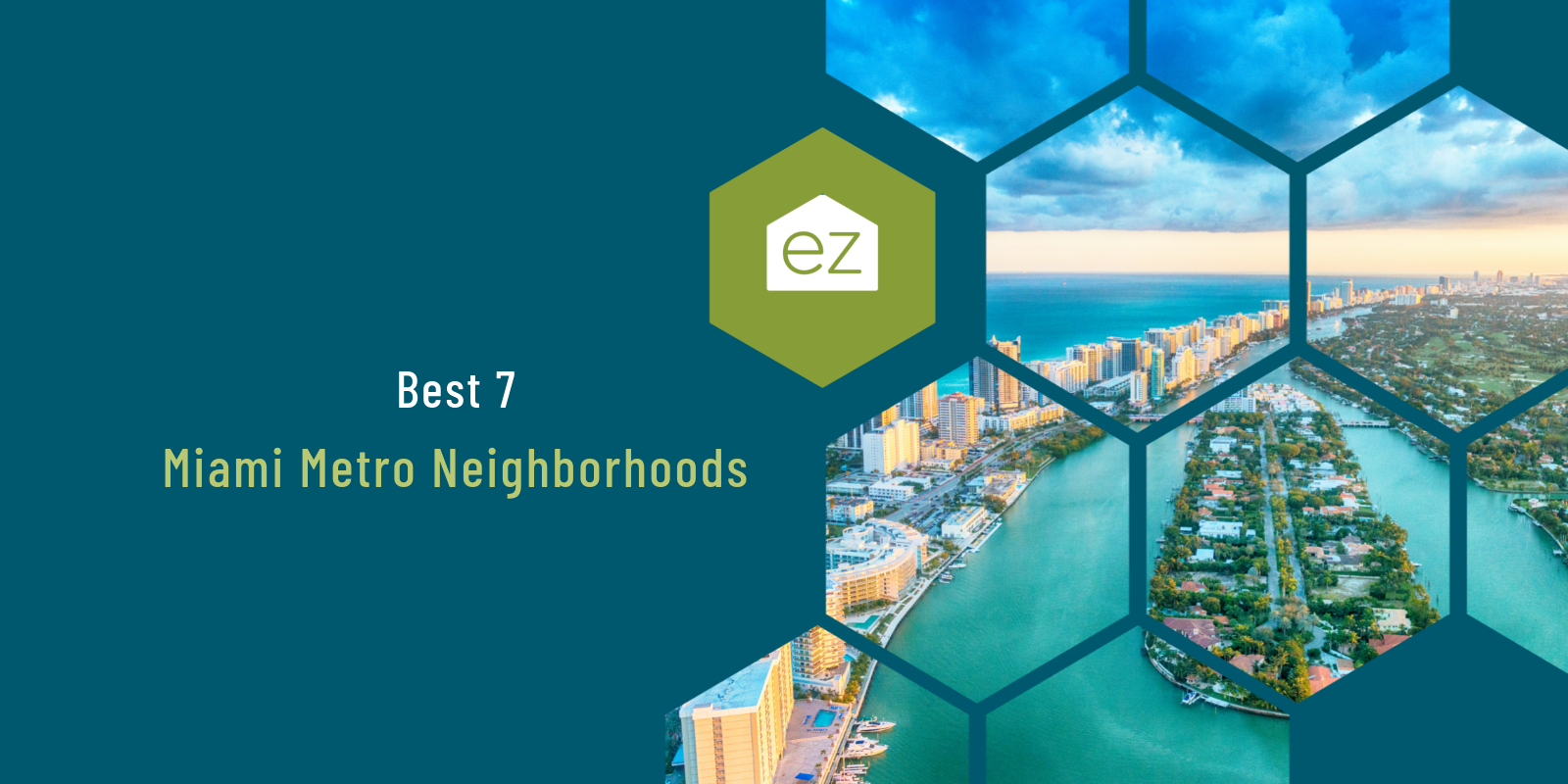 Best 7 Miami Metro Neighborhoods
Bienvenidos a Miami! When you think of contemporary beachside living, no city has quite the character and dynamism as Miami. From historic Art Deco beachfront hotels to charming bungalow cottages, Miami's architecture is a scene in itself.
For those moving to Miami, the many different neighborhoods can make it hard to decide where to call home. Do you opt for a classic Miami lifestyle in Miami Beach, be immersed in the culture of Little Havana, or embrace carless living near Brickell? Whatever you choose, remember, you'll be living where others dream of vacationing.
To help you get familiar with Miami and its neighborhoods, we've identified a few of the best places to live. This list includes neighborhoods from Miami Beach, the barrier island across from downtown Miami, as well as communities immediately touching the city limits. However, it doesn't include suburban communities in South or North Miami or Hialeah to the west, which also have top-rated places to live.
That said, here's a look at the unique vibe and character of some of the best neighborhoods to live in Miami.
Coconut Grove
Looking for a slice of classic Florida living? Welcome to Coconut Grove, a historic neighborhood and one of the oldest suburban areas in Miami. The charming architecture and parks have a laid-back atmosphere that dates to its roots as a 1960s bohemian community. Locals simply call it "The Grove."
If you look around, you'll find Coconut Grove is quite remarkable. With its Italian renaissance-style villas and the Vizcaya Museum and Gardens, it's no wonder this place is perfect for weddings or quinceañera celebrations. In fact, it's so picturesque that you might forget you are in the United States for a moment!
The Grove is known for its eclectic shops, indie vibe, and highly ranked restaurants. CocoWalk, an outdoor shopping mall, is the epicenter for retail and dining. While it's easy to pop into a hip coffee shop, it's just as easy to soak in the Florida sunshine from one of its beautiful parks with bayfront views. Several marinas cater to the local boating culture.
Coconut Grove has a robust community spirit. The local calendar is filled with activities, including the year-round Coconut Grove Art Festival and the weekly Saturday Farmer's Market.
Real estate in Coconut Grove varies from newer, luxury high-rise condominiums to older duplexes capturing a more classic Miami aesthetic. You'll also find palatial custom estates and some of Miami's most stunning residential architecture.
Coconut Grove had 262 homes for sale in September 2022. Still, its desirability as a place to live and waterfront location is reflected in the prices. The median list price was $1.8 million. Prices for existing real estate ranged from $189,000 for a 466 sq ft condo to $48 million for a custom waterfront home in the exclusive Camp Biscayne.
Downtown Miami/Brickell
Downtown Miami, or "Brickell," is the city's financial district. You make not initially think of downtown as the place to live. Still, Brickell's skyscrapers are redefining urban live-work-play.
Miami's skyline is constantly evolving. New construction projects are completed every few years, resulting in a modern, cosmopolitan feel.
Brickell has Miami's highest concentration of international banks. Many businesses have their Miami headquarters, but it's not all business. In recent years, Brickell has become a hotspot for nightlife with trendy bars and nightclubs. The area also has excellent shopping with boutiques, high-end fashion, and big brand names. Some of the best restaurants in Miami are at residents' doorstep.
Brickell is Miami's most walkable neighborhood, and you'll find that most places are within walking or biking distance. If you need to go further, the Metromover is free and will take you around downtown Miami. In short, downtown provides amenity-rich living in the heart of Miami.
Mainly consisting of apartments and condos, Brickell had a median list price of $698,000 in September 2022. The 784 listings ranged from $200,000 for a 340 sq ft studio to $38.5 million 11,000 sq ft penthouse with six parking spaces.
Wynwood
If urban art inspires you, then Wynwood is where you want to be. Alternatively known as "Midtown," Miami's arts district is home to over 70 art galleries, museums, and studios, as well as some of Miami's best bars and restaurants.
The Wynwood Walls are world-famous, and the street art throughout the neighborhood is truly incredible. Whether walking or driving around, you'll see colorful murals on just about every building. World-famous Art Basel sets up in Wynwood each year, bringing thousands of creators and fans to Miami.
During the day, Wynwood is a great place to explore Miami's art scene. In the evening, it comes alive with bars and nightclubs. You'll find everything from dive bars to upscale cocktail lounges. And when it comes to food, there's something for everyone, from gourmet burgers to wood-fired pizza.
Wynwood is located just north of downtown Miami. You'll find a mix of apartments, lofts, and warehouses converted into living spaces. The median list price in Wynwood was $687,500 in September 2022 for the 118 homes listed. Prices ranged from $306,000 for a 564 sq ft new construction one-bedroom condo to $2.5 million for a 1,500 sq ft single-family home on a corner lot. Several multifamily properties were listed for higher.
Coral Gables
Nicknamed "the City Beautiful," Coral Gables is one of Miami's most sought-after neighborhoods. The tree-lined streets, Spanish-inspired architecture, and landscaping inspired the city's name. But it's not just the beauty that draws residents; Coral Gables is packed with amenities.
The pedestrian-friendly community has most things residents need or want within walking or biking distance. The Miracle Mile is the main shopping street in Coral Gables, with high-end fashion, jewelry stores, and art galleries.
In addition, Coral Gables has unique attractions like:
The Fairchild Tropical Botanical Gardens has unique plants, rainforest gardens, and spectacular vistas.
R Hardy Matheson County Preserve offers more views and water access.
The Venetian Poll is one of the country's most unique public swimming pools. It has Italian-inspired architecture with freshwater flowing directly from Florida's aquifers.
Despite its upscale feel, Coral Gables is still very down-to-earth. The nearby University of Miami brings a mix of students, families, and young professionals. It's a great place to live if you want to be close to Miami Beach but don't want to deal with the hustle and bustle.
Coral Gables is separate from Miami but completely touches its western border. It divides further into six neighborhoods. In September 2022, the median list price for homes in Coral Gables was $1.3 million for 371 listings. Existing real estate ranged from $175,000 for a 582 sq ft condo to $39.9 million for a custom 13,816 sq ft waterfront home with nine bedrooms.
Surfside
One of Miami's smallest municipalities, Surfside is a beach town located just north of Miami Beach. Locals like the laid-back vibe and family-friendly atmosphere that separates Surfside from the more touristy Miami Beach. One of its mayors was famous for skateboarding into work at City Hall each day.
The main attraction in Surfside is, of course, the beach! These are great places to relax, swim, and enjoy the Miami sunshine. You'll find several public beaches along Collins Avenue, but they're less crowded than other Miami beaches.
If you're looking for some retail therapy, you can stroll down Surfside's main street, Harding Avenue. You'll find everything from independent boutiques to chain stores. It lights up at night and transforms into a busy restaurant district. North awaits Bal Harbour and its upscale shopping. Just south is the North Beach Oceanside Park with its playground and trails.
Surfside is located north of Miami Beach. In September 2022, the median list price for homes in Surfside was $1.6 million, with 110 homes on the market. Listings ranged from $379,000 for a 763 sq ft one-bedroom condo to $37 million for a 5,000 sq ft oceanfront condo at The Surf Club at the Four Seasons Hotel.
South of Fifth
If you want to be near the heart of Miami Beach, South of Fifth is your place. Called "SoFi" by locals, this neighborhood is home to Miami's most iconic beachfront – South Beach. You'll find luxury high-rises, world-class restaurants, and vibrant nightlife here.
Some of Miami's most popular attractions are South of Fifth, like the Miami Beach Boardwalk, Ocean Drive, and South Pointe Park. Store your boat at the Miami Beach Marina, or visit one of the local museums and art galleries.
SoFi is very walkable, but residents can also take advantage of the Miami Beach Trolley, which runs through South of Fifth to beaches beyond. This is the neighborhood for you if you're looking for a luxurious Miami Beach experience.
South of Fifth is located at the southern tip of Miami Beach, primarily condominiums and apartments. Existing real estate ranged from $219,000 for a 700 sq ft one-bedroom condo to $40 million for a 7,800 sq ft penthouse with six bedrooms and 270-degree views from The Atlantic Ocean to Biscayne Bay.
Bal Harbour
If you want to live in Miami Beach or Miami, desire an upscale lifestyle, but don't want to be in the tourist area, then Bal Harbour is a great option. This neighborhood is the northernmost on Miami Beach island. It is known for its luxury condos, high-end shops, and beautiful beaches. Think "luxury coastal village," and you've got the vibe.
The world-famous Bal Harbour Shops are an open-air luxury mall with high-end stores like Hermes, Gucci, and Prada. Explore the art galleries, the fine dining, and the views of Bal Harbour Beach.
Bal Harbour is perfect for an active lifestyle. Its design is reminiscent of a village, allowing residents to walk, jog, or cycle everywhere. In addition, the beach is one of Miami's cleanest and most secluded stretches of sand with aquamarine waters.
Bal Harbour's real estate market is one of the more expensive markets in Miami and the United States. It has gated communities of single-family homes on the west side and luxury high-rise condos on the east side along Collins Avenue. The September 2022 median list price for 101 homes was $2.4 million. Prices ranged from $335,000 for a 745 sq ft condo to $35 million for a corner waterfront 12,000 sq ft custom home.
Miami's Best Neighborhoods
Whether you're looking for Miami's best beaches, shopping, nightlife, or just a quiet place to call home, there's a neighborhood for you. You're never far from the water or the sunshine wherever you are. So, when ready to embrace the south Florida lifestyle, come find your perfect Miami neighborhood.
As you narrow your search, keep in mind what's important to you. Do you want to be near the beach? In the heart of the city? Surrounded by nature? You're sure to find the perfect place to call home with so many options. A local real estate expert can help pinpoint the best neighborhoods for your lifestyle.