Best 10 Neighborhoods to Live in Sarasota, FL
Posted by Preston Guyton on Friday, November 18, 2022 at 10:24 AM
By Preston Guyton / November 18, 2022
Comment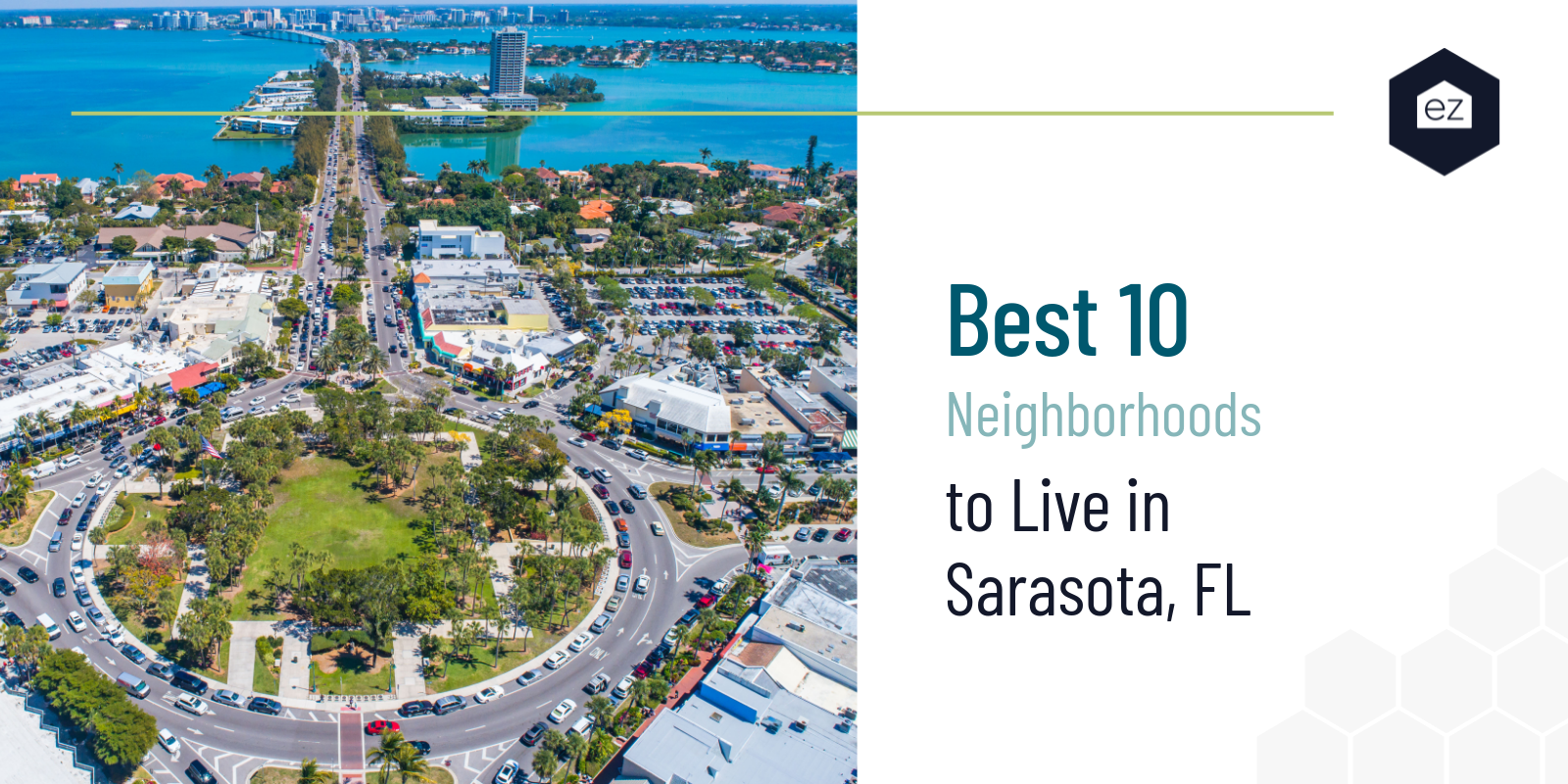 Best 10 Neighborhoods to Live in Sarasota, FL
Sarasota is a vibrant, coastal city located in southwest Florida. It's known for its award-winning beaches, arts and culture scene, and outdoor recreation opportunities. The community is often highly ranked as a place to retire, partially because of the treasure trove of activities and the thriving cultural community. The world-class beaches help, too!
If you're thinking of moving to Sarasota, you're probably wondering which neighborhoods are the best places to live. One of the best parts of living in Sarasota is the choice! Live in one of the nation's best master-planned communities, a bayside single-family, a beach estate, or a high-rise luxury condo. Sarasota has all kinds of real estate: big, small, old, and modern. In fact, it has its own architecture, known as the Sarasota School of Architecture or Sarasota Modern.
Here's a look at some of the best Sarasota neighborhoods.
Downtown
Let's start with the heart and soul of Sarasota, the downtown lifestyle. Many communities talk about walkable urban cores, but Sarasota has a genuine, fulfilling downtown lifestyle! You can live in a condo overlooking the waterfront, dine at world-class restaurants, shop local art galleries, and enjoy live theater and music.
Much of downtown overlooks Sarasota Bay, Ringling Causeway, and its waterfront park. Residents have miles of paved trails along the waterfront. Bike to the beach over the Causeway, the music concert series at Van Wezel, or the weekend Farmer's Market. Michelin-starred restaurants and dive bars are around the downtown core, as are businesses from wealth advisors to boutique retail.
Downtown Sarasota has a serious entertainment collection but does not lack your essentials. Whole Foods is downtown, as are pharmacies and hardware stores. Sarasota Memorial Hospital, one of the best medical facilities in the region, is just south of the core.
If you're looking for an urban lifestyle with all the bells and whistles, downtown Sarasota is the best neighborhood for you. The majority of options are condominiums, and many have Bayfront views. November 2022 had 115 listings for a median of $1.2 million.
Siesta Key
Just southeast of downtown awaits Siesta Key, a world-famous eight-mile-long barrier island. This fun, festive community is home to some of the best beaches in America.
The sand on Siesta Key's beaches is unlike anywhere else in the world. The sparkling white quartz crystals stay cool even in the summer heat. The beaches here regularly top national rankings and were recently named the Best Beach in America by TripAdvisor.
When you're not relaxing on the beach, take advantage of all the great shops and restaurants on Siesta Key. Plenty of casual beach bars and seafood shacks line the streets, as well as upscale dining and shopping. Stroll down Siesta Key Village for some ice cream or live music.
Looking for a place on Siesta Key? You're in luck! This barrier island has plenty of condos, single-family homes, and even some apartments. There's a good mix of year-round residents and vacation homes. The median listing price in November was $1.2M, with 129 listings.
Longboat Key/St Armands Circle
Longboat Key is the Sarasota neighborhood for you if you're looking for an exclusive barrier island lifestyle. This high-end community is home to luxury resorts, million-dollar mansions, and some of the best golfing in Florida.
The Longboat Key Club is a world-renowned golf and tennis resort. The 54 holes of championship golf here were designed by some of the biggest names in the sport. If you're not a golfer, enjoy one of the 20 Har-Tru tennis courts or take a dip in one of three heated pools.
St. Armands Circle is just a short drive away when you want something to do besides the beach or golfing. This unique shopping destination near Lido beach is home to more than 130 shops and restaurants. Browse everything from art galleries to high-end fashion boutiques. Take a break at one of the many restaurants, from the iconic Columbia Restaurant to the Daiquiri Deck.
The majority of homes here are either custom single-family or high-rise condominiums. The November 2022 median price was $1.3 million, with 152 homes for sale.
Lakewood Ranch
If you're looking for a family-friendly community with plenty of amenities, Lakewood Ranch is the perfect Sarasota neighborhood. This expansive 8,500-acre award-winning development is home to more than 30 neighborhoods and 11 villages.
Lakewood Ranch has something for everyone, from championship golf courses to top-rated schools. The Main Street area is filled with shops, restaurants, and even a movie theater. You can enjoy live music at the outdoor concert series or walk through one of the many parks.
This planned community is located just east of Interstate 75, making it an easy commute to Tampa or Sarasota. Lakewood Ranch is also home to the Lakewood Ranch Medical Center, one of the best hospitals in the region.
Homes here range from single-family to villas and apartments. The median sold price in October was $623,600, with 66 homes for sale.
The Oaks
If you're looking for a luxurious gated community with plenty of amenities, look no further than The Oaks. This exclusive neighborhood 12 miles south of downtown is home to championship golf, tennis, dining, and more.
The Oaks Club features two 18-hole championship golf courses designed by world-renowned architects. You can also enjoy one of 12 Har-Tru tennis courts or brand-new pickleball courts. Take a swim in the resort-style pool. The 7,500 sq ft fitness center with dedicated physical therapy and massage facilities earned it an America's Healthiest Clubs designation.
The Oaks Clubhouse features a top-tier culinary program with themed dinners and unique ingredients. A robust activities calendar supports the social aspect of The Oaks Club.
If you're looking for a luxurious lifestyle, look no further than The Oaks. Homes here are predominantly custom single-family estates. The median list price in November was $1.7M, with 20 homes for sale.
Gillespie Park
This funky, artsy neighborhood is north of the heart of downtown Sarasota. It's within walking distance of excellent shopping and dining in Downtown and the Rosemary District. Gillespie Park is home to a public park with a playground, the Sarasota Children's Garden, basketball courts, and a dog park.
The neighborhood was one of Sarasota's first suburbs and features homes built in the 1920s and 1930s in the iconic, narrow style. Overlooked for many years, a resurgence of interest has led to many homes being revitalized.
Gillespie Park is the perfect place if you're looking for an urban lifestyle with plenty of character. Most homes here are single-family bungalows built in the 1920s and 1930s, now painted in bright, Key West-style colors. You'll also find newer homes with midcentury or modern aesthetics. The 11 homes for sale in November 2022 had a median list price of $600,000.
Laurel Park
Located just south of downtown, but still within walking distance, quiet Laurel Park is one of the most convenient places to live in Sarasota. You're within walking distance of dozens of shops and restaurants, art galleries, museums, and theaters in Burns Square.
This historic neighborhood was one of the first established neighborhoods in Sarasota. It's known for its live oak trees and brick sidewalks. The charming bungalows built in the 1920s have been restored to their original beauty. You'll also find mansions from the 1930s and newer construction homes near Hudson Bayou.
Laurel Park is the perfect place to call home if you're looking for a central location with plenty of character. Most homes here are vintage single-family bungalows or Spanish-style cottages. Still, some developers have squeezed in new modern-style construction reflecting the Sarasota School of Architecture. Condos frame the community's outskirts. Nine homes for sale in November 2022 had a median list price of $950,000.
Arlington Park
This central Sarasota neighborhood is just a few minutes from downtown and Lido Beach. Its lower price tag, central location, and zoning for two of Sarasota's top schools make it highly popular. Shopping and dining options abound on the nearby South Tamiami Trail.
The centerpiece of Arlington Park is its eponymous 36-acre public park. It's home to the Robert L. Taylor Community Complex, which has an Olympic-sized swimming pool, meeting rooms, and a gym. The park has a playground, tennis courts, picnic pavilions, and a basketball court.
Arlington Park was initially developed as a suburb in the 1920s. You'll find a mix of historic bungalows and cottages, midcentury ranches, and newer construction homes with modern influences.
Arlington Park is the perfect place to live if you're looking for a central location with plenty of amenities. The median list price in November was $699,000, with 40 homes for sale.
Indian Beach/Sapphire Shores
This waterfront community is just minutes north of downtown Sarasota. Quiet and isolated, you'll feel a world away yet are a close drive to major attractions like the Ringling Museum, the Sarasota-Bradenton Airport, and USF-Sarasota Campus.
The community, established in 1891, is home to Sapphire Shores Park and Indian Beach Park, which has a playground, picnic pavilions, and a boat launch.
The Indian Beach/Sapphire Shores neighborhood features a range of stunning homes, from historic to modern masterpieces. The median list price in November was $712,000, with 25 homes for sale. With both waterfront and non-waterfront properties available, there's something for everyone here.
Palmer Ranch
This 10,000-acre planned community is one of the largest in Sarasota. The community has over 50 miles of walking and biking trails, more than 90 neighborhoods, and dozens of parks. It's a great place to live if you're looking for plenty of amenities and things to do.
You'll also find top-rated schools, like Pine View School for the Gifted, and world-class shopping and dining at The Mall at University Town Center. Plus, residents have easy access to I-75 for commuting or traveling.
Homes in Palmer Ranch range from condo units to sprawling estates. There are also several 55+ communities within the neighborhood. Palmer Ranch breaks into developments, each with its design guidelines and price points. In November 2022, prices ranged from $185,900 for a condo to $2.3M for a single-family home. The median list price was $544,900.
Sarasota's Best Neighborhoods
These are just a few of the great neighborhoods Sarasota offers. So look around and see which one is the perfect fit for you. Whether you're looking for a central location, plenty of amenities, or a quiet and isolated spot, you'll be able to find it here. A local real estate agent can help you learn more about the many communities in Sarasota.