8 Best Places To Live On Florida's Emerald Coast
Posted by Preston Guyton on Thursday, December 8, 2022 at 8:59:21 PM
By Preston Guyton / December 8, 2022
Comment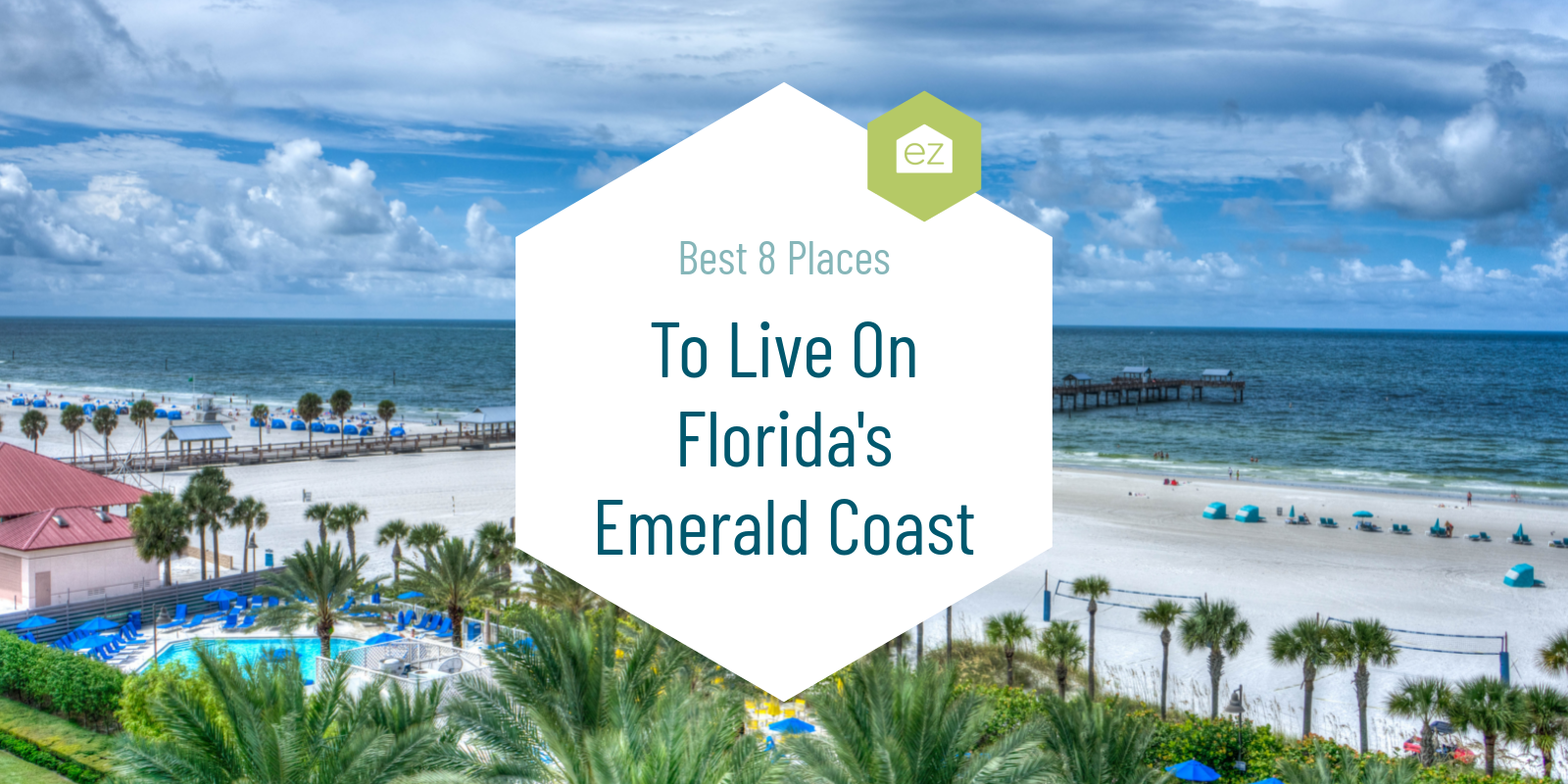 Best Places To Live On Florida's Emerald Coast
Want to wake up every day looking at jewel-toned waters but without breaking the bank? You need to check out the Emerald Coast of Florida. Chances are you've heard of its cities like Destin and Fort Walton Beach, but these seaside destinations often get overlooked in the media for places like Miami and Sarasota.
The Emerald Coast is an unofficial region along Florida's northern Gulf Coast that is known for its breathtaking beauty, turquoise waters, and white-sand beaches. People who discover it often keep coming back. It has what you'd expect from a Florida lifestyle: sugar-white sands, emerald-green clear waters, ample beach access, and that laid back beach town vibe. From Santa Rosa Island to Shalimar, this area offers an abundance of opportunities for residents and visitors alike.
If you want to live near a beautiful waterfront with an affordable cost of living, check out the top eight places to live on Florida's Emerald Coast.
Santa Rosa Island
This island paradise off the coast of Pensacola is ideal if you are looking for relaxation in a beautiful setting. Santa Rosa is an incredibly long barrier island, spanning 47 miles, making it one the longest in the US. The island protects Santa Rosa Sound and Pensacola Bay from storms and strong winds.
As such a long island, it has an incredible diversity for its beachfront living. Starting on the west is Pensacola Beach and the Gulf Islands National Seashore. Centrally is Navarre Beach. On the east awaits the area called Okaloosa Island, although it's technically attached to Santa Rosa.
Although most of the island has roads, it is impossible to drive from one end of the island to another because of the US Air Force installation. The roadways on the isle discontinue east of Navarre Beach.
Your main grocery shopping, retailers, and entertainment centers are in the Pensacola Beach area or Okaloosa Island.
The December median list price for Pensacola Beach was $829,000 with one listing. Navarre Beach had 91 homes for sale with a median list price of $980,000.
Okaloosa Island
Deeded to Okaloosa County in the 1950s, this part of the Santa Rosa barrier island is on its eastern side, only a few miles away from Destin. Okaloosa is about three miles long. It is known for its wide beaches, excellent fishing locations, numerous restaurants, and resorts. Several public access points to the beach are available.
The main attractions include the resort hotels, where people come all year to have fun in the turquoise waters. Other attractions cater to tourism. Get up close and personal with the sea life that lives off the coast of Okaloosa Island at the Gulfarium. Part of the attraction is live dolphin performances.
If you're looking for good food and spectacular views, the Okaloosa Island Boardwalk is the place to be. Find oceanfront dining, from fish tacos to fresh caught Amberjack and Grouper grilled and served fine dining. Or, for just $8, walk out 1,262 feet into the temperate Gulf waters on the Okaloosa Island Fishing Pier to get a closer look at the catch of the day.
Okaloosa Island offers many housing options, from condos and single-family homes to beachfront properties and even luxury vacation villas. Live on the gulf shore or get bayside views facing downtown Fort Walton Beach and Elgin Air Force Base. The median list price for December 2022 was $421,900, with 189 listings.
Fort Walton Beach
Moving onto the mainland, Fort Walton Beach is a small city, ironically with no beachfront in the limits. It does provide spectacular views of Choctawhatchee Bay and plenty of waterfront access. Okaloosa Island and its beaches await over Miracle Strip Parkway and its bridge.
The city offers endless recreational opportunities, including fishing, sailing, kayaking, jet-skiing, golfing, and more. The Fort Walton Beach Golf Course is in the city's northern section. It's also home to Fort Walton Mound, an ancient Native American temple mound now a National Historic Landmark. Emerald Coast Science Center is also here, featuring hands-on science exhibits for all ages.
Fort Walton Beach has a historic downtown area transformed into an arts and entertainment area. Walking distance to the waterfront parks, residents have plenty of local restaurants and shops to explore. The nearby Uptown Station Plaza Shopping Mall also provides shopping and dining options.
The median list price for December 2022 was $359,900, with 343 listings. Fort Walton Beach had 12 neighborhoods ranging from condos and townhomes to bayfront custom estates.
Niceville
If you're looking for a more laid-back Emerald Coast experience, then Niceville is the place for you. It's at the top of Choctawhatchee Bay, 10 miles north of Destin on the mainland and just down the road from Eglin Air Force Base.
Niceville boasts some of the best schools in Florida and is home to Northwest Florida State College. SafeWise called it Florida's safest city in 2022, and Bloomberg has named it one of the best places to raise kids in Florida. With such excellent public education and endless outdoor activities, it's no surprise that many families move here. Take your pick of activities, such as golfing at Bluewater Bay or Elgin Golf Course.
Niceville has a suburban, small-town feel. Some homes are waterfront on the bay, which has an old Florida feel with cypresses and live oaks. Niceville has a wide range of housing options, from single-family homes to condos and townhomes. The median list price for December 2022 was $439,900, with 189 listings.
Destin
The Emerald Coast's crown jewel is the resort city of Destin. It's the most well-known destination on the Emerald Coast for a reason. The scenic coastal real estate is paired with an excellent destination for fishing, sailing, and other water sports, as well as golfing and shopping.
Destin is at the end of a peninsula. It started as a fishing village, with evidence of occupation as a fishing center going back to the seventh century.
The sleepy fishing hamlet is not so quiet anymore. Over a million people come each year to enjoy Gulf of Mexico views, Choctawhatchee Bay, or the east jetty. Tourist attractions include Big Kahuna Water Park, HarborWalk Village, and Destin Commons. Locals have no shortage of shopping, dining, and entertainment.
Henderson Beach State Park is one of Destin's gems. Not only can you enjoy an assortment of beach-related activities such as swimming, shelling, bird watching, and more, but you can observe the local wildlife from the four nature trails.
Golfers have two famous courses. There's a reason Kelly Plantation Golf Club is consistently rated as one of the best golf courses in Destin. Its challenging play and stunning coastal scenery are unmatched. Emerald Bay is the other renowned golf course community that sits on the Choctawhatchee Bay, close to Destin and the Beaches of South Walton.
Destin has an executive airport and connects more directly to the mainland through the Mid-Bay Toll Bridge.
The median list price for December 2022 was $659,900, with 690 listings. Destin has many housing options, from beachfront condos to luxurious waterfront homes.
Miramar Beach
Moving east from Destin is the resort area of Miramar Beach. The unincorporated neighborhood is between two popular Emerald Coast towns, Destin and Sandestin. From indulging in some retail therapy at local antique shops to playing a game or two of beach volleyball, there's no shortage of things to do here. When it comes time to refuel, you'll be spoiled for choice with the diverse array of dining options available.
At the beachfront, lounge on the sand, soaking up the sun, or go for some waterfront action. Rent jet skis or try parasailing for a bird's-eye view of the area.
The Scenic Highway 98 Trail is a great place to exercise; at three miles long, it's perfect for a run or bike ride. And if you're a tennis fan, the Hidden Dunes Beach & Tennis Resort is the ideal place to stay. It has six championship clay courts and award-winning instruction from USPTA teaching staff.
Shopping is an attraction for Miramar Beach. Silver Sands Premium Outlets features more than 100 stores, restaurants, and a kid's play area. Nearby Grand Boulevard is an upscale outdoor lifestyle center that showcases Hemline, Lilly Pulitzer, Williams Sonoma, and other brand-name designers.
The median list price for December 2022 was $795,000, with 626 listings. Miramar Beach has a wide range of housing options, from condominiums to oceanfront luxury homes.
Shalimar
Shalimar is a small town on the mainland across the bay from Fort Walton Beach and north of Destin. It offers the Emerald Coast lifestyle with less hustle and bustle than other nearby towns.
Originally called Port Dixie, it started developing to support nearby Elgin Air Force Base, which borders to the south. It maintains a more rural and suburban feel than other towns on the Emerald Coast while still providing Bayfront and waterfront living.
The median list price for December 2022 was $395,000, with 65 listings, making it one of the most affordable Emerald Coast neighborhoods.
Live on the Emerald Coast
With so much to offer, Emerald Coast living is truly something special. Whether you want a beachfront getaway or an outdoor escape, Fort Walton Beach, Destin, and the other Emerald Coast towns all have something special that makes these places great places to live. From endless waterfront activities and attractions to numerous shopping opportunities, Emerald Coast living won't disappoint! Take your pick of the Emerald Coast's best offerings and start enjoying life on the Emerald Coast today!