Your Knightdale, NC Real Estate Questions Answered
Posted by Preston Guyton on Thursday, June 9, 2022 at 5:12 AM
By Preston Guyton / June 9, 2022
Comment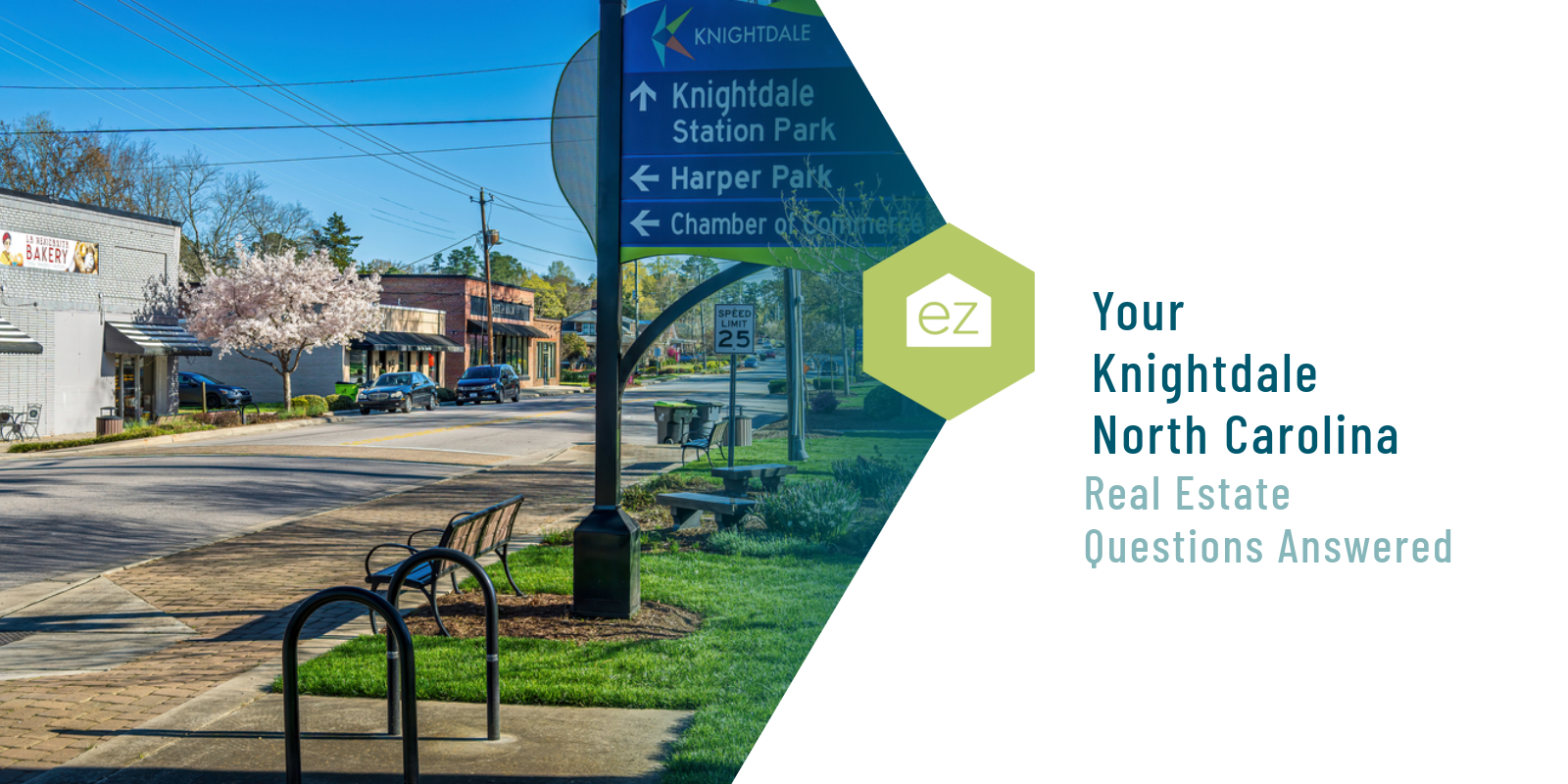 Your Knightdale, NC Real Estate Questions Answered
Knightdale, North Carolina, is a great option to call home, whether you're looking for a family-friendly suburb or a lively community with nightlife and entertainment. This up-and-coming city is just 13 miles from downtown Raleigh, making it a convenient place to live for commuters. However, there's something for everyone in Knightdale. Those who prefer to stay closer to home will appreciate the numerous parks and trails, local shops, restaurants, and small craft breweries.
If you're considering moving to this North Carolina city, here are answers to some of the most common questions about the Knightdale real estate market.
What is the average price of a home in Knightdale, NC?
The median home price in Knightdale was $376,500 in May 2022, which is relatively affordable compared to other cities in North Carolina. You can find both single-family homes, condos, and townhomes.
Home prices ranged from $45,000 for an undeveloped lot to $4.9 million for a four-bedroom, 2.5-bathroom, 3,735 sq ft on 16 acres.
Are there any condos or townhomes available in Knightdale, NC?
Yes, both condos and townhomes are available in Knightdale. As of May 2022, there were 20 listings, all townhome properties. Townhome prices started at $250,000 for a 1,413 sq ft three-bedroom, 2.5-bathroom unit and went up to $434,900 for a 2,432 sq ft three-bedroom, 3.5-bathroom townhome.
Some places you can look for condos or townhomes include, but are not limited to Poplar Creek Village, Glenmere, Mingo Creek Townhomes, Widewaters, Parkside, and Deer Creek.
What is the property tax rate for Knightdale, NC?
All North Carolina property taxes are charged at $100 of the assessed property value. The Wake County property tax rate in 2021 was $0.60, and Knightdale was $0.42. The county also assessed a $20 recycling fee.
What county is Knightdale, NC in?
Knightdale is in Wake County. Here you'll find various options to live, work, and play. Key attractions include the NC State University, Research Triangle Park, and four professional sports teams, including the 2006 Stanley Cup Champions, the Carolina Hurricanes.
Raleigh, North Carolina's capital city, is also the center of Wake County.
Wake County has over 100 shopping areas with retailers that sell local designers, national brands, high-end boutiques, and one-of-a-kind presents. The Triangle region also offers many restaurants serving everything from "farm to table" cuisine to national restaurant chains.
Wake County is full of great outdoor activities. Residents and visitors may enjoy more than 250 parks and 100 miles of paved greenway trails, plus numerous miles of gravel and single-track trails for hikers, bikers, and horseback riders. Boaters and fisher-people will like Falls Lake, Harris Lake, Lake Wheeler, and nearby Jordan Lake, which offer more than 27,000 acres of water when combined.
Golfers in the area have many local course options, with 30 public and 18 private golf courses. The renowned Pinehurst Resort area is just an hour away.
With more than 35 free activities, the Triangle is known as the "Smithsonian of the South." The North Carolina Museum of Art, History, and Natural Sciences is home to some of the world's greatest collections and has received many international traveling exhibits; Marbles Kids Museum is one of the country's most popular hands-on children's museums. And dozens of performing arts companies in Raleigh and Durham present local shows, Broadway productions, and the North Carolina Symphony.
Is Knightdale, NC, growing?
Yes, Knightdale is growing! The population has increased by 8,000 residents since 2010, a 41% growth rate. It is growing at 2.45% a year. The community is diverse, with 48% of residents identifying as African American, 38% as Caucasian, and 10% as Hispanic or Latino.
Knightdale and Wake County are part of a fast-growing region. More than one million people live within the metro region, with 40% of its population concentrated in Raleigh.
What neighborhoods are in Knightdale, NC?
Some of the most popular neighborhoods in Knightdale are:
Glenmere brings small-town charm together with everyday conveniences including shopping and a variety of restaurants in fast growing Knightdale. The community is ideally situated with quick access to major highways, world-class healthcare, and top-rated universities. The neighborhood amenities include a walk-in junior Olympic-sized pool, cabana with fireplace, open play area, and tot lot.
The Manors at Haywood Glen are designed for families searching for beautiful new homes with open floor plans. Residents may enjoy a community pool, playground, dog park, public space, and more, all located just minutes from I-540 and Downtown Raleigh with easy access to I-440.
Amber Acres homes were typically built from 1985-2009, and range 1,008-2629 sq ft. in size.
Mingo Point is home to various people, from young professionals and families to retirees. The community is well-connected with major highways, allowing residents to easily get around the Triangle. Residents have access to plenty of shopping and dining options as well as parks and recreation.
Autumn Ridge and Parkridge are quiet neighborhoods with easy access to shopping, dining, and schools. The community is just minutes from I-540 and Downtown Raleigh, making it the perfect place to call home. Lowes Foods, Home Depot, Walmart, and Food Lion are minutes away.
Planter's Walk is a deed-restricted development alongside I-540 with three communities inside its borders. The community has a swimming pool, walking trails, ample sidewalks, and a picnic area.
Magnolia Place is a well-established neighborhood located near Knightdale Station Park. The community is convenient for shopping, dining, and recreation with easy access to I-540, I-440, and Downtown Raleigh.
Brookfield Station is a new community of single-family homes in Knightdale. The neighborhood is designed for active living with a pool, playground, and walking trails.
In 2022, the neighborhoods with the most listings were Poplar Creek Village, Parkstone Village, Rutledge Landing, Glenmere, and Haywood Glen. Glenmere and Knightdale Station are new construction communities.
What is the cost of living in Knightdale, NC?
The cost of living in Knightdale is 5% lower than the national average and 10% lower than the state average. The cost of housing is 12% lower than the national average and 19% lower than the state average. Grocery, transportation, and healthcare costs are all slightly lower than the national averages.
Are there any waterfront properties found in Knightdale, NC?
No waterfront properties are available in Knightdale. A few retention ponds are scattered around the city, and Mingo Creek is on the south side.
How is golf in Knightdale, NC?
There are a few golf courses in and around Knightdale. The nearest one is the River Ridge Golf Club, about 10 minutes away. There are also several courses in Raleigh, Durham, and Chapel Hill less than 30 minutes away.
What areas are near Knightdale, NC?
Knightdale is about 10 minutes from Raleigh, 20 minutes from Cary, 30 minutes from Durham, and 45 minutes from Chapel Hill.
In Raleigh, you'll find the state capital and its administrative centers. The job market is thriving, and part of that is the proximity to Research Triangle Park. It's also been called one of the South's tastiest towns, with over 1,200 restaurants to try. That doesn't include the craft beer, art galleries, or music scene.
Cary is home to many high-tech companies, as well as excellent schools that appear on best-in-the-nation lists. It's been rated a top place to live in the country.
Durham is known for its vibrant downtown area and world-renowned Duke University. Chapel Hill is home to the University of North Carolina and a lively downtown scene.
Clayton is south and is known for its many antique shops. It has a small-town vibe and acts as a suburb of Raleigh.
Wake Forest is north of Knightdale and is a historic town with a lively downtown area. It has no shortage of great restaurants, breweries, and shopping options.
Zebulon is a more rural feeling community east of Knightdale. The small town has a historic downtown area. It's a launching point for enjoying the great outdoors.
What to know about living in Knightdale, NC
Knightdale is a great place to live for those who want to be close to Raleigh and have access to plenty of parks and recreation. If you're looking for a quiet neighborhood with easy access to shopping and dining, Knightdale is the perfect place for you! The cost of living is lower than the national average, and there are plenty of activities in the town.
If you're looking at living in Knightdale, contact a local real estate agent to find the right neighborhood for you.