Your Clayton, NC Real Estate Questions Answered
Posted by Preston Guyton on Sunday, May 15, 2022 at 8:29 AM
By Preston Guyton / May 15, 2022
Comment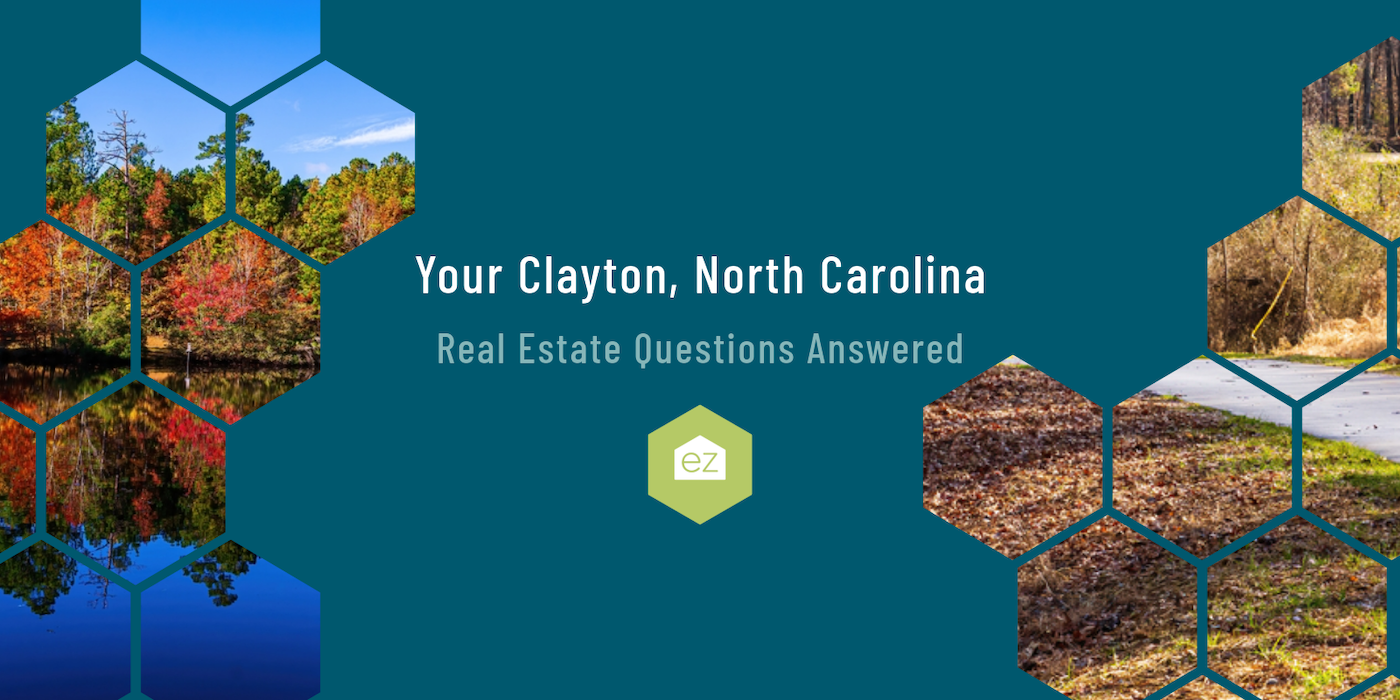 Your Clayton, NC Real Estate Questions Answered
Clayton is a thriving community just southeast of Raleigh, NC with a wealth of arts and music choices, a year-round variety of community events for all audiences, miles of greenways and trails, and green parks in every corner of the town. Clayton's vibrant Downtown District is packed with shops, restaurants, bars, and more entertainment. Whether you're a long-term resident or new to the area, there's certainly something to enjoy.
If you're thinking of moving to Clayton, NC, you probably have questions about what the town is like and what the housing options are. Here's a quick guide to help you get started with your home search.
What is the average price of a home in Clayton, NC?
Housing in Clayton is varied and affordable. You can find everything from starter homes to luxury properties. Many established homes are on larger lots, and you can find homesteads with larger acreages if you desire. Many new construction homes are being built in Clayton, so your housing options are expanding.
The market had 331 homes for sale in April 2022. The prices ranged from $50K to $4 million, with a median price of $385,000.
The most affordable listing with an existing home was $175,000 for two bedrooms, one bathroom, and 938 sq ft. The most expensive residential home was $1,650,000 for a three-bedroom, three-bathroom home on almost 34 acres of land.
Are there any condos or townhomes available in Clayton, NC?
Yes, Clayton does have condo and townhome options available, many of which are new construction as of 2022.
The most affordable was $189,900 for a two-bedroom, two-bathroom condo with over 1,000 sq ft. The most expensive property was $389,900 for a 2,750 sq ft townhome with three bedrooms and 2.5 bathrooms.
What is the property tax rate for Clayton, NC?
Johnston County administers all assessment, valuation, billing, and collection of property taxes. The annual property tax is based on the assessed value of your property for the year beginning July 1st and ending June 30, and is not necessarily how much it sold for.
The 2021-2022 property tax rate for the Town of Clayton was $0.58 per $100 of valuation. The Fire District Tax was $0.1175. Johnston County charged $0.73 per $100. That's a combined $1.4275 per $100 of assessed property value in taxes.
What county is Clayton, NC in?
Johnston County is the county where Clayton is located. Johnston County was established in 1746 from Craven County; larger parts broke off to form Wayne, Wake, Greene, and Lenoir counties. It is named for Gabriel Johnston, the Royal Governor of North Carolina from 1734 to 1752.
It has strong agricultural roots, which persist today in the local economy. The county is located minutes from Raleigh and the Research Triangle Park, and many communities serve as "bedroom" communities for the Raleigh-Durham area. The county seat is Smithfield.
Is Clayton, NC growing?
Clayton added almost 10,000 new residents from 2010 to 2020, a phenomenal growth rate in a decade. It is growing at a rate of 6.8% a year.
Johnson County had 217,723 residents in the 2020 US Census. It is expected to increase by 24.5% by 2030. The median age was 38.
What neighborhoods are in Clayton, NC?
There are many great neighborhoods in Clayton, NC, to choose from, depending on your needs and budget. Here are just a few:
Riverwood: Comprised of the Athletic Club and the Golf Club, this is a family-friendly neighborhood with plenty of amenities like a clubhouse, swimming pool, tennis courts, and more. It's also conveniently located near schools and shopping. It has a small-town feel.
The Meadows at Flowers Plantation: Another excellent option for families, The Meadows offers single-family homes and townhomes. This newer development also has its amenities like a playground, walking trails, and a pool. Flowers Plantation as a whole is one of the Triangle's largest residential developments.
The Village at Little Creek: A new construction community, the homes are designed with an efficient floor plan. Two-story homes range from 1,800 to more than 2,700 square feet with up to six bedrooms. Most plans include a designated home office, flex or bonus room, or an extra bedroom.
Winston Pointe: Another new construction community, Winston Pointe is situated just off NC-42 and US-70. Residents have easy access to nearby restaurants, local shopping, and family-friendly recreation and sights. Homes range 1,826-3,000 sq ft in size.
The communities with the most listings in spring 2022 were Glen Laurel, Wellesley, Wilson Farm, San Marino, and The Village at Little Creek. Golden Plantation, The Falls At Norwood, and Walden were the most expensive neighborhoods.
Are there any waterfront properties found in Clayton, NC?
Yes, there are waterfront properties based on creeks and ponds, plus some properties that back onto the Neuse River.
Some of the waterfront homes can be found in The Neuse Country Club, Riverwood Athletic Club, and Flowers Plantation. These newer developments have access to the river and recreational opportunities, like boating, fishing, canoeing, kayaking, etc.
How is golf in Clayton, NC?
The Clayton area is home to several semi-private golf courses. Some of the courses in the area include The Neuse Golf Club, Riverwood Athletic Club, Pine Hollow Golf Club, and more.
The Neuse Country Club Golf Club is a semi-private course rated 4.5 stars by Golf Digest. It was designed by John LaFoy and features 18 holes of championship golf. The club also has an Olympic-sized swimming pool.
Riverwood Athletic Club is a semi-private club that offers a total of 27-holes of golf, tennis courts, swimming pools, and more. David Postlethwait created a dramatic play that North Carolina Magazine ranked Riverwood one of the "Top Ten Best New Courses in North Carolina" when it opened in 1997.
Pine Hollow Golf Club is a semi-private course that features 18 holes of golf and a driving range, pro shop, and more. Bob Moore oversaw green renovations in 2000, and full renovation was executed in 2006.
If you're looking for a place to play golf, Clayton has plenty of options. Whether you're a beginner or an experienced golfer, you'll find a perfect course for you.
Are there golf course communities in Clayton, NC?
Glen Laurel has long been the finest location in Clayton for high-end custom construction residences. The subdivision is located around the Neuse Golf Course. It features older properties that have been renovated, on the golf course with mature landscaping, and new phases with homes constructed by regional semi-custom and local custom builders. Services are provided within Clayton's city limits, five minutes from downtown Clayton.
Riverwood Golf Club is a short drive from Riverwood Athletic Club and features golf course living. Homes are priced from the mid $200,000s to the mid $500,000s.
What areas are near Clayton, NC?
The state capital and the largest city in North Carolina, Raleigh, is just 30 minutes from Clayton. This bustling city is home to various attractions, including the NC Museum of Art, the NC Museum of Natural Sciences, the State Capitol, and more.
Home to Duke University, Durham is also just 30 minutes from Clayton. In addition to being a college town, Durham is also known for its lively nightlife scene and its AAA minor league baseball team, the Durham Bulls.
Just 45 minutes from Clayton, Chapel Hill is home to the University of North Carolina at Chapel Hill. This college town is also known for its lively nightlife and AAA minor league baseball team, the Durham Bulls.
Smithfield is another nearby town that's just a 30-minute drive from Clayton. This historic small town has a charming downtown area with plenty of shops and restaurants to explore.
Garner, another town just 30 minutes from Clayton, is home to one of the largest shopping malls in North Carolina, the Triangle Town Center Mall.
As you can see, Clayton is centrally located and offers easy access to a variety of great cities and towns. Whether you're looking for a place to call home or a weekend getaway, Clayton is the perfect place.
What to know about living in Clayton, NC
Clayton is a great place to call home, no matter your needs. With its convenient location, affordability, and variety of housing options, it's easy to see why this town is growing so rapidly. So if you're thinking of moving to Clayton, NC, don't hesitate to reach out to a local real estate agent today. They can answer any other questions you may have and help you find the perfect home for your family.