Your Cary NC Real Estate Questions Answered
Posted by Preston Guyton on Friday, January 14, 2022 at 4:41 PM
By Preston Guyton / January 14, 2022
Comment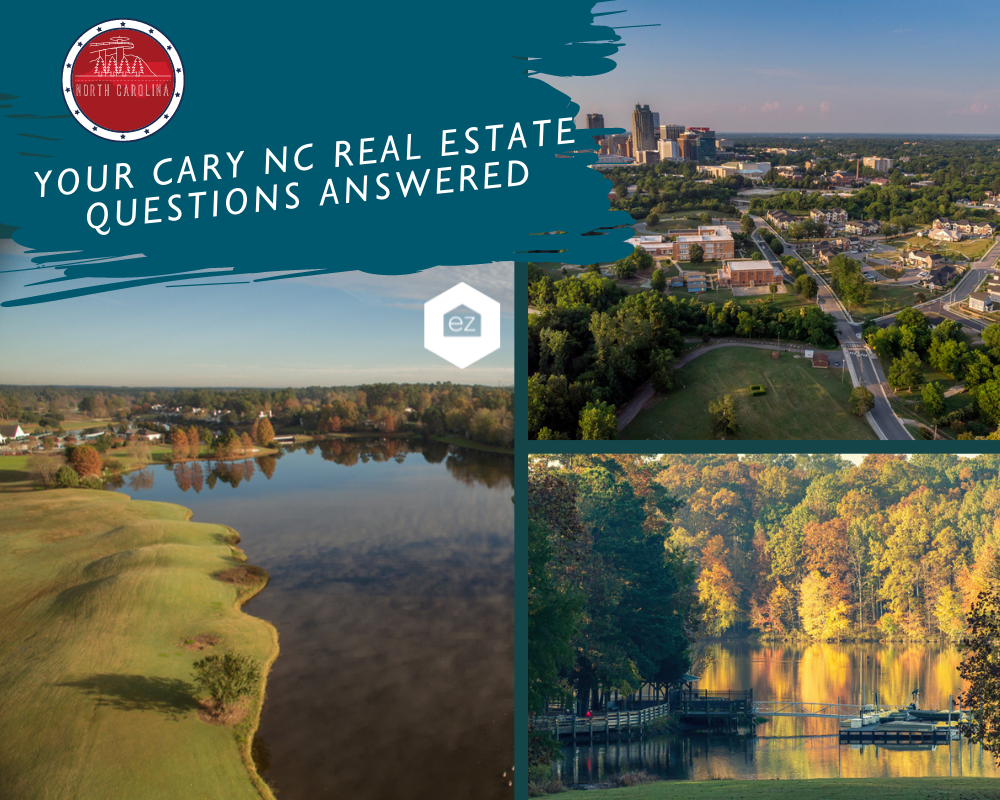 Your Cary, NC Real Estate Questions Answered
There's a reason Cary, NC, has ranked as one of the "Best Places to Live" and one of the "Best Small Cities in America." North Carolina's seventh-largest city, situated in the Triangle near Raleigh and Durham, has plenty to offer residents.
Its strategic location close to two major cities provides access to an international airport, transportation networks, and world-class education. As Cary residents know, you don't need to leave to enjoy robust lifestyle amenities like global dining, entertainment venues, retail, and recreation.
If you're looking at moving to Cary, NC, use our frequently asked questions about Cary real estate to help you find the right place to live.
What is the average price of a home in Cary, NC?
In August 2021, Cary was ranked the 12th hottest housing market in the United States, beating nearby Raleigh. As of January 2022, there were 426 listings with a median home price of $629,100. Home prices had increased 29% year-over-year.
The lowest-priced listing was a $145,000 condo unit with 1-bedroom, 1-bath, and 655 sq ft of living space. The market topped out with a $3.5 million listing with 6-bedrooms, 6.5-bathrooms, 5,706 sq ft on a 0.65-acre waterfront lot.
Are there any condos or townhomes available in Cary, NC?
Yes, the Cary real estate market had 52 condos and townhomes listed in January 2022. The top of the market was $639,000 for a new construction, 4-bedroom, 3.5-bathroom unit with 2,355 sq ft in Hampton Place. The other end of the market had a $145,000 condo unit with 1-bedroom, 1-bath, and 655 sq ft of living space near Blackhawk.
What is the property tax rate for Cary, NC?
Your precise property tax bill will depend on your residential address. The town of Cary levied a property tax rate of $0.345 per $100 of assessed value in the 2022 fiscal year. As part of Wake County, residents paid $0.60 in 2021. The county also charged a $20.00 recycling fee.
What county is Cary, NC in?
Cary predominantly is part of Wake County, NC, and is its second-largest municipality.
Wake County consistently appears in independent media as one of the best places to live and work in America. As the center of government and home to world-class universities and research institutions, residents benefit from a strong economy and diverse amenities.
These include city parks, professional sports teams, convention centers, museums, dining, retail, and cultural events.
Is Cary, NC growing?
The 2020 US Census reported 174,721 residents in Cary, North Carolina. It added almost 40,000 new residents since the 2010 census. The town's population projections predict 206,813 residents by 2030, a 7% increase from 2025.
What neighborhoods are in Cary, NC?
Ample tree-lined streets and well-groomed subdivisions show Cary has managed its growth. Residents have many neighborhoods in subdivisions to explore. If you're moving to Cary, a local real estate expert can help you narrow your choices. Here's a small sampling of places to live inside Cary.
The Amberly area is a master-planned community under development and has several different subdivisions you can explore. The development has single-family homes and townhomes available.
Brookstone was developed in the 1990s and features single-family homes from 2,265 to 3,213 sq ft. Many homes are situated on lots sized around half an acre or greater. Some highly ranked schools are nearby, making it desirable for families.
Carpenter Village has a great location if you want to be closer to Raleigh or Research Triangle Park. The community has single-family homes, townhomes, and condos. Walking paths surround a lake and a Cary public school is within walking distance.
Cary Park is the focal point of the neighborhood of the same name. At the park's center is a 28-acre lake with paved trails. The neighborhood has more park amenities and a clubhouse. Find condos, townhomes, and single-family homes nearby.
Lochmere in East Cary has a series of lakes that add to its ambiance. Inside the master-planned development you'll find bike lanes, tennis courts, a community swimming pool, and walking trails. Residents are close to the Lochmere Golf Club, a semi-private club with state-of-the-art training facilities. The amenities of Waverly Place, with a Whole Foods and a CineBistro, are nearby.
Copperleaf is an executive-style neighborhood with mature, large lots around a half-acre in size. The community has a neighborhood pool and a children's playground.
MacGregor Downs is an upscale neighborhood close to a golf course and the amenities of Waverly Place. The local nature trails meander around MacGregor Downs Lake and Apex Lake. The MacGregor Downs Country Club is a private, member-owned club with tennis courts and a pool. Club members have small boats and fishing available at the facilities.
Twin Lakes Community was designed by Martha Stewart in collaboration with KB Homes. The townhomes and single-family homes are minutes from Research Triangle Park and the Raleigh-Durham International Airport.
Wellesley is a mature neighborhood with larger homes and lots. It's west of the Preston neighborhood and near Cary's restaurants, shopping, and entertainment.
Are there any waterfront properties found in Cary, NC?
Yes, there is waterfront real estate available in Cary. The majority of your waterfront options will be lakefront homes. These properties are in high demand and often associated with custom estate or executive-style homes.
If you are interested in lakeside living, look at Weston Lakeside on Lake Crabtree, Cary Park Lake, and around Amberly. Lake MacGregor Downs has some waterfront living and has the bonus of being adjacent to the MacGregor Downs Country Club.
More waterfront properties are near Long Crabtree Creek in Preston and the Prestonwood Country Club. Search along Swift Creek near Harbour Towne, Sterling, and Lake Pointe Village Townhomes. Lochmere also has a few reservoirs and creeks with waterfront homes.
How is golf in Cary, NC?
If you enjoy a day at the course, Carry has you covered with a selection of semi-private and private golf clubs. At Prestonwood Country Club, you have three 18-hole courses to choose from for a total of 54 holes of championship golf. It has numerous additional amenities like 15 tennis courts, a kids club, an aquatics center, and social events.
The private MacGregor Downs Country Club has a highly rated course that has hosted some PGA events and top players like Lee Trevino and Jack Nicklaus. Enjoy lakeside views as you play.
Lochmere Golf Club is a semi-private facility with water hazards fed by Swift Creek and tight tree-lined fairways challenging your accuracy.
Are there golf course communities in Cary, NC?
Preston is a desirable neighborhood, and the fact it has 59 holes of play adds to its attractiveness. The Prestonwood Country Club is a great place to live in a golf course community, even if you don't play. Amenities include a dining club and community events. It has a central location in the Cary community. Leave near restaurants, recreation facilities, retailers, and great schools. The Preston development was divided amongst home builders, so you'll find a range of home prices and styles.
What areas are near Cary, NC?
Some consider Cary a "bedroom community" to Raleigh and Durham. Cary residents are about 17 minutes drive from downtown Raleigh. Historic Chapel Hill is part of the Triangle, easily accessible from Cary.
Cary's centralized location gives residents access to a world-class education at Duke University, Wake Forest University, and the North Carolina University system.
Research Triangle Park, a hub for innovation and headquarters to many well-known brands, is just to the north of Cary. Hundreds of companies are housed in the US' largest research park.
Cary has a well-developed parks system that makes it an attractive place to live. When looking for more open spaces to relax, Jordan Lake is to the west. It's a great place to spend the day boating and fishing on an expansive reservoir.
What to know about living in Cary, NC
Cary, NC, has all the right ingredients for a great place to live. Local data shows it has a low crime rate, affordable housing, and plenty of things to do. With the urban amenities of a city, but a quiet, small-town feel, many people cherish the lifestyle available here.
When you're ready to make Cary, NC, your next home, a local real estate expert will help you find the right neighborhood and community to make the most of your Cary lifestyle.