The Four Best Dog Parks in Charleston, SC
Posted by Preston Guyton on Sunday, June 20, 2021 at 5:14 AM
By Preston Guyton / June 20, 2021
Comment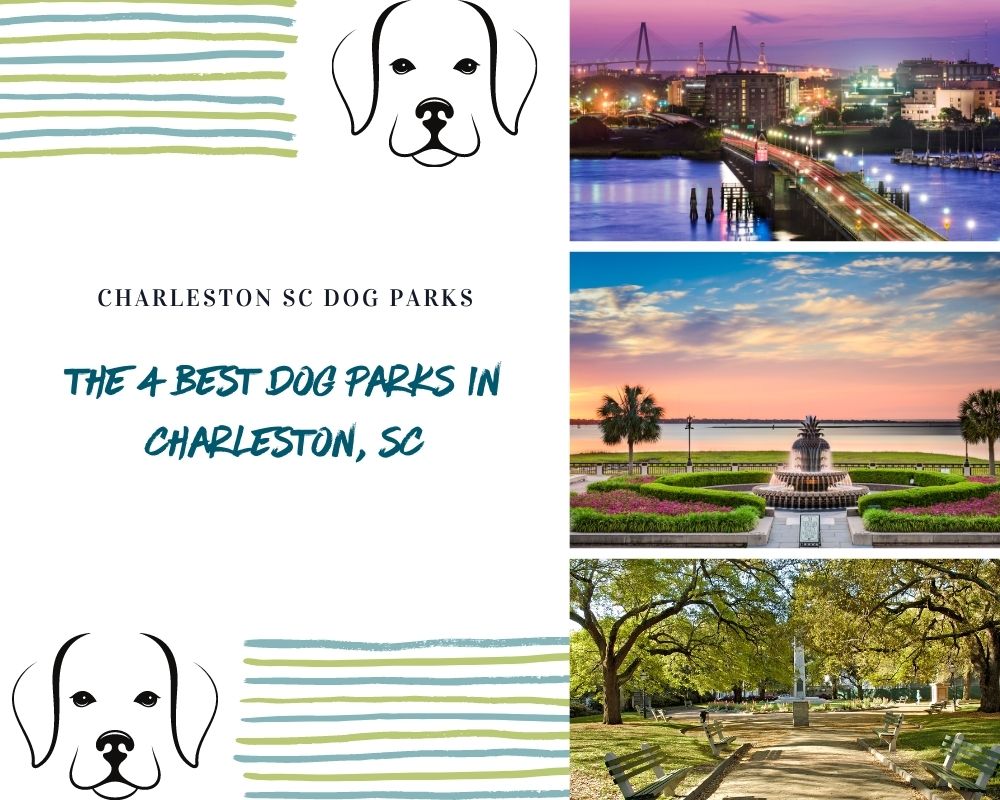 The 4 Best Dog Parks in Charleston, SC
While there are certain challenges in owning a dog (especially a big one) inside a city, there are plenty of areas to take them away from the small yard spaces where they're confined. Charleston is a great city for dog parents with an amazing number of dog parks available for everybody to use. So if your dog is scratching at the door, and you're not too sure where to take them to have some fun, don't worry. In this list of the 4 Best Dog Parks in Charleston, SC, we've got you covered with dog-friendly places for your pooch to run, fetch, and play.
1. Hazel Parker Playground Dog Park
A downtown park favorite, the Hazel Parker Playground Dog Park(or East Bay Dog Park) is suitable for both small and large dogs. This park makes use of a fenced gravel area which is open all day, and if you visit at 5 pm, the grassy field will be available for off-leash play. Inside, you'll also find a water fountain for dogs, along with beautiful trees around the park. As the quintessential dog park, it is located right at the heart of downtown, has a cool breeze, and is within walking distance of gorgeous sites in Charleston.
The Hazel Parker Playground Dog Park is also close to various places of interest, such as Waterfront Park, White Point Garden, and the surrounding historic neighborhoods. It also offers great views of Charleston's landscape and a variety of activities such as:
Athletic Field
Basketball Court
Benches
Dog Park
Drinking Fountain
Picnic Tables
Playground
Restrooms
Tennis
Trash Cans
In April 2010, this park received renovations from The Conservancy, adding a shaded swingset to the playground and providing the gardens with more than 15 varieties of plants. Further renovations in April 2011 added climbing Peggy Martin Roses were installed along the fence by East Bay St. Through its partnership with The City of Charleston, The Conservancy has maintained an active role in this park's updates with more plants and activities added every year.
So if you're looking to stimulate and have fun with your dog, you can achieve both through the Hazel Parker Playground. While it may be a smaller park compared to the other complexes available in Charleston, this park offers an off-leash option for your fur baby, along with a small playground nearby. Here, you can be sure that both dogs and their humans can get exercise and fresh air in one trip.
Hazel Parker Playground Dog Park at a glance:
Plenty of room for dogs to play off-leash
Drinking fountains available for dogs and humans
Friendly dogs and owners
2. Palmetto Islands County Park Dog Park
If you and your dog are full of energy and crave outdoor adventures, then the Palmetto Islands County Park Dog Park is perfect for you both! Located in Mount Pleasant this park offers a separate off-leash area for both small and large dogs and leash-on activities such as sand volleyball, trails, grassy areas, and kayaks. The grassy fields are so big that dogs can run like there's no tomorrow here, and you won't have to worry about losing sight of them since it's fenced.
There are also picnic tables here, where you can relax and sit down while your dog gets the time of his or her life. While this park is lacking in shady spots, it's the perfect place to release your pup's energy while you socialize. Once your dog finishes playing, you can take a stroll through this scenic park. Be sure to visit Nature Island while inside this park, which can be accessed by following a boardwalk leading through a path of trees and ends in great views of the marshes.
Palmetto Islands County Park Dog Park at a glance:
Address: 444 Needlerush Pkwy., Mt. Pleasant
Open every day from 8 a.m. to 7 p.m. (9 a.m on Wednesdays)
There is a $2 park admission
Offers a water and waste station with waste bags
3. Hampton Park Dog Park
One of the shadiest (in a good way!) parks in Charleston is the Hampton Park Dog Park, which will provide you and your pet with a much-needed refuge when your pup wants to play anytime the sun's out. Whether you plan to go out to play with your dog during summer, spring, fall, or winter, this is a great park to visit. While it may be smaller compared to the others in this list, it offers a water spigot and is fully fenced for safety.
During winter, the park may not have much in terms of greenery, but there is always plenty of space to play a game of fetch or chase. The Hampton Park Dog Park is accessible and offers a huge parking lot for those who don't live within walking distance. There are also benches here where you can relax and keep an eye on your canine buddy while he or she plays with other dogs.
Hampton Park Dog Park at a glance:
This off-leash park offers benches and running water
Offers stunning flower gardens and rose collections for you to observe
Scoop bags are provided for your dog's relief
4. James Island County Park Dog Park
The James Island County Park Dog Park offers a large grassy field that leads into three sandy beaches. Here, dogs can swim and play all they want since the surrounding areas are full of water. This park is located on James Island and offers a selection of areas where you and your dog can play, train, and exercise.
Apart from the dog park, there are also walking trails and open spaces available here. Because this dog park is busy with traffic from dogs and their owners, it's a great place to practice walking with other dogs and for engagement drills along with the other dogs. Unfortunately, though, it can be highly difficult to work near the fence line because of the vegetation growth.
But whether your dog prefers to play on land, water, grass, or sand, he/she will experience a great adventure. Owners can also have a bit of fun here, where the saltwater wetland right next to it offers various amenities like picnic shelters, kayak rentals, a spray fountain, and paved trails. There are also great spots for crabbing and fishing with your dogs if this is up your alley.
James Island County Park Dog Park at a glance:
Provides pets and their owners with a huge, grassy off-leash area
Also has a big, off-leash dog beach
Offers a spacious area dedicated to smaller dogs
Dog Park Rules to Keep in Mind
Dog parks depend on the diligence, monitoring, and cooperation of dog owners. As a responsible dog owner, you can help to keep your park hospitable and healthy by being a good example for others. Here are a few points to keep in mind when walking your dog:
You are responsible for the damages and injuries that your dog may cause.
Dogs that are aggressive, sick, in-heat or those without current vaccinations, or those who are too young for a rabies vaccination aren't allowed.
Keep your pup on a leash until it safely enters the park, and place it back on a leash once you exit.
Pick up your pet's poop immediately, and don't let the excrement stay on the ground long.
Keep an eye on your dog at all times, and practice voice control to avoid potentially dangerous situations.
An adult should supervise children at all times.
Should you sense a problem, proactively place a leash on your dog.
Don't allow your pet to dig holes and fill any holes they create immediately.
Immediately report an attack or bite to the proper authorities or the park office.
Keep food away from any enclosure, as dogs can become aggressive or protective when in front of food.
By following the guide above, you can help create a cleaner and safer environment for all dogs and their humans. Be sure to follow these guidelines to ensure that everyone can enjoy the park and appreciate the beauty that the parks have to offer.
All of these parks are certainly deserving of being crowned as Charleston's Best Dog Park, and you can be sure that your pups will love these choices as much as you do. Most of these choices offer dog water fountains, so be sure to bring a portable bowl or an extra water bottle during your adventures. This will ensure that your dog stays hydrated and healthy while they play. But most importantly, be a responsible dog lover by keeping an eye on your dog the whole time to keep the park a safe and happy place for all dogs and owners to enjoy. There are also some great dog friendly beaches in Charelston, SC so check those out as well.