Moving to Mount Pleasant - Your EZ Guide to Everything Mount Pleasant, SC
Posted by Preston Guyton on Thursday, May 13, 2021 at 5:10 AM
By Preston Guyton / May 13, 2021
Comment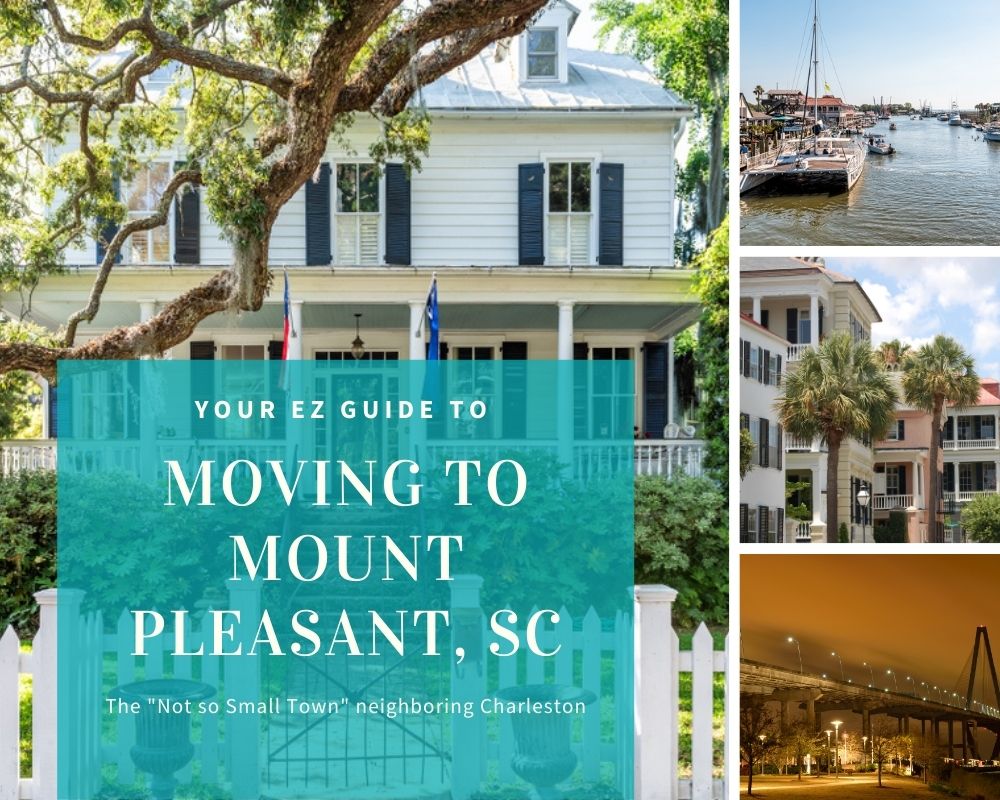 Moving To Mount Pleasant: Your Guide To Living in Mount Pleasant, SC
If you're reading this blog post, chances are that you've decided on moving to Mount Pleasant, SC. Well, you've made the right choice. If you don't know the first thing about this town, there's no need to worry. From their beautiful parks, nationally recognized cuisine, laid-back atmosphere, and mild climate, we've done all the research for you and provided everything you need to know all in one place.
With information and details carefully curated to give you the answers to all your questions, you'll find this Guide to Living in Mount Pleasant, South Carolina extremely helpful.
Cost of Living and Population Growth
Mount Pleasant is located in Charleston County, South Carolina. As a big suburban town, it's the largest town and the fourth-largest municipality in the state. It was also among South Carolina's fastest-growing areas for several years where it doubled in population from 1990 to 2000. At the 2010 census, Mount Pleasant had a population of 67,843, and by 2019, the town's estimated population was 91,684.
Because of its large population, as well as its popularity with visitors and tourists, Mount Pleasant isn't as affordable as it used to be. Today, its cost of living is around 1.3x higher than the national average and 1.4x higher than South Carolina's average. However, don't let this turn you off from your happily ever after, because you'll get it here if you can move past the higher rates and bigger expenses. Below is a table that shows a side-by-side comparison of the cost of living in Mount Pleasant against South Carolina and the national average:
| | | | |
| --- | --- | --- | --- |
| COST OF LIVING | Mount Pleasant | South Carolina | USA |
| Overall | 128.9% | 88.5% | 100% |
| Grocery | 107.3% | 95.8% | 100% |
| Health | 98.1% | 102.3% | 100% |
| Housing | 193.1% | 73.6% | 100% |
| Median Home Cost | $446,500 | $170,100 | $231,200 |
| Utilities | 104.1% | 103.9% | 100% |
| Transportation | 92.9% | 86.8% | 100% |
| Miscellaneous | 104.3% | 95.6% | 100% |
Mount Pleasant's cost of living is 128.9% compared to the national average.
Job Market
Aside from the higher cost of living, Mount Pleasant residents also have a higher median household income which is estimated at $97,176. Furthermore, Mount Pleasant's economy employs a total of 44.1k people, with their largest industries focusing on Health Care and Social Assistance, Professional, Scientific, and Technical Services, as well as Retail Trade.
Employment also grew between 2017 and 2018, where it jumped from 42.4k to 44.1k employees, with a growth rate of 4.04%. Here's a breakdown of all the important aspects of Mount Pleasant's job market:
Most Common
According to the number of employees, some of the most common jobs in Mount Pleasant include:
Management Occupations with 7,547 employees
Sales and Related Occupations with 7,396 employees
Health Diagnosing and Treating Practitioners along with Other Technical Occupations with 3,612 employees
Most Specialized
Mount Pleasant also has a few jobs that have an unusually high number of employees compared to other areas. These include:
Legal Occupations
Health Diagnosing and Treating Practitioners along with other Technical Occupations
Management Occupations
Highest Paid
According to median earnings, the jobs that pay the highest in Mount Pleasant are:
Legal Occupations with annual earnings of $109,236
Computer and Mathematical Occupations with annual earnings of $102,210
Computer, Engineering, and Science Occupations with annual earnings of $95,341
Things To Do in Mount Pleasant
While it's not a full-blown city, this huge town has more than enough places to visit and things to do during your stay. Mount Pleasant offers a multitude of exciting activities both indoors and outdoors, so if you're not the type to stay at home, head on over to these favorite areas.
Beaches
Sullivan's Beach and Isle of Palms are some of the town's most popular destinations for the summer, where you can dip your feet in the Atlantic Ocean in just 30 minutes. These areas offer free access and parking, so you won't have to worry about how to get there. With six miles of sandy beaches, the Isle of Palms County Park offers snack stands, boardwalks, picnic areas, and outdoor showers.
Restaurants
Both Mount Pleasant and Charleston host some of South Carolina's top restaurants, where locals frequently indulge in favorites such as shrimp and grits. Other foods that you need to try include oyster roast, boiled peanuts, mac and cheese, barbecue, and Frogmore stew. Furthermore, some of the best eats in town can be found in the following restaurants or events:
Lowcountry Oyster Festival
Langdon's Restaurant and Wine Bar
Graze
Long Island Cafe
Breweries
One of the best breweries around town is the Crafty Draught, where patrons have access to 26 taps that serve local craft beer. The company does its best to serve affordable, delicious beer at just $6 for eight pints all day, every day. It's also kid-friendly, offering games such as Jenga, Cornhole, Shuffleboard, and others. The Crafty Draught offers both an indoor and outdoor setting where visitors are also treated to weekly food trucks, as well as sporting or music events playing regularly. It's open seven days a week, so you don't have to worry about running out of beer at home.
Bars and Nightlife
Yorktown Countdown is a popular destination for anyone looking to party. With First Aboard tickets starting at $100, the experience includes access to their indoor airplane hangar and an all-inclusive full-service bar. Furthermore, guests are provided access to the outdoor fantail area. However, if you want the full VIP treatment, Captain tickets start at $150 — you get everything from First Aboard along with extras like a top-shelf all-inclusive bar, access to the rooftop flight deck, a large-screen ball drop, DJ performances, and more.
Climate
Because the town is so close to the ocean, the temperature here is generally temperate and warm. Mount Pleasant generally gets around 48 inches of rain on average every year, which is higher compared to the national average of 38 inches. However, it doesn't snow in Mount Pleasant, whereas the U.S. average for snowfall is 28 inches per year. Furthermore, there is an average of 211 sunny days per year in Mount Pleasant, which is also higher than the U.S. average of 205 days. Here are highlights of Mount Pleasant's essential climate statistics:
Summers in July have record high temperatures of 90 degrees
Winters during January have recorded lows of around 39 degrees
There is an average rainfall of 48 inches per year in Mount Pleasant
Mount Pleasant is another area in South Carolina that doesn't receive snow
If you want to visit Mount Pleasant ahead of your move, the best time to do so is during April, May, and October to get the best months out of this town. However, July and August are the least comfortable months for visitors.
Traffic
Mount Pleasant employs the Traffic Bureau to ensure that everyday traffic in the town is under control. This department serves in the following ways:
Preventing and investigating collisions
Community functions include promoting the usage of vehicle restraints for children, conducting driver education classes, and conducting other training related to traffic
Impaired driver enforcement
Investigations regarding traffic complaints
Traffic law enforcement
Controlling traffic during sporting events, civic functions, parades, and processions
Giving response to high priority patrol calls
Mount Pleasant's traffic enforcers have been trained in DUI enforcement and utilize proven techniques to catch drunk drivers to keep the roads safe for travelers. Their vehicles are also equipped with the latest technology for enforcement recordings and speed enforcement.
Public Transportation
Unfortunately, there aren't many options when it comes to public transport in Mt. Pleasant and most people that live here will tell you that you should bring your own car. This is probably the easiest and fastest way to get around anyway and will allow you to get the most of what this town has to offer.
Mt. Pleasant does, however, have a nearby airport. The Charleston International Airport is located just 12 miles northwest of Mount Pleasant and is the busiest passenger airport in the state. It also shares its runways with the Charleston Air Force Base where the Charleston County Aviation Authority operates both airports.
Golf
Mount Pleasant also offers great clubs and courses for avid golfers, both in and out of town. Here are just a few places you can go if you're itching to get out on the greens:
Dunes West Golf and River Club
Nestled in between the Wando River and Wagner Creek, the site of this club in Dunes West is known for its rich history. In 1991, development towards what would eventually be the current golf club started with designer Arthur Hills. It offers a friendly, yet challenging 18-hole Championship course that follows alongside the live oaks and marshes of Wagner Creek. Since then, it has been rated among the Top Ten Resort Courses, along with America's Fifty Best Courses. It's also accompanied by a 6,000 sq. ft. clubhouse offering full-service dining.
RiverTowne Country Club
The Rivertowne Country Club offers the only Arnold Palmer Signature golf course around Charleston. It provides players with the advantages that the Lowcountry has to offer — from marshlands, pampas grasses, and moss-draped trees. This 13-hole golf course winds along the Horlbeck Creek and Wando River. While the front nine may be less challenging compared to the back nine, it's not exactly easy. Each hole demands accuracy, testing a player's ability to swing using the proper club. Such challenges, along with the natural beauty of the area, have helped it land a spot on the "Top 15 Best Places You Can Play in the State" list from Post and Courier.
Water Sports
Aside from great golf courses, Mount Pleasant also offers plenty of activities for those who prefer to spend their time in the water. No matter what kind of water sport you enjoy, you can be sure to find something you like in this town.
Nature Adventures
Along with being committed to the preservation and conservation of the environment, Nature Adventures provides fun and safe activities by the water. Hailed as the #1 kayak and SUP rental in Charleston, this company provides kayak and paddleboard rentals, tours, lessons, and team-building exercises. Aside from the exciting activities on offer, the staff here hope that every paddler and visitor in the area will leave with a better appreciation, education, and understanding of the environment that generations to come can also enjoy.
Knot Stressed Charters
The captain of this ship is an expert in creating memorable trips, where visitors can enjoy their freshly caught Flounder, Spotted sea trout, and Red drum. Both residents and tourists can happily say that Stressed Charters is a great activity for family and adult trips alike, with each trip better than the last. Furthermore, the captain is great with kids, teens, and adults and is highly knowledgeable of the area, while offering the correct level of instructions for all clients. So, if you're thinking about a chartered fishing vacation, head straight to Knot Stressed Charters.
Dog-Friendly
It might come as a surprise to you but Mount Pleasant actually has quite a few dog-friendly places. If you love to have your pup with you wherever you go, here are a few places to go with your canine buddy.
Adventure Harbor Tours
At Adventure Harbor Tours, visitors are provided with a range of boat tours in Mount Pleasant. Service pets and animals can join their owners on an amazing boat tour. These include a trip on a Charleston Harbor Cruise, Morris Island, and Sunset Boat Cruise. They also offer private charters, field trips, and eco boat tours if those are up your alley.
Pitt Street Railroad Bridge
The Pitt Street Railroad Bridge is an old railroad that connects Mt. Pleasant to Sullivan's Island. This wooden pier extends to Cove Inlet and was built in 1898 to serve as a trolley bridge to and from the mainland. The town planted palm trees and grass around the area, making it a great place to watch the sunset or walk your dog. It comes complete with a water fountain for pets and their humans to drink from, as well as pet waste stations.
Attractions
If the places already listed above aren't enough for you to visit and admire, you'll surely have a one-of-a-kind experience in these places.
Patriots Point
Patriots Point is a Naval & Maritime Museum in Mount Pleasant, sitting on the mouth of the Cooper River, right across Charleston. Plenty of residents have seen the beauty and majesty of this collection of World War II-era aircraft carriers; USS Yorktown, an aircraft carrier, USS Laffey, a destroyer, and USS Clamagore, a submarine. Those same residents will attest to the feeling of awe they experience onboard these great ships, while the Medal of Honor Museum along the hanger deck of the USS Yorktown is a must-see.
Fort Sumter
This federal fort was captured by the South Carolina militia in 1865 which sparked the fires of the Civil War. Today, it is located by the entrance to Charleston Harbor, which is only accessible via boat, one of which leaves from Patriots Point. The boat ride offers spectacular views of downtown Charleston, Castle Pinckney, and other boats along the way. Once on the fort, your guide and park ranger will provide a 10-minute narration, then you're left to explore the area on your own. With 40-minutes of free time, you will be able to roam around the two floors inside, check out the huge cannons, and visit the gift shop.
Shopping
When you're tired from all the outdoor activities this town has to offer, the next thing to do is to go shopping, and where better to do this than in Mount Pleasant's own shopping centers and malls.
Mount Pleasant Towne Centre
As the premier mixed-use destination in all of Charleston, Mount Pleasant Towne Centre has over 500,000 sq. ft. of open-air shopping that's set on 51 acres of land. With more than 60 restaurants and stores, as well as a 16-screen movie theatre, it offers a mix of local, regional, and national retailers. As a result, Towne Centre has always been considered among "Charleston's Best Shopping Destinations." Just minutes away from downtown and the beaches, it offers a special mix of spots such as Burtons Grill, Athleta, P.F. Chang's China Bistro, Longhorn Steakhouse, lululemon, ULTA Beauty, and more.
Mount Pleasant Mall
This mall is Charleston's biggest resale co-op mall and has inventory that arrives daily from all over Charleston as well as other fine estates. Inside, you can shop at over 135 shops and businesses, all in one location. Here, you can explore various vendors that offer the finest home furnishings, antiques, collectibles, accessories, jewelry, and more. With more than 40 years of experience in estate liquidations and antiques, this is a full-service company with weekly consignments.
Art and Culture
The town of Mount Pleasant also cares deeply about its art and culture scene, offering galleries that both artists and visitors will love. Here are a few places of interest for you to check out while in this area of Charleston.
Perspective Gallery
Perspective Gallery is one of the finest and largest original art galleries in Charleston, South Carolina. Thanks to a generous grant from the Mount Pleasant Artists Guild, Perspective Gallery was founded in May 2017. This gallery features hundreds of authentic photographs and paintings from 42 acclaimed artists. As a result, interior designers and art collectors alike have fallen in love with this gallery for genuine artwork at reasonable prices. Apart from special events a few times a year, the gallery also hosts workshops for private functions.
Charleston Artist Collective
The Charleston Artist Collective is made up of artists from Charleston, South Carolina. What began as an online gallery in 2010 eventually grew to a studio and gallery in Mount Pleasant. Allison Williamson is the genius behind this venture, intending to help local artists get the space they need to showcase their work outside of the conventional gallery scene. Since its inception, the gallery has expanded to other cities in the Southeast, including Nashville, Atlanta, and the D.C. area.
Sports and Sports Teams
Mount Pleasant's Recreation Department has an Athletic Division that offers a huge range of activities and sports for people of all abilities and ages. They serve 15,000 people every year, encompassing both youth and adult programs, and have been dedicated to providing sustainable and exceptional recreation services consistently. If you're interested in getting active and involved in leisure or competitive sports, here are some of the activities they offer:
Baseball
Basketball
Football
FUNdamental Sports
Lacrosse
Soccer
Softball
Track & Cross Country
Volleyball
Education: Schools and Colleges
During the 2021 school year in Mount Pleasant, 14 public schools will serve a total of 14,052 students. They have one of the highest concentrations of the best-ranked public schools in the whole state. Some of the top-ranked public schools in the town are:
Oceanside Collegiate Academy
Wando High School
Mt. Pleasant Academy
These results were based on the school's combined reading and math proficiency. Public schools in Mount Pleasant have an average proficiency in math with a score of 74% (compared to the state's public school average of just 45%). The town also has an average reading proficiency of 75% (compared to the state's public school average of just 45%). Furthermore, schools in Mount Pleasant have a ranking of 10/10, allowing them to stay in the top 1% of all public schools in South Carolina.
Real Estate Market
The real estate market in Mount Pleasant is alive and thriving, with the median property value of a home coming in at $441,600 during 2018. This is 1.92 times higher compared to the national average of $229,700. However, this is after the 6.77% increase from the figure of $413,600 from 2017.
Even if housing prices are quite expensive, homeownership rates in Mount Pleasant are 70.9%, which is higher compared to the 63.9% nationwide. Furthermore, residents of Mount Pleasant enjoy a commute time of 20.1 minutes, which isn't too bad. In the town of Mount Pleasant, a huge share of households are over $500,000.
Welcome to Mount Pleasant!
All in all, Mount Pleasant is a great place to settle down or start all over. It offers a suburban community with access to great job opportunities and various amenities. Furthermore, it's close enough to the beach that you'll always be able to unwind and enjoy the sun anytime you please.
While the prices may be a bit steep, this rare piece of paradise is ideal for those who are looking to find the best that money can afford. If you're ready for a higher and better quality of life, then look no further than Mount Pleasant, where work and play come together in harmony.