Moving to Charleston - Your EZ Guide to Everything Charleston, SC
Posted by Preston Guyton on Sunday, May 2, 2021 at 5:30 AM
By Preston Guyton / May 2, 2021
Comment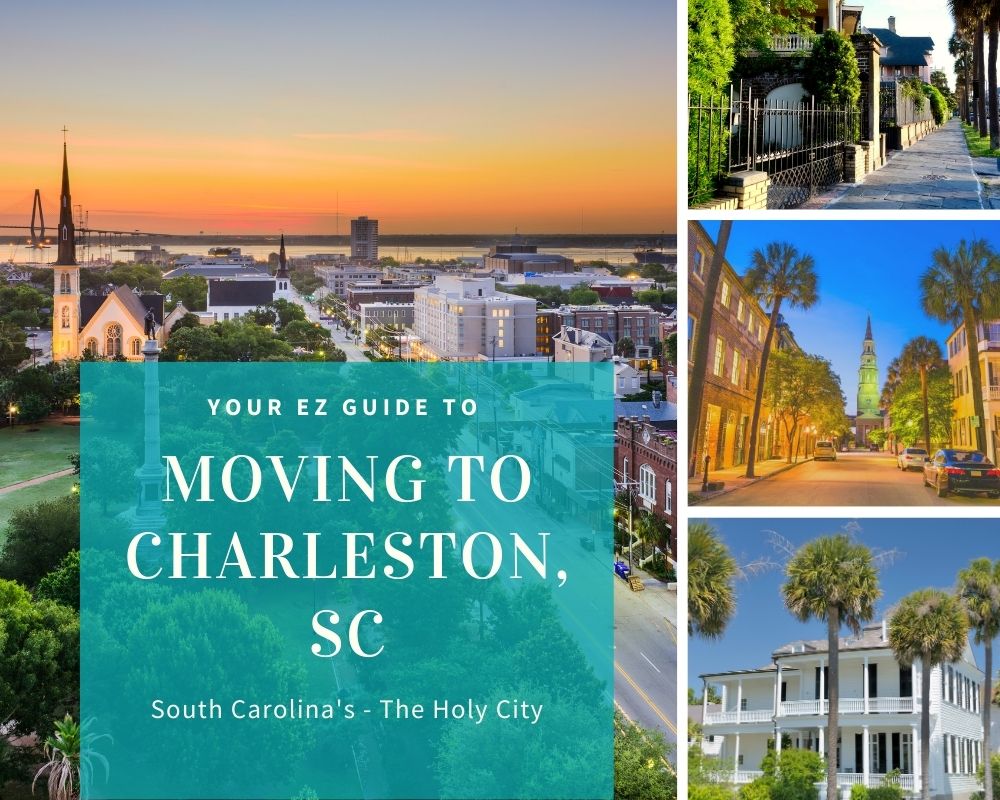 Moving To Charleston: Your Guide To Living in Charleston, SC
Are you thinking of moving away from the crazy and noisy city you've had to put up with your whole life? If you're thinking about moving somewhere that's not too crowded but isn't dead either, Charleston, South Carolina is the best place to go. In this guide, we'll tell you why people love this city's charming vibe, cobblestone streets, and wholesome community. With a population of around 137,000, the city of Charleston isn't too big nor too small — it's just right for most people.
Cost of Living and Population Growth
Nestled in the county seat of Charleston County, this city is the biggest in the state of South Carolina. As of the 2019 U.S. Census, Charleston has an estimated population of 137,566 — a significant improvement from the previous year's count of almost 134,000. During this time, the median age of the city was 34.7, while its residents had a median income of $64,599.
From 2017 to 2018, Charleston's population showed a 1.95% increase from 131,204 to 133,762. In terms of cost of living, Charleston does its best to stay competitive in the current market in all facets of living. While it may not be the most affordable place to live, it certainly provides residents with plenty of other advantages. Below is a table that shows a side-by-side comparison against South Carolina and the national average:
Charleston's cost of living is 111.5% compared to the national average.
Job Market
Residents in Charleston, South Carolina have a median household income of $64,599. This signifies a 5.27% increase from $61,367 recorded from the previous year. Employing 73,000 people, the economy of Charleston is made up of the three largest industries: Health Care and Social Assistance, Accommodation, and Food Services, along with Professional, Scientific, and Technical Services. Here is a summary of Charleston's job market per category:
Most Common
According to the number of employees, here are the most common kinds of jobs held by Charleston's residents:
● Sales and Related Occupations with 8,780 people
● Management Occupations with 8,725 people
● Office and Administrative Support Occupations with 6,871 people
Most Specialized
Some jobs in Charleston, South Carolina have an unusually high number of employees. Here are some examples of such jobs:
● Legal Occupations
● Health Diagnosing and Treating Practitioners along with Other Technical Occupations
● Design, Arts, Entertainment, Sports, and Media Occupations
Highest Paid
According to the median earnings, some of the highest paid jobs by Charleston residents are:
● Legal Occupations with a median earning of $95,685
● Computer and Mathematical Occupations with a median earning of $72,682
● Architecture and Engineering Occupations with a median earning of $69,252
Things To Do in Charleston
The lively city of Charleston always has something new and exciting for visitors and locals to see. Here are just a few places for you to get started on your great adventure.
Mex 1 Coastal Cantina
If you love Latin flavors, Mex 1 is the place to be! Serving up fresh and locally sourced produce, the team behind this restaurant ensures that everything on their menu comes from South Carolina's backyard. Here, you can experience what the marriage of simple natural proteins and produce tastes like. At the same time, the selection of food they offer is enough to make your mouth water, with quesadillas, tacos, tortas, and fresh salads among their best sellers.
Of course, you can expect to get served a cocktail, and Mex 1 uses only 100% agave tequila, while all their margaritas are made from fresh juices. This restaurant also has an extensive selection of rum, tequila, and mezcal selection, while offering various house-infused tequilas such as jalapeno, pineapple, pineapple habanero, strawberry cucumber, and strawberry cucumber.
The Washout
If you're looking for a more relaxed way to dine, head over to Folly Beach and discover what The Washout has to offer. With live music throughout the week, this restaurant offers more than just food — but you can also enjoy the warm sea breeze as you listen to local talent and taste amazing seafood. Whether you're out for a quick bite or you're visiting the Folly Beach area, you can be sure that The Washout is the best place for great service.
Party Bus Charleston, SC
As an offshoot of the Charleston Black Cab Company, the Party Bus was founded by Tao Dan. Having more than 30 years of experience, he was able to create an award-winning experience where people can rent a party bus for any occasion. No matter what you're celebrating — a party with friends, a birthday bash for a whole group of guests, or an intimate gathering — you will find the perfect party bus for your needs.
Climate
The weather in Charleston offers year-round comfort, making it one of the best places to live in. This city gets an average of 48 inches of rain every year compared to the national average of 38 inches. It doesn't snow often at all in Charleston, while the country experiences around 28 inches of snow every year. Furthermore, Charleston has 209 sunny days every year compared to the U.S. average of 205 days.
Here are a few weather highlights for Charleston, SC:
● July is the hottest month, with temperatures reaching up to 90 degrees during summer.
● January is the coldest month, where its temperatures reach up to 39 degrees.
● There's an average of 48 inches of rain in Charleston every year.
● It usually doesn't snow in Charleston.
Some of the most pleasant months in Charleston are April, May, and October, while the least comfortable months to visit are July and August.
Traffic
Charleston's Traffic & Transportation Department plans, studies, and puts into place specific traffic operations to help maintain the safe movement of people throughout the city. At the same time, they also provide suitable facilities and transportation services to help maintain an efficient way for goods to get delivered. This team is responsible for the configuration, planning, and transportation operations necessary for everyday life in Charleston. This job covers plenty of areas such as:
● Streets
● Roads
● Highways
● City property
● Abutting lands
● Terminals
● Networks
● And more
This specialized team for transportation operations also handles the continuous development and increasing the efficiency of the city's modes of transportation. Furthermore, they are also in charge of creating improvements to the traffic system according to the city's policy requirements.
Public Transportation
Charleston has several places to visit as well as things to do, so the residents have provided various means to get around. All forms of public transportation available in Charleston are managed by CARTA, which is short for Charleston Regional Transportation Authority.
● Dash: The Dash public transportation system allows you to get around the city for free. They run throughout the peninsula and reach the major attractions and shops available.
● Charleston Water Taxi: The Charleston Water Taxi has departure points located in the Marina and Charleston Harbor Resort, the Historic Market Street and Waterfront Park, Maritime Center and Aquarium Wharf, and USS Yorktown and Patriots Point.
● Charleston Black Cab Company: The Charleston Black Cab Company offers limos, party buses, airport transportation, as well as corporate travel.
● Uber Technologies, Inc: Uber aims to provide reliable transportation services no matter where you're heading. With this great phone app, you can schedule your ride with just the push of a button.
Golf
Golf is a big thing in Charleston with plenty of courses and clubs inside the city itself and the areas surrounding it. But with so many places to play, choosing the best ones to go to can be hard. Here are just a few of the best courses to get you on your way to play.
The Ocean Course at Kiawah Island
According to Golf Digest, this golf course topped the 2017 to 2018 ranking in their list of Best Courses in South Carolina. This beautiful seaside course was designed to test the greatest players for the 1991 Ryder Cup. It has also been ranked as one of "the toughest courses in America" by Golf Digest. This Pete Dye course will also host the PGA Championship again in 2021, with the biggest challenge being its windy conditions off the tees.
Osprey Point Golf Course
Just like the Ocean Course, this course also gets plenty of attention and offers a more enjoyable experience for players of all levels. There are run-up areas in most greens, and there is a stylish clubhouse. A classic Carolina mix of pines, mossy oaks, palmettos, and magnolias provides this course with a gorgeous and natural setting, along with the creeks and marshes within it. There's also water on most holes, but you shouldn't worry about them unless you've had a wayward shot.
Oak Point Golf Course
The Oak Point Golf Course was provided with a total renovation in 2015 and has since then become a top contender in Kiawah's top championship courses. In this course, you'll get five-star service as well as excellent conditions with its "Scottish American design" by course architect Clyde Johnston. This course also features a collection of par 3s that are fun to attempt, making it a great choice for players of all levels.
Water Sports
Another reason why this city is so lively is because of the abundance of things to do. This includes a plethora of water sports that can be enjoyed in the various bodies of water that you can find here.
Hydrofly Watersports
As the premier watersports company, Hydrofly and its staff are dedicated to providing you an unforgettable water adventure in the low country. No matter what sport you need to get your blood pumping, Hydrofly has it all. From kayaking, paddle boarding, flyboarding, private boat charters, fishing charters, or even jet ski tours, you can be sure to find an activity you'll enjoy.
Speed Boat Adventures
At Speed Boat Adventures, you are the captain, and you take the wheel. You'll be provided with a 13-mile, fully narrated tour through the Charleston Harbor, where you will have a once-in-a-lifetime view of the USS Yorktown Aircraft Carrier, Battery, Arthur Ravenel Jr Bridge, Waterfront Park, the downtown Charleston skyline, South Carolina Aquarium, and more.
Charleston Charter Fishing
At Charleston Charter Fishing, you can take fishing charters throughout the year and fish in the various bodies of water that surround the low country. These include Folly Beach, Kiawah Island, and Isle of Palms. When you decide to hire from them, all equipment, fishing licenses, bait, snacks, and soft drinks will be provided.
Dog Friendly
You can be sure that Charleston loves dogs as much as you do! With several places and areas that accept dogs and pets, you'll be able to take your pup with you wherever you go in this city.
Twisted Cypress Brewing Company
The Twisted Cypress Brewing Company allows leashed dogs to join their beloved humans inside, so they can appreciate the great ambiance while you sip on your craft beer. Dogs are also allowed to roam around off-leash in their fenced-in backyard, provided that he/she is a good boy/girl. Remember to clean up after your canine companion, so that everyone can enjoy a great time.
James Island County Park
If you have an energetic pup, visit James Island County Park to ensure that all their energy is spent running around in this excellent park. Many people have said that this is the best dog park in the city, featuring a beautiful open grass area, dog beach, waste stations, a cleaning station, and a fenced play area for your fur baby.
Magnolia Plantation & Gardens
The Magnolia Plantation is one of the most beautiful gardens that you and your canine sidekick can explore in Charleston, and your dog is also able to go onboard the tram tour. Furthermore, if your dog can be carried, they will be allowed inside the plantation house. Apart from the garden, there are also several trails inside the property.
Attractions
As if there aren't enough places to get lost in Charleston, here are just a few places of interest and attractions to see in this great city.
Waterfront Park
This is a place where both locals and tourists gather to enjoy the views of Charleston Harbor while relaxing in the 12-acre Waterfront Park that stretches over 1,000 feet of waterfront. Inside there are old-fashioned double swings and benches that face the water, where large ships and sailboats are commonly seen. The Pineapple Fountain is lighted at night, while seasonal flowers and gardens are also added for a splash of color. Waterfront Park is located near the city's historic sights and City Market, and with its free Wi-Fi, it has certainly become more popular.
South Carolina Aquarium
This is one of the most popular places to go in Charleston, and despite its name, it's not just home to underwater animals. Land-dwelling mammals, birds, reptiles, and plants join the inhabitants of the sea in this Charleston attraction that's surely a hit with kids. Along with its 385,000-gallon aquarium tank that extends two stories, you'll also see interactive shows daily and experience their Shark Shallows adventure where you can touch rays and sharks.
Shopping
For those who have a serious case of being a shopaholic, Charleston also has plenty of options that will quench your thirst for all things that bling. Even if you're new to the city, you'll be happy knowing that you can start your shopping spree at these great places.
Mount Pleasant Towne Centre
One of the premier, mixed-use destinations in Charleston is the Mount Pleasant Towne Centre, a 500,000+ sq. ft. open-air shopping center that is set on 51 acres. This shopping center carries over 60 restaurants and stores along with 16 screen movie theater screens. Here, you'll find a mixture of local, regional, and national retailers that draws visitors and residents alike. They have an extensive collection of stores such as:
● Athleta
● Belk
● P.F. Chang's China Bistro
● Burtons Grill
● Longhorn Steakhouse
● REEDS Jewelers
● Bluemercury
● Lush Fresh Handmade Cosmetics
● And more!
House of Sage
Created in 2009 by the husband and wife team of Chris and Erin Abagnale, this chic boho store sits right in downtown Charleston, with a branch in Daniel Island too. This shop has something for everyone, and will always have the latest trends and styles to fit any occasion. Customers are invited to share the owners' love for shopping local and fashion through their affordable prices and unique pieces.
Art and Culture
There's no shortage of art and culture in the city of Charleston, so be sure to check out these places to soak in the glory of this city.
The Charleston Museum
The Charleston Museum is known as "America's First Museum" and was founded in 1773, then known as the Charleston Library Society. It carries a wide collection of permanent exhibits which begin with early settlers and Native Americans in its Lowcountry History Hall. You'll also see the early tools used to grow rice as well as rare slave badges.
Furthermore, their Early Days gallery shows various collections from 19th-century travelers which include Greek and Roman antiquities and an Egyptian mummy and case. Other exhibits include life during the Revolution, early weaponry, as well as Charleston's role during the Civil War.
The Loeblein Gallery of Charleston Silver
This fascinating museum has a collection of southern-made silver from the Victorian era. One of the most valuable pieces in their collection is George Washington's christening cup, while the Historic Textiles Gallery highlights samples from the museum's collection of historic costumes, needlework, as well as textiles. Their Kidstory exhibits bring Charleston's history to life while the Lowcountry exhibit offers hands-on pieces.
Sports and Sports Teams
Charleston plays host to many sports teams, including amateur, minor league, and professional leagues. Here are the names that you can cheer for, whether you only like one or all of them.
● The Charleston Battery is a professional soccer team that plays in the USL Championship. They play at the Patriots Point Soccer Complex.
● The Charleston RiverDogs is a Minor League Baseball team that plays in the South Atlantic League. They're an affiliate of the Tampa Bay Rays, and also play at Joseph P. Riley Jr. Park.
● A professional hockey team, the South Carolina Stingrays play in the ECHL. You'll also find them playing at the North Charleston Coliseum in North Charleston. They're also an affiliate of the Hershey Bears and the Washington Capitals.
● A rugby union club, the Charleston Outlaws RFC plays in the USA Rugby, USA Rugby South, and Palmetto Rugby Union. It also competes in the Men's Division II up against Columbia, Cape Fear, Charlotte "B" and Greenville clubs.
● As a major Women's Tennis Association Event, The Volvo Car Open is hosted by the Family Circle Tennis Center, which is located on Daniel Island.
Education: Schools and Colleges
The city of Charleston is among the best when it comes to education, for both children and adults alike. Universities in Charleston have awarded 4,907 degrees in 2019, while the student population shows that there are more women than male students, at 9,935 to 7,989 respectively. Some of the largest universities in the city (by the number of degrees) include:
● The College of Charleston with 2,637 degrees
● The Citadel Military College of South Carolina with 1,043 degrees
● The Medical University of South Carolina with 1,007 degrees
The most commonly taken majors by students in Charleston are:
● General Business Administration & Management
● Registered Nursing
● Law
If you're planning to enroll your children or if you plan to study again, you can expect to pay a median tuition cost of $12,978 and $33,308 for in-state and out-of-state students respectively.
Real Estate Market
When it comes to the real estate market, the median property value in Charleston, South Carolina stands at $308,100 in 2018, which is admittedly 1.34 times bigger compared to the national average. From 2017 to 2018, there has been a 7.65% increase in prices, proof that the real estate market in Charleston is healthy and thriving. Furthermore, Charleston has a homeownership rate of 55.1% — a lower score compared to the 63.9% seen in the national average.
The largest share of households in Charleston, South Carolina has a price range on their properties between $300,000 and $400,000. Commuters in Charleston also experience an average commute time of 21.2 minutes, which isn't too bad considering that it is a major city in the state. Furthermore, residents will usually own two cars per household, the same as everywhere else in the country.
Welcome to Charleston!
If you like to soak up historic sites, enjoy walking on cobblestone walkways, miles of gorgeous beaches, and great eats, Charleston is the perfect place for you. Even with a slightly higher cost of living, there are still hundreds of people relocating to Charleston — and for good reason. After being named as Travel & Leisure's best city in the whole country for years in a row, this city has only attracted more and more tourists, guests, and visitors, some of which have decided to make their stay permanent. Who knows? You could be the latest in this city's list of people who fell in love at first sight, never to leave this enchanting city that you will soon call your home.