North Carolina vs. Virginia: Which is the Better State?
Posted by Preston Guyton on Friday, August 26, 2022 at 11:05 PM
By Preston Guyton / August 26, 2022
Comment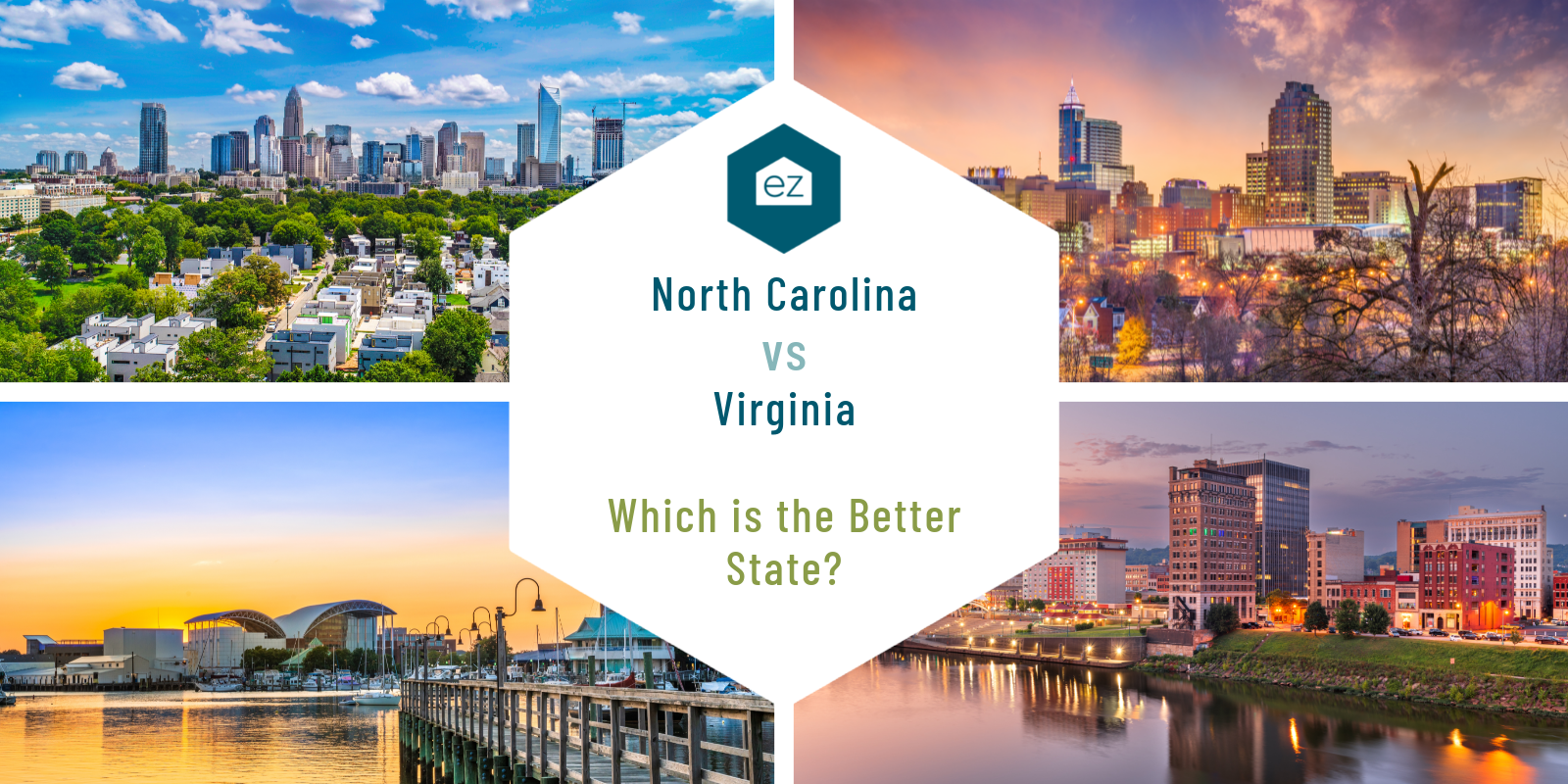 North Carolina vs. Virginia: Which is the Better State?
The Southern states have seen massive growth recently, with the region becoming one of the top places in the country to live. The weather, cost of living, growing job markets, and housing affordability make it attractive to thousands each year who opt to migrate full-time to the south.
In this article, we'll compare two southern states on the east coast: North Carolina and Virginia. While both have their advantages, each has distinct factors that may make it the better state for you.
Cost of Living
The Sperling Best Places index helps compare the cost of living for two places. Their scoring system assigns a national average of 100. This means any score below 100 indicates an area's goods and services are overall cheaper than average, while a score above 100 means they are more expensive.
North Carolina has an overall score of 90.6. Virginia's overall score is much higher, coming in at 103.7. NC comes out as the clear winner here, with its scores grocery, housing, utilities, transportation, and miscellaneous all lower than Virginia's.
That said, the cost of healthcare in Virginia is notably lower than North Carolina's. Here's the full breakdown:
| | | |
| --- | --- | --- |
| | North Carolina | Virginia |
| Population | 10.4 million | 8.5 million |
| Median Property Value | $320,291 | $329,200 |
| Median Household Income | $56,642 | $76,398 |
| Homeownership Rate | 66% | 67% |
| Overall | 90.6 | 103.7 |
| Grocery | 96.5 | 99.6 |
| Health | 107.5 | 102.4 |
| Housing | 81 | 111.8 |
| Utilities | 99.2 | 99.3 |
| Transportation | 83.9 | 99.4 |
| Misc. | 96.1 | 100.5 |

Remember that both are large states, and the cost of living varies widely. For example, the cost of living in downtown Charlotte, NC, is much higher than in Boone, NC.
Population Growth
A state's population can have a significant impact on a variety of aspects of living—so researching a state's growth (or lack thereof) and comparing it to your personal needs provides insight into future conditions. For example, if you're looking for a booming economy, new construction housing, and a wide variety of amenities, consider a growing state. Conversely, a more rural state will be cheaper to live in, but you may have to travel farther for specialized amenities.
At the time of writing, North Carolina ranks as the seventh fastest-growing state by population, adding over 900,000 residents between 2010 and 2020. The state's most populous counties are Wake, Mecklenburg, Guildord, and Forsyth. As of the April 2020 census, it contained a total of 10,439,388 residents. Breaking this down indicates a slightly older, less diverse population.
22% indicated they were 18 and under.
17% indicated they were 65 or older.
62% identified as white/Caucasian.
22% identified as black or African American.
10% identified as Latino.
In comparison, Virginia is growing more slowly—coming in as the 15th fastest-growing state by population. Between 2010 and 2020, the state added over 650,000 new residents, bringing the 2020 Census count to 8,654,542. Breaking this down, we see the state is comparable in age and diversity to North Carolina.
22% indicated they were 18 and under.
15% indicated they were 65 or older.
68% identified as white/Caucasian.
21% identified as black or African American.
11% identified as Latino.
The most populous counties in Virginia are Fairfax and Prince William, with Loudoun County not far behind as the fastest-growing in the state.
Outdoor Recreation
With over 100 miles of trails, 50 lakes, and 31 beaches spread across 300 miles of coastline, North Carolina offers plenty of opportunities for outdoor recreation. It's rocky, mountainous terrain offers some of the best mountain biking, rock climbing, and skiing in the country. And with over 41 state parks and natural areas—including the most visited national park in the US, The Great Smoky Mountains National Park—you'll find no shortage of places to picnic, hike, fish, and camp.
If you prefer water recreation, the state's numerous lakes and ample coastline have you covered. Kerr Lake, Lake Norman, Lake Murray, and the largest Lake Mattamuskeet all provide opportunities for swimming, sailing, bass fishing, and lake living.
On the banks of the Atlantic Ocean sit popular destinations like Wrightsville Beach and Outer Banks, where saltwater fishing, kiteboarding, and deep-sea excursions like whale watches are exceedingly popular. These destinations also have resort-quality amenities and plenty of dining options.
From the Blue Ridge Mountains in the west to the Chesapeake Bay to the east, Virginia similarly provides a whole range of recreational opportunities throughout its four distinct seasons. The state contains 41 state parks, 63 natural areas, and a whopping 670 miles of trails across a variety of geography, perfect for hiking, biking, and exploring. Thanks to the Chesapeake Bay, Virginia also contains a vast, 7,213 miles of coastline and over 36 lakes and ponds.
Two of Virginia's most legendary national parks, Shenandoah National Park and the Blue Ridge Parkway provide stunning views of the state. Other parks of interest include Great Falls and Prince William Forest Park.
The Appalachian Trail runs through both states on its way to trailheads in Georgia and Maine. The halfway point lies in Virginia.
If you're looking for lake recreation and living, there's no shortage of opportunities in Virginia. The largest lake in the state is the John H. Kerr Reservoir, featuring 800 miles of shoreline and two state parks, Occoneechee and Staunton River State Park. Other popular lakes for living and recreation include Smith Mountain Lake, Lake Anna, Lake Gaston, and Claytor Lake.
Finally, no discussion of Virginia recreation would be complete without mentioning the legendary Virginia Beach, where resort-quality amenities, entertainment, dining, and recreation meet. There's also the nearby Sandbridge Beach and Cape Charles if you're looking for a quieter experience.
City Living
Home to over 1.4 million people, North Carolina's capital Raleigh is known as a major center for education and research. It is home to the "Research Triangle," a metropolitan region named for its many universities and laboratories, including North Carolina State, Duke, and the University of North Carolina at Chapel Hill. Several high-profile tech companies call the Triangle home, such as Intel, Lenovo, Qualcomm, Nvidia, and more.
The most populous city in North Carolina is Charlotte, home to over 2.6 million people. The Charlotte metropolitan area is also home to many recognizable corporations, including several listed in the Fortune 500. As the second-largest financial center outside of Wall Street, many financial institutions have their headquarters in Charlotte. It is also home to museums, art galleries, and sports teams—including the home of NASCAR.
On the smaller side, the historic coastal city of Wilmington is a popular choice—with 282,500 people in its metro area, many drawn by the University of North Carolina. Other highlights include its booming film industry, beautiful beaches, historic downtown area, and two-mile riverwalk.
Perhaps unsurprisingly, the most populous city in Virginia is Virginia Beach, home to 463,766 people. This resort city was named the longest pleasure beach in the world by the Guinness Book of World Records, and is home to the yearly East Coast Surfing Championships and the American Sand Soccer Championship. Its town center has ample shopping, dining, and entertainment opportunities—and its famous three-mile-long boardwalk contains museums, bars, and the Neptune Festival Park.
The next two most populous cities are just outside Virginia Beach, Norfolk and Chesapeake. Together they make the Virginia Beach-Norfolk-Newport Metro area.
Virginia's capital Richmond is the fourth-most populous city in the state. It sits on the James River, and was home to a number of significant historical events during the Revolutionary War. Eight Fortune 500 companies call Richmond their home, including Carmax and Universal. Colleges and Universities in the city include Virginia Commonwealth University and the University of Richmond, among others.
However, if you step back to look at metro regions, Northern Virginia is the most populated area in the state. This metro surrounds Washington, DC, but because it is made of many smaller, independent cities, they don't register on top population lists. These include cities like Arlington, Alexandria, Fairfax, and Manassas.
Education
North Carolina's public K-12 schools placed 15th best in the nation by US News and World Report. Conversely, Virginia sits in 10th place for public K-12 schools. Virginia K-12 students are typically more ready for college than their peers in North Carolina, although the latter state has a significantly higher high school graduation rate.
North Carolina ranks a lot higher when it comes to higher education—no. 7—as it's a state well-known for its prestigious colleges and universities, including Duke University, UNC-Chapel Hill, and Wake Forest University.
Virginia is ranked 17th in higher education, but still has its fair share of well-known colleges and universities, including the University of Virginia, Virginia Tech, and the College of William and Mary.
Climate
The two states share a border and therefore some similar climate conditions. Although both states experience four distinct seasons, the weather gets more moderate the further south you go.
In terms of climate, North Carolina can be split into two parts: medium continental conditions in and around the mountainous regions of the northwestern part of the state, with warmer, subtropical conditions closer to the Atlantic in the state's southeastern corner.
The Appalachian Mountains see the most snowfall in the state during the winter months, although average temperatures remain in the 40Fs. During the summer months, temperatures average in the mid-80Fs. Higher elevations will see lower temperatures on average.
Conversely, the Atlantic coastal plains provide hot, humid summers—with average temperatures reaching up to 90Fs—and cool, mild winters—during which the average temperature rarely drops below 50F. The spring and summer bring rainfall, with the coast being especially vulnerable to hurricanes and tropical storms. The state reports an average of 20 tornadoes a year.
Virginia's western edge is bordered by the Blue Ridge Mountains. East of the mountain range, the majority of the state shares North Carolina's subtropical climate. However, being farther north, Virginia gets a bit colder in the winter months, with averages reaching as low as 25F. The summer months also aren't quite as extreme as North Carolina's, with highs averaging in the mid-80Fs.
To the west of the Blue Ridge Mountains, the climate transitions to a humid continental. This region sees drier, harsher seasons and experiences the most snowfall in the state during the winter months—although the rest of the state is no stranger to snow storms caused by cold-air damming in the Appalachian Mountains. Winters can vary wildly, however, and the state averages only 10 inches of snowfall per year.
Thunderstorms and tornadoes are common in the state, with the most occurring during the spring and summer months. The coast is also particularly prone to hurricanes and tropical storms.
Real Estate Taxes
In both states, property taxes will vary slightly depending on your municipality.
Property taxes are assessed at market values set every four to eight years in North Carolina, depending on the specific county's reappraisal schedule. One mil is equal to $1 for each $100 of appraised value. Property owners pay taxes based on this appraisal.
For residents 65 and older or permanently disabled with an income of under $38,000, the state has a homestead exemption—the greater of $25,000 or 50% of the appraised value. Additionally, there is a potential veteran exemption of $45,000.
Property taxes in Virginia are significantly lower than North Carolina and the United States national average, with one mil equaling $0.86 per $100 of appraised value. Counties (or independent cities like Richmond) set the market value, and all homes are charged at 100% of their determined value.
Disabled and elderly residents (65 or older) also qualify for property tax exemptions in Virginia—from 50% and up to 100% depending on income.
Taxes for Retirees
In North Carolina, there is no social security or state estate tax. However, the state provides no tax breaks for retirees, and all income is taxed at the state's flat rate of 5.75%. Pension incomes and personal withdrawals from retirement accounts are also taxed.
Virginia is more tax-friendly for retirees. Income is taxed at the state rate of 5%, which is lower than North Carolina. In addition, pension incomes and retirement account withdrawals are only partially taxed. Like North Carolina, there are no taxes on Social Security income.
Virginia also offers an age deduction on taxes. Residents born on or before January 1st, 1939 can subtract a flat $12,000 from their taxable income. Residents born on January 2nd or later, the subtraction is based on income.
Overall, Virginia comes out on top when it comes to tax options for retirees.
Job Markets
The top industries in North Carolina include manufacturing, finance, education, retail, and healthcare. In particular, the state is well-known for furniture and automobile manufacturing, as well as biotechnology, pharmaceutical, and energy companies. Some major employers are Home Depot, Lowes, Wake Forest Baptist Health, Duke Energy, and Bank of America. Like much of the country, the job market in the state is strengthening, and it currently sits at a 3.4% unemployment rate in summer 2022.
In Virginia, top industries include leisure and hospitality, professional and business services, information, trade, transportation, utilities, and manufacturing. The top employers in the state are Performance Food Group, Altria Group, CarMax, Dominion Energy, and Markel—all in the Fortune 500. The unemployment rate in Virginia continues to fall, faster than North Carolina's. It was 2.7% in summer 2022.
Sports
Fun fact: basketball was invented in North Carolina! Appropriately, its collegiate teams have featured in and won a number of national tournament titles—notably, the UNC Tar Heels and Duke. North Carolina schools have educated some of the most legendary players in the sport, including Michael Jordan himself.
The state is also home to the Charlotte Hornets, the Carolina Hurricanes (NHL) and the Carolina Panthers (NFL).
Notably, while Virginia is home to a number of professional sports teams, it is the largest US state without any major league team to call its own. Instead, it hosts two teams representing Washington DC: the Commanders (NFL) and the Capitals (NHL). Minor league professional teams include the Richmond Elite (basketball) and the Richmond Flying Squirrels (baseball) as well London United FC soccer league.
Culture in North Carolina and Virginia
In both states, you'll find that many residents live up to the South's reputation for charm and hospitality.
North Carolina's residents are known for their friendliness and down-to-earth attitudes. Being the more populous state, you'll find ample opportunity for urban living with plenty of quiet, rural pockets in and around the Appalachian Mountains, where you'll find a distinct folk culture and tradition. No discussion of North Carolina culture would be complete without mentioning its world-famous barbecue, which differentiates itself with its tangy vinegar and mustard-based flavors and simple seasonings.
Virginia is known for its American colonial architecture and exceedingly polite residents. Being closer to the Northeastern US, here you'll find an eclectic mix of Northern and Southern cultures. The state is known for its literature, music, performances, and fine art. Cuisine in Virginia is similar to its southern neighbor, and you'll find the aforementioned vinegar-based BBQ here as well. Unique to this region is the signature Old Bay-style seasoning, which can be found on many seafood dishes in the Chesapeake Bay area.
Choosing Between North Carolina and Virginia
Both states offer many benefits, and indeed they share many features. Both have highly desirable urban areas that serve as activity hubs in their state. They share beaches and mountains, cuisine, and culture. When deciding if you'll move to Virginia or to North Carolina, it all comes down to the fine details of what you're looking for. We recommend getting in touch with a local realtor to explore your options.
Make sure you do plenty of research before purchasing new property in any state. We recommend getting in touch with a local realtor to explore your options.