Cash Sales Are Up— What That Means for the Housing Market
Posted by Preston Guyton on Friday, March 24, 2023 at 1:50:11 PM
By Preston Guyton / March 24, 2023
Comment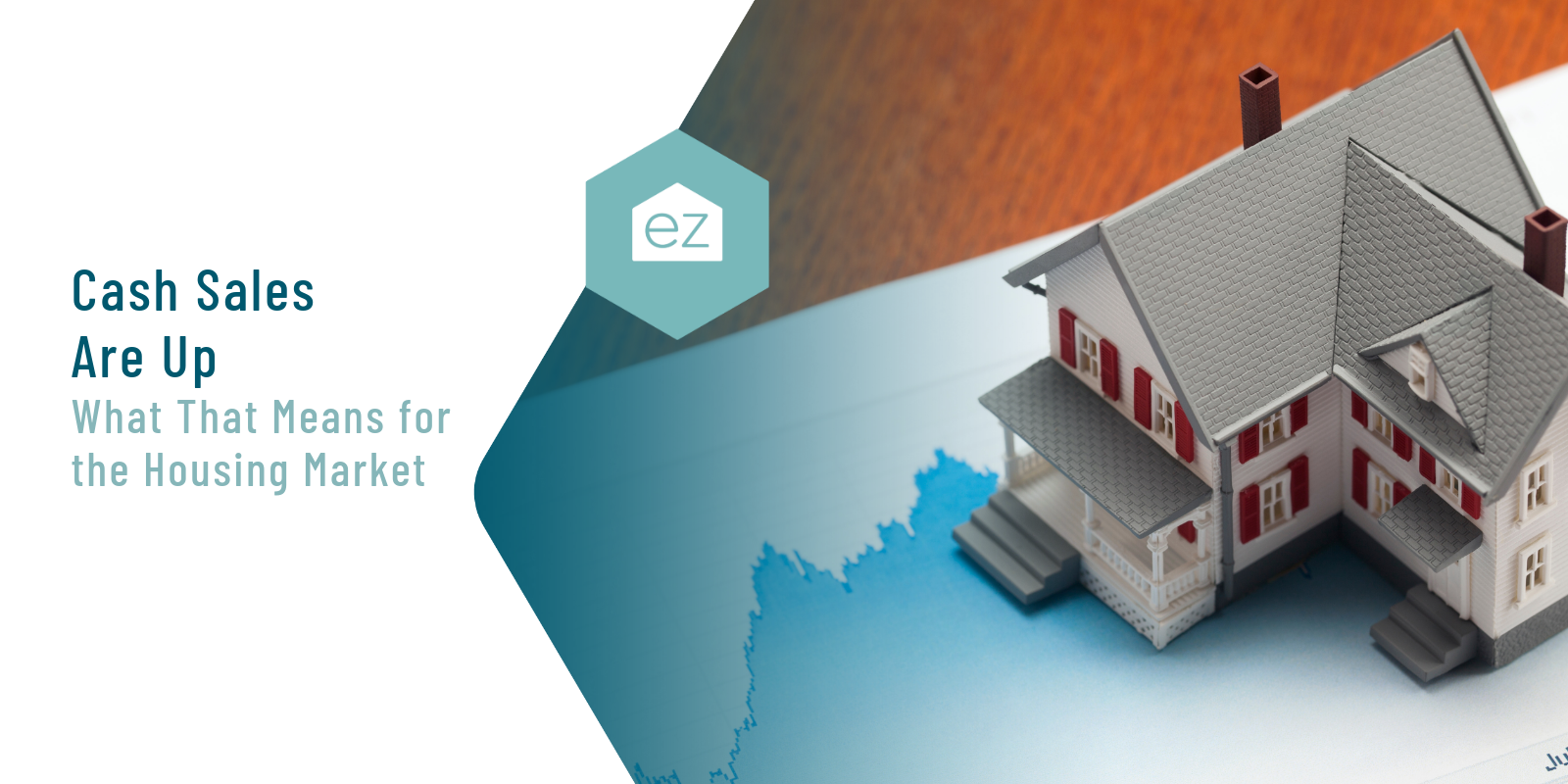 Cash Sales Are Up— What That Means for the Housing Market
It's common knowledge the all-cash offer makes the real estate transaction process easier both for the buyer and the seller. Knowing the buyer doesn't need to work with a lender, which has a long underwriting process and no guarantee of financing approval, incentivizes the seller to move fast. And when homes are in high demand nationwide, more buyers have relied on cash sales to secure the contract.
The proof is in the recent data, but will this trend continue with inflation and higher interest rates?
Cash home sales rose in 2022
There's been a marked uptick in all-cash home sales between December 2021 and December 2022. All-cash sales were more than one-third—36.1%—of U.S. home sales in 2022. This marks a new ten-year high in the real estate market.
Further analysis from the National Association of Home Builders found nationwide cash sales represented 11% of all transactions for new homes in the fourth quarter of 2022, the highest since 1990.
That's all despite median home prices for new and existing homes continuing to climb in most markets.
Look at some of the hottest real estate markets in America, and you'll see cash sales dominate. For example, The Street points out that Georgia has seen high proportions of all-cash buyers all over the place. Augusta, GA, had an all-cash transaction rate of 72.1%. Columbus and Athens are leading the nation, with respective rates of 69% and 60%.
What all-cash sales tell us about real estate
But what does it mean when more buyers are willing to pay all cash?
We have three trends: first, all-cash home purchases are rising for economic reasons.
With mortgage rates hitting 6% and higher in 2022 and 2023, it's getting more expensive for homeowners to acquire a home. This incentivizes anyone who acquired a lower-rate mortgage in years past—like 2021—to reconsider how they'll finance their next purchase. After all, paying interest at rates that may be twice as high as the old mortgage isn't exactly incentivizing to finance.
Second, the all-cash transaction percentages tend to rise in areas of particularly high demand for homes. When supply and demand get out of whack, buyers are willing to pull out all the stops to get homeowners to move out of their homes and secure a purchase agreement.
Finally, there's a shift in the demographics of people buying homes. Despite millennials entering the market and putting pressure on an already strapped inventory, today's homebuyer is more likely to be over 40 and have means. They could be retirees using the existing equity of their homes, real estate investors, or simply high-wealth individuals. The number of first-time homebuyers stands at an all-time low.
Where cash sales are dominating
Let's take some other areas that report high all-cash rates. As The Street notes, the all-cash numbers are on the rise anywhere there's a hot real estate area near a large urban center. Atlanta, for example, has 53.5% all-cash sales, significantly higher than the national average.
Georgia dominates the national list of all-cash sales, but it's not alone. Here are a few cities that are seeing well above-average all-cash sales rates:
Augusta, GA: 72.1%
Columbus, GA: 69%
Athens, GA: 60.6%
Flint, MI: 59.5%
Sebastian, FL: 59%
Gainesville, GA: 58.9%
Detroit, MI: 58.8%
Naples, FL: 58.2%
Macon, GA: 57.1%
West Palm Beach, FL: 56%
North Port, FL: 53%
Port St. Lucie, FL: 53%
Atlanta, GA: 53.5%
Youngstown, OH: 51.5%
It's difficult to decipher patterns other than places in the southern United States like Georgia and Florida tend to dominate in cash sales. However, some spots are showing up: lower Michigan, for example, appears on the list twice. Detroit's rate of 58.8% of all-cash purchases outstrips Atlanta's.
All-cash offers aren't just from investors
When buying a home as an investment, it's common to "flip" houses. Under this model, investors don't always need to make an all-cash offer. They can simply take out the loan, make the offer, improve the home, and then ideally make the sale for more than the value of the loan they took out, making a quick profit.
But Las Vegas real estate agent Shay Stein told Bloomberg that in areas with lower flipping and for-profit investing in home purchases, like a hedge fund or individual investor might, you can typically expect higher percentages of all-cash offers.
Instead, people making the all-cash offer are making a statement about their ability to live in an area. As The Street noted, this is why the list of cities with high cash sales might not neatly line up with hot real estate markets in general.
Omaha, NE, and Jackson, MI, were two other cities that placed high on the Street list. These might not strike anyone as investment-type cities, at least from a national perspective. But if supply and demand drive higher all-cash offers, and cities that tend to attract more permanent residents rather than investors trying to turn a profit also see higher all-cash offers, it may not be a surprise to see the sales activity and all-cash trend heading in the same direction.
And, with mortgage rates still high and few signs of a change anytime soon in 2023, homebuyers that can buy with cash are incentivized to do so.