Moving to Columbus - Your EZ Guide to Everything Columbus, GA
Posted by Preston Guyton on Tuesday, June 8, 2021 at 5:53 AM
By Preston Guyton / June 8, 2021
Comment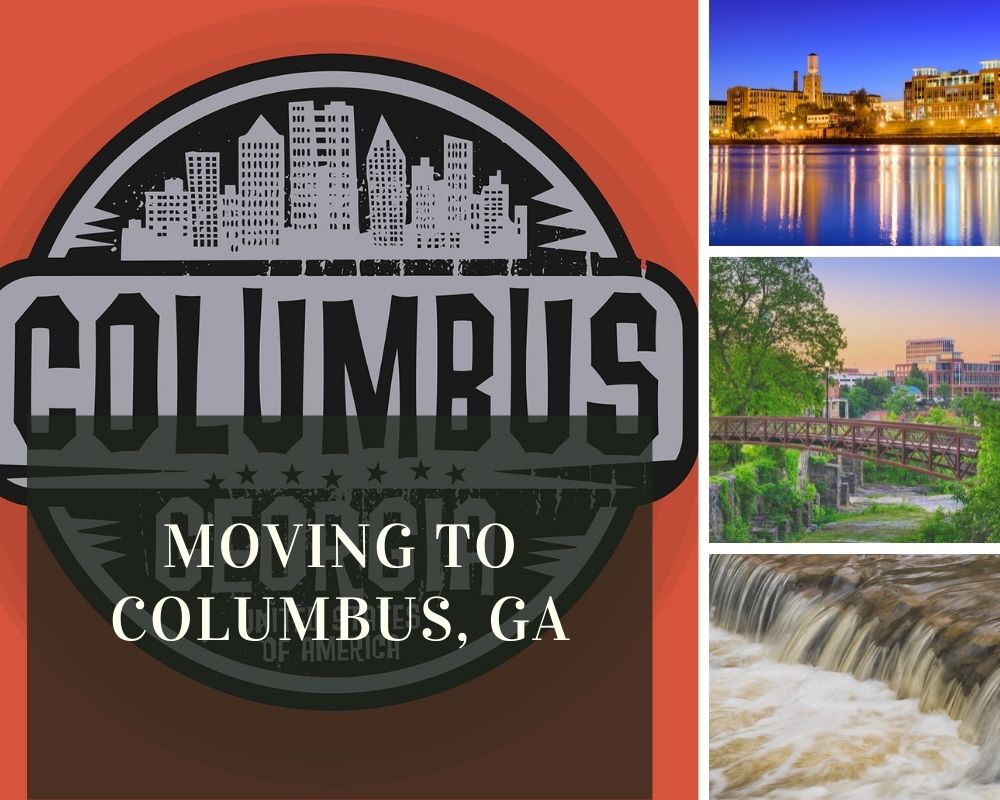 Moving to Columbus - Your Guide to Living in Columbus, GA
This southern city that runs along the Chattahoochee River is named after the explorer Christopher Columbus and sits only 100 miles away from Atlanta. If you're looking for a place to relocate away from crowded cities, then this city is a great choice. Columbus, along with the surrounding Metropolitan area, was crowned as the fourth best U.S. City out of 100 choices according to a survey by Best Life Magazine in 2009.
Because it has so much sunshine and outdoor activities to offer, visitors and tourists are easily drawn to this great area and you won't be able to find many places that can do better. Here, we've compiled everything you need to know about Columbus, GA, into an EZ guide for your reference.
Cost of Living and Population Growth
This consolidated city-county serves as the county seat of Muscogee County, after it merged officially in 1970. It's also the third-biggest city in Georgia and had a population of 196,670 residents as of 2018, where the city's median age is 33.9. The Columbus metropolitan area also boasts a total population of 321,048.
In terms of the cost of living, Columbus has one of the lowest costs in the state and around the country. For example, the city has more affordable commodities, housing, and grocery prices, making it relatively inexpensive to live here. To provide you with a better idea of just how affordable Columbus is, here's a comparison of major commodities between Columbus, Georgia, and the rest of the country.
| | | | |
| --- | --- | --- | --- |
| Cost of Living | Columbus | Georgia | USA |
| Overall | 74.4 | 93.4 | 100 |
| Grocery | 94 | 95.5 | 100 |
| Health | 93.9 | 95.5 | 100 |
| Housing | 38.5 | 80.7 | 100 |
| Median Home Cost | $88,900 | $186,500 | $231,200 |
| Utilities | 104 | 103.2 | 100 |
| Transportation | 79.8 | 105.1 | 100 |
| Misc. | 90.9 | 94.8 | 100 |
Columbus has a total cost of living of 74.4, which is lower than Georgia's total of 93.4 and much lower compared to the rest of the country at 100.
Job Market
In Columbus, the median household income was $45,389 in 2018, where males have an average income that's approximately 1.36 times higher than that of females. This amount, however, is still less compared to the country's median annual income of $61,937. Even so, this household income still reflects an improvement of 4.97% in annual growth to that of $43,239 in 2017.
The city's economy employs a total of 79.6K people, and the largest industries can be found in the following occupations: Health Care and Social Assistance, Retail Trade and Accommodation, and Food Services. Furthermore, Columbus also had an increase in employment from 2017 to 2018, which grew from 79K to 79.6K employees for a 0.777% growth.
Most Common
According to the number of employees, some of the most common jobs that residents in the city hold are:
Sales and Related Occupations with 9,722 employees
Office and Administrative Support Occupations with 9,530 employees
Management Occupations with 6,699 employees
Most Specialized
Compared to many other places in the state, Columbus has an unusually high number of employees in the following fields:
Law Enforcement Workers Including Supervisors
Food Preparation and Serving Related Occupations
Fire Fighting and Prevention, along with Other Protective Service Workers Including Supervisors
Highest Paid
When counting by median earnings, the highest paid jobs in Columbus are in these practices:
Legal Occupations with average annual earnings of $88,847
Computer and Mathematical Occupations with average annual earnings of 76,006
Computer, Engineering, and Science Occupations with average annual earnings of $72,331
Things To Do in Columbus
Columbus is a wonderful place to get lost in and has countless attractions, outdoor spaces, restaurants, and colorful nightlife. Below are some of the city's finest places to explore and experience over the weekend or just on a Friday afternoon.
Chattahoochee RiverWalk
The Chattahoochee RiverWalk is one of the most relaxing and scenic spots in the whole city that stretches for 15 miles. This parkland is nestled along the banks of the Chattahoochee River. It winds through many of the city's cultural icons such as Fort Benning where you may cycle for health or walk along the paved paths. As you make your way, you can be sure to see a wide range of cityscapes as well as local fauna and flora.
Country's BBQ
This great restaurant is set within an old bus station, where it's also attached to a bus. Located at 1329 Broadway, Country's Barbeque has an authentic recording of a bus driver from the city's historical past, which is a great way to entertain children. Their menu consists of BBQ, sandwiches, fresh salads, veggies, and more. A fan favorite is the Pork Platter, which comes with various BBQ sauces along with cornbread, peas, and collards.
SoHo Bar and Grill
This bar and grill provide its patrons with a wide variety of everyone's favorites such as chicken fingers and fries, hot wings, corn dogs, mozzarella sticks, jalapeño poppers, tater tots, and more. With a great ambiance and a comfortable space for all your different events, you can be sure that SoHo Bar and Grill will be able to give you endless entertainment. So when your hunger strikes, and you are in the mood for fun after work, head over to SoHo and place your order with their friendly bartenders.
Belloos' Cigar and Martini Bar
Compared to other places found on Broadway, Belloos' Cigar and Martini Bar is a bit more sophisticated. This bar caters to older, more refined guests and is located just across the street from the Marriott Hotel. Because of its proximity, it has become a favorite spot for business travelers. Furthermore, it offers live music, a full liquor bar, and a range of cigars. If you're looking for a great place to relax in downtown Columbus, head to Belloos' Cigar and Martini Bar.
Climate
Columbus has great weather and is appreciated by both locals and visitors to the city. On average, the city gets 49 inches of rain — far more than the U.S. average of just 38 inches. Even with such cold weather, however, Columbus doesn't get much snow at all, and it rarely happens, compared to the 28 inches of snow that falls throughout the country. Furthermore, there are 214 sunny days in Columbus which is more than the national average of 205 sunny days. Some weather highlights for Columbia include:
High summer temperatures during July reach up to 92 degrees.
Low winter temperatures in January can go as low as 35 degrees.
There is an average of 49 inches of rain every year.
Columbus has an average of 0 inches of snow per year.
If you're looking to visit Columbus before deciding to stay permanently, the best times to do so are during April, May, and October. The worst times to come to Columbia are in July and August.
Traffic
The Division of Traffic Engineering in Columbus ensures that the community enjoys a quick and safe way to get around the city and the rest of the county. Their services include providing traffic signals, traffic signs, street lighting, traffic ordinances, and traffic accident analysis. This division is also in charge of the maintenance throughout the City's Radio Communication Systems and Components. They're further responsible for the maintenance and operation of all the city's signalized intersections as well as maintenance of traffic signs around the city.
Public Transportation
Apart from driving, there are many other ways of getting around the city. The METRA Transit System is the main form of transportation in Muscogee County and has 10 routes operating within Columbus. It's currently operated by the Columbus Consolidated Government which is under METRA. The Greyhound Lines provide Columbus with an intercity bus service located on Veterans Parkway in Downtown Columbus.
Furthermore, the Columbus Airport serves as the metro area's main airport. It is the fourth-busiest airport in the state and is located just off I-185, exit 8. This airport is served by Endeavor Air's Delta Connection, which offers many daily flights to Atlanta.
Golf
For those who want to play a game of golf during their stay in Columbus, you'll be happy to know that the city has plenty of golf courses to choose from.
Maple Ridge Golf Club
This 18-hole golf club in Columbus offers a semi-private course that opened in 1993. Maple Ridge Golf Club was designed by Mike Young and measures 6652 yards from its longest tees. It has a 72.2 USGA rating and a slope rating of 132, while also featuring four sets of tees to challenge every player and every skill level. You'll also find that there are rental clubs, carts, and a driving range available here. Prices range from $26 to $43 during weekdays while playing on weekends will be a bit more costly at $30 to $51.
Godwin Creek Golf Course
The Godwin Creek Golf Course is a nine-hole Fountain City Golf Center in Columbus which opened in 1965. This public golf course is an affordable alternative to those who want to play a game without having to spend too much. This course measures 867 yards from its longest tees and only features one set. It's also open year-round, so you'll be able to play on the Bermuda grass fairways anytime you please. Playing rates stay the same for weekdays and weekends at $5.00 flat, making it a popular choice for locals and tourists.
Water Sports
Columbus, GA has many gorgeous bodies of water, both in and out of the city. If you'd prefer water activities inside a controlled environment, then there are also options for you.
Whitewater Express
One of the longest urban whitewater rafting experiences in the world can be found in the Chattahoochee River. This raging powerhouse lies within Columbus and offers five Class 4 rapids along with 10 smaller rapids which will test your skills in navigation. Because of this, it provides brave adventurers one of the wildest rides in the country. If you live for the thrill and are looking for your daily dose of adrenaline, then head over to Whitewater Express.
Columbus Aquatic Center
If you're not so much into thrill-seeking and are happy with a more mellow way to stay fit and have fun in the water, then the Columbus Aquatic Center is your best bet. Come in for a dip or take a few laps in their Olympic size swimming pool that's perfect for all kinds of water-based fitness routines. If you're looking for something a bit more casual and fun, there's also a warm-up pool as well as diving boards within this center.
Dog Friendly
Columbus is a dog-friendly city, allowing fur parents to take their fur babies with them wherever they go. There are plenty of places that accept pets 100%, so be sure to take your pups to these areas.
Residence Inn by Marriott Columbus
For an additional fee of $100 per stay, the Residence Inn in Columbus will happily accept pets of any size. This inn allows owners to bring both cats and dogs, and they may be left unattended inside their rooms. All of their 78 suites contain separate living and sleeping areas, giving you a room that's 50% bigger than your average hotel room.
Because the inn is committed to providing its guests with all the comforts of your home, every space has been designed to be welcoming and also has a waste station and grassy areas for pets.
Buckhead Bar & Grill
This bar and grill serves prime ribeye steaks, Maine lobster bisque, crab cake pasta, and pan-seared fresh salmon, along with friendly and quick customer service. Buckhead Bar & Grill is dog-friendly, where your pup will immediately get a water bowl, and it offers a year-round deck as well as a seasonal patio. Both locals and visitors can expect generous portions of food and a place of comfort and great times whenever you come in for a bite.
Attractions
If you're looking for things you won't see anywhere else, head over to these unique attractions that only Columbia's residents and visitors can talk about!
Coca-Cola Space Science Center
As one of Columbia's jewels, the Coca-Cola Space Center is the place to be if you're curious to know all about space flight and the galaxy. Upon arrival, you'll step into a journey that takes you through space, where you can take a simulation and be an astronaut for a day to take control of the Space Shuttle yourself. This place is the perfect place to go out with kids for a fun day out or to go exploring through all its interactive exhibits to get a hands-on experience.
Pine Mountain Wild Animal Safari
If you're more into nature and wild adventures, head over to the Pine Mountain Wild Animal Safari, where you can take a bus and have a tour of Georgia's best indigenous wildlife. Part of this one-of-a-kind experience is that you'll be provided with food pellets for interaction with the 500 various species of animals that call this place their home. You can expect to see various animals such as goats, giraffes, and camels. However, other animals aren't there for feeding, like tigers, lions, and bears which the safari has provided sanctuaries for.
Shopping
Shopping is another fun activity to do while in Columbus, so be sure to make a stop at Market Days, where you'll find a farmers' market which sells a wide selection of terrific finds and cheap goods. With more than 200 vendors selling various local produce, items, and many other options, this is a weekly market that you don't want to miss. Some things you can expect to buy at Market Days include fresh fruits and vegetables, mouth-watering pastries, organic produce, home items, jewelry, local handicrafts, and much more.
Art and Culture
Columbus values its rich history and culture, which is often depicted in its works of art displayed within its museums and centers. Here are just a few of the places not to miss out on if you're a lover of art and culture.
Columbus Museum
Learn more about the city of Columbus inside the Columbus Museum, the second-largest museum you'll find in the southeast area. Because of its huge size, you'll be able to see a vast collection of educational exhibits, historical works, fine arts, and even films that cover the rise of Columbus as well as the establishment of this city. The museum is known for its showing of "The Chattahoochee Legacy" — it has won awards for its adaptation of this region. If you're traveling with kids, the Columbus Museum also has plenty of engaging galleries and interactive exhibits to excite young minds.
RiverCenter for the Performing Arts
If you're looking for a different kind of entertainment in Columbus, then make your way to the RiverCenter for the Performing Arts where you'll find three theater venues to watch in. No matter your taste, you'll find something to enjoy here, from music recitals to the local dance and Broadway musicals. At night time, the Loft offers a variety of live music in genres such as jazz and rock 'n' roll, while you may also visit the Legacy Hall for a performance by the Columbus State University Orchestra and Choir.
Sports and Sports Teams
Columbia's YMCA Youth Sports programs are designed to encourage health and opportunities for kids, families, and the community. These programs are also meant to promote healthy competition, family involvement, the value of participation, and team building. They also believe in the sports philosophy of "Athletes First, Winning Second," aiming to keep children focused on their well-being and health. Here, you'll find different sports programs, both recreational and competitive to choose from, such as:
Cheerleading
Basketball
Soccer
Taekwondo
Swimming
Education
Education in Columbus is a thriving part of the economy, with a total of 3,575 degrees awarded in 2019 alone. According to the number of degrees awarded, the biggest universities in the city are Columbus State University, Columbus Technical College, and Platt College-Miller-Motte Technical-Columbus. Meanwhile, the most popular majors taken by students are:
Criminal Justice - Safety Studies
Registered Nursing
Other Mechanic and Repair Technologies
Should you choose to take up studies in Columbus, make sure to take into account the tuition fees involved. A public four-year college for in-state students will have a median cost of $4,371, while a public four-year college for out-of-state students will cost $15,425.
Real Estate
In 2018, the median property value in the city stood at $141,700, which is roughly 0.617 times lower than that of the U.S. average of $229,700. However, this value reflects a 1.07% increase from the previous year's value of $140,200. This is a clear indicator that prices don't stay down for a long time, and as more and more people take up room in the city, you won't see these prices again.
As a result of the constant rise in home prices, the homeownership rate in Columbus is only 48%. However, the residents of Columbus still enjoy a relatively smooth ride from their homes to work, where commuters experience an average commute time of 19.3 minutes. The average list price for homes for sale in Columbus, Ga is $165,000.
Welcome to Columbus!
Columbus is a great city to relocate to especially if you're looking for a dynamic city with a low-key environment, where you can spend your days by nature and away from a frantic lifestyle. With beautiful attractions, great places for fun and adventures, and plenty of things to keep you entertained when the working day is done, there's a lot to look forward to once you own a house here. However, with rapidly increasing home values, a steady economy, and an ever-increasing population, it will be a race against time to ensure that you bag your own piece of this stunning city full of opportunity and adventure.