Moving to Athens - Your EZ Guide to Everything Athens, GA
Posted by Preston Guyton on Saturday, May 29, 2021 at 7:13 PM
By Preston Guyton / May 29, 2021
Comment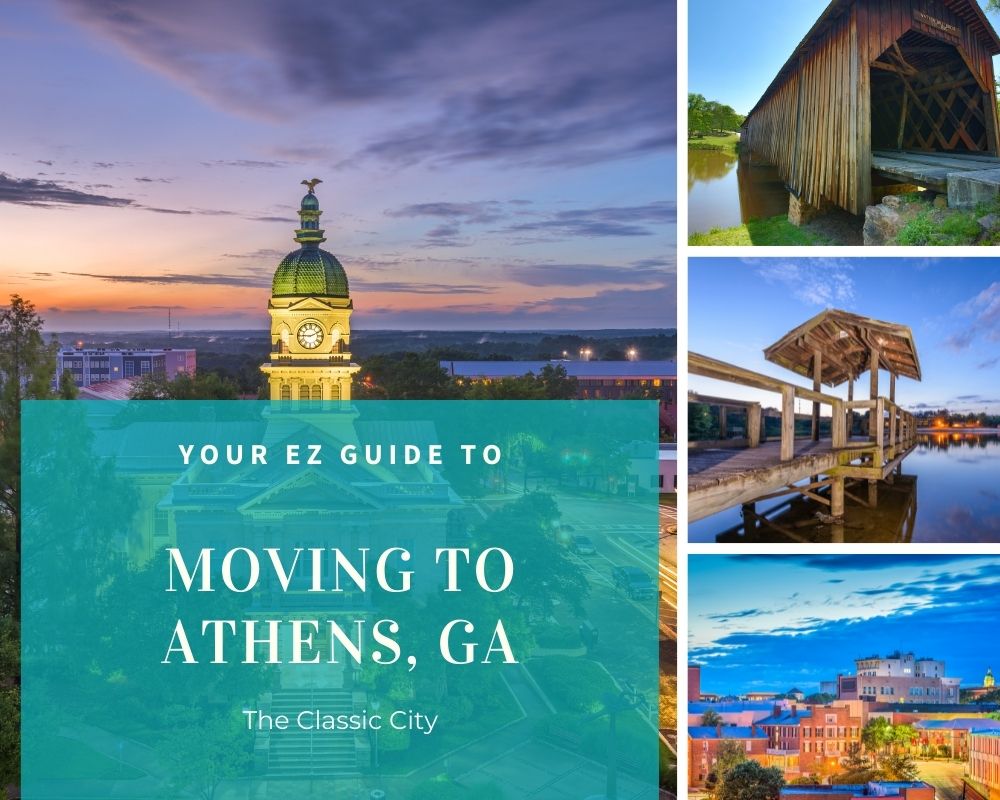 Moving to Athens - Your Guide to Living in Athens, Ga
Athen's southern heritage is not only charming, but also friendly and welcoming, making it the perfect choice for families and young professionals just starting to find their way. As it's also such a progressive city, it has attracted plenty of new residents.
While Athens is known for its small-town vibe, it doesn't have a shortage of good cuisine, culture, and creativity. Moreover, Athens offers an affordable cost of living and is one of the most tax-friendly states in the country. You'll also be glad to know that Forbes magazine named Athens as the #1 'Best Place to Retire' in 2017.
Cost of Living and Population Growth
Officially named Athens-Clarke County, Athens is a consolidated city-county and college town in Georgia. It is located just 68 miles northeast of Atlanta. As of 2018, Athens had a population of 205,000 people with a median age of 32.1, making it a relatively young city. Furthermore, there was also a 1.24% increase in the population of Athens from 202,780 to 205,303 from 2017 to 2018.
The cost of living in Athens is quite affordable, with lower costs compared to Georgia and much lower compared to the rest of the United States. Here is a table comparing the affordability of certain commodities in Athens to both Georgie and the country in general. Compared against a USA score of 100, a lower score indicates a commodity is more affordable than the country's average, while a higher number means Athens is more expensive.
| | | | |
| --- | --- | --- | --- |
| Cost of Living | Athens | Georgia | USA |
| Overall | 86.2 | 93.4 | 100 |
| Grocery | 95.5 | 95.5 | 100 |
| Health | 89 | 95.5 | 100 |
| Housing | 74.9 | 80.7 | 100 |
| Median Home Cost | $173,100 | $186,500 | $231,200 |
| Utilities | 101.5 | 103.2 | 100 |
| Transportation | 80.7 | 105.1 | 100 |
| Misc. | 96 | 94.8 | 100 |
Overall, Athens's cost of living is 86.2, making it much lower than the total for the rest of the state and the country.
Job Market
The median household income in Athens is $45,246, with men having an income that's 1.36 times higher compared to women in the workforce. The economy of Athens employs over 96,000 people, with the largest industries being educational services, health care and social assistance, and retail trade. Between 2017 to 2018, there was a 6.67% increase in household income from $42,418 to $45,246. Here are a few categories you need to consider should you want to relocate to Athens for work.
Most Common
Some of the most common jobs in Athens according to the number of employees are:
Education instruction and library occupations with 11,341 employees
Sales and related occupations with 9,193 employees
Office and administrative support occupations with 8,795 employees
Most Specialized
In comparison to other cities in Georgia, Athens has an unusually high number of employees in the following jobs:
Life, physical, and social Science occupations
Education instruction and library occupations
Community and social service occupations
Highest Paid
According to median earnings, these are the highest paying jobs held by Athens residents:
Health diagnosing and treating practitioners, along with other technical occupations, with annual earnings of $64,495
Legal occupations with annual earnings of $63,070
Architecture and engineering occupations with annual earnings of $53,889
Things To Do in Athens
While it is on the smaller side, the city of Athens always has something to offer to both locals and visitors. If you're looking for places to wine and dine or places for more outdoorsy experiences, here are some of the best places to do so:
State Botanical Garden of Georgia
Athens is proud to serve as the home of the state's official botanical garden. The State Botanical Garden of Georgia is not only an educational and cultural facility, but it is also used recreationally — its 313 acres of land is one of the city's most visited attractions. Here you'll find a wide variety of displays, such as the International Garden, Flower Garden, Shade Garden, Heritage Garden, among others. Furthermore, it is divided into the following sections; All-American Selections, Audubon Society Important Bird Area, Southeastern Conifer Society Reference Garden, and American Daffodil Society Display Garden.
Porterhouse Grill
For the past 20 years, the Porterhouse Grill has been the go-to place for both visitors and residents looking for excellent steaks with a relaxing fine dining atmosphere. Be sure to drop by during lunch from Monday to Friday to feast on their delicious all entrees menu for under $11 each. Both walk-ins and reservations are welcome, but be sure to plan ahead of time if you want to celebrate your next event here.
Hendershot's
You can find Hendershot's Coffee in Bottleworks on Prince Avenue. With a wide selection of tea, wine, beer, and cocktails, people don't just come here for a cup of Joe. It also has a full kitchen that serves lunch seven days a week, as well as dinner for six nights a week. They offer a good range of food options, such as vegan, vegetarian, and kid-friendly choices. There's even live performances here, with both local and national acts that do comedy, jazz, americana, and more. Because of these factors, it has been named one of the top coffee shops in the state.
Terrapin Beer Co.
Terrapin boasts a 40,000 sq. ft. facility to provide the best craft beer the southeast has to offer. After it was founded by two brewers who debuted their first beer in 2002, this brewery expanded its portfolio to include its Monster Beer Tour collection of seasonal brews, 6 year-round beers, 4 seasonal beers, their side project of one-time brewing improvisations, and annual special releases and collaborations. As a result of experimentation, innovation, and hard work, Terrapin Beer Co. continues to give beer fans unique experiences through the finest craft beer.
Climate
The climate in Athens doesn't really differ from other cities found in Georgia. Locals usually experience an average of 48 inches of rain every year compared to the U.S. average of 38 inches per year. The city doesn't get much snow, with just an average of 1 inch per year, which is much lower compared to the national average of 28 inches, making it the perfect area for those who don't like frost. Lastly, there's an average of 218 sunny days per year — more than the 205 days experienced by the rest of the country. Here are a few other weather highlights for the city of Athens, should you choose to move here.
Summers can get hot in Athens, with the highest temperature recorded being 90 degrees in July.
Winters can also get cold here, with lows in January dropping to 32 degrees.
If you plan to visit Athens, be sure to visit during May, September, and October to experience its most pleasant weather. Be sure to avoid going during January and July as these are the most uncomfortable months.
Traffic
Traffic in Athens is growing and has an increasing list of affected areas, with the University of Georgia being one of the most frustrating areas. Traffic in the last five years has also worsened and has forced the city to assign additional traffic delegators on campus, along with traffic signal operations within the main intersections. As recorded by the Athens-Clarke County Local Traffic Counts, areas like College Station Road and U.S. 29 have seen the most significant increase, which has volumes between 1,000 to 4,000 vehicles. The rush hour in Athens is usually seen in the morning, with its peak taking place between 7:00 to 8:30 a.m., where commuting can take an average of 34 minutes and may even extend up to 90 minutes.
Public Transportation
While traffic may be worsening, commuters can still appreciate the many modes of transportation made available to them.
UGA Campus Transit
Providing fare-free 24-hour service from Monday to Friday, the UGA Campus Transit makes its way around the University of Georgia, Prince Avenue, and Milledge Avenue on the way to the Health Sciences Campus, the newest campus on UGA. Other bus services include Megabus and Southeastern Stages.
Rail
Unfortunately, Athens doesn't have a direct passenger rail service. However, the closest Amtrak stations are located in Atlanta, Toccoa, and Gainesville.
Alternative Transportation
Athens encourages the use of bikes, with bike lanes scattered across main thoroughfares. Furthermore, a rail-to-rail system is being considered to connect the East Side to downtown. Small scooters and skateboards are also commonly used around the downtown area and the UGA campus.
Airports
The Athens-Ben Epps Airport has been operating since 1917 and is located east of downtown. Unfortunately, due to the lack of service and flights, residents of Athens often use the Hartsfield-Jackson International Airport as their main point of departure and arrival.
Golf
When it comes to golf, you can be sure that Athens has courses to choose from. No matter your skill level, you'll be able to find a place for you to get a game in.
The Georgia Club
This semi-private golf community in Georgia consists of numerous Southern homes just minutes from Athens and an hour from Atlanta. Opening in 2001, it originally had 18 holes, which were then given another nine by architect Denis Griffiths. You'll also find a new practice area, along with a bunker and green for pitching and chipping. Apart from rating all 27 holes, you can also enjoy the dining facilities and the ceremony lawn where weddings and other special events are held.
UGA Golf Course
Designed by Robert Trent Jones, Sr., a world-renowned architect, the UGA Golf Course is Athens' only golf course in town. Golfers often note that this course is as gorgeous as it is challenging. Set on rolling terrain, this par 71 layout is often celebrated as one of the best university courses in the country. In 2006, this course went through a huge renovation by Love Golf Design and has since been elevated to the standards of modern championship play. In 2021, the UGA Golf Course was ranked as the #5 Best Public Courses in Georgia by Golfweek.
Water Sports
Some of us are more into water sports, and there's no better place to beat the heat of summer than in Athens! With plenty of gorgeous bodies of water and great rental places for all your boating needs, here are some of the best places to enjoy the water:
Lake Oconee
With Young Harris Water Sports, you can get the best prices on all their watercraft and other rentals. They have a shop conveniently located in Lake Oconee, where you can get your hands on high-quality rental ski boats, jet skis, wakeboards, paddleboards, SUPs, and pontoons/tritoons for wet and wild fun with friends and family. No matter what kind of water sport you're into, you'll be able to enjoy it more with the beautiful scenery that Lake Oconee has to offer. From pristine waters, rustic homes, and exciting walking trails, Lake Oconee is the place to be in summer.
Lake Hartwell
At Lake Hartwell, you'll find Big Water Marina, a full-service facility that will serve as your partner in exploring the unspoiled wilderness and beauty of the area. Here, you can rent out boats no matter the season and your purpose. You'll also find a campground, along with a seasonal bar and grill where the whole family can enjoy and spend their summer in paradise. From kayaks, paddleboards, and hydro bikes, you can rent equipment for half a day or a whole day. Lastly, you can also set up your tent or RV at the campground nearby.
Dog Friendly
If you're wondering where you can spend time in the city with your pet, here are some of the best hangouts for dogs in this dog-friendly city:
Big City Bread Cafe
This charming cafe serves locally sourced American fare along with homemade bread and pastries with a shaded patio where you can dine with your pets. You can be sure that you'll be served freshly baked goods for breakfast and lunch during weekdays, as well as vegan and vegetarian options. They also have all-day brunch on the weekends. As of 2021, the Big City Bread is also open on Friday nights from 5:30 pm to 8:30 pm where you can have breakfast for dinner.
Hotel Indigo-Athens
Hotel Indigo-Athens is a boutique hotel that provides guests with outstanding service, classic charm, and contemporary ambiance. It continuously sets the standard for those visiting Athens and the University of Georgia. Dogs are very much welcome here, so be sure to bring the whole family along — including your four-legged loved ones.
Attractions
Are you free on the weekend with nothing on your schedule? Then be sure to put these attractions on your itinerary.
Ciné
Known as downtown Athens' only art-house cinema, Ciné screens international and independent films, along with classic movies, documentaries, and festival discoveries. However, it's not just a movie theater. It also serves as a modern art center. It contains an exhibit of various artworks from local visual artists, along with its Lab space, where you can hold events, live performances, and parties.
Historic Athens Welcome Center
For first-time visitors to Athens, this place is a must-see. Located in the downtown area, this Church-Waddel-Brumby House Museum was built in 1820 and provides visitors with excellent resources for your exploration of the city. Inside, you'll find yourself stepping back in time, with the option of reserving a tour guide to get the most of what it has to offer. Admission is free, so be sure to bring the whole family.
Shopping
If you're looking for souvenirs or are just in the mood to shop, these places offer a selection of both trendy and traditional items:
High Country Outfitters
This locally owned and operated clothing and outdoor gear business first planted its roots in Atlanta but has since expanded over its 40 years in the market. The business came together when four friends who live for the outdoors realized a demand for full-service specialty outdoor services. High Country is the state's premier outdoor goods shop, with products from the biggest brands such as The North Face, Patagonia, YOLO Board, Mountain Khaki, and more.
Farm Home Living
At Farm Home Living, you'll find a selection of home goods with a mix of traditional, primitive, industrial, farmhouse, classic southern, and french country styles. Wendy Patrick specializes in industrial home, shabby chic, and rustic home designs, all of which will add another dimension to your home space. The shop offers quality refurbished and new furniture, along with miscellaneous home decor and decorating services.
Art and Culture
For your daily dose of inspiration and creativity, visit these places and soak up the brilliance of their featured artists:
Georgia Museum of Art
The Georgia Museum of Art is located within the University of Georgia and is home to a permanent collection of over 18,000 pieces of artwork. Founded in 1945, this museum holds between 20 to 25 temporary exhibitions every year, with a strong focus on southern decorative arts, works on paper, American painting, self-taught art, and work by Samuel H. Kress featuring Baroque and Renaissance art. While admission is free, you are required to reserve tickets in advance.
Porcelain and Decorative Arts Museum
Located inside the State Botanical Garden of Georgia, this museum just opened in March 2021 and features eight different spaces that combine art, botanicals, beauty, and conservation. As its name suggests, the Porcelain and Decorative Arts Museum holds the personal decorative arts and porcelain collection of Deen Day Sanders, a charter board member of the State Botanical Garden. The space has been designed to draw both conservation and environmental connections to the pieces of art in the museum. Be sure to see this museum if you love nature, art, or history.
Sports and Sports Teams
Athens is a well-known sports town, with the University of Georgia having a reputation in NCAA tournaments, as well as being the perfect city to host tournaments and championships. With more than 20 facilities and venues dedicated to sports, Athens is a powerhouse for sports tourism, which is also rich in local partnership opportunities. This city has hosted several tournaments in various sports, such as:
Georgia High School Association Basketball Playoffs
Athens-to-Atlanta Road Skate
NCAA Division I Women's Swimming and Diving Championships
NCAA Division I Women's Tennis Regionals
Georgia Tandem Rally
Pickled Peach Pickleball Tournament
National Gymnastics Challenge
Education - Schools and Colleges
Athens also takes education seriously, and, in just 2019 alone, universities within Athens-Clarke County have awarded a total of 14,108 degrees. Its student population has visibly more women than men, outnumbering them 25,800 to 18,128. The biggest universities according to the number of degrees awarded are:
University of Georgia
Athens Technical College
Georgia Institute of Cosmetology
Meanwhile, the most commonly taken majors in Athens-Clarke County are:
General finance
General psychology
General business administration and management
If you plan to study or send your children to Athens, keep in mind that the median tuition costs in the city are $9,790 and $28,830 for a public four-year college for in-state and out-of-state students.
Real Estate
As of 2018, the median property value in Athens was $170,200, which is 0.741 times lower compared to the national average of $229,700. While it may be affordable now, don't count on this price to last. Just between 2017 and 2018, this value rose from $162,600 — a 4.67% increase.
Furthermore, the homeownership rate in Athens is 54.5%, making it lower compared to the rest of the country, which is 63.9%. It's also best to keep in mind that the largest share of households in the city has a property value between $200,000 to $250,000. So, while there are still affordable houses on the market, don't stall and wait as the prices will keep increasing. A wise investor will make the move now, while the iron is still hot!
Welcome to Athens!
Athens is booming at the moment, so make sure to grab the opportunity while it lasts. This beautiful city not only provides you with warm and consistent weather, but it also offers what many cities lack — the right balance between a small town and a bustling place full of opportunities. From its beautiful outdoor areas to the more refined and contemporary buildings that make up its identity, Athens is a place worthy of investing in a new home and relocating to for a new beginning. However, you must act now before everyone else realizes what a true gem this city is.