Moving to Macon - Your EZ Guide to Everything Macon, GA
Posted by Preston Guyton on Friday, June 11, 2021 at 5:39 AM
By Preston Guyton / June 11, 2021
Comment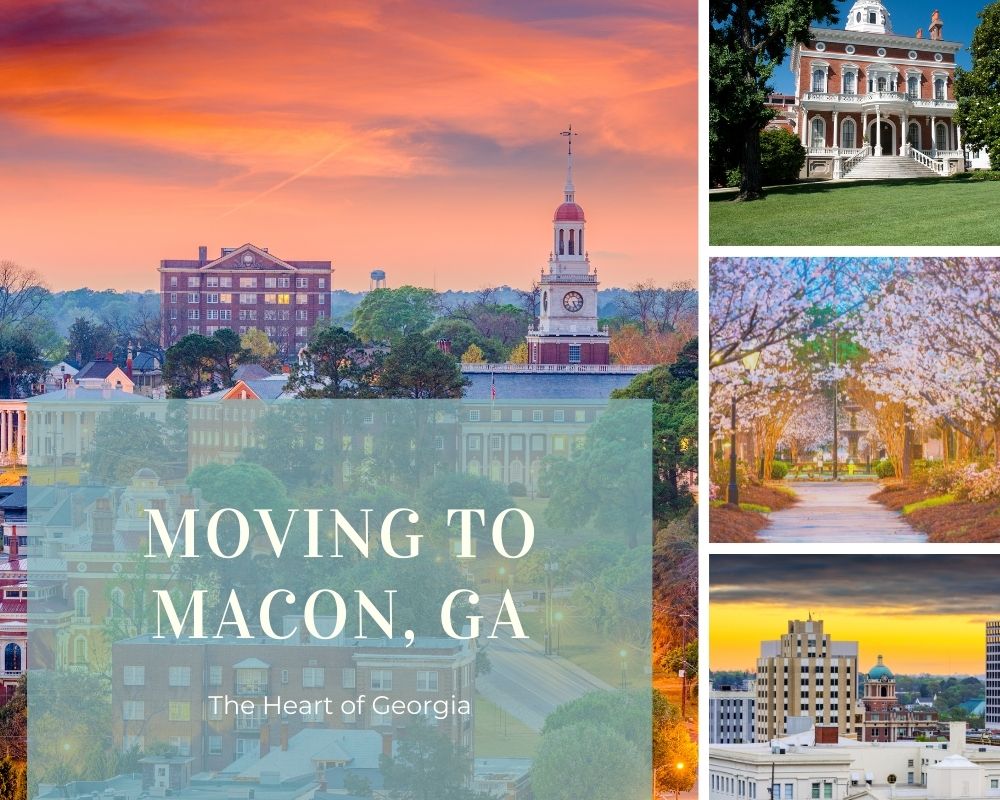 Moving to Macon - Your Guide to Living in Macon, GA
If you've considered moving to the Peach State, then perhaps you've heard of Macon (officially known as the Macon-Bibb County), a quaint little city that provides a small-town feel while offering big-city amenities. Here, you'll be able to enjoy the best of both worlds while exploring the unique attractions that can only be found here. In this EZ guide to Everything Macon, GA, we've compiled all the essential information you need to know. By the end of this article, you'll see why it should be the top choice in your list of places in Georgia.
Cost of Living and Population Growth
Macon-Bibb County has a population of 153K people as of 2018 and has a median age of 36.2. This area is also the biggest city in the Macon–Warner Robins Combined Statistical Area, which had an estimated 420,693 residents back in 2017. The cost of living in Macon, GA is also one of the most affordable in the state, where most commodities are much cheaper compared to other cities both in and out of Georgia. Here's a table that compares the cost of living between Macon, Georgia, and the rest of the country.
| | | | |
| --- | --- | --- | --- |
| Cost of Living | Macon | Georgia | USA |
| Overall | 74.7 | 93.4 | 100 |
| Grocery | 93.9 | 95.5 | 100 |
| Health | 92.8 | 95.5 | 100 |
| Housing | 33.9 | 80.7 | 100 |
| Median Home Cost | $78,400 | $186,500 | $231,200 |
| Utilities | 103.3 | 103.2 | 100 |
| Transportation | 84.5 | 105.1 | 100 |
| Misc. | 95.7 | 94.8 | 100 |
Macon has a total cost of living of 74.7, which is lower than Georgia's total of 93.4 and much lower compared to the rest of the country at 100.
Job Market
In 2018, Macon-Bibb County had a median household income of $39,931, where males typically have an income that's 1.36 higher compared to that of females. While this figure may be lower than the average $61,937 annual income of the country, it's actually an increase from 2017's median income of $38,247, which reflects an annual growth of 4.4%. The city's economy employs a total of 62.2K people, with the largest industries found in Health Care and Social Assistance, Retail Trade, and Educational Services. Here are various occupations that you might want to consider when moving to Macon.
Most Common
According to the number of employees, here are some of the most common jobs taken by the city's residents:
Sales and Related Occupations with a total of 8,070 employees
Office and Administrative Support Occupations with a total of 7,270 employees
Management Occupations with a total of 4,674 employees
Most Specialized
The city of Macon has an unusually high number of employees (compared to other areas) in the following occupations:
Law Enforcement Workers Including Supervisors
Health Technologists & Technicians
Fire Fighting and Prevention, along with Other Protective Service Workers Including Supervisors
Highest Paid
According to median earnings, some of the city's highest-paid jobs lie in the following sectors:
Legal Occupations with annual earnings of $76,250
Life, Physical, & Social Science Occupations with annual earnings of $76,154
Health Diagnosing & Treating Practitioners & Other Technical Occupations with annual earnings of $75,218
Things To Do in Macon
This city may seem small and quiet at first, but once you step outside, you'll see just how much adventure there is waiting for you.
Outdoors
Macon's Amerson River Park offers visitors 180 acres of beautiful upland forestry, where you can explore the great views and high bluffs of the Ocmulgee River. Located near Interstate 75, it has seven miles of trails where you can hike, or you may get on the river to canoe and kayak through its wetlands. Furthermore, the city has many other parks to choose from, as well as various walking trails which provides that opportunity to truly appreciate the nature around the area.
Restaurants
Macon's H and H Soul Food Restaurant is one of the most iconic establishments of the South and is a must-visit place in the city. First opened in 1959 by owners Louise Hudson and Inez Hill, this restaurant is famous for its association with the Allman Brothers Band. Because it played a pivotal role in the explosion in southern rock within the city, it has become a favorite among musical greats who stop by Georgia. Make sure that you come by for breakfast to get a taste of their famous Mystic Gravy biscuits or H and H waffles.
Macon Beer Company
This beer production facility and brewery are located within the city's historic downtown area. The Macon Beer Company uses innovative and unique brewing techniques to make interesting and high-quality beers. This brewery also offers beer tastings and tours every Saturday and each third Thursday, where guests will get the opportunity to meet the staff, see the brewing equipment, and watch the process in action. Those who do go on tour can try numerous samples of seasonal and flagship beers, and will also receive a souvenir pint glass to take home.
Climate
Macon has a warmer climate compared to the rest of the country, but it can get wet through the winter season. On average, the city receives 46 inches of rain compared to the U.S. average of just 38 inches. Even with this amount of rain, it rarely snows in the city and has no inches of snow on average per year. Meanwhile, the rest of the country gets 28 inches of snow annually. Lastly, Macon enjoys a total of 219 sunny days every year, which is more than the country's average of 205 sunny days. Here are a few of Macon city's weather highlights:
Summers in July typically have average high temperatures of 92 degrees.
Winters in January have an average low temperature around 34 degrees.
There's usually an average of 46 inches of rain every year.
However, it rarely snows in Macon.
Many people will usually visit Macon first before moving there to check out the city first. If you do visit, make sure to do so around April, May, and October to get the best climate. However, the worst time to visit is between July and August which are the least comfortable months weather-wise.
Traffic
Traffic in the city of Macon itself isn't too bad yet. However, the surrounding areas which make up Macon-Bibb County experience moderate to high levels of traffic. This can be bothersome for many of the residents trying to get to and from work, where the average commute time is around 20.6 minutes. Even so, this is still lower than the commute for the average driver around the rest of the country which is 25.3 minutes. Furthermore, 2.04% of these travelers will drive through a "super commute", which is classified as travels of more than 90 minutes.
Public Transportation
Macon offers its residents plenty of choices when it comes to public transportation in case you don't have a car to take with you on your adventures. If you're looking to take the bus, you can use the Public Transit City Bus System which is operated by the MTA (Macon Transit Authority). The MTA carries a total of 10 city bus routes as well as an express bus serving the suburb of Warner Robins south of Macon. Furthermore, the MTA uses a tourist trolley system that provides tours of the downtown area and consists of many historical sites such as the Hay House, the Tubman Museum, and the Georgia Music Hall of Fame.
Trains in the city are operated by the Southern Railway and the Central of Georgia Railway, which is served by Amtrak. Furthermore, two airports are accessible via Macon; this includes the Macon Downtown Airport which has several private and corporate aircraft, and the Middle Georgia Regional Airport, which provides public flights to Macon along with cargo flights. This airport is located just nine miles from the city's downtown area.
Golf
Golf lovers are sure to enjoy their time in Macon, where you'll find golf courses both within and out of the city. Here are just a few that you should look into for a game with friends and family.
Idle Hour Golf Course
The "Idle Hour" course is situated in the Idle Hour Country Club facility located in Macon, Georgia, and it features 18 holes throughout 6,748 yards of golf from the longest tees for a par of 70. This course holds a slope rating of 131 on Bermuda grass and has a course rating of 70.8. Opening in 1912, it has attracted both locals and visitors to its beautiful greens and has maintained its high standards thanks to David Ruddell, Jr. who manages the course as the general manager.
Healy Point Golf Course
This 18-hole course can be found at the Healy Point Country Club also inside of Macon. It features 6,702 yards of golf from the longest tees for a par of 72 and has a course rating of 72.9 while it has a slope rating of 139 on Bermuda grass. Designed by Gary Player, the Healy Point course made its debut in 1973. Today, it is managed by Derron Deraney as the General Manager under ClubCorp USA, Inc.
Water Sports
Those looking to enjoy themselves while keeping cool will find that Macon has plenty of waterholes, rivers, and other areas where they can play various kinds of water sports.
Amerson River Park
This large park offers visitors close to 200 acres of forests, meadows, and wetlands which are surrounded by the Ocmulgee River. With seven miles of trails, many scenic overlooks show gorgeous views of the river. There's also a handicap-accessible playground which was designed specifically for all kids to play with and enjoy. You may choose to explore the river via canoe or kayak, while others simply choose to relax in a tube.
Lake Tobesofkee Recreation Area
The Lake Tobesofkee Recreation Area offers a place for fun year-round and has 1,800 acres for exploring or to use for a huge range of outdoor activities. The lake also has 35 miles of shoreline for those who wish to take part in swimming, fishing, boating, waterskiing, and more. When you want to call it a day, you can set up your tents inside the campsites found in two of the three parks within the recreation area. Sports fields, playgrounds, boat ramps, and picnic areas are also available here.
Dog Friendly
Macon is a dog-friendly area, and many residents can surely appreciate the various establishments that allow their pets to share in their adventures. Here are a few places you should check out with your pup for a great time around the city.
La Quinta Inn & Suites Macon
At the La Quinta Inn & Suites, two pets of any size are welcome for just an extra $20 per pet, per night. While both cats and dogs are welcome, pets aren't allowed to be left alone in an unattended room. Every room inside is spacious and comfortable, where you can use their free internet, a coffee machine, hairdryer, and other extras. From this inn, visitors can reach almost any part of the city with ease, including the Ocmulgee National Monument, Robins A.F.B. Museum of Aviation, and more. In addition, Lake Tobesofkee is only a 30-minute drive away, so you can make the most out of your visit to Macon.
Sauced at Mercer Village
Open seven days a week, Sauced is the place to be for a variety of food such as pies, sandwiches, meatballs, calzones, salads, and more. Dogs are welcome by their pet-friendly outdoor tables where they too can enjoy food that way it's meant to be enjoyed. Their must-try pizzas include the Boomer pizza: an ensemble of yellow oyster, portabella, shiitake, and crimini mushrooms, grated parmesan, onions, prosciutto, and fresh parsley over a mushroom and brie base.
Attractions
The city of Macon also has unique attractions which provide the city many interesting sites. Be sure to include these on your itinerary to make sure you don't miss out on more of what Macon has to offer.
Grand Opera House
Serving as Mercer University's performing arts center, the Grand Opera House is known for its historic past. Originally called the Academy of Music, it was opened in 1884 and was the biggest stage in the Southeast at the time. However, in 1905, the theater was renovated and renamed the Grand Opera House where it hosted celebrities such as Charlie Chaplin and the John Philip Sousa Band, George Burns, Lionel, Ethel Barrymore, Ray Charles, Bob Hope, and the Allman Brothers Band.
The Cannonball House
Built in 1853, the Cannonball House features a Greek Revival style and takes its name from the cannonball damage it took from the Civil War. This house is furnished and decorated with items from the 1850s while featuring the recreated rooms from The Adelphean Society. On display outside the home is a bronze 1864-era cannon which was locally forged at the Macon Arsenal. Visitors are welcome to tour the home, where you may explore the brick kitchen, the servant's quarters, and the gardens.
Shopping
Shopping is a great way to spend the day at Macon, not only because things are more affordable here, but because of the sheer amount of choices made available. Here are a few places where you can start shopping without the guilt of spending too much!
Smiley's Flea Market
This long-running flea market has three locations throughout the United States. Smiley's Flea Market was created to give the public a place to sell their merchandise with one another. This facility uses more than 100,000 sq.m. of covered spaces along with 40 outdoor stalls spread over 30 acres. Shoppers will see a huge range of items for sale, along with concessions and refreshments throughout the area. Anyone is allowed to sell their items here, with some simply showing up to sell any unwanted items.
Macon State Farmers Market
This retail market is open every day, so you can browse through their regular vendors which offer fresh produce. The Macon State Farmers Market also has two nurseries where you can buy vegetables, flowers, and plants. If you get hungry while shopping, you can stop by the restaurants inside the grounds where you can munch on the delicious barbecue, soul food, pastries, and various baked goods.
Art and Culture
The art and culture scene in Macon is just as exciting as most other cities, where you'll find that this city also has plenty of museums where you'll find the best art and pieces of history. One such area you need to visit is the Tubman Museum, where you'll find the Southeasts' largest museum dedicated to African American culture, history, and art. While it highlights authentic African art, the museum also showcases Southeastern folk art and contemporary African American art.
Sports and Sports Teams
Sports is a huge deal in Macon, making it a great city for those who are health conscious and would like to stay fit through sports and physical activities. Sporting events happen throughout the year in this city, with some of the most awaited being:
The Southern Professional Hockey League where Macon Mayhem take to the ice during the fall and winter seasons
The Coastal Plain League, where the team of Macon Bacon plays baseball during summer
Furthermore, college and university sports teams are rampant in Macon where you can cheer for the following sports teams:
The Mercer University Bears for basketball, football, volleyball, baseball, and more
The Middle Georgia State University Knights for volleyball and soccer
The Wesleyan College Wolves for softball, soccer, and horse shows
Education
Education in Macon, GA has awarded a total of 4,559 degrees during 2019, where the largest universities (according to the number of degrees awarded) are:
Mercer University with a total of 2,682 degrees
Middle Georgia State University with a total of 1,335 degrees
Wesleyan College with a total of 219 degrees
Furthermore, some of the most popular majors in Macon-Bibb County are Registered Nursing, Liberal Arts and Sciences, and General Business Administration and Management. If you do plan to enroll your child in school in Macon, here is a list of the tuition fee costs to keep in mind:
A private four-year college has a median cost of $24,149
A public four-year college has a median cost of $2,728 for in-state students
A public four-year college has a median cost of $10,075 for out-of-state students
Real Estate
As of 2018, the median property value in Macon was $116,500, making it 0.507 times smaller compared to the country's average of $229,700. However, this value was actually a 0.682% decrease from the 2017 figure of $117,300. Because of such affordable housing costs, the homeownership rate in Macon-Bibb County is 52.6%.
Furthermore, the residents of the city have an average commute time of 20.6 minutes, where a further 2.04% of the population endures travels of over 90 minutes. Because Macon is a progressive city, you'll see that many visitors are easily converted into residents. While there are still affordable homes in Macon, they are quickly taken out of the market and as a result, a large share of households have a property value between $150K to $175K.
Welcome to Macon!
The city of Macon has plenty to offer, many of which you won't find anywhere else in the country. From its historical sites, naturally beautiful landscapes, and convenient places to shop, this city has everything you could want and more. It's also one of the most affordable areas in Georgia, so take advantage of its generous nature before others turn their visit into a permanent residency. Its great weather, fun places to explore, great schools, and excellent job opportunities are more than enough reasons to convince anyone to leave the city life for one that's more on the quiet, yet exciting kind. So what are you waiting for? Don't miss out on the move of a lifetime, and head to Macon today!