7 Best Places to Live in Gainesville, GA
Posted by Preston Guyton on Monday, August 8, 2022 at 9:37 PM
By Preston Guyton / August 8, 2022
Comment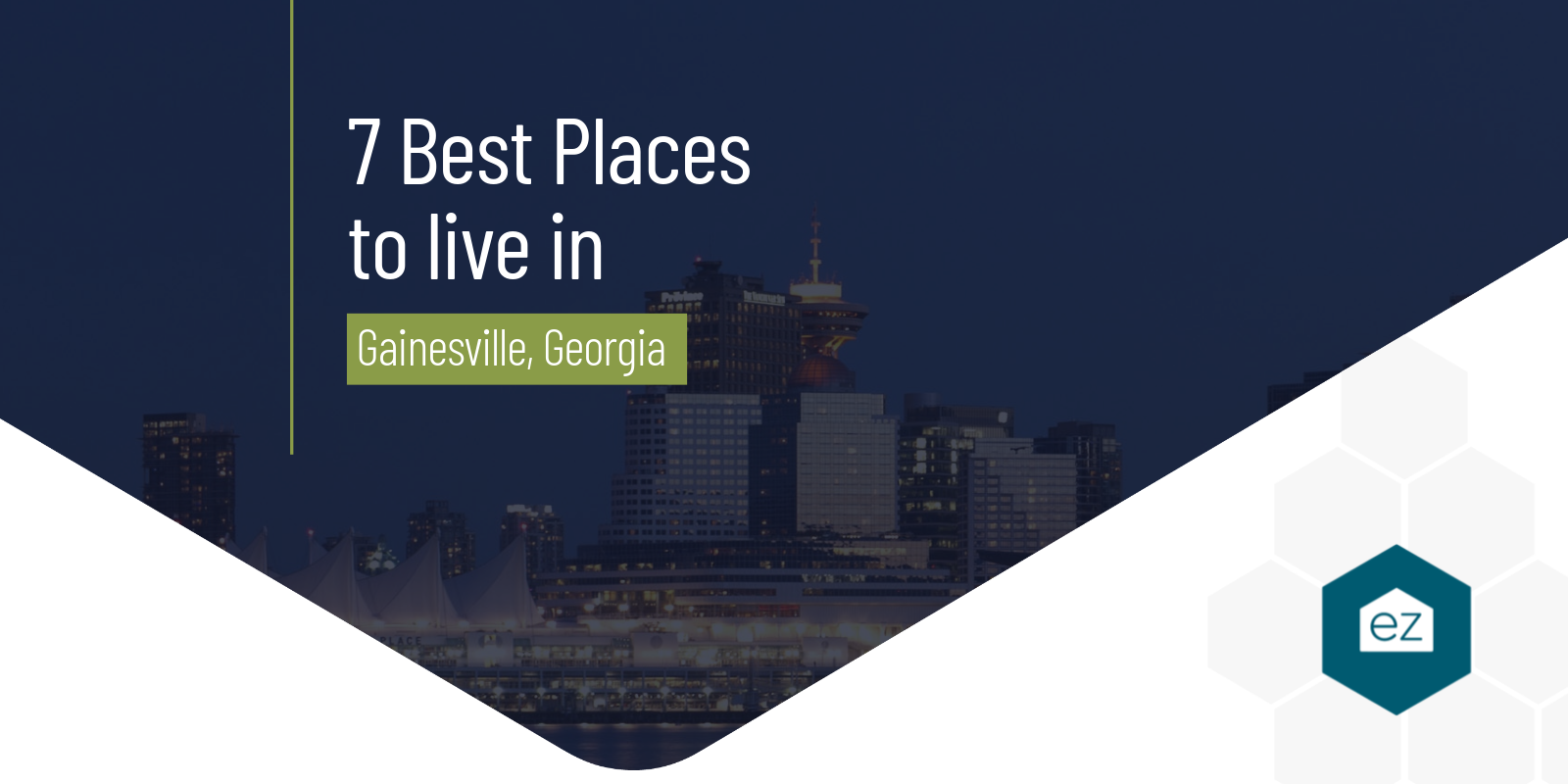 7 Best Places to Live in Gainesville, GA
Georgia has proven to be one of the fastest-growing states in the country—especially in the greater Atlanta metropolitan area. Where do residents go to get away from the hustle and bustle of the city?
Just an hour's drive north of Atlanta's heart lies one of the most popular tourist destinations in the area, Lake Lanier. On the lake's northeast end, sitting at the foothills of the Blue Ridge Mountains awaits the town of Gainesville. Affectionately known as the "Poultry Capital of the World" for the numerous nearby chicken farms, Gainesville is the seat of Hall County.
Why not live where others vacation? Thanks to its advantageous location, residents of Gainesville have quick access to some of Northeast Georgia's most popular destinations, plus modern conveniences from shopping to dining and everything in between.
Learn more about living in Gainesville. Start your home search with the top seven best places to live.
Why live in Gainesville, GA?
First established as "Mule Camp Springs," Gainesville has long been a hub for trade and transportation. It was chosen as the county seat for Hall County and was long a resort center until a fire destroyed the town in 1851.
Today, the History Hunt provides a unique scavenger hunt from the central downtown district. The roughly two-hour-long self-guided tour has participants following clues to discover interesting, obscure facts about the Gainesville area.
During the summer, Gainesville hosts "First Fridays," a family-friendly event downtown, including arts & crafts, food trucks, and concerts.
Looking to shop? Check out the Main Street Market in Gainesville Square, home to bookshops, antique stores, restaurants, art galleries, and more. The Lakeshore Mall has big-brand retailers and an AMC Cinema.
That's not the only opportunity for outdoor adventures in Gainesville, though. There's also the Elachee Nature Science Center, Chicopee Woods, Wilshire Trails, Lanier Point Park, Sardis Creek Park, and Laurel Park.
Are you a golfer? The beautiful Chattahoochee Golf Club was designed by Robert Trent and recently renovated in 2021 by Bill Bergin. This public course features 18 holes across 183 acres of land, with greens averaging about 7,000 sq ft.
Gainesville is also home to a branch of the Atlanta Botanical Garden. Built-in 1976, this collection of rare plant displays is the largest conservation nursery in the Southeast!
Lake Lanier surrounds Gainesville on three sides and offers countless opportunities for entertainment and recreation—including swimming, hiking, camping, boating, and more!
For families, the Gainesville City School System is a public charter system that gives parents school choice from grades PK-12. It runs six elementary schools, one middle school, and one high school. The city also has two well-regarded private schools, Lakeview Academy and Riverside Military School. The private Brenau University, formerly Brenau College and originally the Georgia Baptist Female Seminary, a college for women, was founded in 1878. It became coeducational in 1972 and offers undergraduate and graduate programs.
About the Gainesville Real Estate Market
As of June 2022, the median listing price for homes in Gainesville, GA, was $450,000, up almost 29% since the previous year. With 964 homes on the market, this comes to an average price of $194 per sq ft.
However, the average sold price is much lower, at about $385,000. This indicates that the real estate market in Gainesville is slightly more balanced than the rest of the country, where supply exceeds the demand for houses in many regions.
The real estate market in Gainesville had an average of 49 days on the market.
What are the best places to live in Gainesville, GA?
Gainesville has many areas and neighborhoods for you to explore, with everything from urban condos to lakefront estates. To narrow your search, here are the six most popular communities to look for properties in Gainesville, GA. Each of these districts has unique neighborhoods and subdivisions to further explore.
Lake District
The Little River branches off Lake Lanier in the north of Gainesville. Surrounding its shores is the expansive Lake District, home to both formal communities and more rural neighborhoods. There's a good chance you'll find some waterfront property in this area.
There were 78 homes for sale in the Lake District—with list prices starting at $214,800 for a 1,315 sq ft condo and $250,000 for a three-bed, two-bath family home in August 2022. The carefully designed, new construction homes in sought-after locations are more expensive. The highest listing price in the Lake District is just under $2.5 million for a three-bed, 3.5-bath construction on the shores of nearby Wahoo Creek.
The most prominent subdivision in the Lake District is the Chattahoochee Country Club Estates. The neighborhood surrounds the private golf course of the same name and was renovated in 2006. Golfers have access to a clubhouse with a grill and pro shop, practice greens, a driving range, and new electric golf carts. Other community amenities include a marina, fitness center, tennis courts, and a pool.
Other sought-after communities in the Lake District area include Thompson Place, The Chimneys, and Windsor Forest.
Mundy Mill
At the heart of this neighborhood, designed and constructed by Chafin Communities, is the prestigious public elementary school Mundy Mill Arts Academy. Its high ranking makes Mundy Mill a highly sought-after community for families with children. The subdivisions include Linden Parks East and West, Chestnut Park, and White Oak Park.
Mundy Mill residents have access to the luxuries of a premier swim and tennis community that has been meticulously designed. The resort-style amenities include a swimming pool with lap lanes, a children's area, and cabanas. The tennis team practices on lighted tennis courts. A gated playground and picnic area are exclusive for residential use.
Homes here are constructed of strong and attractive materials and equipped with a range of high-quality appliances, including some with built-in smart home features. There were 48 homes listed for sale in Mundy Mill in August 2022, ranging in size from 1,850 to 3,612 sq ft. Listing prices start at $345,000 for a three-bed, two-bath home to $609,900 for a 5-bed, four-bath property.
The Shores at Lyncliff
Off Robinson Road and branching out from Topside Drive is the lakeside community of The Shores at Lyncliff, a gated waterfront community. This quiet, out-of-the-way development features a range of ranch and two-story homes ranging from three-six beds and 2.5-four bathrooms. Residents also have access to a swimming pool, clubhouse, and playground. The Shores at Lyncliff features a private dock and offsite storage for boats, RVs, and more.
In August 2022, only two homes were listed for sale in this neighborhood: a four-bed, four-bath home at $499,800 and a six-bed, three-bath home with a listing price of $599,000.
The Gates at Greenhill
Another luxury community, The Gates at Green Hill is located off Dawsonville highway on North Gate Drive off Green Hill Road. Developer Whitmire Homes prides itself on its custom, energy-efficient homes, here designed in a prevalent craftsman-inspired style.
Only two homes were for sale in this small neighborhood in August 2022. With a list pricing of $475,000, one is a four-bed, 2.5-bath home with an area of 2,678 sq ft. The other is a four-bed, 2.5-bath home with an area of 1,886 sq ft listed at $529,900.
Sterling on the Lake
Just outside of Gainesville, in the small community of Flowery Branch, is the resort-style neighborhood of Sterling on the Lake. This expansive, rural community is built up around the small Looper Lake. Amenities include a luxury clubhouse with a movie theater and library, a fitness center, lit tennis courts, playgrounds, and plenty of pocket parks to discover.
There were currently 40 homes for sale in Sterling on the Lake in August 2022. Options ranged from a yet-to-be-built, two-bed, two-bath property at $389,900 to a newly constructed, four-bed, 3.5-bath design at $998,900. Some sections offer 55+ living options, such as Encore. Others are dedicated to family-style living.
Reunion Country Club
Located off Route 347 to the south of Gainesville, Reunion Country Club prides itself on being the premier golf community in Hall County. This championship course is open year-round, was designed by Michael Riley, and has a total par of 72. Nearby is a driving range, putting green, and a private clubhouse featuring a pro shop and restaurant.
Residents can also access numerous pocket parks and playgrounds, a community restaurant, lighted tennis, pickleball courts, a swimming pool, and a gym.
In August 2022, ten homes were for sale within Reunion Country Club, ranging in size from 2,852 to 6,425 sq ft. The smallest home has a list price of $610,000 and features five beds and three bathrooms, while the largest home in this neighborhood has five bedrooms and 3.5-bathrooms listed at $669,000.
Living in Gainesville, GA
With a balanced real estate market and plenty of space to move into, Gainesville is one of the top choices for people looking to move to Georgia. The sprawling shores of Lake Lanier provide many choices for waterfront living, while the Atlanta metro and its amenities are just over an hour away.
If you're considering living in Gainesville, contact a local real estate agent to find the right neighborhood.