10 Best Places to Live in Peachtree Corners
Posted by Preston Guyton on Friday, August 5, 2022 at 1:36 AM
By Preston Guyton / August 5, 2022
Comment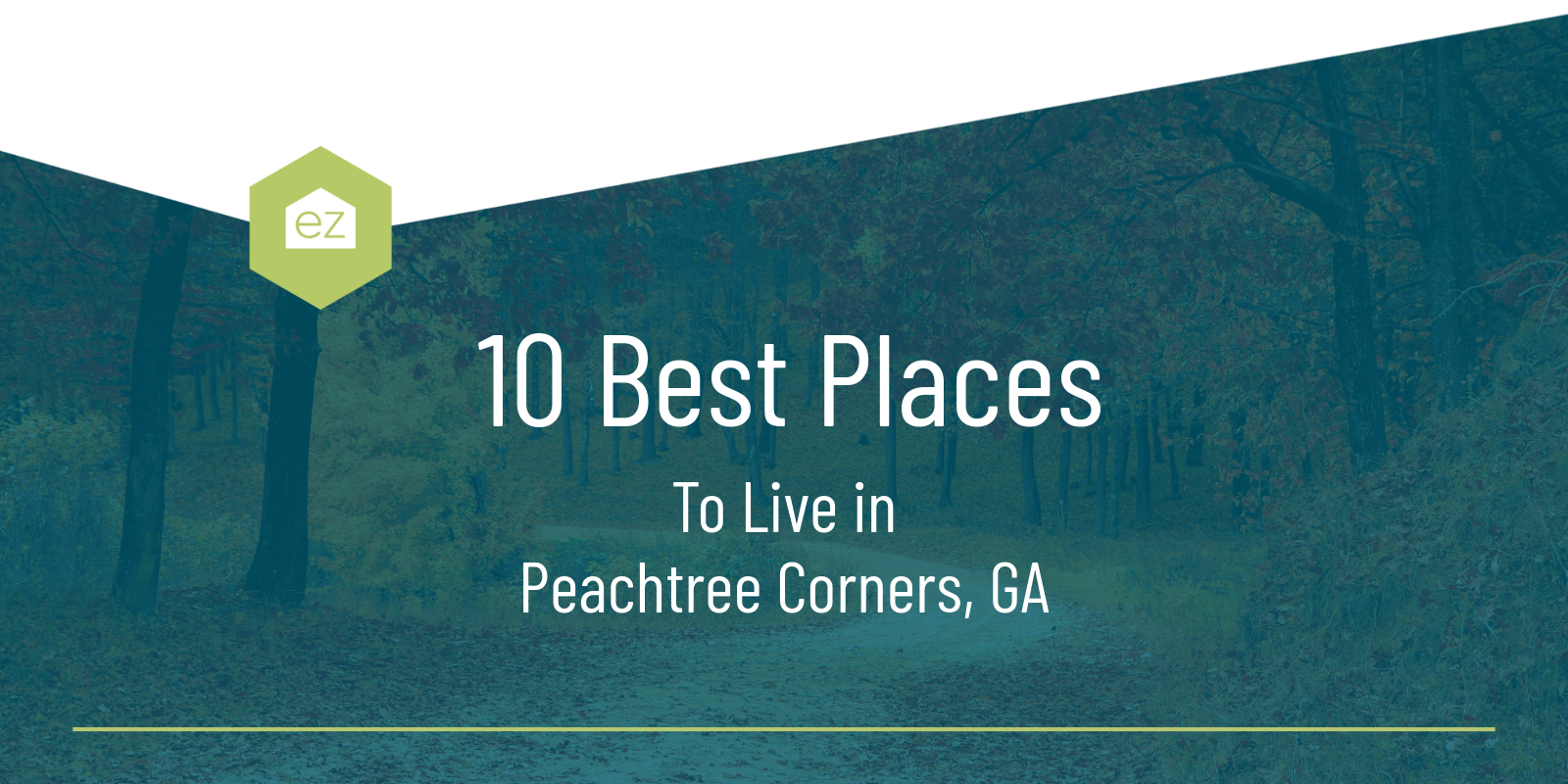 10 Best Places to Live in Peachtree Corners
If you're looking for a suburb outside of Atlanta that has it all, Peachtree Corners should definitely be on your list. Independent media have ranked it one of the best places to live in Georgia. Here's why this 17-square-mile city in Gwinnett County is one the best places to live in the state and the Atlanta metro. We'll also help you start your home search with 10 of its best neighborhoods.
Why live in Peachtree Corners, GA?
Tucked outside Atlanta, Peachtree Corners markets itself as being business and family-friendly. It's a newer community that offers the advantages of a work-life-play lifestyle.
The community started as Pinckneyville, a farming community that served as a stopover for travelers heading south from Atlanta.
As the Atlanta metro exploded in the 1960s, so did Pinckneyville. Around that time, businessman Paul Duke saw potential in the area and pitched a planned community. He established the Technology Park/Atlanta research campus for high-tech industries. He was soon drawing engineers from the nearby Georgia colleges. By the 1970s, residential communities were under construction, starting with North Manor, Peachtree Station, Revington, Lynnfield, Riverfield, and Amberfield.
The city officially established itself as Peachtree Corners in 2012. The new town became Gwinnett County's 16th city and its largest overnight, with over 40,000 residents. It is bordered by several other Atlanta metro cities and towns: Dunwoody, Doraville, Sandy Springs, Norcross, Roswell, Johns Creek, Berkeley Lake, and Duluth. This makes exploring different parts of metro Atlanta easy without driving too far. Downtown Atlanta is about 21 miles away.
The strong job market has been a driving force in recruiting people to live in Peachtree Corners. Families and IT firms began to relocate soon after its establishment and the construction of the Technology Park. Today it is home to Fortune 500 companies and top-tier engineering companies. Overall, 2,300 businesses are at home in the Corners. The Curiosity Lab at Peachtree Corners is a proving ground for some of the latest innovations.
But it's not all work in Peachtree Corners. The Town Center comprises residential complexes, shopping, dining, and entertainment, with the highlight being a 2.5-acre Town Green. It serves as the community's gathering place with plenty of open space for outdoor concerts, an elevated teak deck that overlooks the Green, and a children's play area. The Forum at Peachtree Corners has over 80 stores in a European-styled outdoor mall.
The Chattahoochee River forms the western border of Peachtree Corners, providing residents with beautiful scenery and opportunities for outdoor recreation. Several parks with river views and access to the Chattahoochee River provide fishing, swimming, kayaking, and boating opportunities. Simpsonwood Park is 221 acres with a 3.1-mile trail along the river.
During the year, Peachtree Corners hosts events like the Peachtree Corners Festival, with local artists, car show, music, and vendors, a Light the Corners nighttime event and party, Holiday Glow Parade, and more.
For families, Gwinnett County Public Schools offers K-12 education. It is a highly regarded school district, with the Gwinnett School of Mathematics, Science, and Technology ranking as the best high school in the state in 2021. It was no. 9 in the nation on US News & World Report. Eight other of its high schools were in the top 50 in the state.
Peachtree Corners is an active, family-oriented city with the perfect home for young and old. You will never be far from grocery stores, parks, shopping centers, movie theaters, or anything your heart desires.
About the Peachtree Corners real estate market
Peachtree Corners has over 93 neighborhoods to select from, with the majority built since the 1970s. The city has several housing types, from riverfront residences to swim-tennis communities to attractive townhomes, apartments, and retirement options. The majority of communities include large trees and well-groomed lawns. Many areas have HOA's that include active swim and tennis clubs.
Homes in this area cost a median of $500,000 in June 2022, with 224 homes for sale. Prices ranged from $175,000 to $3.8 million. At the time, housing prices were trending up 18% above the prior year. The median days on the market were 35.
The cost of living in Peachtree Corners is 13% higher than the national average, and a large part is real estate prices. Housing prices are 50% above the national rate. All other expenses are in line with or below national rates.
What are the best places to live in Peachtree Corners, GA
North Manor
This charming community with winding streets, forests, and creeks is off East Jones Bridge and Fitzpatrick Way. With 262 homes, residents have some of the most desirable schools in the county, top-notch community amenities, and well-used sidewalks.
Homes date to the early 1980s, with between 1,800 and 2,300 square feet with 3-4 bedrooms and 2-3 bathrooms. Styles are traditional, modern, colonial, and Cape Cod. Lots are almost half-acre.
The Fields Club
The Fields Club is an upscale, well-established neighborhood featuring three distinct subdivisions with top-notch swim and tennis amenities. The community is set apart thanks to its proximity to the Chattahoochee River, in-neighborhood lake, and other nature preserves.
The communities share clubhouse amenities at The Fields Club, which runs a swim and tennis club. Membership provides access to two Junior Olympic-sized pools and social events. There is also a playground, ball fields, and walking trails.
Many homes in these communities were custom-built and featured open floor plans. A typical home can be three to six bedrooms. The subdivisions are:
Linfield
Linfield homes were typically built in the early 1990s and customized to the homeowner with bright, open interiors. The development worked with the rolling hills to build terrace levels homes with three to six bedrooms layouts. Most homes have tall windows, vaulted ceilings, and decorative moldings. This neighborhood is next door to Jones Bridge Park and Simpson Elementary School. Spacious lots add to the green space in the community. There is a homeowner's association.
Amberfield
Located near Linfield, Amberfield is the largest of the "Fields Club" neighborhoods with 450 homes, typically 4-6 bedrooms and 4-6 bathrooms. Residents enjoy the rolling hills and can often be seen on the community sidewalks or biking.
Amberfield is near The Forum, a retail, dining, and business district. Amberfield residents have easy access to Trader Joe's, plus other supermarkets and hardware stores.
Typical homes feature open floor plans with large kitchens, first-floor bedrooms, side-entry garages, and great rooms with a fireplace. Spacious lots have ample yard space with even larger lots in the estate homes section.
Riverfield
Riverfield homes of The Fields Club are beside the Chattahoochee River and are surrounded by forested land. The neighborhood has a premier swim and tennis facility, and many residents join competitive tennis leagues. There is also a clubhouse that hosts socials, movie nights, a fall carnival, and barbecues. An outdoor field is ready for football, baseball, or soccer games. The River Front trail is excellent for walking or jogging along the river.
The predominantly open-concept floor plans, high ceilings, vaulted family rooms, and banks of windows make for residences filled with luxurious living spaces amidst natural beauty.
Peachtree Station
One of the original neighborhoods, Peachtree Station is an upscale neighborhood with 717 homes built in the late 1970s through the 1980s. The predominant style is traditional, brick-style homes on spacious, wooded lots, but you'll also find colonial, Tudor, and Cape Cod architecture.
Residents live only a mile from shops at The Forum. They have a swim and tennis club, a playground, sand volleyball court, social media, and a picnic area outside the clubhouse. An active volunteer homeowner's association keeps entrances to the neighborhood welcoming and hosts community events for residents throughout the year.
The median home price in July 2022 was $660,000, with 19 listings.
River Station
River Station consists of two communities, Riverbank Run and River Station, right in the heart of Peachtree Corners. The neighborhood has some homes right on the Chattahoochee River. The swim and tennis club is right on the river. A social committee organizes bonfires, July 4th celebrations, Halloween parties, and Christmas festivities.
The development has 193 homes predominately in large traditional style situated in a hilly neighborhood with curvy streets. It is a mandatory covenant community, so there are plenty of trees and manicured lawns.
Neely Farms
Neely Farms is another Chattahoochee Riverfront community with beautiful rolling landscapes. The land was originally a retreat for civic leader Frank Neely, who operated a dairy farm on the 410-acre property. The original 1930s family home was converted into a charming community clubhouse. A 20-acre private park is on the river.
Community amenities support the swim-tennis lifestyle. It includes six lighted tennis courts, a junior Olympic pool home to the neighborhood swim team, a kiddie pool, a playground, and a basketball court.
The homes are dated to the 1980s, and are custom-built. The community was featured in the annual "Street of Dreams" in 1989 for its showcase of the latest home designs. Inside features are luxurious, with hardwood floors, stone countertops, home theaters, and exercise rooms.
Riverview Estates
Riverview was one of the first developed neighborhoods, starting in the 1970s. Residents have a private neighborhood park right on the riverfront. A stocked and maintained lake is available for fishing. Residents can hike, fish, and gather for social events.
Residences can be up to 11,000 sq ft. With many custom homes, a few lots are over two acres. Some homes have river lots with amazing views, large trees, and beautiful landscaping.
Wellington Lake
Wellington Lake homes were built around a private lake. Some homes are on the lakefront.
Wellington does have a Swim and Tennis Club with a rentable clubhouse for social events.
Elegance is the overall feeling in Wellington Lake. Wrought iron privacy fences and mature landscaping are common. Inside, homes have extensive woodwork details, as many were customized. Find luxurious chef kitchens, butler's pantries, home theaters, and terraces offering beautiful views. Master suites with large closets, roomy bathrooms, and spa tubs are standard.
Spalding Corners
Spalding Corners, the first planned community in Peachtree Corners, developed in the late 1970s to 1980s. It has single-family homes with footprints starting at 3,950 sq ft, typically with three to five bedrooms.
Residents live near the Town Center and the Forum for easy shopping and dining. Its schools include the highly rated Simpson Elementary.
The community has a swim and tennis team which frequently wins county championship titles. HOA membership and swim-tennis membership are voluntary. The neighborhood had a median sale price of $475,000 in July 2022.
Living in Peachtree Corners, GA
Whether you're looking for a family-friendly community, a luxury lifestyle, or just a great place to live, Peachtree Corners has something for everyone. With its convenient location, top-rated schools, and variety of amenities, it's no wonder that Peachtree Corners is one of the best places to live in Georgia.
If you're looking at living in Peachtree Corners, contact a local real estate agent to find the right neighborhood for you.