Moving to Roswell - Your EZ Guide to Everything Roswell, GA
Posted by Preston Guyton on Monday, June 21, 2021 at 6:27 PM
By Preston Guyton / June 21, 2021
Comment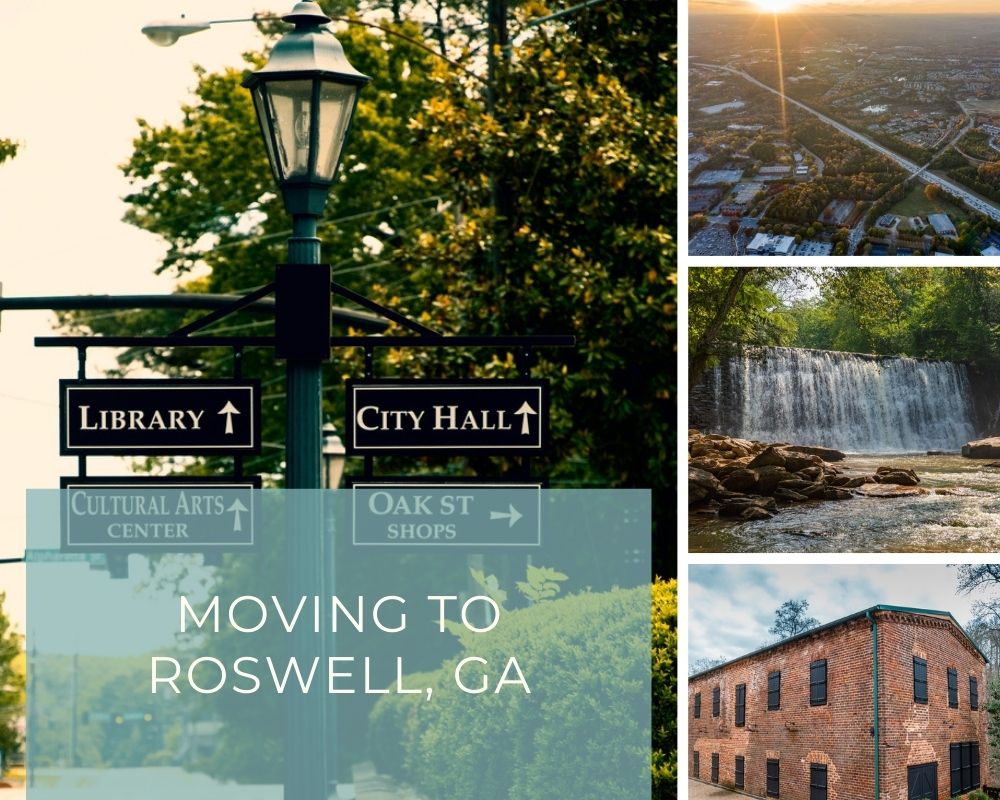 Moving to Roswell - Your Guide to Living in Roswell, GA
Are you looking to relocate somewhere in the Peach State? Then look no further than Roswell, one of the best destinations you'll find in the state. Inside, you'll find a rapidly growing city with a diversified lifestyle that offers plenty of hospitality and Southern charm. The city of Roswell was first settled around the 1830s, getting its start by developing the one of the biggest cotton mills in Georgia, which eventually led it to where it is today.
The city offers the best of both worlds — being a smaller city with lots of personality but also being close to Atlanta, where there are plenty of jobs and other opportunities. Residents who live in Roswell can take advantage of the warm community and the open green spaces that surround the city. In this EZ guide to everything Roswell, GA, we've gathered all the details you need to make an informed decision whether moving is right for you.
Cost of Living and Population Growth
Roswell is located in north Fulton County, Georgia. In 2010, it had a population of 88,346, which grew to 94,239 in 2017. One year later, Roswell had a slight increase in population which came to 94,257, where it had a median age of 38.5. By 2019, the city had an estimated population of 94,763, making it Georgia's eighth-largest city.
The cost of living in this city is higher compared to the national average when considering factors such as food, housing, and other expenses. Utility and transportation costs have higher averages compared to the rest of the country, but items such as health care and groceries are more affordable. To show you what this means, here's a table that compares the cost of living between Roswell, Georgia and the rest of the country.
| | | | |
| --- | --- | --- | --- |
| Cost of Living | Roswell | Georgia | USA |
| Overall | 125.5 | 93.4 | 100 |
| Grocery | 102.6 | 95.5 | 100 |
| Health | 91.8 | 95.5 | 100 |
| Housing | 170.2 | 80.7 | 100 |
| Median Home Cost | $393,500 | $186,500 | $231,200 |
| Utilities | 101.2 | 103.2 | 100 |
| Transportation | 123 | 105.1 | 100 |
| Misc. | 99.5 | 94.8 | 100 |
Roswell has a total cost of living of 125.5, which is much higher than Georgia's total of 93.4 and higher compared to the rest of the country at 100.
Job Market
Roswell's residents enjoy a wide range of employment opportunities, with the unemployment rate sitting just above the U.S. average at 4.3%. The median household income in the city is $93,006, where males have an income that's 1.36 times higher compared to females. The economy of Roswell employs around 50.2K people, where the biggest industries are found in Professional, Scientific, and Technical Services, Retail Trade, and Accommodation and Food Services.
Some of the largest employers here include the WellStar North Fulton Hospital, the City of Roswell, and the Kimberly Clark Corporation. Here are a few sectors you might be interested to work in once you move to Roswell.
Most Common
According to the number of employees, some of the most common jobs in the city are:
Management Occupations with 9,175 employees
Sales and Related Occupations with 7,221 employees
Business and Financial Operations Occupations with 4,638 employees
Most Specialized
Compared to other areas in Georgia, Roswell has an unusually high number of employees in the following industries:
Computer and Mathematical Occupations
Management Occupations
Business and Financial Operations Occupations
Highest Paid
According to median earnings, some of the highest paid jobs in the city are the following:
Management Occupations with annual earnings of $94,596
Computer and Mathematical Occupations with annual earnings of $93,242
Architecture and Engineering Occupations with annual earnings of $93,042
Things To Do in Roswell
Despite being a smaller city compared to Atlanta, Roswell has plenty to offer its residents, where there are various activities to be enjoyed, whether you're a young professional or starting a small family.
Old Mill Park
This beautiful park is nestled on the banks of the gorgeous Vickery Creek, where you'll also see what's left of the Roswell Manufacturing Company. First built in the 1830s, the two mills were burned by Union forces on July 7th, 1864. While one of the mills was rebuilt, a fire took it again in 1926.
Restaurants
Whenever food is brought to the table, you can always count that restaurants in Roswell will shower you with Southern hospitality. There are several places in the city where you can get amazing food, such as Table & Main, Mill Kitchen and Bar, Vin 25, and Adele's. Be sure to make your way to Canton Street, where you can find a range of ethnic-based cuisine such as Italian, Cajun, and fresh seafood.
Gate City Brewing Company
Once upon a time, Roswell lacked a craft brewery for so long, despite having a dynamic food culture. Today, Gate City Brewing takes pride in being the first company to produce and supply Roswell with the best craft beer available. As the city continues to develop, this company strives to do the same by brewing unique beers for everyone to enjoy.
Alive in Roswell
The recently renamed (it was called Alive After Five) Alive in Roswell becomes the wildest place in Atlanta, where people gather in Canton Street on the third Thursday of every month. While it's more of a family-friendly event before sundown, the vibe completely changes after 9:00 PM During this time, thousands of professionals and college students flock to the bars and streets to drink and dance the night away.
Climate
Roswell's great weather is another reason why people don't have to think twice about relocating to this city. With around 221 days of sunshine compared to the national average of 205 days per year and a good amount of precipitation which brings the city a total of 52 inches of rain (the U.S. average is 38 inches), this city has generally pleasant weather. However, if you're a fan of snow, you won't see much here, as the city only receives a total of two inches annually. Here are a few weather highlights to keep in mind should you decide to visit the city before making the move permanent. `
Summers bring the highest temperatures of around 87 degrees in July.
Winters bring the lowest temperatures of around 30 degrees in January.
Roswell experiences an average of 53 inches of rain every year.
The city also experiences an average of two inches of snow per year.
For a great visit to the city, it's best to come during May, September, and October when the weather is at its best. However, be sure to avoid visiting during January and December, which are the least pleasant months to visit.
Traffic
Unfortunately, traffic in Roswell isn't much better compared to the rest of Atlanta, where people have an average commute time of 27 minutes when driving to work. According to residents, traffic is at its worst during the morning rush hour, along with 5:00 PM to 6:00 PM in the evenings. Because of its proximity to Atlanta, the congestion to and from both cities is becoming heavier each year with more and more people relocating to these locations.
Public Transportation
Roswell's Department of Transportation is responsible for all the various facets of transportation and traffic. They are in charge of the design, planning, engineering, maintenance, and implementation of projects intended to improve the city's connectivity, safety, and mobility. The city is served by two MARTA bus routes:
Route 85 starts at the North Springs rail station and terminates at the MARTA Park/Ride lot at the Mansell Road/SR 400 interchange.
Route 185 also starts at the North Springs rail station, which serves the Georgia State Alpharetta Campus.
Route 142 starts at the MARTA Mansell Road Park & Ride lot which runs to Spalding Drive in Sandy Springs.
Each of these services run every day from 5:00 AM until 1:00 AM. Furthermore, while the Georgia Regional Transportation Authority doesn't provide services in the city of Roswell, you can catch the Xpress Route 408 in Johns Creek to get to the Doraville MARTA Rail Station.
Golf
The private Country Club of Roswell is an 18-hole course that features 6,570 yards of golf from the longest tees for a par of 71. This facility currently has a slope rating of 133 on Bermuda grass and a course rating of 71.9. After it was designed by Randy Nicholls, the Roswell golf course opened in 1971. Today, it is managed by Concert Golf Partners with the General Manager being John Spiess. It is located among lakes, streams, and rolling hills in the upscale development of Willow Springs.
Water Sports
The Chattahoochee River National Recreation Area is located on the southern boundary of the city, where it links a series of parkland and green spaces that stretch for more than 47 miles. As the country's first National Water Trail, this park offers many gorgeous views and beautiful open spaces where you can spend hours after hours in seclusion. However, favorite activities to do here include rafting, kayaking, boating, and fishing, where the river is home to over 20 species of game fish.
Dog Friendly
There are plenty of dog-friendly places in Roswell, where you can take your beloved pooch on a great tour around their new home.
La Quinta Inn & Suites Atlanta Roswell
This pet-friendly hotel accepts two pets of any size for FREE — that's right, no additional fees here. Plus, both dogs and cats are allowed, and they may also be left unattended in your room. Furthermore, this hotel is perfectly situated within proximity to various family attractions such as Six Flags Over Georgia, Stone Mountain Park, and White Water Park. You'll also find amazing restaurants nearby for you to try, along with great shopping malls. Inside your suite, you'll find high-speed internet, Lodgenet pay-per-view movies, Nintendo, and more.
Roswell Farmers & Artisans Market
The Roswell Farmers & Artisans Market is happy to host leashed and well-behaved pups where you can check out stalls that are full of various produce, crafts, and more. Because it's so pet friendly, many owners love bringing their dogs here, so you can expect your fur-baby to make plenty of friends. This market is open between April to October every Saturday from 8:00 AM to 12:00 PM, so you can take your pup along for a nice morning walk.
Attractions
Roswell also has plenty of other interesting attractions if you're in the mood for something different. Here are a few other places to look into if you're looking for a different way to spend the day.
Archibald Smith Plantation Home
Built just a few years after the city's foundation was laid down in 1845, this building became the home of one of the city's founders, Archibald Smith. Three generations of his family lived here and are now used as a museum where visitors are welcome to explore the house. Inside, you'll witness two centuries of history, and the home is known as one of Georgia's best examples of regional architecture. It also contains various pieces of original furniture and items from the Smith family, providing an insight into their lives before the American Civil War.
Computer Museum of America
This incredible museum opened on the 50th anniversary of 1969's landing on the moon and is the biggest museum built for the achievements in technology and computing on the East Coast. Some of the collections you'll see inside include some of the first steps in home computing like the Commodore 64, and Apple 1. Other amazing finds include the Clay-1 supercomputer — used in the birthplace of the atomic bomb, the Los Alamos National Laboratory in the 1970s. There are also plans to make it the biggest of its kind in the whole world.
Shopping
Located in the historic district of downtown Roswell, Canton Street is full of restaurants, sidewalk cafes, and charming boutiques for your shopping needs. During the Alive in Roswell event from April to October, there are plenty of things to buy and food to try, so be sure to thoroughly explore this street to see all the unique finds it has to offer. Here, you'll see boutique clothing stores, antiques, delicious food items, as well as great treats for your pets, which proves just how much this area has to offer.
Art and Culture
The Roswell Cultural Arts Center is located right next to the Roswell Library and Roswell Municipal Complex and has been a vital part of the art community since 1991. It has been used over the years as a space for visual and performing arts, which features an exhibit hall, a 600-seat auditorium, as well as an event and meeting space. The Cultural Arts Center has been the host for a wide range of exhibits and productions around the year and is celebrated by visitors and locals alike.
Sports and Sports Teams
The City of Roswell uses the Recreation, Parks, Historic & Cultural Affairs department to offer various recreational opportunities. Various activities are offered to all city residents: kids, teens, and adults. Older adults can participate in great recreational opportunities inside the Roswell Adult Recreation Center, a 19,500 square-foot facility that offers numerous activities and programs.
For those who love outdoor activities, the Nantahala Outdoor Center offers paddleboard programs and an 18-hole disc golf course. This center is situated along a river to fulfill all your needs for an exciting outdoor adventure. Other activities include biking, tubing, kayaking, rafting, and canoeing.
Education
For families, education is a big contributing factor when deciding to move to a new area. Thankfully, Roswell's education system is consistently ranked highly among the public and private school sectors. Because of this area's smaller population, the schools in Roswell can keep their student-to-teacher ratio relatively low at 15:1.
If you're looking to have your kids enrolled, Roswell's top elementary schools include Fulton Sunshine Charter, Sweet Apple, and Mountain Park. You can also look into Roswell High School, which is one of the two high schools in the area within the ranks of Georgia's top 20. There are also faith-based schooling options to choose from such as Baptist, Evangelical, and Catholic schools.
Real Estate
The housing market in Roswell is quite robust, with houses in architectural styles that range from historic colonial to modern homes. As of 2018, the median property value in the city was $355,900, which is 1.55 times bigger compared to the national average of $229,700. However, this is actually an increase of 6.81% from 2017's previous figure of $333,200. This means that home values are continuously rising every year and that you should grab a piece of Roswell while it's still within a reasonable price.
The homeownership rate in the city is 66.9% — higher compared to the U.S. average of 63.9%, which goes to show just how many people are still willing to invest in these lands. Those who prefer to rent, however, also have decent choices, where rental units such as studios, apartments, and houses are available. The average rent for a studio apartment is $710, while a 3-bedroom home can cost anywhere upwards of $3,000.
Welcome to Roswell!
Now that you know just how rewarding living in Roswell can be, it's time to really consider the bright future waiting for you here. There are certainly plenty of advantages that can help to offset any negatives related to the move, making it a highly desirable choice. This area offers excellent schools that consistently rank as some of the best in the state, great employment opportunities, and a good selection of homes to fit your lifestyle and budget.
Like with most other places, there are both ups and downs to think about before making a move, but Roswell clearly has more for you to look forward to. However, these won't last very long, especially once others realize the value they can reap from investing here. This family-friendly city has plenty of open space to offer, along with activities for people of all ages, so what are you waiting for? Pack up your bags and head to Roswell today.