Moving to Johns Creek - Your EZ Guide to Everything Johns Creek, GA
Posted by Preston Guyton on Tuesday, June 22, 2021 at 5:05 AM
By Preston Guyton / June 22, 2021
Comment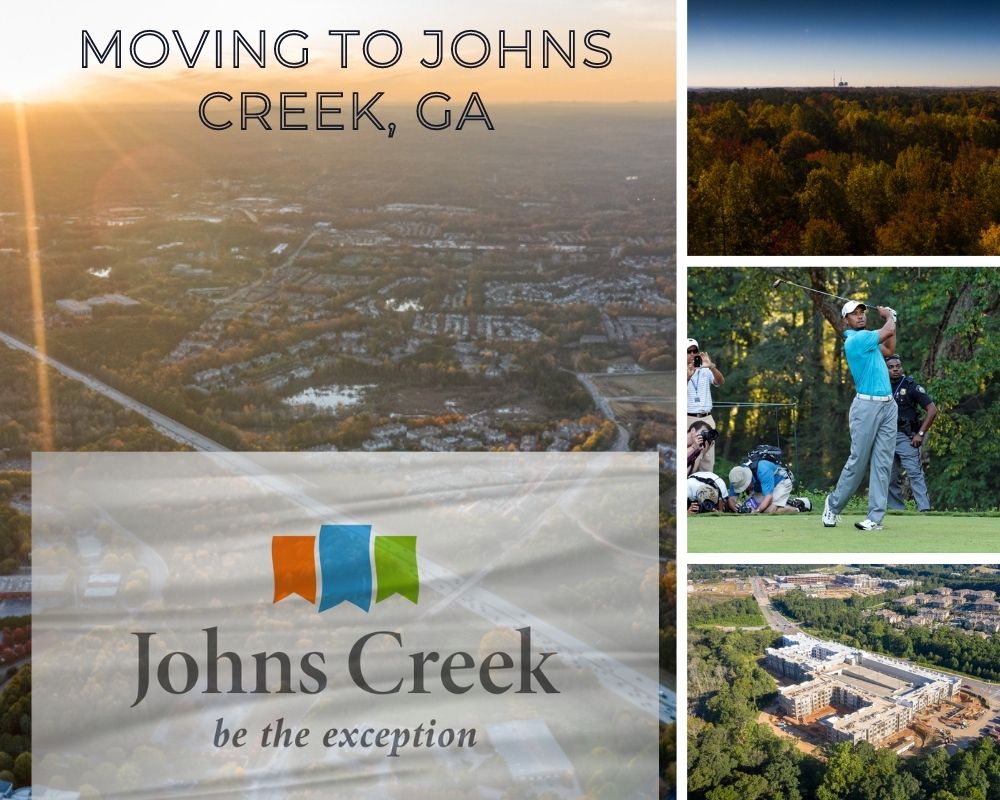 Moving to Johns Creek - Your Guide to Living in Johns Creek, GA
When graduates from Georgia came looking for land in 1981, they stumbled upon an area that extended 1,700 acres. They then transformed the place into a tech lover's paradise and, in 2006, a city was born, making the area one of the youngest cities to exist. This city came to be known as Johns Creek, one of the most sought-after areas in Georgia.
With plenty of startups and Fortune 500 companies moving in, there's no shortage of growth and development in this city. So, if this all sounds ideal and you've thought about moving to Johns Creek, you've found the right place. In this EZ Guide to Everything Johns Creek, GA, we break down everything this city has to offer.
Cost of Living and Population Growth
The city of Johns Creek is located in Fulton County, Georgia, and is a northeastern suburb of Atlanta. As of 2010, it had a population of 76,728, which increased to 83,397 in 2017, and again increased by 0.288% to 83,637 in 2018. The city has a median age of 40.4. Living costs in Johns Creek are quite high, but this guarantees a high standard of living for its residents.
One of the more expensive areas when it comes to the cost of living in Johns Creek is housing, followed by transportation costs and overall costs, which are above the USA of 100. Meanwhile, the more affordable aspects of living here are found in health and miscellaneous costs, which are all under the national average of 100. To show you what this means, here's a table that compares the cost of living between Johns Creek, Georgia, and the rest of the country.
| | | | |
| --- | --- | --- | --- |
| Cost of Living | Johns Creek | Georgia | USA |
| Overall | 129.7 | 93.4 | 100 |
| Grocery | 103.4 | 95.5 | 100 |
| Health | 91.8 | 95.5 | 100 |
| Housing | 179.3 | 80.7 | 100 |
| Median Home Cost | $414,500 | $186,500 | $231,200 |
| Utilities | 101 | 103.2 | 100 |
| Transportation | 130.4 | 105.1 | 100 |
| Misc. | 99.2 | 94.8 | 100 |
Johns Creek has a total cost of living of 129.7, which is much higher than Georgia's total of 93.4 and higher compared to the rest of the country at 100.
Job Market
In 2018, the median household income in Johns Creek was $116,070, where men earned an average income that was 1.36 times higher compared to those of women. Between 2017 and 2018, employment rates in the city grew from 41.2k to 42.5k employees with a 3.2% increase. The biggest industries in Johns Creek include professional, scientific, and technical services; retail trade and health care; and social assistance. Here are a few sectors you might be interested in should you make the move to Johns Creek:
Most Common
According to the number of employees available, some of the most common jobs that the residents of Johns Creek have are:
Management occupations with a total of 7,942 employees
Sales and related occupations with a total of 5,973 employees
Computer and mathematical occupations with a total of 5,135 employees
Most Specialized
There are also various jobs in Johns Creek that are more specialized compared to other areas, such as:
Computer and mathematical occupations
Management occupations
Life, physical, and social science occupations
Highest Paid
Some of the highest paid jobs available in Johns Creek, according to median earnings are in these industries, are:
Life, physical, and social science occupations with annual earnings of $128,047
Management occupations with annual earnings of $107,225
Computer, engineering, and science occupations with annual earnings of $102,844
Things To Do in Johns Creek
The city of Johns Creek offers plenty of places to explore things and to do for individuals, young professionals, and even families. Here are a few options for you to enjoy:
Autrey Mill Nature Preserve and Heritage Center
This nature preserve is nestled on 46 acres of naturally beautiful forests, with scenic creeks, wildflowers, rocky shoals, native plants, various animal life, and two miles of walking trails. The Heritage Village was created with four buildings and related exhibit pieces designed to provide visitors with an understanding of the area's history from the mid-1800s to the mid-1900s. There are also replica Native American dwellings, which are located in the woods and were designed to remind visitors of who once walked these forests before us.
Sugo Kitchen
One of the first concepts created by the Castellucci Hospitality Group, Sugo was first opened in Johns Creek in 2003 and has stayed there ever since. This restaurant's menu contains a unique blend of family-style dishes, along with the Southern hospitality we all know so well. Sugo Kitchen stays true to its Greek and Italian roots while practicing its dedication to sourcing sustainable and local ingredients.
Six Bridges Brewery
Starting with the dream of a father and son duo, the owners of Six Bridges Brewery teamed up to create a craft brewery to provide the community with world-class brews. This brewery serves up some of the best craft beer in the city, with year-round creations such as the Shelby, Medlock, and Silent Accord. Their rotating sour series includes sour continuum with blueberry, sour continuum with pink guava, and sour continuum with key lime. They also have seasonal selections that can be enjoyed by those who love and appreciate quality beer as much as the founders do.
Mark Burkhalter Amphitheater
The 10,600-square-foot Mark Burkhalter Amphitheater uses open air, arches of Southern pine, and stacked stones to offer a beautiful place for various performances. It has the capacity for around 400 seats under cover, as well as another 1,000 seats on its grass surroundings. The Mark Burkhalter Amphitheater has been engineered for acoustic performances and symphony orchestras. Some vendors offer beverages and catered food, which include beer and wine.
Climate
The climate in Johns Creek is rather pleasant and is sunnier on average than it is cold. The area experiences an average of 54 inches of rain every year; this is higher compared to the U.S. average of 38 inches. Despite getting much rain, the city only gets an average of 1 inch of snow every year. Furthermore, Johns Creek has an average of 217 sunny days every year, while the national average has 205 sunny days. Here are a few weather highlights you need to know should you decide to visit this city:
Summers in July can reach peak temperatures of 88 degrees
Winters in January can be as cold as 30 degrees
The average amount of rain per year is 54 inches
The average amount of snow per year is 1 inch
If you do decide to visit Johns Creek, be sure to do so around May, September, or October to ensure you experience its most pleasant months. On the other hand, avoid visiting during January and December, since these are considered the least comfortable months.
Traffic
The city's Traffic Services Division was created to focus on providing residents with the safest roads. This means that Johns Creek engineers are always looking for innovative ways to efficiently and effectively move traffic. As a result, Johns Creek was the first city in the state to make use of yellow arrows and has partnered with Waze to learn more about the city's traffic patterns. Despite these efforts, the city still has an average commute time of 29.3 minutes, making it one of the most congested cities in Georgia.
Public Transportation
The MARTA (Metro Atlanta Rapid Transit Authority) is a heavy rail system that has a feeder bus operation that runs to and from numerous points in Metro Atlanta. However, there are no MARTA stations within the city, so you'll have to make your way to the nearest stations within these places:
Doraville (approx. 15 miles): 6000 New Peachtree Road, Doraville, GA 30340.
North Springs (approx. 20 miles): 7010 Peachtree Dunwoody Road, Sandy Springs, GA 30328.
The closest park-and-ride facilities are in the southwest corner of Mansell Road and Ga. 400 in Alpharetta. Other transport options include Xpress, a suburban commuter coach service that goes around other areas of Metro Atlanta, and taxis based in Duluth and Alpharetta that provide services to Johns Creek. There are also airport limousine services that offer residents a ride to and from the Hartsfield/Jackson Atlanta International Airport.
Golf
Johns Creek provides golf players with six courses, all of which have no shortage of potential, with two championship-grade courses right inside the Atlanta Athletic Club. As a well-respected club, it has hosted various high-profile games, such as the 2011 PGA Championships, and the 2014 US Amateur Championships, which used its Riverside and Highland courses. The Atlanta Athletic Club boasts an instruction center that's staffed by PGA professionals who can help you improve your game. There's also a great gift shop here, too, so you can be sure you can get the ultimate visitor's experience.
Water Sports
The city of Johns Creek also has plenty to offer when it comes to water sports, with Lake Lanier a favorite among locals. Just 20 miles north of the city, Lake Sidney Lanier is a part of the series of lakes that surround the greater Atlanta area. This lake has a total of 680 miles of shoreline, making it the watershed for Georgia's Blue Ridge Mountains. The lake was created in the 1950s for a damming project. This area is particularly great for fishing and it also hosted the 1996 Atlanta Olympics' canoe sprints.
Dog Friendly
There's also no shortage of dog-friendly places in this city, ensuring that you will always have a great adventure with your canine pal. Here are just a few places where you can take your dogs:
VRBO Johns Creek
VRBO has been providing pups and their owners with beautiful places to stay as they travel around the world. Starting in 1995, their portfolio now includes unique properties that accept pets in 190 countries that include condos, cabins, beach houses, among others. Inside their accommodations, you can enjoy laundry, full kitchens, fenced yards, pools, and more. With over half a million places for you to choose from, choosing a new destination to visit with your pet has never been this comfortable and easy.
Another Broken Egg Cafe
This cafe specializes in giving residents a bright and cheery environment as they enjoy hearty breakfast dishes. The menu offers classics like omelets, fried green tomatoes, waffles, muffins, scrambled skillets, and more. Their dishes are described as scrumptious twists on classics, as well as new creations worthy of food blog features. Well-behaved pups are welcome to join their owners on the outdoor patio, so you both can enjoy everything that Another Broken Egg Cafe has to offer.
Attractions
While there are various attractions to be visited in Johns Creek, one particular place stands out from the rest. The Atlanta Monetary Museum is close enough to Johns Creek and is worth the drive. It contains historic artifacts and interactive exhibits that tell the story of money. From the early days of bartering to the creation of the US Federal Reserve and its present-day status, you'll see rare and unique coins on display here. Visitors will also get a peek of the Reserve's vaults, where robots work to shift millions of dollars, which are then sorted, counted, or destroyed.
Shopping
If you're a fan of shopping, you'll love the Peachtree Corners Town Center, which has many retail shops, 15 restaurants, more than 70 townhomes, 2+ acres of Town Green, and a CineBistro dinner theater. This 21-acre development can be found at 5200 Town Center Boulevard, where the Town Green offers plenty of space for outdoor concerts, along with an elevated deck to overlook the Green. Since the Town Center's opening on April 27, 2019, it has served as a gathering place for the community.
Art and Culture
There are also many places of interest for those who love art and culture. These are just a few of the most popular and loved places to visit by those who live here:
Johns Creek Arts Center
Even though it is the main art gallery in the city, it is somewhat a hidden gem. It is a family-friendly space for art at the heart of the Johns Creek community, with its gallery featuring artwork by some of the region's best talents, covering a wide range of themes. It also holds classes where students can learn the many techniques that go into creating a masterpiece, covering many mediums, from watercolors to photography. You'll find gorgeous, well-curated items in the gift shop, so be sure to take a piece with you as a remembrance of your visit to Johns Creek.
Heritage Sandy Springs Museum
The Heritage Sandy Springs Museum is located in the nearby city of Sandy Springs, just 19 miles outside the city. This museum is dedicated to the history of the area, where the Heritage Green site still preserves the spring that the town was named after. The museum itself features artifacts from the American Civil War period — a time that played a huge role in the lives of people who live in this region.
Sports and Sports Teams
Johns Creek offers its residents of all abilities and ages a variety of enriching and affordable recreational programs throughout the year. A lot of these programs are held at Ocee Park or Newtown Park, which is provided by the city of Johns Creek and their recreation partners: Ocee Park Athletic Association, the Autrey Mill Nature Preserve Association, and Newtown Athletics. Furthermore, youth athletics is run by the Ocee Park Athletic Association and Newtown Recreation, providing various kinds of sports for kids aged between 3-18 years old.
Education
There's a total of 19 elementary, middle, and high schools inside Johns Creek, all of which are publicly owned. High schools in the city consist of four public schools, three charter schools, one alternative school, one private institution, and a virtual campus. These public schools are operated by Fulton County Schools.
While test scores from Johns Creek students are renowned, they are capable of more than just academic achievements. Recently, students from Northview High School performed at Mozart's 250th birthday celebration in Austria, while golf and tennis teams from Johns Creek kept their hold on State Championship titles.
Real Estate
Johns Creek had a median property value of $382,400 in 2018, making it 1.66 times higher compared to the national average of $229,700. However, this number is actually an increase of 4.42% from the previous year's $366,200, which means that land here is becoming more and more precious every year. Despite this figure, the city has a homeownership rate of 76.3%, which shows that you'll be in the company of elite homeowners, all of whom own a stunning home within a good city.
If you're looking for a home to move into but aren't sure if purchasing one will be worth it, you'll be happy to know that most households in Johns Creek have a value of around $300k to $400k. As a result, more and more people are making investments here, whether it's for a family home, a rental property, or as an Airbnb type of home for tourists.
Welcome to Johns Creek!
Johns Creek — while more expensive to live in — provides both residents and visitors plenty of adventures with a wide range of things to do and places to see. Despite being one of the youngest cities in the country, it has proven to be a worthy investment for everyone, no matter where they are in life. Its strong education system is a great option for families, its various job offerings are an excellent choice for young professionals, and the city's gorgeous homes, naturally beautiful landscapes, and several attractions are perfect for families of all kinds.
With so much to offer, Johns Creek is one of those rare gems that may be hard to find anywhere else. So, before you run out of options — especially since most homes are already owned — be sure to grab a piece of Johns Creek before everyone else does!