Moving to Sandy Springs - Your EZ Guide to Everything Sandy Springs, GA
Posted by Preston Guyton on Monday, June 14, 2021 at 5:37 AM
By Preston Guyton / June 14, 2021
Comment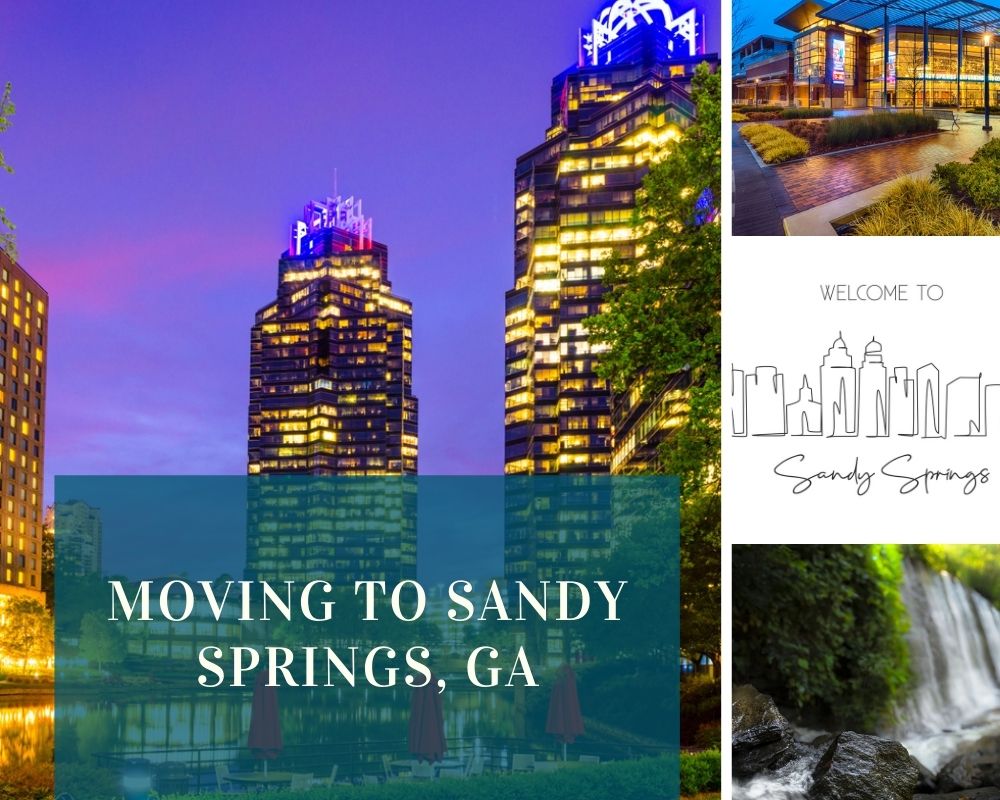 Moving to Sandy Springs - Your Guide to Living in Sandy Springs, GA
Imagine a place where you and your family can enjoy great educational institutions, ample green space, a booming economy, a gorgeous housing stock, and beautiful outdoor destinations. Thankfully, this isn't a far-off dream for those who are thinking of moving to Sandy Springs, GA.
Ticking off all of the items above, the city of Sandy Springs is an excellent area to consider if you want to get away from the bigger cities and claim a little piece of heaven on earth. Luckily, we've compiled everything you need to know about living in Sandy Springs, GA in this EZ guide. Read on below to find out more.
Cost of Living and Population Growth
The city of Sandy Springs is located in northern Fulton County, Georgia, and serves as a suburb of Atlanta. In 2010, the city had a population of 93,853, which increased to 103,703 in 2017, then to 105,411 in 2018, and had an estimated population of 109,452 in 2019. As a result, Sandy Springs is the state's seventh-largest city and is the location of many corporate headquarters, such as Mercedes-Benz USA's corporate offices, UPS, Newell Brands, Cox Communications, and Inspire Brands.
Sandy Springs has a higher cost of living than the national average, but don't let this scare you; this city has plenty to offer for those who are willing to experience a lavish lifestyle. To show you what we mean, here's a table that compares the cost of living between Sandy Springs, Georgia, and the rest of the country.
| | | | |
| --- | --- | --- | --- |
| Cost of Living | Sandy Springs | Georgia | USA |
| Overall | 137.3 | 93.4 | 100 |
| Grocery | 105.2 | 95.5 | 100 |
| Health | 91.8 | 95.5 | 100 |
| Housing | 210.4 | 80.7 | 100 |
| Median Home Cost | $486,500 | $186,500 | $231,200 |
| Utilities | 102.1 | 103.2 | 100 |
| Transportation | 118.6 | 105.1 | 100 |
| Misc. | 99.6 | 94.8 | 100 |
Sandy Springs has a total cost of living of 137.3, which is much higher than Georgia's total of 93.4 and higher compared to the rest of the country at 100.
Job Market
Sandy Springs had a median income of $74,093 in 2018, where income is higher for males compared to females by 1.36 times. However, this increased from the previous year's median income of $70,920, which represents an annual growth of 4.47%. The city's economy employs 61.2k people, with the biggest industries being Professional, Scientific, and Technical Services, Health Care and Social Assistance, and Retail Trade. Should you choose to work in Sandy Springs, here are a few job sectors you might want to consider for your career.
Most Common
According to the number of employees, here are some of the most common jobs in Sandy Springs:
Management Occupations with 9,697 employees
Sales and Related Occupations with 8,041 employees
Business and Financial Operations Occupations with 6,749 employees
Most Specialized
Sandy Springs has an unusually high concentration of employees in the following occupations compared to other areas:
Computer and Mathematical Occupations
Legal Occupations
Business and Financial Operations Occupations
Highest Paid
According to median earnings, the highest paid jobs in the city are the following:
Legal Occupations with annual earnings of $122,692
Management Occupations with annual earnings of $84,002
Architecture and Engineering Occupations with annual earnings of $79,057
Things To Do in Sandy Springs
Sandy Springs has plenty of interesting places to visit and certainly a lot of fun things to do, making it a great place to explore for both visitors and locals. Here are just a few that you can include in your itinerary.
John Ripley Forbes Big Trees Forest Preserve
If you love the outdoors, then you'll love the John Ripley Forbes Big Trees Forest Preserve. Located just 4 miles away from Sandy Springs, this plant and wildlife sanctuary spans 30 acres of pristine woodlands. This preserve is the result of conservationist John Ripley Forbes' work, which aims to protect areas of at-risk urban forestlands. This preserve is open every day, offering a dynamic look into conservation in the area.
Breadwinner Cafe and Bakery
This is the perfect place to get fresh, homemade treats in the city, specializing in soups, gourmet sandwiches, sides, salads, and sweet bread. Everything here is made in-house from scratch by many talented chefs. After it opened its doors in 2010, it quickly became a hot spot for lunchtime and has since expanded to the neighboring city of Alpharetta by adding Farm to Ladle in 2016. Now, more than a decade later, the Breadwinner Cafe and Bakery is still the top place to eat and get together.
Beer and Wine Craft
For more than 40 years, Beer and Wine Craft has provided their customers with a wide selection of wine-vinifying, home-brewing, and cheese-making supplies. Beer and Wine Craft has over 100 kinds of high-quality wine kits, along with malt extract recipes and beer brewer supplies which include a whole line of hops, grains, dry and liquid malt extract, and yeast.
Steve's Live Music
Steve's Live Music is the heart of the music scene in Sandy Springs, going strong with its mission to entertain party-goers and visitors in the region since 2012. Inside, you'll find the listening room, which can accommodate up to 95 guests at a time, where you'll hear music from local songwriters and influencers. Food and drinks are available on-site, so you can be sure to enjoy the shows and acts while grabbing a bite.
Climate
Sandy Springs has lovely weather most days of the year. It gets an average of 53 inches of rain, compared to the U.S. average of 38 inches a year. However, despite getting a lot of rain, it doesn't snow much in this city, only getting an average of 1 inch of snow each year. Furthermore, Sandy Springs provides 213 sunny days every year compared to the country's average of 205 sunny days. Here are some temperature highlights for the city of Sandy Springs:
Summers in July can regularly reach temperatures as high as 87 degrees Fahrenheit
Winters in January can reach temperatures as low as 31 degrees Fahrenheit
Be sure to give Sandy Springs a visit during May, September, and October to get the best weather for all your adventures. However, avoid visiting during December and January since these are the most unpleasant months to visit.
Traffic
Sandy Springs has its own Traffic Unit, which serves as part of the Special Operations Division. It is responsible for fatality crash investigations, traffic enforcement, traffic complaint follow up, as well as hit and run investigations. The Traffic Unit also takes part in various programs that aim to reduce traffic crashes.
Furthermore, Sandy Springs has installed 43 miles of fiber optics that reach 132 signals located around the city to assist in making its resident's commute less of a stressful ride. Every signal is managed from the City Hall's control center. These, along with other advanced traffic signals, are components of the city's ITS (intelligent transportation system).
Public Transportation
The city of Sandy Springs has numerous forms of transportation to help its residents get around the city. However, having a vehicle of your own will better allow you to explore everything the city has to offer. Using buses and the MARTA train system, commuters can get around the town and travel to downtown Atlanta.
Roswell Road is where you'll find the MARTA bus stop, which takes you through many bus lines through Sandy Springs. The Georgia Regional Transportation Authority also operates express buses that run to other counties from the North Springs station. Furthermore, the Hartsfield–Jackson Atlanta International Airport is the closest airport to the city, which is only 20.1 miles away.
Golf
Sandy Springs is a great destination for golfers, with various courses offering a challenge for any skill level. Here are a few areas to visit for a great day of golf.
Steel Canyon Golf Club
Along the Chattahoochee River, you'll find the Steel Canyon Golf Club, an 18-hole executive golf course along the Chattahoochee River. This links-style course will test your skill through a demanding set of par 3's, par 4's, and par 5's. The Bermuda Greens found here are also considered some of the best in the state. If you're looking to practice, this course can also give you some quality time inside its heated driving range, where you can take a swing on both mat and grass hitting.
Cherokee Town & Country Club
Since its beginning in 1956, the Cherokee Town and Country Club has been recognized as one of the country's premier private clubs. It has two locations: the Country Club, located near the Chattahoochee River, and the Town Club, found in Grant Estate on West Paces Ferry Road in Buckhead. With its commitment to providing great facilities, combined with the highest standards in member and dining services, the club has earned various awards and honors throughout the years.
Water Sports
There are various areas where you can enjoy great water sports if you're not such a big fan of golf. Be sure to give these areas a visit for a complete experience in Sandy Springs.
The Chattahoochee River National Recreation Area
Come over for a swim at the Chattahoochee River National Recreation Area to enjoy gorgeous views of the Chattahoochee River, a rare gem in the state of Georgia. It stretches for 48 miles and opened in the 1970s, providing visitors with various adventures and activities since then. Guests can spend time kayaking, boating, and fishing throughout the river. There are also picnic areas where you can have the perfect stopover for lunch.
Nantahala Outdoor Center
If you're looking to get out on the water, this is the best place to get started, with two locations on the Chattahoochee River to choose from. There are activities available for all ages, which makes it a fun destination for the whole family. For a mellow trip down the river, you can get started with kayaking, but if you're looking for a wet and wild adventure, go tubing down the river's rapids. No matter what activity you choose, you can be sure that there are always beautiful views of the river's surrounding landscape.
Dog Friendly
For a dog-friendly visit, Sandy Springs has great places for you to visit with your beloved pup. Here are some places that you should seriously consider going for time well-spent with your dog.
Brooklyn Cafe
Brooklyn Cafe is located in an upscale neighborhood where you can get a taste of sophisticated American fare. It also offers a dog-friendly patio where your pooch can munch away on delicious food next to you. Be ready to have your taste buds tickled by menu favorites such as hickory-smoked salmon salad, lobster bisque, blackened chicken sandwiches, jumbo lump crab cakes, and Mahi tacos. Apart from the great food, you'll also enjoy the warm and friendly atmosphere of the whole cafe.
Overlook Dog Park
The Overlook Dog Park offers dogs and their owners a huge amount of space to roam and has two separate spaces for small and large dogs to enjoy. It's also close to the Chattahoochee River, just across the park. So if you come for a visit, be sure to pack your bags and bring your towels and sunscreen for a refreshing swim by the river with your fur baby.
Attractions
In addition to the places already mentioned above, Sandy Springs still has plenty of other attractions that you need to visit. Here are just a few that you shouldn't miss.
Anne Frank in the World Exhibit
Run by the Georgia Commission, the Anne Frank in the World Exhibit is located near the city's Welcome Center. With a collection of 600 photographs and other pieces telling the life story of Anne Frank, this exhibition makes it a mission to preserve the memory of Anne Frank, along with her message of hope. Apart from the diarist herself, this exhibit also provides visitors with a historical perspective of her time during the Holocaust, tackling issues such as social responsibility and morality.
Ridgeview Park
Known for its gorgeous hiking trails and fun playground, Ridgeview Park is a favorite among locals for the ornate and quaint pavilions spread throughout the park. The park has been perfectly laid out for all who want to explore this rich area on foot. Furthermore, families will have a great time enjoying a lunchtime picnic here.
Shopping
Shopping is another fun thing to do while in the city, and if you think Sandy Springs is too small to get proper shopping done, you're wrong. Here are just a few places that you're sure to love for their great selection and bargains.
The Sandy Springs Farmers Market
Open from springtime until October, this Farmer's Market is available for shoppers every Saturday morning. It showcases some of the city's best local produce, home-cooked food, farm-fresh eggs, and various ingredients. Apart from great food and drinks, you can also bring the family for face painting and games or enjoy live musical performances.
Cumberland Mall
This shopping mall is located in Atlanta, but it's only a 33-minute drive from Sandy Springs. At Cumberland Mall, you can spend the whole day shopping in your favorite stores such as:
Apple
Macy's
White House Black Market
M.A.C
GameStop
Bath & Body Works
You'll also enjoy some of Atlanta's best restaurants, making it a favorite shopping destination for both locals and visitors to the city. It's also situated close to the new Atlanta Braves stadium, making it easy to locate.
Art and Culture
The art and culture scene in Sandy Springs is one that you will surely appreciate. There are numerous places worth your time if you have a deep appreciation for history and art.
Heritage Sandy Springs Museum
Since the 1980s, the Heritage Sandy Springs Museum has been dedicated to the story of this city. Based on the historical Williams-Payne House built around the 1860s, this museum has exhibits that chronicle this region's history and people. Apart from this permanent exhibit, it also features rotating galleries which display period artifacts and items from the neighboring cities. There is also information regarding the city's significance during the Civil War while offering a peek into the lives of its residents back in the day up to now.
Art and Soul Studio
This paint-your-own pottery studio is a great place for artists to learn and have fun. Inside, talented staff provides training in various techniques using different mediums, which will help you create unique art pieces. With more than 400 ceramic pieces, including canvas paintings, glass paintings, tie-dyes, and mosaics, there's something here that will capture your imagination. This studio also offers glass, pottery, and canvas painting for classes, sessions, events, and parties.
Sports and Sports Teams
The SSYS (Sandy Springs Youth Sports) is a non-profit organization located at Morgan Falls Athletic Park that serves more than 850 kids within the Sandy Springs, Roswell, and Dunwoody communities. Children and students will enjoy taking part in numerous sports such as softball, baseball, tackle football, flag & flex football, and cheerleading.
Furthermore, adults have the opportunity to participate in several sports inside the city's National Recreation Area, offering both recreational and organized sports events. You can also head over to the tennis complex to practice your forehand, enjoy taking a swing at the golf courses throughout the city, or refine your figure skating skills in the ice arena. No matter what your sport, Sandy Springs can support you.
Education
Sandy Springs takes pride in its education system and offers students great schools throughout all grade levels. The city's public schools are operated by the Fulton County School System, with many schools located within the city itself. Some of these schools include:
Dunwoody Springs Charter Elementary School
Sandy Springs Middle School
North Springs Charter School of Arts
Sciences and Riverwood High School
In 2019, Sandy Springs awarded 1,545 degrees from their universities, where the largest universities are American InterContinental University-Atlanta, The Art Institute of Atlanta, and Chamberlain University-Georgia according to the number of degrees awarded. Furthermore, the most commonly taken majors in the city are:
General Business Administration and Management with 439 students
Registered Nursing with 331 students
Criminal Justice - Safety Studies with 103 students
Real Estate
The city of Sandy Springs has plenty to offer, which more and more people realize each year. As a result, the city's population continues to rise with no signs of slowing down any time soon. While the homeownership rate in the city is 47.6%, you shouldn't expect it to stay like this much longer. With a median property value of $447,800 in 2018, many of those who purchase their homes here are some of the country's most elite and only want the best that life has to offer. Almost halfway through the year in 2021, the average list price has increasad further for Sandy Springs homes currently for sale. If you are looking at homes for sale in Sandy Springs in June, 2021, the median list price for homes on the market is $576,000.
Inventory continues to be a problem so homes for sale in Sandy Springs are slim, so make sure you are continuing to search daily and work closely with your real estate professional to find your home. Lastly, the residents of Sandy Springs can still enjoy a tolerable commute time of 23 minutes, which means it's not too crowded just yet.
Welcome to Sandy Springs!
With the promise of paradise, Sandy Springs is a great city that still retains a friendly, small-town vibe while having the potential to be the Beverly Hills of Georgia. It not only has a beautiful landscape that surrounds it, but it also offers plenty of job opportunities, excellent education, and one-of-a-kind attractions that make it stand out. While the cost of living here is on the more expensive side of the spectrum, that shouldn't deter anyone from experiencing a life of style and luxury. So what are you waiting for? Get moving and make Sandy Springs your new home.