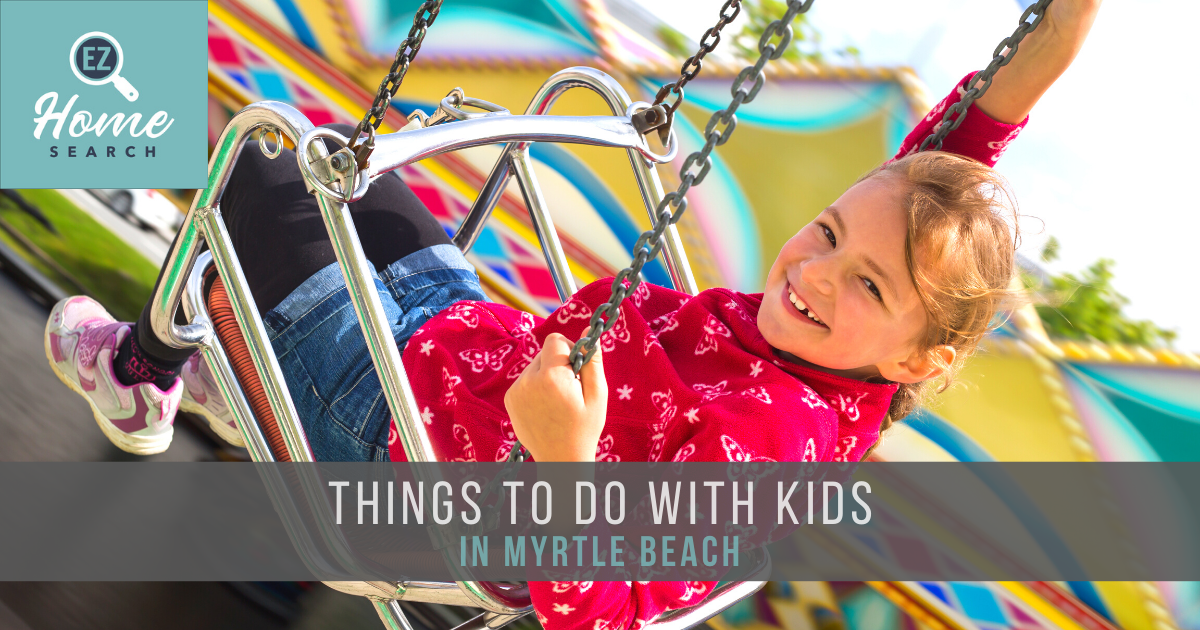 Best Family-Friendly in Myrtle Beach: Myrtle Beach, SC Things to Do With Kids Guide
Myrtle Beach, South Carolina, teems with beautiful resorts, scenic golf courses, and miles of sandy beaches. It's a popular vacation destination for beach-goers and water recreation, whether looking for fun on the ocean or the Intracoastal Waterway. With housing options that range from ocean front homes to condos, this city is more than just a haven for adults looking for a get-away, as Myrtle Beach has some of the best fun on the east coast for kids of all ages.
The top things to do with kids in Myrtle Beach include visits to the city's iconic Boardwalk, a day spent splashing around at the Myrtle Waves Water Park, rides and roller coasters at the amusement park, go-cart racing for all ages and experience levels, rounds of themed mini golf, and exploring adventures at one of the area's unique aquariums.
Broadway Grand Prix Family Race Park
Broadway Grand Prix Family Race Park Amenities
Seven tracks
Week passes available
Party reservations
Kids Zone with rides for small kids
Discover the Broadway Grand Prix Family Race Park in Myrtle Beach for fast-paced fun and something to please everyone. The Race Park is nestled between the Intracoastal Waterway and Highway 17, and is minutes from Broadway at the Beach and the Myrtle Waves Water Park, its sister park.
The Broadway Grand Prix Family Race Park has the following seven go-cart tracks:
Grand Prix Pro
High Bank Oval
Slick Track
Speed Racer
Family Track
Junior Racer
Kids Track (for the youngest racers)
The park has more than just go-cart tracks. There is a rock wall, two 18-hole miniature golf courses, bumper cars, an arcade, and the Kid Zone that features several fun amusement park-style rides for smaller children. Rides include the classic carousel, a kid-sized speedway, the Slick Spin ride, Tooter Train, and more. The Tot Rods are mini cars and trucks just for guests between 36 inches and 48 inches tall.
The Broadway Grand Prix Family Race Park also has a snack bar that offers classic comfort food, from burgers and pizza to ice cream sundaes. The venue is also available as a site for birthday parties, group outings, and team-building/corporate events.
Broadway Grand Prix Family Race Park Additional Information
Hours: Thursday, 12–6 pm; Friday, 12–8 pm; Saturday, 11 am–9 pm; Sunday, 12–6 pm
Size Requirements: Drivers must be at least 40" tall
Myrtle Waves Water Park
Myrtle Waves Water Park Amenities
Water and tube slides
Racin' River
FlowRider
Kids play area
Wave pool
Lazy river
The Myrtle Waves Water Park can be found near its sister park, the Broadway Grand Prix Family Race Park. This large water park is a popular Myrtle Beach attraction because it has something for all ages, and it continues to draw guests who come for a full day of fun in the South Carolina sun. Myrtle Waves Water Park has four body slides, four tubes slides, a lazy river, a FlowRider® for boogie boards, a wave pool, and more.
The body slides are the Riptide Rockets, the Thunderbolt Speed Slides, the enclosed Super Chute, and the Turbo Twisters. Offering guests the chance to spiral down a tube at approximately 50 feet per second, the Turbo Twisters is an enclosed speed slide where riders careen and splash in the dark. The tube slides include the Night Flight for single riders, the Rockin Ray for double-riders, the Arooba Tooba with its large bowl funnel, and Snake Mountain with three winding tube slides.
Some slides and rides have height restrictions to keep the smaller wave rides safe. There are no height restrictions for the Saturation Station, Bubble Bay, the Ocean in Motion Wave Pool, and the Lazy River. Myrtle Waves Water Park has snack stations, locker rentals, and cabana rentals available for its guests. A picnic area is located just outside the park.
Myrtle Waves Water Park Additional Information
Hours: 11 am–5 pm
Recommended Ages: Toddlers and older
Ripley's Aquarium
Ripley's Aquarium Amenities
Special events
Nine exhibits
Animal experiences
Birthday parties
The Ripley's Aquarium of Myrtle Beach is part of the Broadway at the Beach complex, a popular attraction in a city that's home to magnificent beaches, grand resorts, and year-round outdoor recreation. Ripley's Aquarium is accessed easily off 29th Avenue and is within walking distance to the Broadway Visitor's Center.
Open daily, guests to the Ripley's Aquarium have much to see and do inside the multi-level venue. Exhibits include but are not limited to:
The Rainbow Reef: an Indo-Pacific coral reef experience
Ray Bay: kids can view and even touch sting rays
The Penguin Playhouse: a colony of penguins, each one with a distinct personality
Rio Amazon: a visit to the rainforest and chance to see poison dart frogs, piranhas, and more
Planet Jellies: thousands of jellyfish; from Moon Jellies to Japanese Sea Nettles, Upside-down Jellyfish, and more
The Dangerous Reef: an underwater viewing experience that includes a 340-foot glide path and acrylic tunnel designed to allow guests to see sharks, sting rays, giant sea turtles, and other underwater sea creatures
The Ripley's Aquarium of Myrtle Beach is open daily with tours available for groups.
Ripley's Aquarium Additional Information
Hours: 9 am–7 pm
Recommended Ages: All ages
Captain Hook's Adventure Golf
Captain Hook's Adventure Golf Amenities
18 themed holes
Fun for all ages
Coupons available on website
Myrtle Beach is known not only for its miles of beaches, but its numerous golf courses. While playing a round of golf at one of the fabulous resorts is a great way to spend a day, how about something that's more of an adventure? People can tee up at Captain Hook's Adventure Golf, one of four miniature golf courses that are part of Myrtle Beach Family Golf. This mini-golf course is adjacent to the Rockin' Jump Myrtle Beach Trampoline Park, within walking distance to restaurants and shops, and is about three blocks from the beach.
This themed miniature golf complex lets guests journey into Neverland with Peter Pan and the Darling children. Each of the eighteen holes feature an aspect of the Peter Pan and Captain Hook story and include water features with mermaids, a skull cave, and the infamous crocodile. The Captain Hook's Adventure Golf center sits about two miles north of the Second Avenue Pier and is open daily for families, individuals, and kids of all ages.
Captain Hook's Adventure Golf Additional Information
Recommended Ages: Five years and up
Family Kingdom Amusement Park
Family Kingdom Amusement Park Amenities
Arcade games
Carnival games
Classic carnival rides
Rides especially for young children
Carnival snacks
Stroller and wheelchair rentals
The Family Kingdom Amusement Park is home to nearly 40 rides and fun things to do for everyone. From thrill rides to classic carnival rides and kiddie attractions for the youngest guest, this amusement park is a great way to spend a day in Myrtle Beach.
Rides include:
The Twist 'n Shout steel roller coaster
The Swamp Fox wooden roller coaster
Kiddie coaster
Mini bumper cars for small children
Interactive Jump Around Dune Buggies
Go-Karts
Classic Log Flume
Tilt-a-Whirl
The Slingshot Drop Zone (a 110-foot free fall)
Additional rides include antique cars, bumper boats, the Berry-Go-Round, carousel, and traditional Ferris wheel, a fantastic way to see the ocean and the Boardwalk. Kiddie rides are for the youngest guests, including toddlers. Height requirements are posted for each ride and must be followed to ensure safety. The park also features an arcade with midway-style games, plus food carts for people to grab a bite to eat before they hop on another ride. The Family Kingdom Amusement Park offers all-day unlimited ride wristbands, on-site parking (with a fee), and available stroller rental.
Family Kingdom Amusement Park Additional Information
Hours: Friday, 6–10 pm; Saturday, 6–11 pm; Sunday, 1–6 pm
Recommended Ages: Five years and up
Myrtle Beach Boardwalk
Myrtle Beach Boardwalk Amenities
Myrtle Beach SkyWheel
Snack shops
Gift Shops
Seasonal festivals
One of the most popular areas of the city, the Myrtle Beach Boardwalk is a sprawling space filled with attractions, things to do, and sweet treats. From several blocks away, it's easy to spot one of the Boardwalk's most iconic attractions, the Myrtle Beach SkyWheel. The top of it sits 200 feet above sea level, and each enclosed gondola slowly rotates to give guests the best views of the ocean, beaches, and Boardwalk.
On the Boardwalk, there are four different Ripley's attractions: the Believe or Not, Haunted Adventures, Moving Theater, and the Mirror Maze. Other Boardwalk attractions include:
Fun Plaza Family Fun Center (arcade games)
Myrtle Beach Zipline Adventures
Ground Zero
Sling Shot Thrill Ride
The Second Avenue Pier is a Myrtle Beach Boardwalk landmark. It's a popular fishing spot and a great place for a stroll while viewing the ocean. The pier has many places to eat, but visitors shouldn't miss out on other fun treats that call the Boardwalk home, like Mad Myrtle's Ice Creamery, the Myrtle Beach Fries Shack, Sweet Frog Frozen Yogurt, and I Love Sugar, a candy experience kids will never forget.
Myrtle Beach Boardwalk Additional Information
Hours: Open 24 hours
Recommended Ages: All ages
WonderWorks
WonderWorks Amenities
Glow-in-the-dark ropes course
Laser tag
6D Extreme Motion Ride
Six Wonder Zones
WonderWorks is an indoor, hands-on museum located in Myrtle Beach. It is described as one of the best family-friendly attractions in the city, largely because it incorporates the fun of vacation with the information of education. Kids are particularly fascinated by this building because its exterior appears to be a museum that was turned upside down. In addition to having several hands-on exhibits that teach kids about science and technology, this museum also features a glow-in-the-dark ropes course as well as a laser tag arena.
WonderWorks Additional Information
Hours: 10:30 am–7 pm
Height Requirements: Children at least 40" tall
Alligator Adventure
Alligator Adventure Amenities
Serpentarium
Frog and lizard house
Live shows and demonstration
Bird and mammal exhibits
Alligator Adventure is a North Myrtle Beach theme park that specializes in reptiles. Local residents know this spot as the Reptile Capital of the World, and visitors soon realize that it's one of the best places in the area to enjoy up-close encounters with animals. Alligator Adventure is home to a variety of animal species, including an albino alligator, a Chinese alligator and caiman. In addition to checking out the animals on display, visitors at this theme park also can enjoy live animal shows that are scheduled throughout the day.
Whether tourists are planning a vacation or residents are looking for something fun to do on the weekends, there are plenty of kid-friendly activities in Myrtle Beach.
Alligator Adventure Additional Information
Hours: 10 am–4 pm
Recommended Ages: All ages
Myrtle Beach Fun for Kids of All Ages
Myrtle Beach goes beyond typical resort-style activities for kids. From sprawling water parks with slides and tube rides to themed mini golf, speedy go-cart racetracks, and amusement rides, the attractions and adventures in Myrtle Beach for kids never end. Kids can spend a day, or several, enjoying everything Myrtle Beach has to offer.