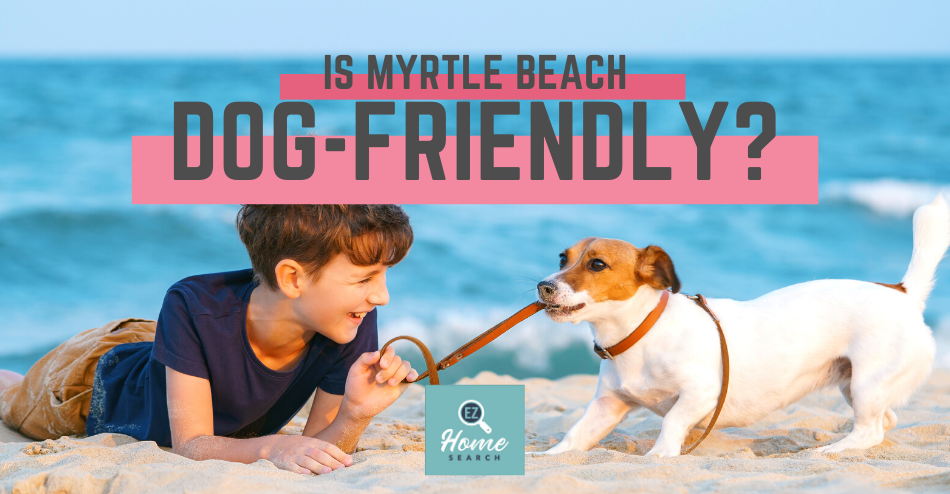 Is Myrtle Beach Dog-Friendly? The Best Places to Take Your Dog in Myrtle Beach, SC
Myrtle Beach is situated in the heart of a 60-mile stretch of South Carolina coastline known as the "Grand Strand." The city is world-renowned for its signature Southern hospitality, sunny year-round weather, warm waters perfect for swimming and surfing, being the "Golf Capital of the World," having a great cost of living, and having some of the best seafood in the country.
Another thing Myrtle Beach is known for is being incredibly dog-friendly. Here, you can go to the beach, visit restaurants, shop, and relax, all with your pup in tow. While the city is exceptionally welcoming to dogs, it should go without saying that owners must always clean up after their dogs and observe leash laws.
Whether you're just visiting Myrtle Beach, you live here, or you're considering relocating, it's helpful to know exactly where your dog is welcome and what the guidelines are.
Dogs on the Beach
With over 60 miles of continuous shoreline, plenty of soft sand, and more than 200 sunny days each year, locals and visitors alike flock to the beaches in and around Myrtle Beach for outdoor activities. It's only natural you'd want to bring your dog along!
City of Myrtle Beach
Dogs are allowed at City of Myrtle Beach beaches, but there are different rules at different times of year. During peak season, May 1 through Labor Day, dogs can be on the beach before 10:00 AM and after 5:00 PM. From the Tuesday after Labor Day through April 30th, dogs are welcome on the beach any time. Dogs must always be on a leash no longer than seven feet.
Myrtle Beach Oceanfront Boardwalk and Promenade
Although not technically a beach, the oceanfront boardwalk is worthy of a mention because it's wildly popular with dog owners, owned by the City, and located right next to the beach. From May 1 through Labor Day, dogs are allowed on the boardwalk only between 5:00-10:00 AM daily. From the Tuesday after Labor Day through April 30th, dogs are always welcome on the boardwalk—there are even dog water fountains at several points.
City of North Myrtle Beach
From September 16th to May 14th, dogs are welcome on North Myrtle Beach beaches any time. They cannot be on the beach between 9:00 AM and 5:00 PM from May 15th through September 15th. Owners are required to keep dogs on a leash less than seven feet long. There are a handful of areas where pets aren't welcome in North Myrtle Beach. These locations will generally be clearly-marked, small stretches of beach.
Pawleys Island
Pawleys Island, about 25 miles south of Myrtle Beach, along with the other Georgetown County beaches, has relaxed beach regulations for dogs. They can be on beaches at any time year-round, but have to be leashed between 9:00 am and 7:00 pm. After 7:00 PM and before 9:00 AM, dogs can be off-leash on Georgetown County beaches, provided they're well-trained.
Dog Parks and Trails
Myrtle Beach has miles upon miles of trails for walking, running, hiking, or biking, as well as an abundance of parks. Thanks to the mild year-round weather, you can enjoy them almost any time of year. Even better, many of them are not just dog-friendly, but specifically for dogs!
Myrtle Beach Dog Parks
These dog parks all feature separate fenced-in areas for small and large dogs, as well as drinking fountains. Once safely inside the park, dogs are allowed off-leash.
Myrtle Beach Dog-Friendly Trails
You and your dog can always walk the beach at specified times, but sometimes you may want a change of scenery. Fortunately, Myrtle Beach has miles of dog-friendly hiking paths. Note that state parks require admission fees. They are $8 for adults, $4 for children ages 6-15, and free for children under 5. It's $5 for local seniors over 65 with ID.
Dog-friendly Dining in Myrtle Beach
As Myrtle Beach is generally very welcoming to pets, many restaurants allow dogs on their patios. In addition to the extensive list on MyrtleBeach.com, there are two major entertainment districts that are notoriously dog-friendly. Since policies do change periodically, it's always a good idea to check their website or call ahead to confirm.
Barefoot Landing
Situated along the picturesque Intracoastal Waterway in North Myrtle Beach, Barefoot Landing is a hub for dining, shopping, and nightlife. There are dozens of dog-friendly restaurants to choose from, but some of the more popular options include:
The Market Common
Myrtle Beach's The Market Common is a beautifully-designed, walkable area with dozens of shops, restaurants, and entertainment options. In addition to the giant chess set, children's play area, and weekly farmers' market, enjoy several restaurants where your dog is welcome, too.
Pet-friendly Lodging
Demonstrating the true meaning of southern hospitality, several hotels and resorts in Myrtle Beach are dog-friendly. Just like with restaurants, consider calling the property directly to confirm its pet policies. Also note that you'll be charged a pet fee at most hotels. BringFido has a comprehensive list of pet-friendly hotels, and some of the best-rated hotel options are highlighted below.
With all these options available, Myrtle Beach is a fantastic place to spend time with your dog. From the beaches to the hiking trails to the restaurant, there's always a place to bring your pup.